Posts for Responsible Climbing
Posted by: Mike Uchal | June 04, 2014
Categories: *Mount Rainier *Responsible Climbing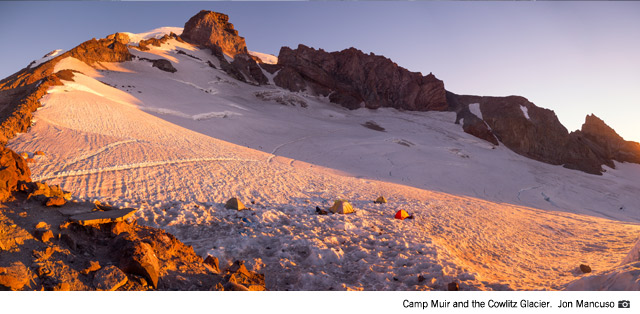 Every summer, RMI climbing teams consume over 7,000 gallons of drinking water at Camp Muir, the primary camp on Mt. Rainier's Disappointment Cleaver Route. For many years, melting snow in a large barrel heated by propane created drinking water for Camp Muir. We knew that there was a better way to provide drinking water to our teams and it just required a little bit of creativity, brainstorming, and initiative. Over the course of the 2012 and 2013 climbing seasons, a new solar thermal system was installed at Camp Muir. This system, designed to use environmentally benign and free solar energy to efficiently melt snow, provides drinking and cooking water for RMI climbers and guides at an elevation of 10,060'. The system was designed and built by RMI Guide and alternative energy professor Mike Uchal and his colleague Dr. Brian Raichle, who is a professor of solar energy technology at Appalachian State University. RMI Guide Cody Doolan also contributed with the design, installation, and maintenance. RMI's Solar Snow Melt System, part of our commitment to Responsible Climbing, reduces our environmental footprint on Mt. Rainier by minimizing the need to burn liquid propane gas in order to melt snow, cuts our operating costs, and reduces the environmental footprint of the helicopter used to transport propane to Camp Muir.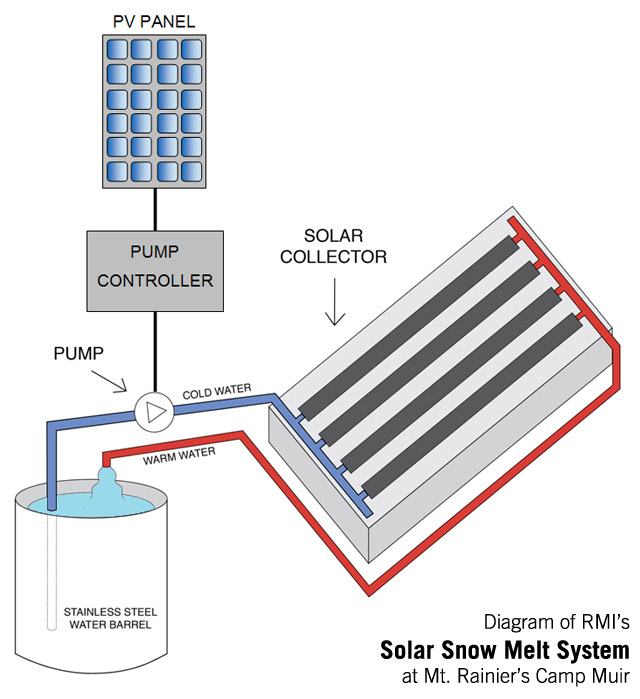 How it works:
A small electric pump powered by photovoltaic panels pulls water from the burn barrel, a large barrel used to melt snow, uphill to a solar thermal collector. The collector, a conventional flat plate solar thermal collector is the kind that is typically used in residential and commercial domestic hot water systems. The water is pulled by gravity through the copper pipes in the collector and is heated by solar radiation before returning to the melt barrel. RMI guides keep the barrel fed with clean snow from the snowfields above Camp Muir and this snow mixes with the warm water and melts into liquid form. A controller turns on the pump in the morning and off at the end of the day when the sun goes down. Because the collector is uphill of the barrel, gravity drains water from the collector at night to prevent damage from freezing water. This system design eliminates any problems associated with overheating during late season conditions when solar energy can be plentiful and strong.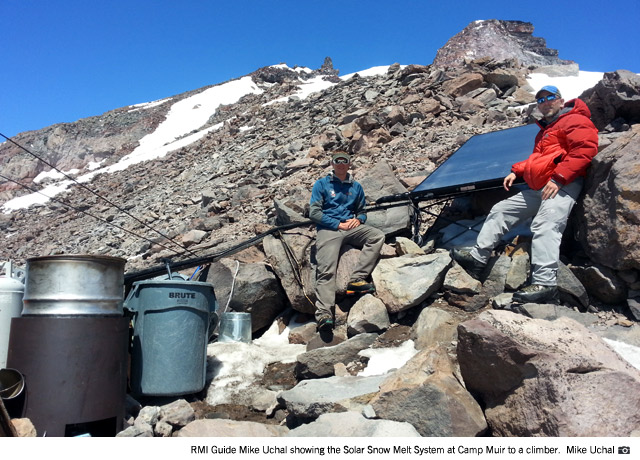 How it performs:
On warm, sunny days at Camp Muir, typical in the late summer, the solar snow melting system heated the 30+ gallons of water in the burn barrel to above 100°F. That is nearly spa temperature! On cold, sunny days, often found early in the season, the system heated water to temperatures above 40°F - enough to effectively melt snow. Propane is still used during storms that last several days, when solar radiation isn't strong enough to heat the collector, but the solar snow melting system dramatically reduced the amount of propane burned during the 2013 summer climbing season.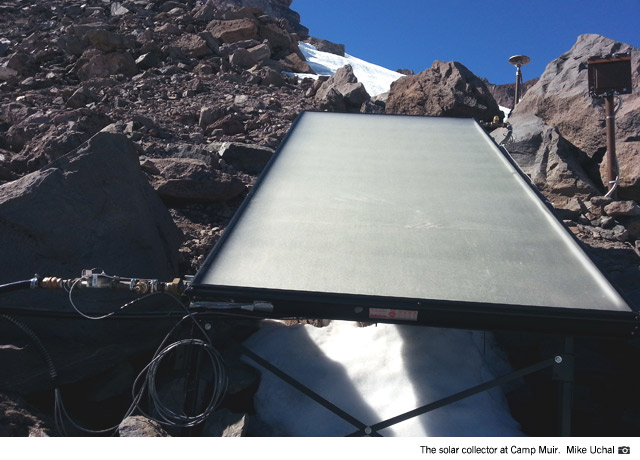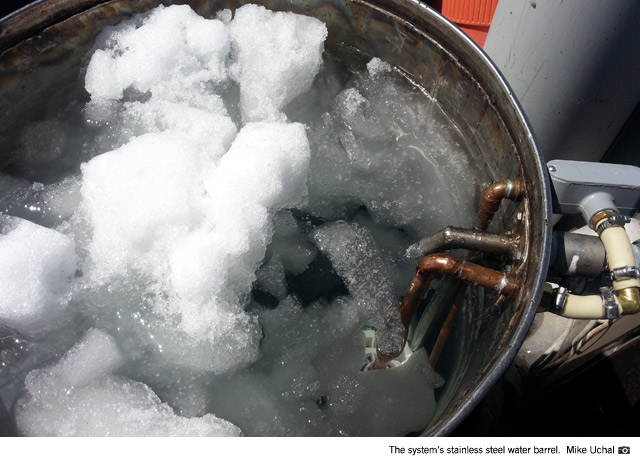 Anecdotally, before the 2013 climbing season the propane burner was running for around 3.5 hours per day to melt enough snow to provide drinking water for the RMI teams. During the 2013 climbing season, guides estimate that the burner was needed on average around 15 minutes per day. During the summer climbing season of 2013, we estimate the solar system saved approximately 250 pounds of propane, the associated cost of transport that propane, and 0.33 metric tons of CO2 emissions.
This project is part of RMI's commitment to the outdoor community and environment as we work to reduce the environmental footprint of our climbs in order to ensure that many future generations are able to enjoy the same mountain environment that we enjoy. The RMI Solar Snow Melt System is a great example of practices that can reduce a business' environmental footprint and provide cost savings at the same time. By the end of its first full year at Camp Muir, the system paid for itself with savings in fuel and helicopter transport costs. The next time you make it to Camp Muir, swing by the guide shack and check it out! The guides would love to show you the system in person.
_________
Mike Uchal is a Professor of Alternative Energy at Appalachian State University and guides trips on Mt. Rainier and Mt. McKinley for RMI Expeditions. Mike lives the mountain life, rock climbing, paddling whitewater, mountain biking, trail running, and skiing whenever he has spare time.
---
Posted by: Alex Van Steen | May 21, 2014
Categories: *Guide News *Responsible Climbing
Yesterday, RMI Guide Alex Van Steen joined a host of other local professionals at Columbia Crest STEM School's First Annual STEM Career Fair. The presenters who were invited to speak tied their professions directly into the fields of science, technology, engineering and mathematics and encouraged the approximately 125 first through sixth grade students to see the connection between what students were learning in the classroom and what knowledge and skills professionals required in their careers.
The presenters included geologists, meteorologists, naturalists, biologists, veterinarians, computer programmers, science librarians and a variety of other environmental educators. While Alex tied his roles in environmental management, human resources management, and job place safety to the STEM program, the truly exciting part for the students came when they had the opportunity to put hands on all the climbing and mountaineering gear used for the mountain climbing demonstration. Students crawled around in tents and into -30 sleeping bags, saw short demonstrations of how camming units and pitons (yes, pitons!) worked, and some students even donned an 8,000 meter down suit. Big smiles, lots of questions and fun learning!
---
Posted by: Alex Van Steen | April 25, 2014
Categories: *Guide News *Responsible Climbing
Long-time RMI Guide, Alex Van Steen, visited a local second grade classroom at Columbia Crest STEM School as part of RMI's Community Outreach program. STEM schools, a relatively new concept in Washington State, have a distinct emphasis on hands-on learning and the integration of science, technology, engineering and math into student lessons. RMI has partnered with Columbia Crest STEM to bring our mountaineering experiences right into the classroom. With Alex, the second graders studied the essential question, "What causes a volcano to erupt?" Students thoroughly enjoyed the lesson and learned ways to explain and create their own shield, composite, cinder cone and caldera volcanoes!
---
Posted by: Alex Van Steen | April 01, 2013
Categories: *Guide News *Carstensz Pyramid *Responsible Climbing
In February 2013, I spent several weeks in West Papua with the express intention of connecting with villagers who live along the trek followed by our Carstensz Pyramid climbing programs. I traveled with two translators - one a long-time friend who grew up in West Papua and the other a member of the Moni tribe, a man who truly has a good heart for his people.
I visited about ten villages and had numerous trailside chats. I spent many hours chatting (as well as eating, and playing soccer & table tennis!) and had opportunities to share our vision with various folks: government officials, village elders, tribal chiefs, pastors and school teachers.
The constant thread throughout the conversations involved villagers expressing frustration with tourists who came to "take photographs" and "take summits" but who did not (as it was described to me) "give relationship." It is understandable that folks were upset when they weren't paid as promised by unscrupulous outfitters or when they felt unsafe being asked to porter into the high country (the tribal peoples have not traditionally traveled above the jungles, see story below), but it truly resonated with me that when they felt most disrespected was when they were treated as if they were nothing more than pack animals. Quite frankly, they explained, why should they leave their tribal community and upset their daily lives only to be mistreated or underpaid?
The Moni name for Carstensz is Mbai Ngela. It means "Forbidden Egg." The story is that in years gone by when the mountain was snow covered, it resembled an egg, and the fore-fathers forbade their people from going there because it was the hunting grounds of evil spirits and those spirits always killed those who ventured there. Even today, villagers have a very difficult time understanding the science of hypothermia and often will point to and tell of places along the way where the spirits have killed a poor wayfarer!

I knew that in order to eat this elephant, I would need to take it one bite at a time, so I started with small bites of "giving relationship." I found that when I played soccer (which I am convinced is the lingua franca of relationship) with the local men and boys on village airstrips, that we had laughs to share (mostly at me tripping on the uneven surface!); when I offered to show folks photos of my family, they showed me their village (!); and for all my "otherness" (some folks, I was told, had never seen white-skinned people), I was never denied the hospitality of a meal or a hut as respite from the rain.
Another small bite was the creation of the protocols (below) to be posted in a church along our route. The pastor in this village of twenty people, a good man named Atan, had initially wanted to run me off. I agreed to keep walking, but in deepening the conversation as to why, I learned that an earlier group of tourists had – in his word – "desecrated" the church by leaving garbage there. I whole-heartedly agreed that such practices were unacceptable, and offered to create protocols to instruct tourists how to behave. Through my translators I was able to build a simple list of what it would take for his village to feel respected. They fully wanted tourists to stop for the night but they also needed tourists to respect that privilege.
As I look forward to my next trip, I hope to take a few more bites of the elephant!
THE SUGAPA ROUTE VISITOR PROTOCOLS
This church serves an important role in the community. Guests are welcomed to find refuge here and are asked respect the following requests. This will help ensure use of the building for future travelers.
• Please stay off of the raised area which surrounds the altar. This area is for local religious personnel only and it is considered offensive if others trespass there.
• Please keep hot water, stoves & cookware out of the building. This helps keep the area clean.

• Please hang a trash bag just outside the building to collect your garbage. Villagers will burn your trash for you.
• Because of the importance of Sunday worship, travelers should not expect access to the building on Saturday evenings or Sundays.
• Please do not use the church grounds or property for toilet needs. Ask the Pastor of the church where it is appropriate to wash and use the bathroom.
• Please offer a donation for your use of the church. This is an appropriate and considerate way of expressing thanks.
Download a multi-lingual copy of the Sugapa Route Visitor Protocols here.
---
Posted by: Alex Van Steen | March 20, 2013
Categories: *Guide News *Carstensz Pyramid *Responsible Climbing
In every part of the world where we travel, some RMI individual is tasked with developing & maintaining the quality program presented on the web. Whatever their role, that individual typically has a personal attachment, investment and history with the lands, mountains or peoples visited during the program. Their effort includes much more than simply creating an appealing itinerary and a glitzy web presence. The behind-the-scenes work includes addressing RMI's environmental responsibilities, social responsibilities, and the development of solid logistical support, from understanding local customs to establishing a safety net. Most importantly, this effort involves building relationships with the local community, helping to ensure that we operate as partners wherever we travel with whomever we work. For Carstensz Pyramid in Papua, New Guinea, I get to be that individual.
The description of our program strikingly claims that we are the only outfit in the Western Hemisphere to partner exclusively with indigenous Papuans. Does it make you wonder how that came to pass?
Papua's somewhat notorious reputation extends beyond the daily rain, and slick mud and logs of the jungle trek, and beyond the remote nature, sharp rock, and high altitude of the actual climb. And that's already a lot! Truthfully, for those who research their objectives carefully, Papua's reputation extends even beyond the uncertainty and flexibility required to visit an area where political tensions and security concerns exists. Shouldn't you choose your outfitter most carefully?
In February I spent approximately three weeks in New Guinea's "interior" with the intention not just to climb Carstensz Pyramid again, having guided a recent trip, but, as I enjoy saying, "I went to meet people." Most of my time was spent among the Moni and Dani tribes of the highlands, but I also had the opportunity to shake hands with Indonesian government officials, Papuan regency representatives, folks with the Freeport mine, school teachers, pastors and missionaries, both Indonesian and expat, village elders, and even folks who were likely associated with the freedom movement (though that was difficult to tell because it seemed like politics was on everyone's lips.)
I met a lot of people, explained what I was up to, and had many discussions with many people (with both tribal and Bahasa Indonesia translators helping me). Some folks expressed utter amazement that I was walking through their lands. This is predominantly because I was off the beaten path, i.e., not on the traditional, historical routes which have seen a good bit of use (and abuse). My presence also elicited appreciation (something I didn't necessarily expect) because I was choosing to walk through the land rather than helicopter over it. Very practically speaking, people explained, flying over their lands excludes them from the benefits tourism can bring. I was already convinced that the model for sustainable tourism needed to include the indigenous peoples who inhabited the lands we wish to travel though en route to Carstensz, and spending all these weeks on the ground emphasized my sense for following socially responsible practices.
RMI's commitment to Responsible Climbing pursues environmentally and socially responsible practices. This is simple enough to say, but a significant investment of time, energy & money is required to make good on those words. I have been told by many of the people with whom I connected in Papua, that my "relationship building" excursion (which included porter and trekking guide training, as well as discussions regarding tourist behaviors and expectations for each of the villages along the trek) was the first of its kind by a Western outfitter.
Sadly, the people of Papua (whether indigenous or Indonesian) have become accustomed to transactions which center solely around the exchange of money. I would suggest that for a tribal culture, where community is highly valued, to encounter trekkers & climbers with expectations to "take" home interesting stories, photographs and a summit, who repeatedly fail to "give" relationships, virtually guarantees a poor experience for both sides. I'm not trying to paint too broad of a picture because the truth is that each individual Papuan also wants what is best for his/her own person, family or tribe, just as we do in the West. I do, however, suggest that our social responsibility must encompass more than just paying porters well for work done well. Failure to build strong relationships will lead further down the present path experienced by many Western outfitters: where porters feel poorly treated and are sometimes not paid, and where tourists feel exploited and are sometimes extorted. Looking further down that path, do you wonder what it might look like? It looks just like the tensions which closed the route through Beoga years ago after hostages were taken. It looks just like the tensions which are currently threatening the Illaga route following a hostage/extortion situation in July 2012, or the abandonment and subsequent death of a sick Danish climber by a highly experienced outfitter. It looks just like an increasing number of operators who no longer have the option to peaceably travel through tribal lands and now offer helicopter transit up and over "tribal tensions." And honestly, with some of the political and societal tensions which exist, unless outfitters work to develop relationships which are in line with indigenous tribal cultures, tourists will have no options other than to hire armed police or military to escort them through tribal lands. Wouldn't it be more culturally and socially responsible to build relationships with the native peoples in which both parties collaborated to build a sustainable model of tourism?
I encourage you to follow my blog at http://climbcarstensz.wordpress.com as I continue to share stories of what I have learned and of what we seek to build over time.
Amakane!
---