Posted by: Jeff Martin, Pete Van Deventer | August 15, 2014
Categories: *Expedition Dispatches *Elbrus Northside
Hi,
We are in St. Petersburg! This morning we headed out of the hotel and drove to Mineralnye Vody for our flight. Even though it is just about a three hour flight, it took most of the day to reach our final destination.
St. Petersburg is very different from what we have seen the last two weeks. It is best described as the cultural center of Russia, while Moscow is the center of government and administration. The architecture is stunning and the monuments truly impressive. The harder "edge" found in Kislovodsk is definitely softer and the curiosity surrounding foreign visitors is almost non-existent. It is also much easier to find a dinner menu with a little English.
We headed out for an early dinner at a nearby restaurant and to get a little preview of the city before we get the grand tour tomorrow.
All the best,
RMI Guides Jeff Martin, Pete Van Deventer, and the North Side Team
---
Posted by: Mark Tucker | August 15, 2014
Categories: *Expedition Dispatches *Kilimanjaro
Our good fortune continues. It must be a residual charm left over from the time spent on the mountain during the super moon. Cold and cloudy to start the day up on the Ngorongoro Crater Rim. That is not unusual, this typically being the coldest time of year. We paid a visit to a Maasai Village. Warmed up in one of their huts, while a nice gentleman told us fascinating facts and rich history of this unique group of people. I think you would be surprised at the insulation R-value of the walls of their thatch, cow dung and ash mixture construction. Since the funding goes to children education and the offerings were nice souvenirs, we were happy to invest in some of the village wares. We made the descent into the crater floor and spent a magical day with the other natives of the land, wild animals. So much fun and more to come. We move to Tarangire National Park tomorrow.
---
Posted by: Lindsay Mann | August 15, 2014
Categories: *Guide News *Guide Grant
With support from the Eddie Bauer - RMI Guide Grant, RMI Guide Lindsay Mann took part in an American Avalanche Institute Level 3 Avalanche Course this winter in Jackson, Wyoming. Afterward, Lindsay sat down to reflect on the course.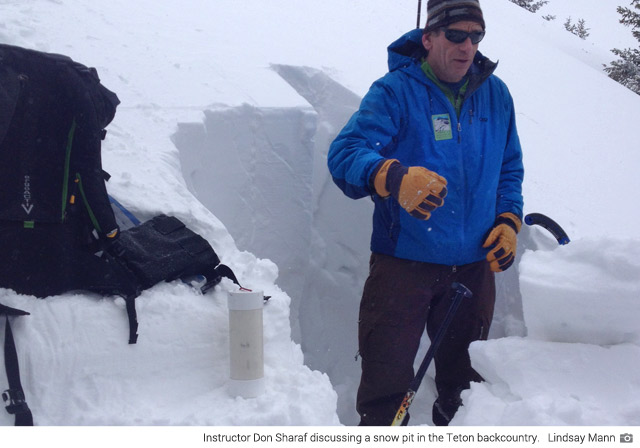 This past January I participated in an American Avalanche Institute Level 3 Course in Jackson, Wyoming. A Level 3 Avi Course entails a great deal of prep work as participants need to complete snow observations, make numerous snow pit profiles, and spend ample experience traveling and making decisions in avalanche terrain before the course even begins. After several days of classroom and field learning, the course concluded with several testing components. These test involved completing a full data snow pit in under an hour, finding three buried avalanche beacons in less than seven minutes, and completing a written test.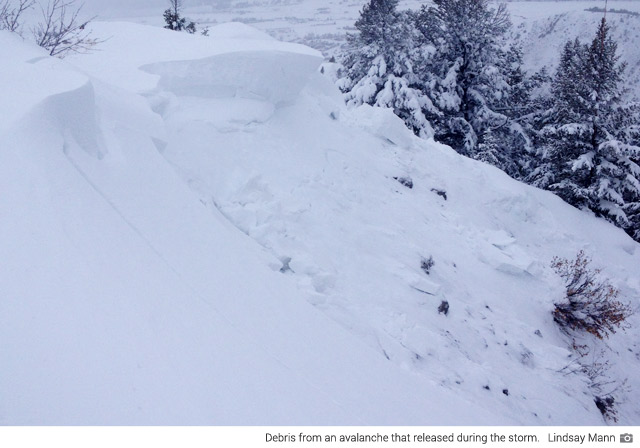 The conditions for our course were ideal for learning. Midway through the course a major storm cycle came through the area, resulting in rapidly changing conditions within the snowpack that had a wide array of implications on avalanche risk. While the class focused on the technical aspects of snow crystal identification and anticipating the array of components that contribute to avalanche forecasting, we were also able to enjoy some great skiing between the times we spent observing and forecasting the rapidly changing snowpack.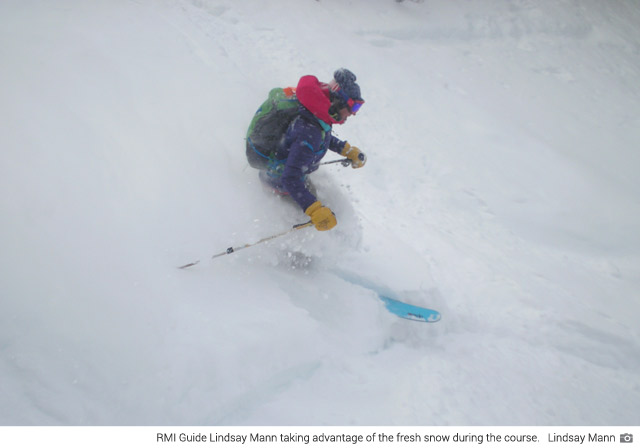 I walked away from the course with a sense of accomplishment, as this is the highest-level avalanche education course available in the U.S., and a greater understanding for mechanics of avalanches and and avalanche forecasting. The complexities of avalanches are remarkable and this course was invaluable in contributing to the toolbox of skills upon which I rely for decision making in the mountains and in avalanche terrain.
________
Lindsay Mann is a Senior Guide at RMI Expeditions and a NCAA D1 Skiing Champion. She has climbed and guided around the world, from Peru to Alaska. Learn more about Lindsay and see her upcoming trips here…
---
Posted by: JJ Justman, Lindsay Mann | August 15, 2014
Categories: *Expedition Dispatches *Mount Rainier
Elevation: 14,410'
The Four Day Summit Climb team led by RMI Guide JJ Justman along with the All Women's Team led by Lindsay Mann reached the summit of Mt. Rainier this morning. The teams delayed their departure from Camp Muir due to rain but once the rain dissipated they began their summit attempt. They were rewarded with great route conditions, light winds and clear skies above. The teams will spend some time on the summit before starting their descent to Camp Muir and then continuing down to Paradise later this afternoon.
Congratulations to today's Summit Climb teams!
---
Posted by: Mark Tucker | August 14, 2014
Categories: *Expedition Dispatches *Kilimanjaro
All tucked into the team villa here at the Plantation Lodge, just outside of Ngorongoro Crater Conservation Area, which is tomorrow's destination. We departed from the Dik Dik Hotel right on schedule and attacked the Lake Manyara National Park with eyes wide open. Great critter sightings all day! Being only two days since summit day, I was impressed with the team's level of energy. Tomorrow we are looking forward to seeing as many of the 29,999+ mammals that live in what is known as the "eighth wonder of the world."
---
Posted by: Jeff Martin, Pete Van Deventer | August 14, 2014
Categories: *Expedition Dispatches *Elbrus Northside
Hi,
Since we did not use one of our weather days while on the mountain, we had the whole day today in Kislovodsk. After our long push to get off the mountain yesterday, and the birthday celebration dinner that followed, most of us were happy to have a rest day of sorts.
We had to deal with drying and sorting gear one last time so it is ready for our flight tomorrow, and then it was time to get re-connected with the rest of the world since we had been out of touch for the last nine days.
The weather here was beautiful today in town, sunny skies and about 90 degrees. We decided to head down to the pedestrian mall in the center of town to do some shopping, find an ice cream store and stroll through the city park. Being the height of the summer season, there were many people just out enjoying the day. With a few souvenir purchases under our belt, we walked around admiring the different buildings, statues, fountains, and shops.
With our attention turning to dinner, we found a great restaurant right in the middle of the square. We luckily had a waiter who could help us decipher the menu and helped us order an incredible meal. He thought we were crazy with how much food we ordered, but we ate it all. There were three different meat dishes served in a huge bowl with charcoals underneath to keep it warm, fresh salads, and perfectly grilled vegetables. It was the hands-down winner for our best meal in Russia.
Tomorrow we head to the airport to fly north to St. Petersburg, the last leg of this journey. We'll check in once we get there.
All the best,
RMI Guides Jeff Martin, Pete Van Deventer, and the Elbrus Northside Team
---
Posted by: Elias de Andres Martos, Casey Grom | August 14, 2014
Categories: *Expedition Dispatches *Mount Rainier
Elevation: 14,410'
The Four Day Summit Climb Teams led by RMI Guides Casey Grom and Elias de Andres Martos reached the summit of Mt. Rainier this morning. Casey radioed that the team had a long hard day getting to the summit with several inches of new snow on the mountain requiring them to break trail. The teams reached the crater rim around 8:30 am and was going to spend a short amount of time on top before starting their descent. They will return to Camp Muir for a short break before continuing down to Paradise.
Congratulations to today's Summit Climb Teams!
---
Posted by: Mark Tucker | August 13, 2014
Categories: *Expedition Dispatches *Kilimanjaro
We are here at the Dik Dik hotel and enjoying it. The team made quick work of the 4,000 foot descent this morning, arriving at the gate well before noon. We had a brief customary departure sign out with the park service, a lunch stop along the way. When we arrived at the hotel, a welcome song greeted us upon our arrival. Then a hot shower to wash away some gathered mountain product, but it couldn't rid us of a whole bunch of memories made while on the climb. Some of the team has been reunited with loved ones, how about a grandma and grandpa joining us here in Africa. How cool is that? While the rest of the team is jealous, we have to carry on and look forward to a reunion when we get back home.
Tomorrow starts the safari part of our program here. We are getting ready to bid farewell to one of the team who leaves for the airport tonight so as to not miss the start of the fall quarter. Is the summer really coming to a close? Better get out while you can!
RMI Guide Mark Tucker & Team
---
Posted by: Jeff Martin, Pete Van Deventer | August 13, 2014
Categories: *Expedition Dispatches *Elbrus Northside
First and foremost, we are safely off of Mt. Elbrus, and back in Kislovodsk!
The last 36 hours have gone by in a rush to be sure. We woke yesterday to very light winds and clear skies all around us for the first time in several days. All indications were that it was a perfect summit day, so we rallied the troops, crammed down breakfast, and readied our summit kits for a big day. By 8:45, it was time to rope up and start walking. The first section of the climbing route follows the natural contours of the bowl between summits (Mt Elbrus has two summits, the west about 40 ft higher than the east) to the saddle that splits them. We found nice, firm cramponing conditions on the wind buffed snow, and the team moved very well. After three hours we had gained the saddle and our climbing route merged with that of the South side. As we climbed a steep pitch out of the saddle we passed many teams already descending. Seven hundred feet brought us to the summit ridge, a broad, flat stretch that leads to the very tippy top. Here the wind increased, reddening our cheeks and causing us to pull up our buffs and tuck deeper into our hoods. After five hours of steady climbing, our rope teams made the final steps to the top of Europe. Jeff had 5 summits of Mt. Elbrus under his belt, and despite the wind, this one was the warmest and nicest by far. After ample time for photographs and enjoying the moment, we bid adieu to the summit and headed for camp. The wind quickly died, but the cumulus clouds that were beginning to rise in all directions caught our attention. It was a short trip to retrace our tracks to camp, and once there, a poll of the group showed unanimous support for packing everything and continuing to Camp 1. Despite tired legs, thirsty throats and hungry bellies, none wanted to endure any incoming weather at Lenz Rocks. So with a bit more suffering. We descended another 3,000 feet to the relative comfort of Camp 1, ate dinner and called it a big day well done.
This morning we packed all of our gear one last time, and descended the trail, with wildflowers and views aplenty to base camp. Just like clockwork (not always the case here in Russia) the WAS vans that carry us to and from base camp rolled in just a few moments after us. We hurriedly packed our duffles and jumped inside as the drivers became more agitated about the prospect of rain. We made the river crossing and up the steepest, slickest section of road before the rain, quickly turning to hail (a fitting send off from the mountain).
The drive went smoothly, as eyelids took turns closing, and we now find ourselves back in Kislovodsk, showered, and ready for a big meal. It was a bit bittersweet to drive away from the mountain, or biggest objective now complete, but our trip is not over: we have tomorrow to explore this Caucus region town before heading on to St. Petersburg to enjoy the rich history and all that it has to offer. We'll continue to update you on our adventures. Thanks for reading,
RMI Guides Pete Van Deventer, Jeff Martin, and team
---
Posted by: Mike Walter, Zeb Blais | August 13, 2014
Categories: *Expedition Dispatches *Mount Rainier
Elevation: 11,500'
The Four Day Summit Climb teams led by RMI Guides Mike Walter and Zeb Blais were unable to summit Mt. Rainier this morning, poor weather forced the groups to turn around at the bottom of Disappointment Cleaver. The teams tried to wait out the weather and left Camp Muir later than normal but the ran and wet snow still forced them to abort their summit attempt of Mt. Rainier. The teams will begin their descent from Camp Muir around 8:30 am en route to Paradise.
The Expedition Skills Seminar - Emmons led by RMI Guide Geoff Schellens was unable to make their summit attempt today due to poor weather conditions.
---
Previous Page
More Entries