Posted by: Dave Hahn | November 26, 2013
Categories: *Expedition Dispatches *Vinson Massif
There was some reason for hope today for getting the Antarctic flights rolling. But in the end the better weather didn't quite materialize. We didn't waste much time fretting over the situation though. The team rallied after leisurely breakfast coffees (extending well into the afternoon) and set off on an urban hike. At least it began as an urban hike, through the streets of Punta Arenas, accumulating stray dogs as we went along, but after about an hour of hard walking we worked our way into the countryside. The wind was howling and the clouds were covering sun and sky, but we persevered. Ultimately we found ourselves in park-like surroundings, climbing the ski area overlooking town. At the top we were two thousand feet higher and about 7.5 miles from our lodging. We still had one stray dog and about fifty miles per hour of wind, to go along with an unexpectedly grand view of Punta and the whitecaps of the Straits of Magellan.
We were back down to the waterfront and the friendly tourist restaurants by early evening, celebrating another fine summit together.
Best Regards,
RMI Guide Dave Hahn
---
Posted by: Dave Hahn | November 25, 2013
Categories: *Expedition Dispatches *Vinson Massif
We ended our pre-climb road trip today, cruising back to Punta Arenas from Puerto Natales. Things haven't progressed a great deal on the logistical front. We were invited around to a social gathering at the offices of ALE, where we met and mingled with the other passengers on our hoped-for flight. In addition to the climbing teams, there were several groups intent on going overland to the South Pole by various means. We were hosted by the friendly staff and directors of Antarctic Logistics and Expeditions. One of the directors, Mike Sharp, gave a brief talk and slideshow as to the weather outlook and the chances for flying in the next few days. There are possibilities.
Best Regards,
RMI Guide Dave Hahn
---
Posted by: Kel Rossiter | November 25, 2013
Categories: *Guide News
"You can't win if you don't play" is dubious encouragement often doled out by Las Vegas casinos and the like—but it is solid counsel in the world of alpine climbing. I can't tell you how many times I've plodded through a milk puddle of clouds on the Muir Snowfield only to rise above it all upon reaching Camp Muir. Indeed, even in the face of slim weather odds, you've got to at least put yourself into position for success and be ready to maximize it should those slim odds work in your favor. Time and time again that alpine advice held true during my recent American Mountain Guide Association (AMGA) Alpine Guide Exam (AGE).
Arriving in Seattle in mid-September for my 10-day AGE, I stared at the bright screen of my smart phone and steeled myself for the grim weather forecast it proposed…my First Ascent BC-200 had seen me through many a maelstrom on Rainier, but ten days of that? Like any climber of peaks like Rainier, Denali, Cotopaxi, or Orizaba, the wheels on this particular bus had been set in motion many, many months before and there was far too much invested to pull it over to the side of the road due simply to predictions of a deluge. The AMGA is the premier training path for America's professional climbing guides and the 10-day AGE is the culminating exam that guides take in order to become Certified Alpine Guides. Along the way toward that test, hopefuls must first take a 10-day Rock Instructor Course, a 9-day Alpine Guides Course, a 5-day Ice Instructor Course, an 8-day Advanced Alpine Guides Course, a 3-day Alpine Aspirant Exam, a 6-day American Institute for Avalanche Research and Education Level 3 Course and Exam, and a then—finally—the 10-day Alpine Guide Exam.
In case you weren't counting, that's 41 days of training in all—and that doesn't even begin to include the climbing resume you have to develop in between courses. All in all, that's a triple wallop of a lot of tuition, a lot of travel costs, and a lot of opportunity costs in the form of lost wages. Fortunately—and very, very thankfully—RMI, Whittaker Mountaineering, and Eddie Bauer/First Ascent helped to take some of the sting out of the tuition costs, but that aside, there was still no way I was going to let a grim weather forecast rain on my parade! Now the only problem was: "Would the grim weather forecast rain on the whole AGE parade?" You see, in order for an AGE to be valid, the examiners need to see you in a variety of terrain and situations—and if the weather doesn't allow those windows to open…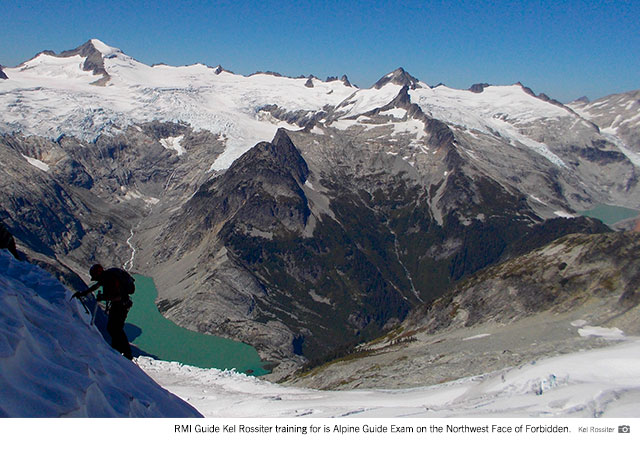 Fortunately, time and time again, in the face of doom, gloom, cats, and dogs we put ourselves into position for success and just barely, and just somehow, squeaked it out. For the first few days we enjoyed the relative "rain shadow" that the Washington Pass area of the North Cascades provides. Washington Pass doesn't allow for glacial travel though—an integral part of the AGE—so after two days we had to leave that safe harbor for the shores of Mt. Shuksan. We arrived in the Lake Ann/Fisher Chimneys trailhead in a steady drizzle. By the time we packed up, things had improved, but the rest of the day was something of an ongoing "fashion show" as we put on a rain shell, took it off, added a warmth layer, and tried to predict what the weather would look like in five minutes. And in the backs of our minds all imagined how things might unfold. Happily, we were most certainly rewarded for our efforts: By the time we topped out on Fisher Chimneys and rolled into our bivvy site, we were high above the roiling sea of grey valley clouds. So often it's the case on Mount Rainier that we'll radio down to Ashford and hear that they're thick in the rain while up at Camp Muir we're above it all. Such was the case on Shuksan, and the next day we managed to circumnavigate the Upper Curtis, Sulphide, and Crystal Glaciers and climb the summit massif's Northeast Ridge—my first time doing that particular route and highly recommended!
As the forecast shifted from grim to grimmer, we again decided to head over to Washington Pass. Driving over Highway 20 toward our meeting point at the Cutthroat Peak trailhead, my windshield wipers clicked a steady rhythm in time with the electronic music I was listening to to try to psych myself up. I arrived early at the trailhead and the rain continued. I cranked more psych music as I attempted some gear-sorting-inside-the-car-yoga poses. Then, miraculously, it began to clear. Not the swift and sure kind of clear that let's you know a new weather attitude is on the way—more like the resistant backing away of an angry dog that's just been called by it's owner, but enough to make a climb seem viable. We racked up, packed up, and headed for Cutthroat Peak's South Buttress. While it is true that "you can't win if you don't play", it's also true that it's a bad idea to climb yourself so far up an objective that retreat becomes untenable. Fortunately, the South Buttress offers plenty of bail options, so with one eye on the clouds and the other on my rope coils, we moved upward, steadily gaining another plum Cascade peak.
By then, we'd heard reports from a group of Advanced Alpine Guide Course participants that the Boston Basin area (home to West Ridge of Forbidden, Torment-Forbidden Traverse, Sharkfin Tower, and Sahale Peak, among others) had already received six inches of the new winter's snow. Fresh snow poses it's own set of problems in the alpine world, but deciding that fresh snow was more palatable than dealing with the reported dousing on the way, so up we went!
These days, I'm climbing on snow for at least a part of almost every month of the year, but it's not often I'm dealing with fresh snow in September. Skis or snowshoes weren't a part of our packing list, so lift-kick-step-sink-lift was the interminable process as we moved up through the now 10 inches of fresh snow covering the Quien Sabe Glacier. A circumnavigation/summit of Sahale Peak was our goal, and we eyed the valley clouds warily as we proceeded in dogged pursuit. Soon the clouds enveloped us and in between breaks we attempted to plot the best path ahead. After some steep, snow-laden slopes, a bergschrund crossing, and the final rocky summit scramble we were on top of our last AGE objective, Sahale Peak!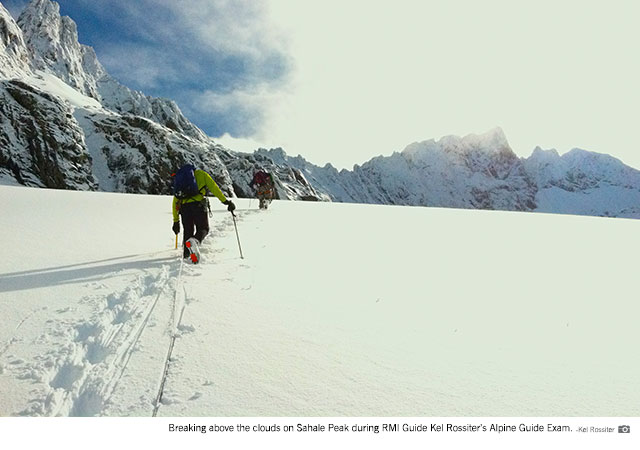 By day's end I was back in a Bellingham motel room, enjoying the comforts of a shower, eat-in Thai Food, and 581 channels. On every weather channel, stoic looking forecasters delivered the report with the delicacy of a cancer ward counselor: the patient's condition was not improving. I spooned the last bit of tofu out of my box of green curry and grinned: For the last ten days we'd prevailed in the face of such gloom and doom forecasts, and now, with the AGE wrapped up I was much more than just a survivor, I was finally an AMGA Certified Alpine Guide!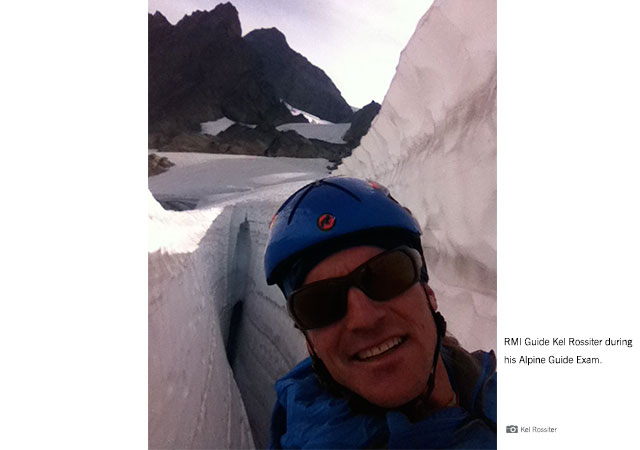 Achieving AMGA Alpine Guide Certification only occurred through a lot of support. Thanks to RMI/Whittaker Mountaineering/Eddie Bauer-First Ascent for their solid support of guide professional development. Thanks to all of the RMI guides who, through their sharing of skills, techniques, and approaches, have honed my own alpine guide skills; and particular gratitude to Andres Marin, Geoff Schellens, Jake Beren, Levi Kepsel, Eric Frank, Leon Davis, Elias De Andres Martos, and Rob Montague who shared with me their time and talents in the field as I worked toward this goal.
- RMI Guide Kel Rossiter
---
Posted by: Dave Hahn | November 24, 2013
Categories: *Expedition Dispatches *Vinson Massif
Bad flying weather continues in Antarctica, so we focused on a more accessible continent. The day clearly called for an 18 km round-trip hike up to Mirrador del Torres in Torres del Paine National Park. The "Mirrador" in question was the glacial lake held under the iconic granite towers. In our journey up from Puerto Natales, we saw condors and gauchos, glaciers and mountains, guanacos and turquoise windswept lakes.
We walked through lush forests and up through jumbles of massive white boulders to reach the lake and an unparalleled view of the massive rock cliffs. We gained and lost in excess of 2,500 feet in six hours of hiking… The perfect tune up for Vinson.
Best Regards,
RMI Guide Dave Hahn
---
Posted by: Dave Hahn | November 23, 2013
Categories: *Expedition Dispatches *Vinson Massif
Poor conditions for flying continue to delay the start of our Antarctic expedition. Reports were that snow was in the forecast for Union Glacier. It is already a bit of a tricky proposition to land a large four engine jet transport on an ice runway in the interior of the continent, and so we put up no objections to our logistics company's plan to push back departure.
But of course, Punta Arenas, the jumping off point for our Vinson climb, is coincidentally the jumping off point for exploring the beauty of Patagonia. We rented some cars and left Punta at midday, driving up to Puerto Natales. The sky was pretty well choked with cloud, but we could still make out the foundations of great snowy mountains in the distance, across wide open and windswept prairies. A great many unidentified raptors and other beautiful birds were playing and hunting along the road. We saw no shortage of sheep. Tomorrow, our intention is to enter Torres Del Paine National Park to sight see and hike. We'll keep the main goal -to climb to Antarctica's highest point- firmly in our thoughts, but in the meantime we'll open our eyes to some of the beauty of South America.
Best Regards,
---
Posted by: Dave Hahn | November 22, 2013
Categories: *Expedition Dispatches *Vinson Massif
Our first Vinson climb of 2013 is not quite off the ground yet. The team successfully negotiated the airports of the world to assemble in Punta Arenas in the South end of Chile, and we've gone through several meetings, gear checks and briefings. We've shared a few great meals and some walks around town. We've packed our bags and weighed them and consigned them to our logistical partner in this endeavor, ALE, for loading onto the Ilyushin 76 jet transport. Normally, we'd be savoring a final night indoors before the journey to less comfortable regions of the Antarctic interior. But we've learned that stormy weather is hampering flight operations at Union Glacier. The needed supply flights are backed up a bit and we can't possibly get in within the next few days. We choose to greet this news in a positive light… It gives us the chance to be tourists in Patagonia for a few days. Stand by to see what we get up to.
Best Regards,
RMI Guide Dave Hahn
---
Posted by: Elias de Andres Martos | November 18, 2013
Categories: *Expedition Dispatches *Everest BC Trek
Elevation: 4,383'
Namaste from Kathmandu.
Yes, we are out of the mountains… the team has finished the trek!
The last couple of days of our descent have been really exciting dear friends. Upon our arrival into Namche Bazaar, we took a rest day to enjoy the magic that embraces one when in the Khumbu.
With the best weather one can imagine and with the image of the highest mountains of the world very vivid in our memories, we found ourselves having an incredible surprise: we'd take a helicopter tour around Everest! Story aside, it is worth mentioning how seeing from the air lines that wrote history in mountain climbing, like the Hornbein Couloir made our eyes "watery".
We'd finish our descent to Lukla and bask in thick air as the smell of the aviation fuel brought us to realize we were getting to the end of an incredible trek. We flew into Kathmandu this morning where we await our flights back home at the same time as we will be witnessing tomorrow the second democratic elections in this small Himalayan country. Nepali people are to elect a government to end a five-year period of an unstable care-taking government since the abolition of their monarchy… but this is a "summit" Nepal has to climb and we wish them luck.
That has been all from our trip. Thanks to all of you who followed our adventure through our RMI Blog, to our great Sherpa Nawang Dorjee, to our Nepali outfitter HAD and Sagar in particular and to the mountains for being there and providing such an experience and making us feel so small.
RMI Guide Elias de Andres Martos
---
Posted by: Adam Knoff | November 18, 2013
Categories: *Mountaineering Fitness & Training
Today I was surprisingly asked a question that, as far as I can tell, is as old as human curiosity, parental affection and plain ol' sibling rivalry. This may seem strange because I only have one child, and my somewhat unhinged three wingnut dogs can't speak and honestly don't care about the answer as long as they are fed and played with. As you may have guessed, the question so abruptly put on me this morning was: "daddy, who's your favorite?" Harder to guess was, who asked it?
Things started normally enough; I made breakfast for my kiddo before packing him up and carting him off to preschool. I fed my dogs and chickens, cleaned the kitchen, and prepared for a day of light recreating before my afternoon duties began. It was when I entered the garage, home to my all important man cave and location of all my beloved fly fishing and climbing gear that things took a bizarre turn. Standing in front of me (I kid you not!) side by side, with puppy dog eyes looking up, stood my 12'6" Echo spey rod and my carbon fiber, oh so beautiful, Cobra ice tools. These sorts of things don't just happen so I double checked my reality button. Dreaming? No I don't think so. I have been up for three hours, had my coffee, and still felt the throb in my left big toe where I slammed it into the chest at the side of my bed. Ok, I'm awake. Drugged? No, I quit taking hallucinogens in high school and my wife, I think, genuinely cares about me. Then what? My two favorite activities in life, swinging flies for big trout with my spey rod and ice climbing, which is now doable in Bozeman, Montana, have come to a head. With a few free hours, my fishing rod and ice tools came alive and wanted me to pick favorites. Sheeesh! What's a guy to do?
As time stood still, I began to reflect on the week long steelhead fishing trip I took just two weeks prior to the Grand Rhond, Clearwater, and Snake rivers. Ohhh, the joy of that trip made me quiver. It made me want to reach out, grab my spey rod child and declare my love for him. 28 inch ocean run rainbows on the swing, the thrill of the next hook up, not wearing a heavy pack; the reasons almost overwhelmed me. Yes, yes, you will always be my favorite!!! Then I saw my ice tools. Hyalite Canyon is in! I can't wait for the thrill of running it out on newly formed thin ice over a stubby ice screw, waking up before the sun, and realizing this day was bound to hold everything but the predictable. Ohh, ice tools, you are my favorite, "let's go climb something!" I think you understand my dilemma.
Parenting has taught me much in the five years that I've been at it. Love, patience and compassion are always at the forefront of dealing with children. Frustrations always arise. Liam spills my wine on the new rug, my spey rod whips bullets at the back of my head leaving welts the size of cheese curds on my scalp, ice tools rip out unexpectedly and send waves of sudden panic through me that make me want to puke. All part of the landscape I guess. So how did I answer the question, "who is your favorite"? Here I leaned on the invaluable lessons gleaned from seven years of blissful marriage. I compromised.
That day I took the ice tools out for their first climb of the season. I packed them up with the rest of my climbing gear all the while psyched I had just promised my fishing rod we would get out tomorrow. It's a difficult web we weave, balancing work and play. I honestly felt troubled that I had to recreate two days in a row, climbing then fishing, but then again parenting is also about sacrifice.
As readers of the RMI Blog, most of you are probably cracking a smile but are also curious how this story is relevant to the mission of mountain climbing, training, and/or preparing for an upcoming goal. Here is how I connect the dots: Fishing for me is the yin to my climbing yang. It is a glorious mental escape which allows me to shelve my daily stresses and exist purely in the moment. Everyone needs this periodic meditation to reset and clear the mind. For many, exercise accomplishes the same release but regular exercise does not necessarily constitute "training". The expectations I put on myself when climbing on my own are very high and the specific training schedule I follow can at times be demanding, painful, and sometimes unpleasant. Here is where we tie in sacrifice. Everyone's life is managed by time. Somewhere on that big round clock is time you can utilize for yourself. If you have a goal of climbing a mountain, running a marathon, or bench pressing a Ford truck, you need to prioritize and then commit! Finding enjoyment and purpose in life comes when these commitments are made. Being a husband and father keep me grounded. Being a passionate climber and guide keep me psyched and motivated, and the hunt for big fish calms me down. In the big picture I think I have found some balance. Remember it takes the black and the white, the yin and the yang, to complete the circle. The web you weave and balance you seek are your own, but seek it with conviction and purpose and you will be just fine.

__________
Adam Knoff is a senior guide at RMI, husband, father, and fish wrangler. A versatile and talented rock, ice, and big mountain climber, Adam has climbed and guided throughout the world, in Alaska, the Himalaya, and in his backyard of Bozeman, MT. Adam is guiding an upcoming Mexico's Volcanoes trip, Expedition Skills Seminar - Ecuador, and will be leading a team on the West Buttress of McKinley next June.
Questions? Comments? Share your thoughts here on the RMI Blog!
---
Posted by: Elias de Andres Martos | November 14, 2013
Categories: *Expedition Dispatches *Everest BC Trek
Elevation: 12,325'
Namaste from Deboche.
We have just checked into our lodge after finishing our second day of our steady descent back down the Khumbu Valley. Yesterday we changed things up in the initial itinerary, crashing at Dingboche so we could have a closer view of Ama Dablam's north face. Besides the new views, we were also rewarded with a great night of sleep, having dropped nearly 1,000 meters from Everest Base Camp.
The descent today gave us more thicker air to breath as well as the so much needed higher temperature; we where certainly feeling the approaching winter in the high Himalayas.
We'll be checking in again from Namche… another handful of hundreds of feet lower!!!
Pics from the last few days… uploading now with better bandwidth!
RMI Guide Elias de Andres Martos
On The Map
---
Posted by: Alex Barber | November 13, 2013
Categories: *Guide News
This past autumn I left the surf and sand of Southern California to attempt my first 8,000-meter peak, solo, and without supplemental oxygen or Sherpa support. I don't quite remember when the idea came about, but climbing a Himalayan giant is something I've dreamt of since an early age. This project always struck me as a rematch of sorts, as my first foray into mountaineering as a teen was a botched solo attempt on Mt. Whitney in January. That first climb put me through the ringer and I departed for this expedition fully expecting the same.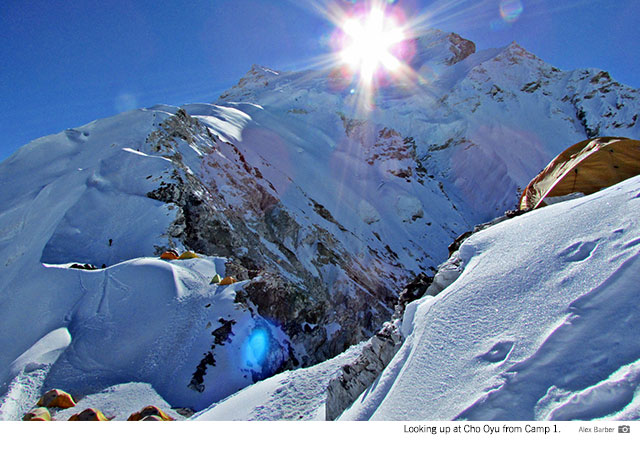 With expeditions like this, the unknowns are bound to be many; I heard differing opinions on just about everything. "Kathmandu is modern and you can buy all your supplies there," one person would say, and then the next day I would hear the opposite. For the record, Kathmandu is definitely not modern - but all this can be fun. I found adventure in the 21st century and that seems to be rare. So I planned for what I could and insulated myself from what I couldn't. It was exhilarating to know that I had no concept of everything I'd face.
Near midnight on the 1st of September, I hit the tarmac of Kathmandu International Airport. The city of Kathmandu sits within a large valley at the foot of the Himalaya. Its streets are crowded and its buildings somewhat dilapidated, but the people are kind and the food is fantastic. Surely much has changed since the first westerners arrived, but there is still a sense of lore about the place. Hindu temples, large and small, are strewn about, and filled with worshipers while Buddhist monks' roam the streets. The entirety of this scene is cast against the gear shops and bustle of everyday city life in a place steeped in climbing history.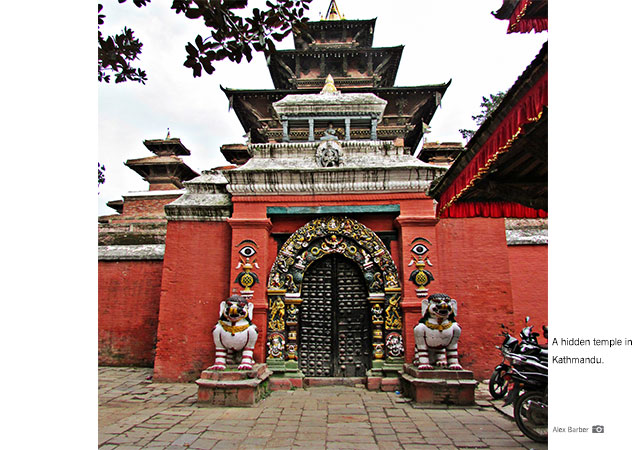 On September 10th I arrived at Chinese Base Camp, the "end of the road". Over the previous week I'd driven through the alpine rainforests of Nepal and into the moonscape of the Tibetan Plateau. At the Tibetan border it is necessary to leave your Nepali ride and walk across the "Friendship Bridge" flanked on either side by the Nepalese and Chinese military. Once across, I met my Chinese Liaison and Tibetan driver. We quickly departed and speedily wove through the streets of Zhangmu, a border town perpetually stuck in a dense fog of clouds as they collide with the rising Tibetan Plateau. At Chinese Base Camp (BC, 16,300') I still was 2,400' vertical feet and an unknown distance from Advanced Base Camp (ABC). I spent 3 days at BC waiting for yaks (pack animals that would move my supplies to ABC). While waiting, I developed a terribly bothersome head cold; unfortunately this was not the only time I got sick during this expedition. Days later and sick as a dog, I trekked the last distance into ABC, low visibility, snowing hard with a frigid wind in my face.
We erected ABC (18,700') and soon I fell into the rhythm of establishing higher camps mixed with days of leisure. Everything seemed to slowly come together, as I prepared my body and my supplies for a possible summit window in the beginning of October. I think what kept me most sane during the expedition was my focus on the immediate. An undertaking such as this can be daunting if you try to grasp the sum of the next 20-day span, including the challenges yet to be overcome. So I'd only spool out as much time as was immediately necessary in my mind, and kept my thoughts off the many days ahead of me to reach the summit.
Throughout the climbing period of the expedition I kept a brisk pace between camps, taking care not to push myself so hard that I couldn't construct camp and take care of myself adequately afterwards. It's a fine line up there; it's far too easy to push yourself past the limit. I saw this countless times with other climbers but they had the safety net of Sherpas, guides, and teammates to assist them when they took on too much. I had no such safeguard and this was something I had to always take into account. I wouldn't want to put a negative connotation on climbing solo though, because it was gratifying in its simplicity.
On September 30th I pulled into Camp 3 at 24,500'. I recall constructing camp atop a small ridge of snow perched beneath the notorious Yellow Band. Here I definitely felt the altitude. Beneath me two Sherpa friends were digging in a platform for their team's arrival. I'd look over at them as I was catching my breath and they'd be doing the same, smiling and laughing with each other at the ridiculousness of it all.
Climbing without supplemental oxygen and solo (or as solo as it gets on Cho Oyu) has dangers that are heightened, namely the two forms of edema: HAPE and HACE. These affect the lungs and/or brain and are deadly if they persist without descending to lower altitudes. These conditions mainly strike during the night as your breathing naturally decreases. Being on your own when this happens can be mortally dangerous. I took measures to lower my risk by staying hydrated, well feed, comfortable, stress free, and I always kept a wary eye on my breathing and short term memory. The year prior I'd seen firsthand the grim realities of high altitude mountaineering on Argentina's Aconcagua, after a rescue of another team turned tragic. Cerro Aconcagua was my previous high point at 22,841'. Everything beyond was unknown and I was well above that now and pushing higher. In hindsight, perhaps maybe I should have been more nervous at these altitudes, but I suppose I never felt threatened by them. As was the case in all my previous expeditions, the altitude only seemed to leave me breathless and nothing worse, not even a headache. And so I hydrated, ate and went to bed excited for my summit attempt only hours away.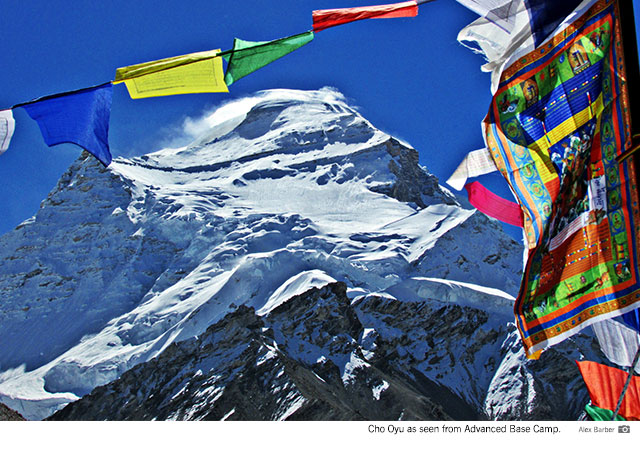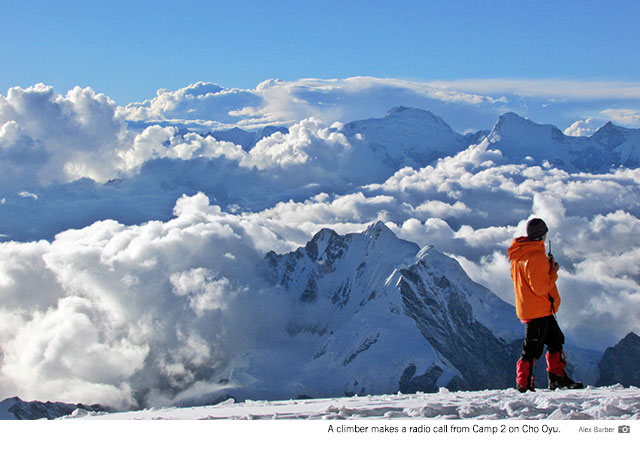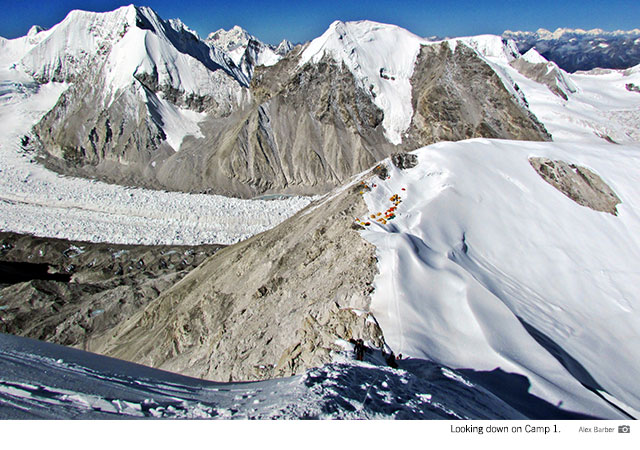 Summit Day
I awoke at 12 midnight; outside I could hear guides addressing their climbers, the hiss of oxygen bottles as the regulators were spun on and the crunch of crampons engaging the firm snow as the first teams departed. Climbers' torches faintly lighted my tent as they passed and the walls were lined with ice that rained down with the slightest nudge. I gave myself a once over, everything felt good and I was ready. I roused and started my stove, opened a few vents to ensure proper ventilation and stuck my head out the top of the tent. I had spoken to the leaders of the other expeditions and they were leaving quite early, at 12 midnight which meant they had woken up hours earlier. My plan was to leave as late as 2 am for two reasons: firstly I wanted to meet sunrise sooner as I would be running colder without O's (oxygen), and secondly to give the other teams a large enough head start to ensure I could keep warm by continually climbing. But this night would be hapless from the moment I spilled my hot water all over the tent.
As the other teams passed, and in a moment of carelessness, I fumbled a liter of water in my tent. Luckily, everything required for the summit push was outside in my pack. But with the threat of getting my boots or down suit wet I decided to depart for the summit immediately. The time was 1 am, an hour earlier than I had planned, and as soon as I left my tent I saw a traffic jam forming at the Yellow Band – a formation of rock above Camp 3. Hoping that their supplemental oxygen would see them through with some speed I continued on, but as I ascended it became apparent that they would not climb as hastily as I had hoped. As I sat in line below this technical rock step my extremities lost feeling. Swinging them in circles - something we call "windmills", easily reinvigorated my hands. But climbing through the chilly night, I wasn't able to completely regain feeling in my toes, this was a constant concern. However, I had not lost the ability to wiggle them as I took each step so I continued climbing into the night.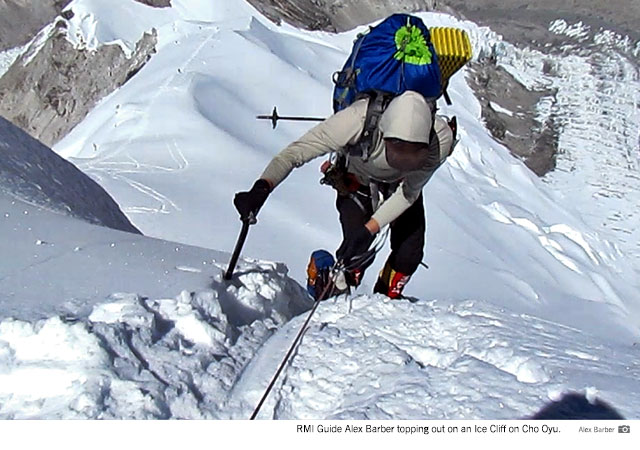 After the Yellow Band, I threaded my way through a steeper section comprised of rock and snow, unclipping from the fixed lines and passing other teams as often as I was able too. The process of passing other teams at that altitude is quite tiring, as I had to abandon my efficient rhythm for a faster pace outside of the beaten in route, at times breaking into the snow up to my knees. Luckily I only had to do this 3 or 4 times as the majority of the climbers were moving faster than I was, with their bottled oxygen giving them more stamina. I recall one moment at 25,800' when I became exceedingly nauseous. But it quickly passed and I continued on. This was the only moment I felt the altitude affect me.
At Camp 3, when I left, it was warm and still with high clouds touching the summit, but now, at 26,000', a light wind had picked up and the last of the high clouds were blowing over me. My suit was covered in ice and I had to stop periodically to rewarm my face by burying it in the cowl of my hood. As I reached striking distance of the summit (or so I thought) the horizon became faintly lit. And I encouraged by what it signified!
As I came over the top onto the summit plateau I saw a high point off to my left, but Liz Hawley, an elderly woman who keeps the records of the Himalaya, warned me against this. I met Liz in Kathmandu, and discussed my plan for the expedition. She instructed me, "When you enter the plateau you'll see a high point off to your left that seems to be the obvious summit, but go forward and slightly to your right and continue until you see Everest. This will be the true summit." I recalled her words and continued on straight. Those last 45 minutes plodding along at 26,900' for what seemed an eternity, a quarter of a mile, the summit not even visible (or so I thought) was the hardest for me. I had nothing to hold onto. The plateau seemed to stretch beyond the visible horizon. Despair mounted at the thought of having to start grid searching for the damnable thing. I scanned the plateau again. It was then that I noticed a single string of prayer flags off in the distance to my right; on a mound no higher than 3 feet from the point I was standing. It was the summit, maybe one of the least climactic summits I've experienced, but I was deeply relieved when I got there and found myself standing at the summit of Cho Oyu!
Alex Barber on the summit of Cho Oyu

I was on top for about 15 minutes. Most of the time seated on my pack eating peanut M&Ms and washing them down with warm Tang from my thermos. I made a speedy descent to Camp 3, quickly packed and made the entire descent to ABC, arriving soon after dusk. Dawa, one of my cooks waited outside of ABC for me with hot tea and a huge smile, after a celebratory embrace we descended the last 15 minutes together into ABC. I felt relieved to be finished. The day was October 1st, I had summited at 8:20 am that morning Nepali time.
You know, I've been asked what it felt like for everything to culminate and be on top. That feeling of accomplishment or exhilaration - what was it like? But I think what draws me isn't that singular moment at the top or any feeling of exhilaration from being there. Instead it's the quieter and constant sense of contentment that comes from the simplicity of mountaineering, the journey along the way and being surrounded by extraordinary beauty that challenges you to conquer – not the mountain – but yourself. For me the journey is the destination.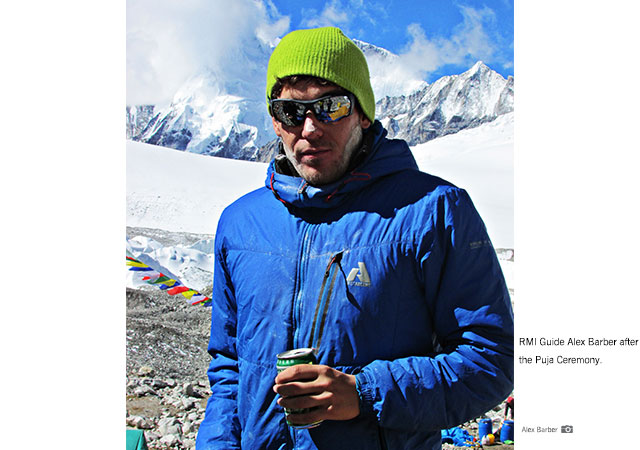 Alex Barber is a mountain guide for RMI Expeditions and splits his time between the beaches of Southern California and mountains around the world. Alex will be guiding an Expedition Skills Seminar – Winter in January before returning to the Himalaya this spring to attempt Lohtse and Shishapangma. Read more about his climb and follow the upcoming adventures on www.alexanderbarber.com.
---
Previous Page
More Entries