Posted by: Elias de Andres Martos | November 02, 2013
Categories: *Expedition Dispatches *Everest BC Trek
Elevation: 11,300'
Hello from Namche. This is the Everest Base Camp Trek and we are calling after the second day on the trip. Everything is well. We will try to send more detailed updates tomorrow, even with some pictures as we were having some internet connection problems today. All is well and we will try to update you more tomorrow.
RMI Guide Elías de Andrés-Martos

RMI Guide Elías de Andrés-Martos calls in from Namche Bazaar.
On The Map
---
Posted by: Elias de Andres Martos | October 31, 2013
Categories: *Expedition Dispatches *Everest BC Trek
Elevation: 4,383'
Greetings from Nepal.
Today we officially started our fall 2013 Everest Base Camp Trek!!!
Our team arrived filled with excitement to the small country of the big Himalayas. Great weather accompanied our arrival to a very much alive Kathmandu; the anticipation of the elections that will be celebrated in 2 weeks makes the capital city a unique place. Dodging the different political groups' parades through the city, we visited historical landmarks which made the day of such a photographer.
We enjoyed a great dinner before heading to bed for an early start tomorrow, which with a 5 am wake up call, will take us to Lukla, (weather permitting) to start our journey through the Khumbu valley towards the higher grounds. More to come soon from the unpaved trails, the smoke free air and the inspiration filled mountains of the Land of the Sherpa!
RMI Guide Elias de Andres Martos
On The Map
---
Posted by: | October 28, 2013
Categories: *Mountaineering Fitness & Training
Illness is the enemy of every climber.  You have trained countless hours and are in the best shape of your life, but if you start a climb already sick, the climb you were prepared for can become infinitely harder.  Health on an expedition starts before the climb, before the team meets, and before the marathon of travel to get to your destination.  Start your trip healthy by making sure you are thinking about your health and your immune system several weeks before your trip even starts! 
 
Remember to "taper" your training before the climb. Ease back on the hours and intensity of your workouts during the last week or two before your trip and make sure that you are rested, recovered, and ready to go.  It's always tempting to push the last few workouts, but doing so can lead to arriving tired and predisposed to getting sick before the climb begins.
 
Most climbing trips begin with an airline flight, whether across the U.S., or across the globe to South America, Nepal, and beyond.  An airplane full of people from all over the world is a big test for your immune system, and it will need all the help you can give it. To keep your immune system strong, don't forget to start hydrating a day or two before your flight as well.  Airline cabins are often pressurized to higher altitudes than we are used to, and consequently, humidity in the cabin is also much lower than our normal environment.  Good hydration before your flight will help get you through the flight in better shape.  Lastly, don't forget to get up and move around.  A few hours of sitting in your airplane seat can leave your legs feeling stiff, sore, and perhaps swollen; not an ideal start to a climb!
 
Once you are back on the ground, try to adjust to your new environment.  Often, the hardest part is adjusting to a new time zone.  Do your best to adjust your routine to the local time right off: eat your meals at standard times and try to stay awake until a normal hour.  Besides a time zone change, you may also be dealing with new and different foods.  Right before your expedition isn't the best time to be adventurous with your food.  Be mindful of what you eat, especially when traveling abroad. Make sure that food, especially meat, is thoroughly cooked.  Beware of fruits and vegetables that are unwashed, or have been washed with tap water.  Soil and tap water in other areas can carry bacteria and viruses that our systems aren't accustomed to dealing with.  Along the same vein, be careful with drinks.  Drink bottled water if in doubt, and ask for drinks to be made without ice (which is usually made from local tap water).  Use bottled water to brush your teeth as well.  If you are dying to spice it up and try the local delicacy, the time to do it is after the climb.  
 
If you arrive feeling a bit off, don't stress.  Take the time to rest, recover from your travels, and refuel.  This will make all the difference if you are balancing the line between getting sick and staying healthy.  Vitamin-C supplements, Zinc, Echinacea, and innumerable other immune supplements are available.  Bring your favorite, and use them prophylactically during your travels.  Traveling can be the most stressful part of your climb.  Once you are in the mountains, routine takes over and all of your training pays off! 
Questions? Comments? Share your thoughts here on the RMI Blog!
---
Posted by: J.J. Justman, Solveig Waterfall | October 26, 2013
Categories: *Expedition Dispatches *Mexico
We are back from the mountain safe and sound. It was a wild morning and it kept rolling throughout the early morning. First, we woke up to a constant rain at the hut. Solveig and I stayed up and kept checking the weather for improvements. And alas at 2 am the weather cleared. The team was so excited to climb.
We donned our packs and began our ascent. It was a beautiful early morning on Orizaba. As we inched our way up to the lower glacier I began to notice the snow underneath me doing something unusual. It was settling with a giant whoomph. A clear indication of snow instability. Solveig and I conducted a few snow stability tests and it wasn't looking good. As a matter of fact the snow settling under my feet was the worst I felt.
We contemplated a bit and it was an easy decision. Orizaba was not safe to climb. It can be disappointing not making the summit but with what the team experienced they all understood. Safety is number One. And as Sr. Reyes mentioned as he picked us up…Orizaba isn't going anywhere. We will climb it another day.
On The Map
---
Posted by: J.J. Justman, Solveig Waterfall | October 25, 2013
Categories: *Expedition Dispatches *Mexico
Elevation: 14,000'
Hi Everyone,
The team is at Sr. Reyes and we are all set to go. The sun is shining and we enjoyed great views of Orizaba on the drive in. We will now drive a 4x4 vehicle up to the hut, set up camp and prepare for our summit day tomorrow.
Wish us bueno suerte!
JJ, Solveig & Team
---
Posted by: Geoff Schellens | October 24, 2013
Categories: *Guide News
Guides and climbers often struggle with sitting still, so RMI Guides Jake Beren, Leon Davis, and I quickly decided on a personal trip into the Alaska Range this spring. The three of us have guided Denali many times - and as any climber who has been to the Alaska Range knows, it is difficult to travel past countless beautiful peaks, ridges, and faces and ignore the siren call to come climb them. This trip was all about pulling the wax from our ears and sailing directly towards the siren's song. With no clear plans or objectives, we decided to simply climb what looked enticing. After ten days in the Ruth Gorge, the three of us were picked up from the Ruth Glacier and flown to the Southeast Fork of the Kahiltna Glacier. In early May we climbed the Southwest ridge of Mt. Francis, an excellent ridgeline that offered quality alpine rock and steep snow climbing. With good weather holding, we rested and restocked for the West Ridge of Mt. Hunter.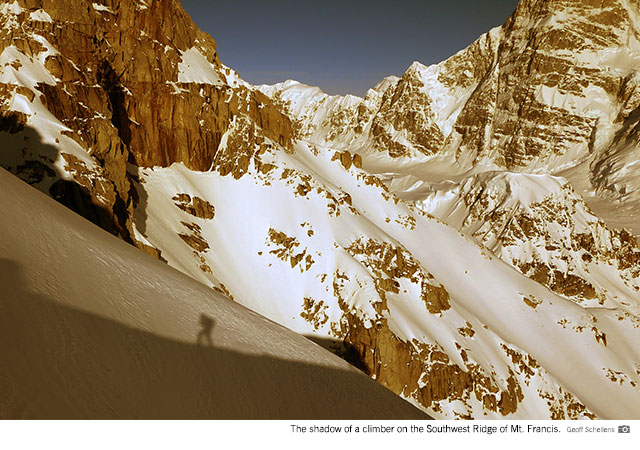 On May 9th Jake and I departed from Base Camp around 8:00 AM, skiing down the Southeast Fork through the cold, crisp morning air to the main flow of the Kahiltna Glacier. We continued down the glacier for another half hour and reached the West Ridge of Mt. Hunter. Here Jake and I cached our skis and began climbing. We approached this objective in a light and fast technique, known as "alpine style," bringing four days of food, a small stove, a lightweight tent, and no comfort items. As we started climbing we found a very nice boot pack leading up the ridge that made for extremely efficient travel. At first we felt guilty drafting behind someone else breaking trail, but soon decided that each of us has done our fair share of trail breaking on other peaks and that we ought to just enjoy this one. As the two of us climbed higher on the West Ridge with ear-to-ear smiles we decided on a plan, "Lets climb until we're not having fun and then camp there." Well, the climbing on the West Ridge was extremely fun and after twelve hours of navigating the corniced ridge, peppered with exquisite sections of rock, steep snow and ice, we found ourselves at the 11,400' bivy - tired but still smiling. We set our tent in a small notch and ate freeze-dried dinners with a fantastic view of the Alaska Range. It was truly an awesome place to be.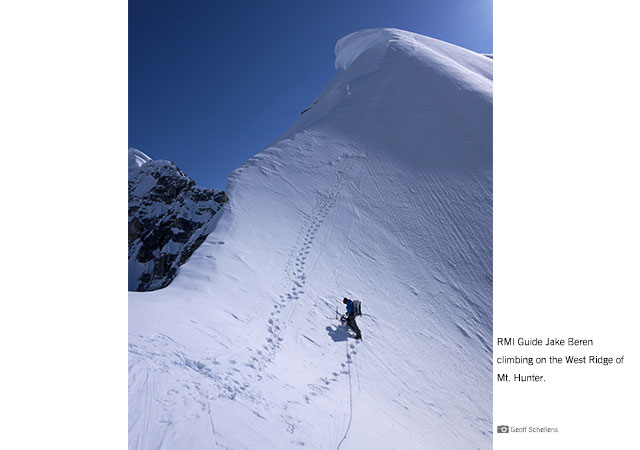 The next morning brought beautiful weather and a sense of excitement for where we were and what lay ahead. With our approach of simply having fun, we enjoyed the morning views and a few cups of coffee before breaking camp at noon. Moving quickly relishing every step and with a swing of an ice tool we ascended steep snow pitches and navigated gaping crevasses. Soon we found ourselves on the summit plateau at 13,000' walking across the largest stretch of horizontal terrain we had seen in thirty hours. From there we ascended the final 55° slope that took us to the summit ridge. From there, forty more minutes of easy climbing gave way to the summit of Mt. Hunter. While standing on the summit Jake and I hooted and hollered with excitement, "What a fun climb!"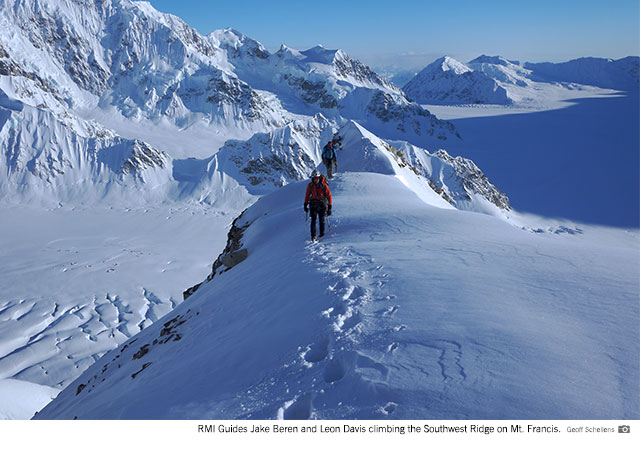 Soon we began our descent with the same approach we used on the ascent - climb until it is not fun and then set up camp. Down the ridge we went back to our bivy site, where we decided to descend via the Ramen Route. Quickly Jake and I realized that we had made a wrong turn into the entrance of the Couloir. This meant that we had to do a few tricky rappels and down climb through seracs to get ourselves back on route. Once we were back on track, we had a few more rappels before softer snow conditions allowed us to down climb to the base of the 3,300' Ramen Coulior.
Now, for the second time in two days, we found ourselves again on flat glaciated terrain. At this point it was getting late in the day, but we were still enjoying ourselves and decided to continue our descent. Due to the time of day we chose to navigate the extremely broken-up glacier since it provided more camping opportunities if we needed to set up camp. This was a time intensive descent however as Jake and I soon found ourselves in a world surrounded by incomprehensible seracs and crevasses. A couple more hours brought us back to the main flow of the Kahiltna Glacier and our skis. After forty-two hours we arrived back at Base Camp exhausted, hungry, thirsty, and smiling. Employing our tactic of "climb until we are not having fun" had been the perfect strategy for this route.
_______
RMI Guide Geoff Schellens is a senior guide leading trips on Aconcagua, the North Cascades, Mt. Rainier, as well as, guiding Ice Climbing and Mt. McKinley. He is currently preparing for his next adventure this spring on Dhaulagiri, an 8,000 meter peak in the Himalayas. See more of Geoff's mountain photography on his website.
---
Posted by: Solveig Waterfall, J.J. Justman | October 24, 2013
Categories: *Expedition Dispatches *Mexico
It is a day to explore the city of Puebla. The team is enjoying a day of rest and there's no better place to do that than in this colorful city. Some of the teammates are on the search for cowboy boots. Some of us are going to partake in a culinary class to learn how to make Puebla's signature dish…Mole Poblano! And of course, we will be sampling all the authentic cuisine we can.
The weather is improving so don't go too far. Tomorrow we begin our adventure on Orizaba!
---
Posted by: J.J. Justman, Solveig Waterfall | October 23, 2013
Categories: *Expedition Dispatches *Mexico
Elevation: 14,700'
Hey everyone this is JJ and Solveig with the Mexico team here on Ixta. First we do want to let everyone know that everyone here on the team is safe and sound and second, we haven't heard any news but we hope that everyone in Acapulco and the coast land of Mexico is ok with that hurricane. Here on Ixta at High Camp at 14,700', we have received the inland storm, I believe the remnants of what happened with that hurricane. We received over a foot of snow last night, heavy winds and no visibility. The winds have died down, it is not snowing any more. We still don't have good visibility. But everyone is still in good spirits. Needless to say, the mountain certainly said no to us for going to the top today but this is a day that is pretty obvious that the mountains are to be enjoyed and not conquered. We are making the best of it, everyone is in great spirits, having fun and smiling. Now our focus is packing up and getting down off of Ixta and into Puebla. Everyone says hello on the team and thanks for following along. We will definitely show you some of the sites and sounds from Puebla, Mexico and maybe some of what it looked like yesterday getting up to high camp. Everyone is doing great and we will touch base soon. Our next objective is Orizaba and we are definitely keeping our fingers crossed for better weather. Take care everyone. Bye.

RMI Guide JJ Justman checks in from high camp on Ixtaccihuatl.
On The Map
---
Posted by: J.J. Justman, Solveig Waterfall | October 22, 2013
Categories: *Expedition Dispatches *Mexico
Elevation: 14,700'
We are camped in tents at 14,700' high camp on Ixta. We have had clear mornings, then some clouds, and light precipitation in the evenings. Our forecast remains fine- 70% chance of rain diminishing in a couple of days. The hurricane in the area is not affecting us. Tomorrow is our summit day. Wish us luck!

RMI Guide JJ Justman checks in from Ixta High Camp.
On The Map
---
Posted by: J.J. Justman, Solveig Waterfall | October 21, 2013
Categories: *Expedition Dispatches *Mexico
Elevation: 12,000'
It feels good to be in the mountains! Our team is nestled in the Altzomoni Hut near 12,000 feet! Of course we enjoyed a great breakfast fit for Kings and Queens before we arrived here. After a brief stop to do some last minute food shopping we arrived at camp early afternoon.
The rest of our day was filled with final packing preparations for our endeavor to make high camp on Ixta tomorrow. Everyone is doing fantastic. The weather is a little dreary but it's not stopping us from having fun! And just because we are in the mountains doesn't mean we have to act like it. Instead of freeze dried food, Solveig and I prepared a fresh Mexican carne asada dinner for the team. The fresh guacamole was a hit. It was devoured in seconds!
RMI Guides JJ Justman and Solveig Waterfall
On The Map
---
Previous Page
More Entries