Posted by: Seth Waterfall | August 23, 2014
Categories: *Expedition Dispatches *Kilimanjaro
Elevation: 15,000'
Another fine day on Kilimanjaro's trails has led us to high camp. The name of this camp is Barafu which translates to 'ice'. So you can tell it is not always the warmest spot. True enough, we have been getting some ice pellets or graupel hitting the tents since we arrived. Hopefully we'll have the normal evening clearing and a nice climb tonight.
The team members are all in our respective tents sorting gear and relaxing before we head out. Our crew just prepared a delicious lunch of hamburgers and macaroni salad. Perfect for the physical effort that awaits us.
Our plan is to get up at midnight and get on the trail by 1 AM. It should take us somewhere in the neighborhood of 6 hours to reach the top.
Wish us luck!
On The Map
---
Posted by: Brent Okita, Mike King | August 23, 2014
Categories: *Expedition Dispatches *Mount Rainier
Elevation: 14,410'
At 6:45 am the Four Day Summit Climb teams led by RMI Guides Brent Okita and Mike King were approaching the summit of Mt. Rainier, Columbia Crest. Brent reported a beautiful day with a slight cloud ceiling above them. The teams will enjoy the views from the top and then descent to Camp Muir for a short break before continuing down to Paradise this afternoon.
We look forward to seeing the teams at Rainier BaseCamp later today.
---
Posted by: Billy Nugent, Zeb Blais | August 22, 2014
Categories: *Expedition Dispatches *Mount Rainier
Elevation: 14,410'
The Four Day Summit Climb led by RMI Guide Billy Nugent along with the Expedition Skills Seminar - Paradise led by Zeb Blais reached the summit of Mt. Rainier this morning. The teams reported clear skies with cold temperatures on the summit. Both teams began their descent from the crater rim around 7:40 am. The teams will return to Camp Muir for a short break before continuing down to Paradise.
The Expedition Skills Seminar - Emmons led by Solveig Waterfall checked in this morning from Glacier Basin. They will be descend from Glacier Basin back to the trail head and return to Rainier BaseCamp later today.
We look forward to seeing all of the teams back in Ashford later this afternoon.
Congratulations to today's Summit Climb Teams!
---
Posted by: Seth Waterfall | August 22, 2014
Categories: *Expedition Dispatches *Kilimanjaro
Elevation: 13,000'
Jambo from Mt. Kilimanjaro! We are on the trail. Last night was wonderful at Barranco camp and this morning we slept in a bit before heading up the wall. The climbing was great and the group did very well. We can see the upper mountain glaciers and the high camp. We are getting close to our goal!
We are now at our Karanga Valley Camp. The team did great on the trail into camp. We had a great lunch here and have been relaxing this afternoon. Everyone is psyched for the trip to high camp tomorrow morning.
On The Map
---
Posted by: Mike Walter | August 21, 2014
Categories: *Expedition Dispatches *Mount Rainier
Our Kautz Expedition Skills Seminar team arrived back to RMI Basecamp in Ashford, Washington, yesterday evening. We enjoyed excellent weather during the six day program, and we took advantage of it to spend lots of time climbing and training in the mountains.
We trained on a variety of skills, including various knots and hitches, anchors, crevasse rescue, and ice climbing.
On our climb, we moved camps up the mountain and went for our summit push. The Kautz Route was in a very challenging condition, and our climbers did a great job of managing the terrain. The Kautz Ice Chute was at least eight pitches (150' rope lengths) long, with some additional steep climbing above it. The ice presented challenging climbing at high altitude, and pushed our limits. Due to the challenging nature of the ascent and a technical descent ahead of us, we opted to turn our climb around at ~13,000', at the top of the Wapowety Cleaver. It had taken us ten hours to get to this point and only a couple of hours of glacier travel stood between us and the summit of Mount Rainier. But, we knew we had our work cut out for us to safely descend the Ice Chute and return back to camp. Everything went smoothly and it still took us ten hours to descend.
A huge 20-hour day in the mountains is very challenging, and I'm proud of our climbers for staying strong throughout the entire journey. I hope everyone has enjoyed a shower, cold beer, and flip flops…
---
Posted by: Geoff Schellens | August 21, 2014
Categories: *Expedition Dispatches *North Cascades
Elevation: 8,680'
RMI Guide Geoff Schellens just called from the summit of Sahale Peak! The team had a great climb and ended up above the clouds with great views of the surrounding North Cascades peaks peeking out.
The seminar team has had a fun week of training and climbing, reaching the top of Aiguille and Sahale Peak. Tomorrow they will finish their training and descend back to the trail head before parting ways.
---
Posted by: Casey Grom, Lindsay Mann | August 21, 2014
Categories: *Expedition Dispatches *Mount Rainier
Elevation: 14,410'
The Mount Rainier Summit Climbs led by Casey Grom and Lindsay Mann are on the summit! They reported clear skies above, cloud deck at 7,000', and light winds. Since they just crested the crater rim at 7:00 a.m., they are enjoying the views and crossing over to the true summit, Columbia Crest, before beginning their descent.
---
Posted by: Seth Waterfall | August 21, 2014
Categories: *Expedition Dispatches *Kilimanjaro
Elevation: 15,000'
Well, it's a cloudy day on the trail but the group is hanging tough. We're having lunch at the Lava Tower (15'000'). That means we are setting new altitude records for just about every one. Tonight we will camp at Barranco where some of the giant plants that are unique to Kilimanjaro are concentrated.
On The Map
---
Posted by: Zeb Blais | August 20, 2014
Categories: *Guide News *Guide Grant
This spring I teamed up with an international crew of ski mountaineers to traverse Tajikistan's Fedchenko Glacier. Before the expedition, I had hardly heard of Tajikistan and certainly had never dreamed of crossing one of the longest glaciers outside of the Polar Regions. When the opportunity arose, I couldn't say no. A high mountain adventure to a central Asian country on the northern border of Afghanistan wasn't something my sense of adventure would just let me walk away from.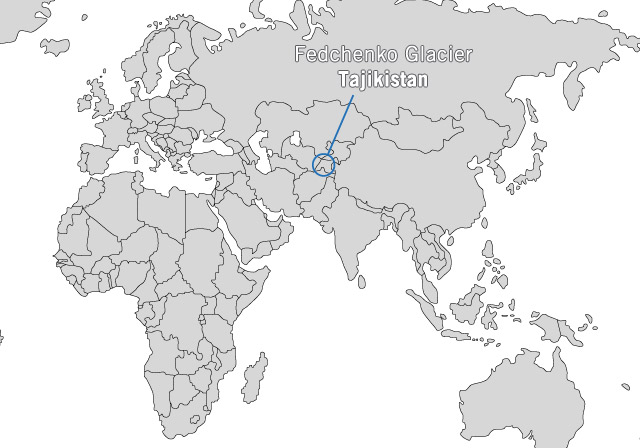 The trip came to life three years ago when three Canadian skiers hatched the idea and began the logistics. I was brought on because the team wanted two more experienced ski mountaineers for the remote and relatively unexplored zone of the Pamir mountain range.
Having traveled in developing countries before, I knew that I not only wanted to travel, climb and ski in this remote range, but to give back to the mountain communities that would help inevitably help us on our adventure along the way. As I packed my gear for the trip I noticed how much great warm clothing I had to choose from and I realized that I didn't even use half of it anymore. This was it! I could get people to donate the winter clothing they hadn't used in years and put it to good use in a country where access to technical apparel was slim to nil. I began a clothing drive and between me and my teammates Holly Walker, Emelie Stenberg, Vince Shuley and Selena Cordeau, we were able to collect and give 350 pounds of clothing to give to the Tajik people who needed the clothes far more than we did.
The good vibes from the clothing drive started our trip on a positive note - which was good, because it was a long, hard trip. We planned on one week for getting on and off the tributary glaciers to get to and from the Fedchenko. It ended up taking us thirteen days, nearly twice as long. We planned on setting up three basecamps and skiing 6000m peaks for two weeks; we were tent bound for six of those days due to weather. On top of all that, the snowpack was just about as unstable as it could get. This greatly limited what we were able to climb and ski.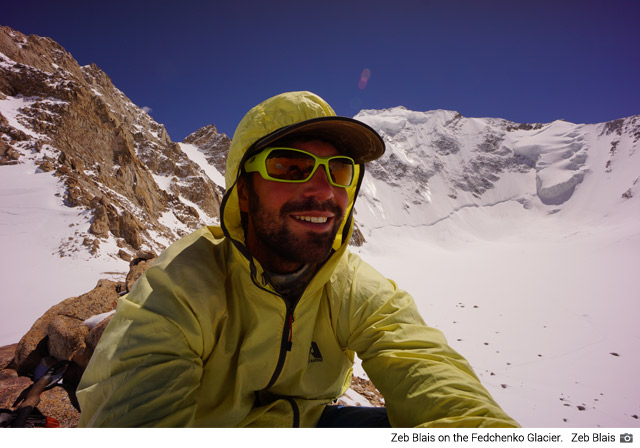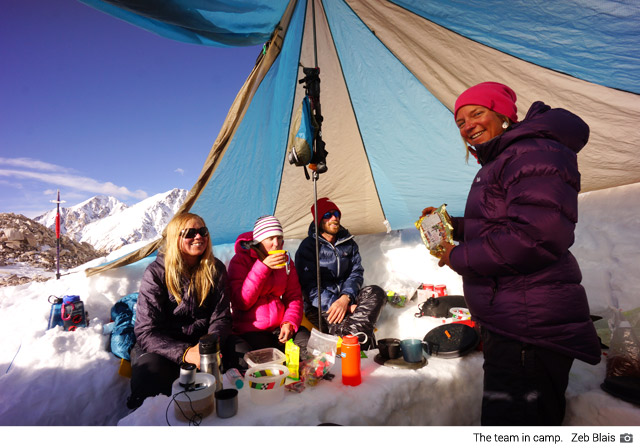 Despite the hard work and frustrating snowpack, we had an amazing trip. Massive valleys, towering peaks like Peak Ismoil Somoni (formerly Peak Communism) and Independence Peak (Peak Revolution) and miles of ice surrounded us in a grand scale. We were in a place that few people had been before and completely isolated except for our DeLorme InReach two way satellite texting device. It was humbling and inspiring.
We met our goal of traversing the Fedchenko from our starting point in a town called Poy Mazor to its head and descended out the beautiful and rugged Tanimas Valley. Due to the exploratory nature of this trip and having little information about our exit, we left ourselves a few extra days before we would all have to fly home.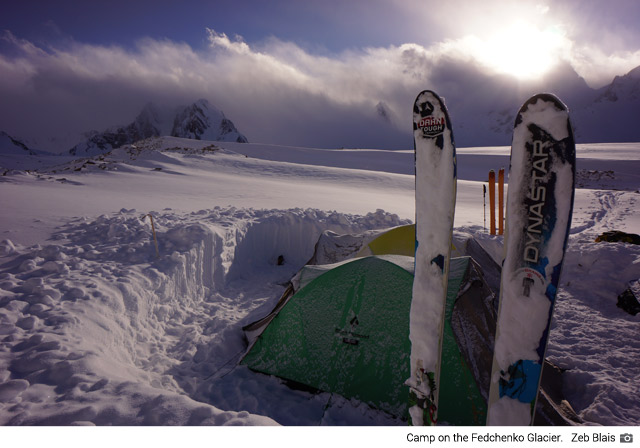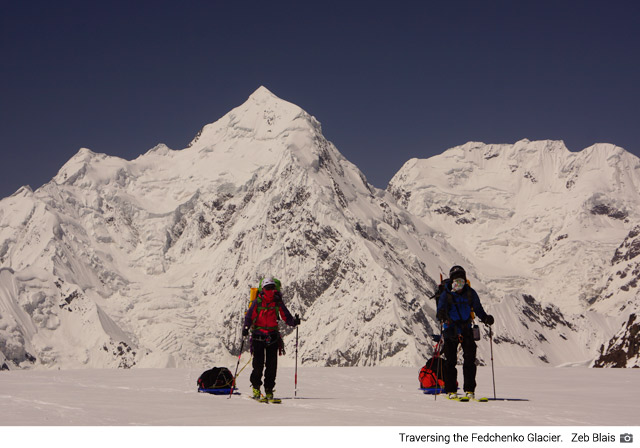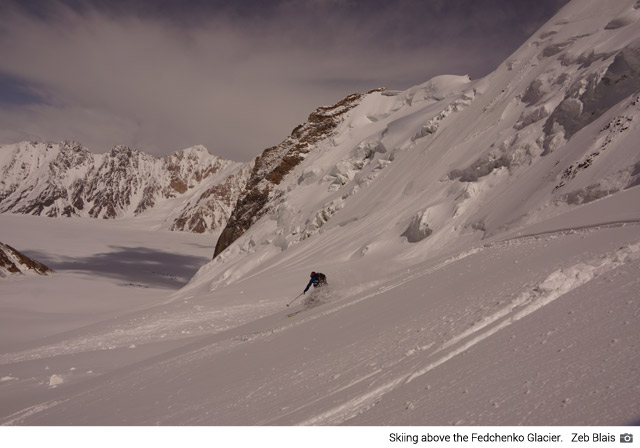 Our extra days were spent regaining some of the pounds we lost during the expedition eating fresh tandoor bread, kebabs and local apricots and cherries. People greeted us everywhere and invited us to share bread and tea with them even if they couldn't speak a word of English (and we could only muster hello and thank you in Tajik).
The team left Tajikistan with a good taste in our mouths in more ways than one. We explored and lived in a high mountain range for 29 days, were exposed to the kind and generous culture of the Tajik, Pamir and Afghan people and came home safe!
Thanks to the Eddie Bauer/ RMI Guide grant for assisting me in this amazing pursuit. The lessons I learned on this trip will forever shape my decision making and goals in the mountains. Until next time…
_________
Zeb Blais is a Senior Guide at RMI. He has climbed and skied mountains throughout North America. When he is not guiding, Zeb teaches avalanche courses and ski patrols at Squaw Valley in California. His spare time usually doesn't save his feet from ski boots.
---
Posted by: Seth Waterfall | August 20, 2014
Categories: *Expedition Dispatches *Kilimanjaro
Elevation: 12,200'
Hi this is Seth. We are up on the Shira Plateau headed to camp. Its been an excellent day on the trail. The weather has been fantastic and we are looking forward to a hot lunch in camp. Tomorrow we will head to the Barranco Valley.
On The Map
---
Previous Page
More Entries