Posted by: | December 02, 2013
Categories: *Mountaineering Fitness & Training
One of the most important things to remember about training is that successful training is a conglomeration of various activities and intensities that as a whole improve your body's physiological performance. While many people may consider going for a half hour jog each day as "training", when you are preparing for an activity like mountaineering, your training needs to go beyond this. A major component of successful training is varying the intensity of workouts. Some workouts are hard, some are short bursts of maximum effort, and many are long and slow endurance sessions. A great way to think about these sessions is through the concept of training zones.

Training zones have traditionally been distilled in to five categories, based on their physiological effect and the corresponding effort they require. While it's not a particularly exciting way to label them, the categories are named Zone 1, Zone 2, Zone 3…you get the idea. There are a number of different theories and ways to define these zones floating around in the training world; Google training zones to find all the reading you could want to do on the subject. For those that train with a heart rate monitor, percentage of max heart rate (MaxHR) is a useful way to help identify your training zones. There are a variety of formulas to determine your MaxHR, but a good approximation for most people is to subtract their age from 220. Heart rate monitors are great training tools, but are not necessary to train properly. Another method of setting the zones is to use perceived effort. The zones are described as follows:

Zone 1: Zone 1 is described as the aerobic recovery zone, and is between 50—60% of MaxHR. At this intensity, the body burns fat for energy, and allows muscles to replenish their glycogen stores. On a perceived effort scale, this workout almost feels like a non-workout. At the end you should feel that you didn't go hard enough to accomplish anything perhaps. In reality, this is a great intensity to aid muscle recovery.

Zone 2: 60—70% of MaxHR is where the body is most efficient at building endurance. This is still an aerobic effort, and for those without a heart rate monitor, it is a pace that you can carry on a conversation while exercising. Since this is the best physiological zone for building endurance, a lot of your long workouts will take place at this intensity.

Zone 3: This is a bit of a gray area. Zone 3 is between 70 and 80% of your Max HR, and generally is the zone when you stop being able to talk in full sentences, but can still get out short bursts of words at a time. It's a bit too fast for really building endurance, and not fast enough to develop speed or anaerobic capacity, so most serious people spend little time training at this zone. It is useful for some tempo workouts, but is probably the zone to spend the least amount of your training time.

Zone 4: Here, we are talking about speed, discomfort, and shorter efforts. Zone 4 is the anaerobic threshold zone. At 80 to 90% of MaxHR, your body burns significantly less fat, using the glycogen stored in the muscles instead. This form of energy transfer is less efficient (lack of oxygen!) so lactic acid is a byproduct. At your anaerobic threshold, your body's ability to remove and process lactic acid is overwhelmed, and it begins to build up. This is translates to your race pace, and feels like an effort that you won't be able to keep up for very long, and what you'd like most to do is slow down or stop.

Zone 5: 90 to 100% of MaxHR. This is for pure speed and all out effort. It typically involves intervals, or short bursts of max effort, and is useful for increasing your anaerobic threshold and increasing your body's ability to cycle lactic acid and recover from hard efforts.

Training zones are a great way to set the goal for a workout and ensure that you are getting maximum benefit from your training sessions. Identify which zones you'll be working out in before hand to design the day's workout goals, and afterward assess yourself to see how you did - were you able to maintain your effort in your planned zone(s) throughout the workout?

The description of the zones is not set in stone. If your heart rate monitor says that you are in Zone 2 but you are having trouble carrying on a conversation, then you should scale back what you consider Zone 2 to bring it in to line. If you are going as fast as you possibly can but can't make it to Zone 5, then your MaxHR estimation might be a little high, and you can scale it down. Once the levels are dialed in, they are a great way both to design and track your workouts going forward.
Questions? Comments? Share your thoughts here on the RMI Blog!
---
Posted by: Dave Hahn | December 01, 2013
Categories: *Expedition Dispatches *Vinson Massif
A whole lot of airplanes got flown around Union Glacier today, but not ours. At first, the day looked like another storm day with low cloud and poor contrast, but by mid-morning, things began to shape up. About fifty mountains appeared from the mists and the sun came out to stay. Word was that clouds were persisting at Vinson Base, however. So we got out our ropes and toys and began reviewing crevasse rescue strategies. Meanwhile the planes began flying other folks to and fro around Antarctica. Camp emptied out as the weather got more and more pleasant. We trained, we ate, we waited. It wasn't until after dinner that conditions at Vinson improved enough for a try with the ski-equipped Twin Otter. But that plane was designated for others and ours was to be a second lap by the same plane… if time allowed. But it didn't allow. By the time the plane finally went, it was known that the pilots would reach the end of their "duty day" before a second lap. Ours will have to be tomorrow after breakfast… fresh pilots, fresh weather, fresh hope.
Best Regards,
RMI Guide Dave Hahn
On The Map
---
Posted by: Dave Hahn | November 30, 2013
Categories: *Expedition Dispatches *Vinson Massif
We got a chance to enjoy an Antarctic storm today. It wasn't one for the record books, no epic, not particularly special. Just a fair amount of cloud, snow, blowing snow and persistent wind. In other words, it was a "no fly" day. It sounded like Vinson Basecamp was reporting similarly bad weather at their end. At first we thought we might be able to spend the day reviewing climbing techniques, but then the wind picked up and it became an indoors day. So we passed time in the mess tent, getting to know some of the people who will try to visit Emperor Penguin colonies and speaking to those who will try to either bike, ski or walk to the South Pole. It was a day for reading and writing and resting. Perhaps tomorrow we'll get to fly out to Mount Vinson.
Best Regards
RMI Guide Dave Hahn
---
Posted by: Dave Hahn | November 29, 2013
Categories: *Expedition Dispatches *Vinson Massif
Elevation: 2,297'
Good things come to those who wait. At 20 minutes to midnight yesterday, with the Southern Cross shining down on Punta Arenas, we left the continent. We were shoehorned into the cavernous cargo compartment of the Ilyushin 76 airplane, along with about fifty other passengers, a pickup truck and a mountain of gear and supplies. The flight took about four and a half hours and was almost completely lacking in any noticeable turbulence. We passed time by reading, listening to music and simply snoozing.
With about thirty minutes to go, everybody began layering up, tying boots, and pulling on hats and face masks. With perhaps 15 minutes to go, the flight crew turned on a new feature, a big screen TV with the outside view from the nose of the plane. It was absolutely spectacular, like a clip from "Frozen Planet" or "Planet Earth". Surreal beauty, until we felt the wheels under our seats touching the ice surface in the picture. Then it became real as the engines roared to slow the plane.
After the perfect landing, we marched out into the middle of Antarctica. After some photo-ops and handshakes, we shuffled over to a warming hut and then into a modified van for a ride across the glacier on giant tires.
It wasn't to be as far as getting straight out to Vinson Basecamp. Weather there wasn't suitable for a Twin-Otter flight, so after an early morning welcome meal, we built our tents and crashed for a few hours. The weather slowly deteriorated during the day, with cloud building up and light snow falling. That didn't stop us from spending a few hours out in late afternoon to review rope techniques. We rounded out the first day with an excellent dinner and an evening spent chatting with various adventurers on exotic missions on ice.
Best Regards
RMI Guide Dave Hahn
| | |
| --- | --- |
| | |
On The Map
---
Posted by: Dave Hahn | November 29, 2013
Categories: *Expedition Dispatches *Vinson Massif
Elevation: 2,297'
Hey, this is Dave Hahn calling from Antarctica. We made our flight through the night. We left Punta Arenas around 11:40 p.m. and flew down through the dark, until reaching the daylight of Antarctica. We landed at about 4:15 this morning at Union Glacier. Beautiful landing and we are in Union Glacier Camp. We haven't gone out to Vinson, it's probably not gonna happen today. But we are keeping our fingers crossed for tomorrow. We've got our tents up and we are sleeping in to recover from the night of flying. But all is well, and we'll get you a regular dispatch when possible.

Dave Hahn calls in after landing on Union Glacier.
On The Map
---
Posted by: Dave Hahn | November 28, 2013
Categories: *Expedition Dispatches *Vinson Massif
It is looking like we will have much to give thanks for today. The flight to Union Glacier is on! We are on the bus leaving town for the airport now, all bundled in Antarctic clothing. I hope to send the next update from the ice.
Best Regards
RMI Guide Dave Hahn
---
Posted by: Dave Hahn | November 27, 2013
Categories: *Expedition Dispatches *Vinson Massif
Another day closer to the one we fly on… But not noticeably. The weather in Punta Arenas -which is not the problem for flying to Antarctica- was just slightly ridiculous today. Rain and snow showers alternated with sun and wind bursts, over and over again. We still got in some great walks, going south to the wreck of The Lord Lonsdale… a great hulking steel square rigger, beached and evocative of bygone eras. We sampled coffee shops and dining spots. We waited patiently. Conditions at Union Glacier are not yet good… But they will be soon enough and we will go climbing.
Best Regards,
RMI Guide Dave Hahn
---
Posted by: Dave Hahn | November 26, 2013
Categories: *Expedition Dispatches *Vinson Massif
There was some reason for hope today for getting the Antarctic flights rolling. But in the end the better weather didn't quite materialize. We didn't waste much time fretting over the situation though. The team rallied after leisurely breakfast coffees (extending well into the afternoon) and set off on an urban hike. At least it began as an urban hike, through the streets of Punta Arenas, accumulating stray dogs as we went along, but after about an hour of hard walking we worked our way into the countryside. The wind was howling and the clouds were covering sun and sky, but we persevered. Ultimately we found ourselves in park-like surroundings, climbing the ski area overlooking town. At the top we were two thousand feet higher and about 7.5 miles from our lodging. We still had one stray dog and about fifty miles per hour of wind, to go along with an unexpectedly grand view of Punta and the whitecaps of the Straits of Magellan.
We were back down to the waterfront and the friendly tourist restaurants by early evening, celebrating another fine summit together.
Best Regards,
RMI Guide Dave Hahn
---
Posted by: Dave Hahn | November 25, 2013
Categories: *Expedition Dispatches *Vinson Massif
We ended our pre-climb road trip today, cruising back to Punta Arenas from Puerto Natales. Things haven't progressed a great deal on the logistical front. We were invited around to a social gathering at the offices of ALE, where we met and mingled with the other passengers on our hoped-for flight. In addition to the climbing teams, there were several groups intent on going overland to the South Pole by various means. We were hosted by the friendly staff and directors of Antarctic Logistics and Expeditions. One of the directors, Mike Sharp, gave a brief talk and slideshow as to the weather outlook and the chances for flying in the next few days. There are possibilities.
Best Regards,
RMI Guide Dave Hahn
---
Posted by: Kel Rossiter | November 25, 2013
Categories: *Guide News
"You can't win if you don't play" is dubious encouragement often doled out by Las Vegas casinos and the like—but it is solid counsel in the world of alpine climbing. I can't tell you how many times I've plodded through a milk puddle of clouds on the Muir Snowfield only to rise above it all upon reaching Camp Muir. Indeed, even in the face of slim weather odds, you've got to at least put yourself into position for success and be ready to maximize it should those slim odds work in your favor. Time and time again that alpine advice held true during my recent American Mountain Guide Association (AMGA) Alpine Guide Exam (AGE).
Arriving in Seattle in mid-September for my 10-day AGE, I stared at the bright screen of my smart phone and steeled myself for the grim weather forecast it proposed…my First Ascent BC-200 had seen me through many a maelstrom on Rainier, but ten days of that? Like any climber of peaks like Rainier, Denali, Cotopaxi, or Orizaba, the wheels on this particular bus had been set in motion many, many months before and there was far too much invested to pull it over to the side of the road due simply to predictions of a deluge. The AMGA is the premier training path for America's professional climbing guides and the 10-day AGE is the culminating exam that guides take in order to become Certified Alpine Guides. Along the way toward that test, hopefuls must first take a 10-day Rock Instructor Course, a 9-day Alpine Guides Course, a 5-day Ice Instructor Course, an 8-day Advanced Alpine Guides Course, a 3-day Alpine Aspirant Exam, a 6-day American Institute for Avalanche Research and Education Level 3 Course and Exam, and a then—finally—the 10-day Alpine Guide Exam.
In case you weren't counting, that's 41 days of training in all—and that doesn't even begin to include the climbing resume you have to develop in between courses. All in all, that's a triple wallop of a lot of tuition, a lot of travel costs, and a lot of opportunity costs in the form of lost wages. Fortunately—and very, very thankfully—RMI, Whittaker Mountaineering, and Eddie Bauer/First Ascent helped to take some of the sting out of the tuition costs, but that aside, there was still no way I was going to let a grim weather forecast rain on my parade! Now the only problem was: "Would the grim weather forecast rain on the whole AGE parade?" You see, in order for an AGE to be valid, the examiners need to see you in a variety of terrain and situations—and if the weather doesn't allow those windows to open…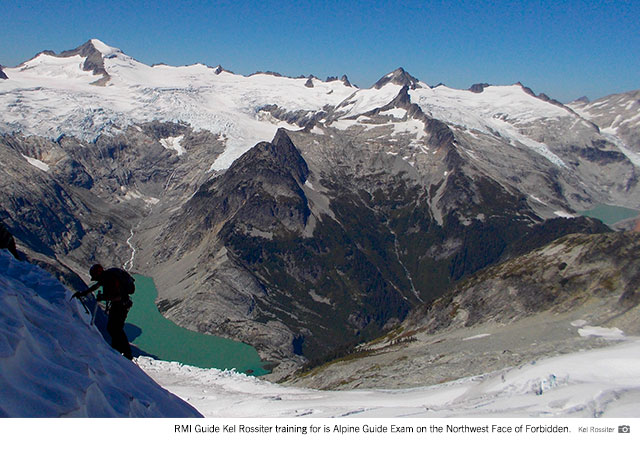 Fortunately, time and time again, in the face of doom, gloom, cats, and dogs we put ourselves into position for success and just barely, and just somehow, squeaked it out. For the first few days we enjoyed the relative "rain shadow" that the Washington Pass area of the North Cascades provides. Washington Pass doesn't allow for glacial travel though—an integral part of the AGE—so after two days we had to leave that safe harbor for the shores of Mt. Shuksan. We arrived in the Lake Ann/Fisher Chimneys trailhead in a steady drizzle. By the time we packed up, things had improved, but the rest of the day was something of an ongoing "fashion show" as we put on a rain shell, took it off, added a warmth layer, and tried to predict what the weather would look like in five minutes. And in the backs of our minds all imagined how things might unfold. Happily, we were most certainly rewarded for our efforts: By the time we topped out on Fisher Chimneys and rolled into our bivvy site, we were high above the roiling sea of grey valley clouds. So often it's the case on Mount Rainier that we'll radio down to Ashford and hear that they're thick in the rain while up at Camp Muir we're above it all. Such was the case on Shuksan, and the next day we managed to circumnavigate the Upper Curtis, Sulphide, and Crystal Glaciers and climb the summit massif's Northeast Ridge—my first time doing that particular route and highly recommended!
As the forecast shifted from grim to grimmer, we again decided to head over to Washington Pass. Driving over Highway 20 toward our meeting point at the Cutthroat Peak trailhead, my windshield wipers clicked a steady rhythm in time with the electronic music I was listening to to try to psych myself up. I arrived early at the trailhead and the rain continued. I cranked more psych music as I attempted some gear-sorting-inside-the-car-yoga poses. Then, miraculously, it began to clear. Not the swift and sure kind of clear that let's you know a new weather attitude is on the way—more like the resistant backing away of an angry dog that's just been called by it's owner, but enough to make a climb seem viable. We racked up, packed up, and headed for Cutthroat Peak's South Buttress. While it is true that "you can't win if you don't play", it's also true that it's a bad idea to climb yourself so far up an objective that retreat becomes untenable. Fortunately, the South Buttress offers plenty of bail options, so with one eye on the clouds and the other on my rope coils, we moved upward, steadily gaining another plum Cascade peak.
By then, we'd heard reports from a group of Advanced Alpine Guide Course participants that the Boston Basin area (home to West Ridge of Forbidden, Torment-Forbidden Traverse, Sharkfin Tower, and Sahale Peak, among others) had already received six inches of the new winter's snow. Fresh snow poses it's own set of problems in the alpine world, but deciding that fresh snow was more palatable than dealing with the reported dousing on the way, so up we went!
These days, I'm climbing on snow for at least a part of almost every month of the year, but it's not often I'm dealing with fresh snow in September. Skis or snowshoes weren't a part of our packing list, so lift-kick-step-sink-lift was the interminable process as we moved up through the now 10 inches of fresh snow covering the Quien Sabe Glacier. A circumnavigation/summit of Sahale Peak was our goal, and we eyed the valley clouds warily as we proceeded in dogged pursuit. Soon the clouds enveloped us and in between breaks we attempted to plot the best path ahead. After some steep, snow-laden slopes, a bergschrund crossing, and the final rocky summit scramble we were on top of our last AGE objective, Sahale Peak!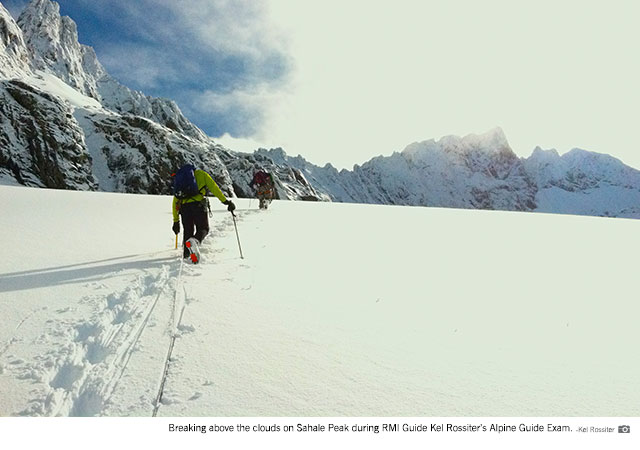 By day's end I was back in a Bellingham motel room, enjoying the comforts of a shower, eat-in Thai Food, and 581 channels. On every weather channel, stoic looking forecasters delivered the report with the delicacy of a cancer ward counselor: the patient's condition was not improving. I spooned the last bit of tofu out of my box of green curry and grinned: For the last ten days we'd prevailed in the face of such gloom and doom forecasts, and now, with the AGE wrapped up I was much more than just a survivor, I was finally an AMGA Certified Alpine Guide!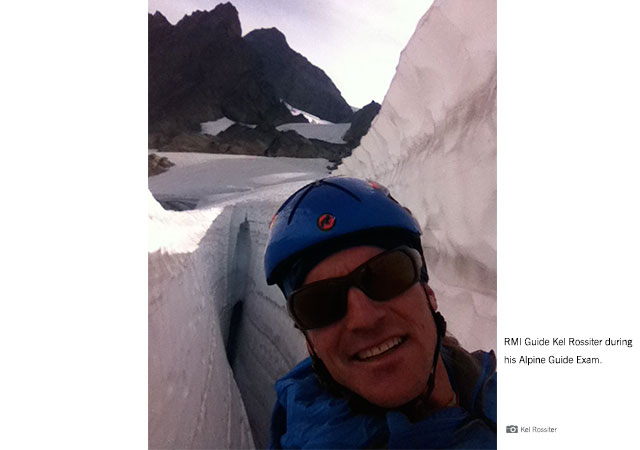 Achieving AMGA Alpine Guide Certification only occurred through a lot of support. Thanks to RMI/Whittaker Mountaineering/Eddie Bauer-First Ascent for their solid support of guide professional development. Thanks to all of the RMI guides who, through their sharing of skills, techniques, and approaches, have honed my own alpine guide skills; and particular gratitude to Andres Marin, Geoff Schellens, Jake Beren, Levi Kepsel, Eric Frank, Leon Davis, Elias De Andres Martos, and Rob Montague who shared with me their time and talents in the field as I worked toward this goal.
- RMI Guide Kel Rossiter
---
Previous Page
More Entries