Posted by: Adam Knoff | March 09, 2014
Categories: *Expedition Dispatches *Mexico
Elevation: 18,701'
The morning of March 8th began like most others do when climbing a big mountain. A 1am wake up call, yummy instant oatmeal and coffee and the persistent interpersonal question of, "Why on earth do I do this?"
We lucked out again with the weather. A strong wind was blowing when we arrived at the hut and blew all through dinner. Much like it did on Ixta. By the time we pulled ourselves out of bed, most of us having not slept anyway, the wind was gone. Mommy nature was indeed in a good mood and happy with us, so both mornings on Ixta and Orizaba, were perfect. Also perfect was the teams readiness and psych. We began walking up hill at 2:15 a.m. and everyone was feeling solid and positive. After we got through the cruxy ice section called the labyrinth and onto the Jamapa Glacier, we knew we could make it. This Mexican glacier looks simple but once on it the darn thing seems like the twilight zone. You move but never go anywhere. After putting one foot in front of the other for three hours we did land somewhere, the summit! All eight of us, including Fozzi our local guide and myself, had made the tops of both Ixta and Orizaba. This team battled illnesses, mild AMS, anxiety and the stress of undertaking intimidating mountain climbs like champs. hey all made me proud!
We then returned to the comforts of our outfitters compound and prepared for the flights home. We are all thrilled to both have had a successful adventure and to come home today. Thanks to the entire team for a fantastic trip!
On The Map
---
Posted by: Adam Knoff | March 07, 2014
Categories: *Expedition Dispatches *Mexico
Elevation: 14,000'
Hello to all those following the Mexico Volcanoes trip. Our team woke up this morning in Puebla feeling rested, happy and possibly a touch hungover. Of course partaking in two or three celebratory cervesas last night was highly discouraged by the guide on the trip but I caved into massive peer pressure and had my share.
After breakfast we loaded our van and headed out. 90 minutes later we were pulling into the beautiful compound of our Mexican outfitter and again fed like kings. The biggest surprise for the group so far isn't how hard the climbing is, although that is a very close second, but more how delicious the food is. This isn't classic texmex but truly authentic comida.
After the gear perpetration and lunch, we piled into the big 4 x4 truck and grinded our way for an hour and a half up a road so dusty we all looked like bandits covering our faces in the back. Now camp is made here at the Orizaba hut and the mountain js in full view. There are other teams here as well so the climb tonight into tomorrow will not be a lonely one. The more the merrier I guess. Dinner is in 30 and bedtime in 90. I feel like quite the father tucking my team in at 630 pm. It is something adults don't do too often.
Wish us luck tonight and stay tuned for tomorrow's climbing dispatch. Everyone is psyched to be heading up North America's third highest peak but also to come home.
To all our friends and family, now we miss you!
RMI Guide Adam Knoff & Team
---
Posted by: Adam Knoff | March 06, 2014
Categories: *Expedition Dispatches *Mexico
Elevation: 17,340'
Hola from Puebla, Mexico. I am writing this from the comforts of Hotel Colonial which sits near the center of one of Mexico's most beautiful city. It will still be a few hours or so before we go sight seeing because the team is a bit tired after our long but successful summit of North America's seventh highest mountain.
At camp while in our tents waiting for the alarm to rattle us out of our fitful sleeps, the wind was doing that work already. It was one of the most amazing shut offs I have ever seen. At 11:30 the wind was blowing 20 mph and by midnight the skies were clear and the night was as calm as our bedrooms. Taking full advantage of this great gift we rallied out of camp at 3:30 and pushed strongly upward to where the steep rock section of the route meets the long, winding ridge towards the summit. The beautiful lights of Mexico City shown down to our left and the same amazing view of Puebla shown down to our right. As the sun came up, we could see Orizaba poking through the haze to the south. All around it was a glorious morning. When the entire team arrived at the summit, we were all relieved to have the uphill finished.
Two and a half hours later we were at camp packing up and getting ready for the long walk back to the van where beers and snacks were waiting. We were lucky to have two porters there to help carry down tents and stoves, lightening our loads. Three hours later we were celebrating with margaritas and world-class Mexican dishes. A great day all around.
---
Posted by: Adam Knoff | March 04, 2014
Categories: *Expedition Dispatches *Mexico
Elevation: 15,000'
Hi There,
This is Adam Knoff calling. We the entire team and our local guide Fozzie as in "Fozzie" the Muppet from the great Muppet Show are established here at High Camp just over 15,000' feet. Everyone is definitely noticing the altitude, but did great coming up here. We feel strong, healthy and psyched to be heading towards the top of our first big mountain. The clouds are closing in at the moment and things are pretty windy and chilly, so we are crawling into our bags for a quick nap. We will have an early dinner and then hopefully at 2 o'clock or 3 o'clock a wakeup call.
Everyone is doing great, we're happy and will call tomorrow when the summit is under our belt. Alright? We look forward to talking to you tomorrow.
Adios,
RMI Guide Adam Knoff and Team

Adam Knoff Calling in from High Camp on Ixta
---
Posted by: | March 04, 2014
Categories: *Guide News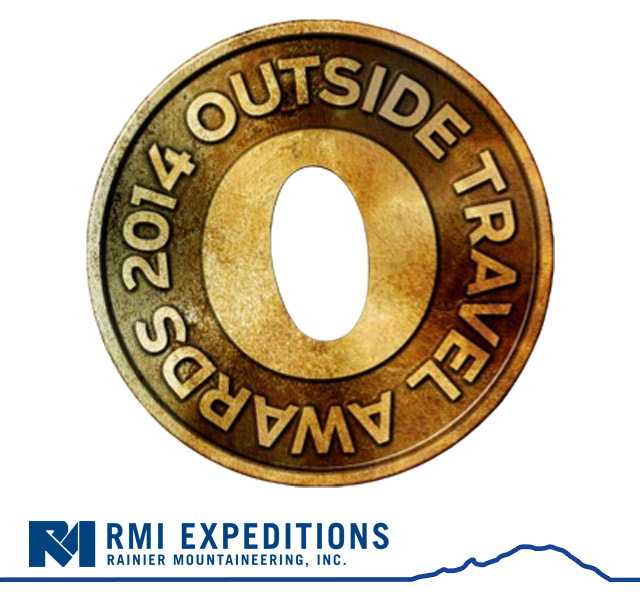 RMI Expeditions is pleased to be honored as Outside Magazine's 2014 Best Outfitter! Outside selected RMI out of dozens and dozens of travel companies to be the recipient of this year's award, recognizing our incredible guide staff, exciting mountain adventures, and dedication to responsible climbing.
"We are honored to receive Outside Magazine's Best Outfitter for 2014. At the heart of our trips stand the incredibly talented guides who lead our adventures. With great passion, experience, and skills, our guides strive to make every trip an exciting and meaningful experience," said Peter Whittaker, guide and owner of RMI Expeditions.
We owe a big "Thank You!" to all of the climbers who have joined us on adventures over the years and our outstanding guides. We look forward to more climbs to come!
Read Outside's Article and see the complete list of Travel Awards winners at www.outsideonline.com/adventure-travel/travel-awards/2014-Travel-Awards-Best-Outfitter or in the April Issue available March 18th.
Read the official Press Release below:

RMI Expeditions honored by OUTSIDE Travel Awards 2014

Ashford, WA (March 4, 2014) –OUTSIDE, America's leading active lifestyle brand, has selected RMI Expeditions as an honoree of their annual Travel Awards, which celebrate the top destinations, companies, products, and travel providers—in the U.S. and around the world—that inspire people to participate in an active lifestyle. RMI Expeditions was honored as Best Outfitter. The entire list of honorees appear in OUTSIDE's April issue (on newsstands March 18), and online at www.outsideonline.com/travelawards.


This year, OUTSIDE tapped its global network of correspondents, who traveled across America, to Belize, Switzerland, Italy, and beyond, identifying the best new adventures, stunning lakes, gorgeous new lodges and hotels, family vacations, secret getaways, high-tech airports, and foodie hotspots. The result is more than 50 spectacular trips, plus the best travel apps, tour guides, gear, tips for traveling green, and advice for traveling solo.


"We are honored to receive Outside Magazine's Best Outfitter for 2014. At the heart of our trips stand the incredibly talented guides who lead our adventures. With great passion, experience, and skills, our guides strive to make every trip an exciting and meaningful experience," said Peter Whittaker, guide and owner of RMI Expeditions.


"Whether you're looking to go big for an expedition, splurge on a luxurious paradise, or plan an epic family trip, OUTSIDE has unearthed fifty travel gems that will inspire you to renew that passport," said OUTSIDE Editor Chris Keyes. 

RMI Expeditions, based at the foot of Mt. Rainier in Ashford, WA, leads treks, climbs, and expeditions around the world, from Mt. Rainier to the the Himalaya. Established in 1969, RMI has built a 45 year legacy of leading exceptional mountain adventures catering to climbers of all abilities. RMI's guides are some of the most accomplished mountaineers and mountain guides in the world, including Ed Viesturs, Dave Hahn, Peter Whittaker, and Melissa Arnot. Every RMI trip is carefully vetted and planned by RMI's guides and climbers receive extensive pre-trip support from the guides and staff before heading to the mountains. RMI's exceptional leadership, focus on safety, personal attention, and dedication to climbing responsibly distinguish RMI as a leader in the mountaineering world.
The complete list of Travel Awards winners will be featured in the April issue of OUTSIDE, available March 18, and online at www.outsideonline.com/travelawards.
.

About RMI: RMI Expeditions (Rainier Mountaineering, Inc) is one of America's most reputable and long-standing guide services with over 45 years of mountain guiding experience. An American Mountain Guides Association (AMGA) accredited guide service specializing in mountaineering expeditions, alpine climbing, trekking and ski touring programs, RMI is committed to leading exceptional mountain adventures.
About OUTSIDE: OUTSIDE is America's leading active lifestyle brand. Since 1977, OUTSIDE has covered travel, sports, adventure, health, and fitness, as well as the personalities, the environment, and the style and culture of the world Outside. The OUTSIDE family includes OUTSIDE magazine, the only magazine to win three consecutive National Magazine Awards for General Excellence, The Outside Buyer's Guides, Outside Online, Outside Television, Outside Events, Outside+ tablet edition, Outside Books, and now Outside GO, a revolutionary, 21st-century adventure-travel company. Visit us online and on Facebook, and follow us on Twitter.
---
Posted by: Adam Knoff | March 03, 2014
Categories: *Expedition Dispatches *Mexico
Elevation: 12,500'
Day two is coming to a close. Last night we were sleeping at 10,000 feet and tonight is a whopping 2,500 feet above that. For you math buffs that means the comfy Altzomoni Hut sits at 12,500 feet above the sea. It is amazing the power of acclimating. Last night some of us felt a bit tired and short of breath. Right now after a fantastic homemade dinner by a team of local guides, drivers and porters doubling as gourmet chefs, we all feel strong, relaxed and ready for our big push to Ixta's high camp sitting higher than any mountain in the lower 48.

We also feel prepared. Today we had a mellow morning which transitioned wonderfully into Mexico's best breakfast at a hotel 25 minutes down the road from the resort of La Malinche. Breakfast is the day's most important meal you know! Afterwards the soothing 1.5 hour van ride helped digest the massive buffet in our guts and landed us in Amecameca where we finalized our food list and met out local staff. By 2:30 we were running through our gear and getting squared away packing and tomorrow's program at the Altzomoni Hut. A nice hour walk brought us to the trail head and back where our chef crew was waiting. The locals really know how to treat their guests. We are very lucky to have them.

In closing the team has reminded me to mention that they all miss their loved ones. I reminded them it is only day two. Absence makes the heart grow fonder. We will touch base from high camp tomorrow.

RMI Guide Adam Knoff
On The Map
---
Posted by: Adam Knoff | March 03, 2014
Categories: *Expedition Dispatches *Mexico
Elevation: 14,636'
Buenos Dias from Team Mexico,
We are all tucked in safe and sound at La Malintzi resort a few hours down the road from this planet's second largest metropolis, Mexico City. Of course half the time getting here is spent literally getting the 20 kilometers out of town but witnessing the traffic of Mexico City is a great adventure in and of itself.
Our morning started as most mornings do. Coffee, breakfast and lots of Europeans. Well the European thing probably more so in Europe but the hotel did feel very international. After food and packing it was off to our first mountain, La Malinche. At a height just higher than Mt. Rainier, reaching the summit was not our primary objective. Starting our at 10,000 feet and cranking out 4500 vertical feet on our first go seemed a touch ambitious. Although we did crest the 14k height, we left the summit in peace because of tired legs and threatening storm clouds. The hike was beautiful nonetheless. Everyone did great and are bonding well as a team. Now we are ready for bed and the move to bigger mountains tomorrow.
Until Then, this is team Mexico saying good night.
RMI Guide Adam Knoff & Team
---
Posted by: | March 02, 2014
Categories: *Mountaineering Fitness & Training
Some Rainier climbers are fortunate to have enough mountainous terrain in their area to train on realistic terrain for their upcoming climb.  However, many are completing their training in locations far from the mountains and with limited access to hiking trails. In these places it takes a little more creativity to functionally train for mountaineering.  Fortunately, no matter where you are, we all live in the midst of an almost unlimited network of pavement.  Road biking can be a great tool for getting a lot of variety of training done, with the added bonus that it is a low impact activity on your joints.  Depending on the type of training you are trying to accomplish, there are many ways to use your road bike as a tool:
• Long Endurance: Road bikes are a great way to get that long, 3 to 4 hour workout done on the weekends.  Look for different loops that you can do with a variety of terrain, and try to keep your heart rate in Zone 1 or Zone 2.  On a road bike, often times this means using an efficient gear to spin a good cadence or tempo, rather than mashing high gears for a bunch of hours. Keep in mind that 3 hours of spinning on a bike may not provide the same workout as a 3 hour hike on mountainous terrain so you may need extend your rides a little if you feel like you're not getting the workout you desire. If you aren't sure where to go in your area, check out apps like Strava or EveryTrail, which let you share your rides with other users, compare your times, and get ideas for new rides in your area!
• Fartlek Intervals: If you have a loop or ride around you with some rolling hills, your ride can turn into a natural interval workout, known as Fartlek Intervals.  Up the intensity up each hill, and recover down the backside or across the flats.  Similarly, use telephone poles, signs, road junctions, or other landmarks to setup a series of intervals if your terrain isn't as suited for climbing.
• Speed: Along similar lines to intervals, you can do a series of short sprints or speeds (this can be really fun if you are riding with a group of buddies, and someone calls out a finish line at random that the whole group races for) that helps build your fast twitch muscle structure for those short bursts of quick steps that you encounter climbing.
• Strength: Biking works many of the same leg muscles that we use climbing, namely the quads, hamstrings, and calves.  While a lot of good road cyclists often focus on riding an efficient gear at high rpms, if you want to do a series of strength exercises, try to a type of interval where you push a higher gear than you normally would for a minute or two, then back off. Repeat this for several repetitions. Think of it as a sort of leg squat. As you get stronger, you can increase the resistance for this exercise.  This may not be that aerobically challenging, but remember the point is strength, rather than aerobic threshold with these.  
As with any workout, you will be far more successful if you set out for each workout with a focus and purpose, rather than to just go for a ride each day. The variety and quality of the training that you can do on a bike is great, but remember that it doesn't replace the need to put a pack on for some of your workouts and do them with weight on your back, just like you will have on the climb. Similarly, road biking is great for reducing the strain on your joints, but remember that during your climb, you will climb (and DESCEND!!) 10,000 feet and your joints need to be ready for that. So if riding is better suited to your area, use it as a great tool to get a ton of training done, but don't forget to get out on your feet, boots on, with a pack on your back. Mix it up and stay excited about your training! 
Questions? Comments? Share your thoughts here on the RMI Blog!
---
Posted by: Ben Liken | February 28, 2014
Categories: *Guide News
RMI is hosting several Prep for Rainier classes over the months of February, March, and April at local REI stores in the Puget Sound area. Join RMI's experienced guides to discuss everything that is needed to prepare for Mt. Rainier, including conditioning, trip planning, route selection, and equipment selection to climb Washington State's highest point!
Come out to your local REI store to hear stories and answer your questions about Mt. Rainier!
---
Posted by: | February 22, 2014
Categories: *Mountaineering Fitness & Training
The training required for mountaineering is difficult: the workouts are strenuous, committing, and time consuming. A major challenge many climbers face is balancing training with the realities of daily life. Time and terrain are both constraining: it is difficult to find the time to fit in all of the training and not easy access to miles of trails and thousands of vertical feet is difficult to find.
The reality is that there is not one a single solution to these constraints. In order to fit in the training you need and head into the mountains prepared you have to adapt your training plan to fit with what works for you.
To help we've put together a collection of ideas, suggestions, and tips that our guides and climbers have used over the years to help you get the most out of your training.
Time
There is no way around it: mountaineering training takes time. To get the most out of your training, use the time that you have well:
• Have Purpose: Make each workout have a purpose (base, interval, strength, or balance training) and know what you need to do so that you can complete it.
• Plan Ahead: Have your gym bag packed or your hiking clothes ready so that you can start right away. This will help you stay committed to fitting in your training.
• Set A Routine: Whether it's getting up early, using your lunch break, or skipping Happy Hour a few days a week, dedicate a time that you commit to training.
• Get Creative: Perhaps you combine your training with other activities: try riding your bike to work to get in a workout while you commute or hop on the stationary bike with your book and spin while you read.
• Break It Up: Need to fit in a 2.5 hr workout but don't have the time? Try breaking it up into two 1.25 hr sessions instead. While building endurance requires consistent training, you're better served by still getting in a couple of shorter sessions than cutting short or even skipping the longer session.
• Commit: Join a hiking or running group, take part in a spin class, or hire a personal trainer. Being part of something bigger helps you motivate after a long day to get your workout in.
• Plan The Weekends: The weekends are usually the best block of time to commit to training - especially the longer sessions. Pull out a calendar and mark the weekends you need to fit in your long hikes and climbs. If that means taking a trip to nearby mountains, make your lodging reservations ahead of time so that you'll stick to your plan!
Terrain
Nothing beats training for climbing like climbing, but easy access to mountainous terrain isn't available out of everyone's backdoor. Even for climbers who live close to the mountains, there isn't always the time to hop in the car, drive to the trailhead, complete the workout, and return again. Don't let this be daunting, finding terrain alternatives is a creative endeavor:
• Do Some Research: Ask around at the local gym or trails for suggestions on where others train. Websites like RootsRated.com and AllTrails.com may help you discover new trails or places to train.
• Go Mechanical: Use a treadmill on an incline, a stair climber, or a stationary bike to get your workout in. Better yet, grab a road bike and incorporate cycling into your training.
• Stairs: Find a long set of stairs in a nearby stadium or office building and make a few laps. Skip the elevator on the way down: you'll want to get your legs ready for the downhill too!
• Look For The Hills: No mountains around? Look for a small hill and make multiple laps of it. Training on inclines is good preparation, no matter how continuous they are.
• Think Outside of the Box: Don't have a great 10 mile hike nearby? Can you link up a few shorter walking, hiking, and biking trails instead? Constantly looking for new terrain alternatives is a great way to stay motivated too!
• Don't Be Limited: The goal is to get yourself ready for climbing, no matter what it takes. A recent Vinson climber told us about how he put his pack on and made laps of the stairs in his house for an hour a few times a week just to get some vertical in!
The Little Things
Given all of the hurdles faced with training for mountaineering, take advantage of little things that you can do to help fit in some training:
• Take The Stairs: Climbing a few flights of stairs in itself won't get you ready for the Himalaya or the Alaska Range, but it certainly won't hurt! So skip the elevator or the escalator and hit the stairs!
• Go Short & Go Hard: Don't have time for a long workout? Still try and be active, whether it's a quick strength circuit or an interval session. You'll benefit from the exertion, even if it's not the exact workout you had in mind.
• Mix It Up: Don't limit yourself to just the gym or the same running loop day after day. Whether it's finding a new trail or joining up with a group of other climbers or people training for a race, build some diversity into your training. It will help you keep motivated and inspired!
Did we miss something? Leave a comment and share your suggestions and tips on how to manage the constraints of terrain and time in mountaineering training!
---
More Entries