Posted by: Robby Young, Sean Collon, Steve Gately | December 05, 2013
Categories: *Guide News
October marks the end of the guiding season on Rainier, and the beginning of some of the best rock climbing weather and conditions throughout the Rocky Mountain West. RMI guides Steve Gately, Robby Young and Sean Collon celebrated "Rocktober" this year by spending their time down in Indian Creek near Moab, Utah. "The Creek" is home to some of the best pure crack climbing in the world, with fissures ranging from too small for fingers up to chimneys large enough for your entire body; running a hundred feet up otherwise featureless sandstone walls. It attracts climbers from around the world and is a popular hangout for guides in the October off-season. Sean, Steve and Robby documented their time in The Creek through film, and recount their experiences:
Robby Young: There is no place like Indian Creek. The abundance of stunning cracks splitting through vertical sandstone walls appear otherworldly amongst the beautiful desert landscape of Southern Utah, located just a few hours from my home in Park City, UT. I was very excited to have the opportunity to spend some time in this wonderful place with some good friends, and fellow RMI guides. The vibrancy of the red rock offers a dramatic contrast to the snow and glacier covered landscape of Mt. Rainier in which we spend much of our summer. I was also lucky to be able shoot photographs and capture film of some of friends as they pushed their climbing skills in the never-ending pursuit to become better climbers and alpinists.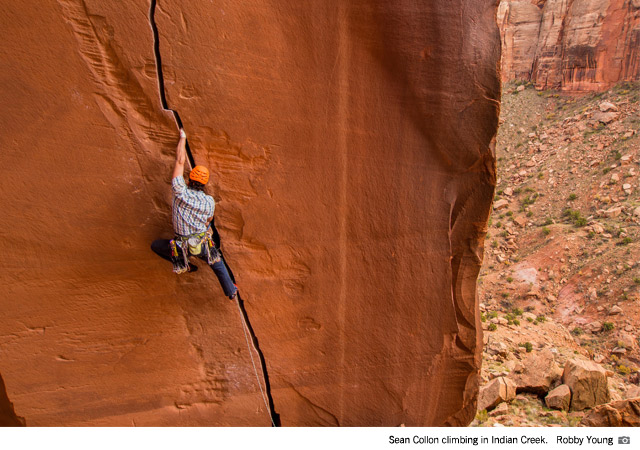 Sean Collon: Rock climbing and mountaineering have a large number of common skills, techniques and physical requirements. Approaching rock climbs with heavy packs full of gear builds stamina, and the climbing itself requires total body strength; all of which contributes to success in the big mountains. When guiding, or on personal mountaineering trips, I rely heavily on the rope skills I have developed largely in the vertical world of rock climbing. But more than all of this, rock climbing, in and of itself, is fun. Like any type of climbing, it is physically and mentally demanding. It can be pure enjoyment, often scary and painful, but always tremendously rewarding.
Steve Gately: After a busy Rainier season, trips like this provide us with some welcomed vacation time, while also allowing us a great opportunity for continued training. With back-to-back trips to Aconcagua coming up this winter, keeping my skills sharp is important to me. One aspect that goes consistently overlooked is not only the mental capacity but also the situational awareness needed for such long expeditions. For me, rock climbing is a way to keep my assessment skills sharp. There is some inherent risk in rock climbing, similarly to anytime that we step out into the mountains. This requires you to be constantly assessing situations, risk, hazards, terrain etc. This level of awareness is invaluable. You can be as strong as the best climbers out there, but without that ability to constantly assess your surroundings and problem solve when needed, well, you won't last very long in the mountains. For me, as a guide, this is one of the most important contributions I can bring to my trips and rock climbing provides an excellent way to stay strong, keep my skills sharp, and have a ton of fun while doing it!
______
Robby Young is as talented on rock as he is on glaciers and skis. He is spending the winter ski patrolling and teaching several avalanche courses in Utah and planning on a ski trip to Iceland this spring before his Denali expedition. See more of Robby's photography at www.robbyyoungphotography.com.
Sean Collon is an RMI guide, originally from Michigan, spending this winter season in Utah ski instructing at Canyons Resort and training for the AMGA Rock and Ski Instructor Courses. He has climbed rock and alpine routes all around the Pacific Northwest and throughout the country, and guiding with Dave Hahn next summer on Mt. McKinley.
Steve Gately is heading to the southern hemisphere this winter to guide on Aconcagua. Returning to Park City, UT, he will be found skiing, ice climbing and working on another short film about backcountry skiing in Utah's Wasatch Range before heading north to Alaska next summer.
---
Posted by: Dave Hahn | December 04, 2013
Categories: *Expedition Dispatches *Vinson Massif
Elevation: 9,100'
Another perfect weather-less day, a bunch more Antarctic climbing. The sun didn't show until 11:15 AM -as expected, but even knowing it would be cold in the hours before the sun didn't keep us from being a little shocked at the big chill. We put our crampons on and took our ice axes in hand for today's climb, happy that the sled-pulling approach is done and that the real climbing has begun. We took about five hours to carry a load of food and gear from camp to the top of the fixed ropes. The terrain was up continuously steep and firm snow. It was a pretty good workout and perfect from an acclimatization standpoint as we reached 11,800 feet. We descended carefully, working out the kinks in our fixed line technique, and were back in camp by 8:30 PM.
We seem to have the mountain all to ourselves now as the other teams turned out to be on schedules that put them well ahead of us. We'll likely take a rest day tomorrow to firm up the aforementioned acclimatization before our final assault on the heights.
Best Regards,
RMI Guide Dave Hahn
On The Map
---
Posted by: Dave Hahn, Jeff Martin | December 04, 2013
Categories: *Expedition Dispatches *Vinson Massif
Hello,
We had our pre-flight briefing this morning at 10:30 am. There were about 20 climbers from all over the world who met up at the ALE office in Punta Arenas for this very informative presentation about what will be happening over the next day or so. One of ALE's owners, Mike Sharp, covered all the details regarding our 4 1/2 hour flight down to Union Glacier. We learned that due to construction on the runway here at Punta Arenas, there is not enough distance on the runway for our plane to take off fully loaded. The solution: take off with only half the fuel needed for the trip and fly a short distance to Ushuaia, Argentina and top off the tanks. And by topping off the tanks, we are talking 40 tons of fuel. It will add a little time to our flight, but there's no refueling options on the 3800 mile round trip flight to Antarctica.
The plan now stands as us getting picked up at our hotel tomorrow morning at 4:45 am and heading out to the airport. They have already picked up our luggage and it will be loaded on the plane tonight and ready for our early departure.
Remember, it's only a plan at this point, as there are still a few big unknowns, mainly the weather at Union Glacier. Winds with blowing snow and poor visibility will mean that we will stay put for another day or two. But the forecast is looking favorable and we are ready to fly out whenever we get the green light.
Tonight we ventured off the usual circuit of restaurants and found a local's hangout. The food was great and we have Bill to thank for picking up the tab this time. Now it's early to bed because it will be early when we rise.
Hopefully the next dispatch will be from Antarctica!
RMI Guide Jeff Martin
---
Posted by: Dave Hahn | December 03, 2013
Categories: *Expedition Dispatches *Vinson Massif
Elevation: 9,100'
Today was another perfect day, weatherwise. We were up at 9:15 AM when the nightly chill of the lower Branscomb Glacier eased. Then it was time for breakfast and packing… our normal ritual. We were on our way just after 1 PM as planned. Our packs were heavy but the team is strong. We made decent time up to the cache from yesterday, and in fact we continued to make good time once we added those big sled loads. From the time we turned North, hard up against the gigantic western face of Vinson, we found excellent firm snow conditions. Great for walking, great for dragging sleds. We reached low camp at 6:30 PM and set to work, chiseling a camp into the hard surface. It took the entire gang of five to get a dining/cooking pit dug, but we got it done and had our POSH tent in place for a late but sunny supper. Now it is just after midnight and the sun is making the tents good and toasty. We will have it that way until at least 3 AM but then the sun will run into Vinson and we won't feel its warmth again until 11 AM when it emerges on the other side of the mountain.
We hope to complete a carry up the fixed lines tomorrow with a plan to spend tomorrow night in Low Camp again.
Best Regards,
RMI Guide Dave Hahn
On The Map
---
Posted by: Dave Hahn, Jeff Martin | December 03, 2013
Categories: *Expedition Dispatches *Vinson Massif
Greetings from Punta Arenas,
This was our first full day in this southern port city and we made the most of it. After a nice breakfast we jumped right into the task at hand - final gear preparations for our flight to Antarctica. Packing for an expedition to the coldest and most remote place on earth takes a little more planning and effort than a weekend getaway. So we spread out all of our gear to check to make sure that no item was forgotten and that we resisted the temptation to throw in too many "extras". Punta Arenas is the last chance we have to buy anything, but luckily the shopping list was pretty short after the equipment check. A few more snack items for some, and we were pretty much ready for our flight.
We had the afternoon to hang out at our hotel and a chance to walk around town a little and take in some of the sights. We ended the day at the La Luna restaurant for dinner. A big thank you to Larry for buying us all dinner and drinks. It was a delicious meal!
We have a pre-flight briefing in the morning and we will check in once we hear about our flight plan.
Best regards,
RMI Guide Jeff Martin
---
Posted by: Dave Hahn, Jeff Martin | December 02, 2013
Categories: *Expedition Dispatches *Vinson Massif
Our second RMI Vinson Expedition is officially underway! The team all arrived this afternoon in Punta Arenas. Despite the long miles travelled in crowded planes, immigration lines, and the scrutiny of the custom's agents, everyone made it with their luggage.
After a quick check-in at our hotel, we immediately headed off to dinner at the very popular La Marmita, where we dined on some of the best fresh and local food around. The restaurant was packed as usual, but we got right in and had a great meal.
It's almost 11:00 pm now, and still light outside. The weather has been cold, rainy and windy in town the last few days, but that won't really affect our plans as we will be spending the majority of time finalizing our preparations for our flight to Union Glacier. But now we have to do is relax and focus on getting a good night's sleep.
We'll check in tomorrow with our next update.
Best regards,
RMI Guide Jeff Martin
---
Posted by: Dave Hahn | December 02, 2013
Categories: *Expedition Dispatches *Vinson Massif
Elevation: 7,200'
We woke to a perfect day at Union Glacier and proceeded to make the most of it. By 10:15 AM we were getting airborne in a Canadian Twin Otter. There were no clouds to be seen, just mountain after mountain and glacier after glacier. Thirty something minutes into our flight, the mountains got enormous, which meant we were headed in the right direction. A few minutes more and we were circling the Branscomb Glacier and checking out the snow strip runway. After a flawless touchdown, the team got out, said "wow" a lot and began hauling gear toward a likely set of tent sites. We built camp, sorted gear, sat for a great briefing with ALE's Basecamp manager and by 5 PM were ready to go for a walk. The teams that had come in yesterday were already moving up the mountain, but we were content to simply do a carry up to "half camp" and then return to base for the night. Vinson base is at 7,000 ft and so to get used to the altitude and the rhythms of glacier travel we carried food and equipment for a little more than two hours, cached it and walked another hour back downhill. We were in camp again by 9 PM which left plenty of strong sunshine hours for dinner and prepping for bed.
It sure took us a while to get to the mountain, but now we are all pretty excited to have arrived.
Best Regards
RMI Guide Dave Hahn
| | |
| --- | --- |
| | |
On The Map
---
Posted by: | December 02, 2013
Categories: *Mountaineering Fitness & Training
One of the most important things to remember about training is that successful training is a conglomeration of various activities and intensities that as a whole improve your body's physiological performance. While many people may consider going for a half hour jog each day as "training", when you are preparing for an activity like mountaineering, your training needs to go beyond this. A major component of successful training is varying the intensity of workouts. Some workouts are hard, some are short bursts of maximum effort, and many are long and slow endurance sessions. A great way to think about these sessions is through the concept of training zones.

Training zones have traditionally been distilled in to five categories, based on their physiological effect and the corresponding effort they require. While it's not a particularly exciting way to label them, the categories are named Zone 1, Zone 2, Zone 3…you get the idea. There are a number of different theories and ways to define these zones floating around in the training world; Google training zones to find all the reading you could want to do on the subject. For those that train with a heart rate monitor, percentage of max heart rate (MaxHR) is a useful way to help identify your training zones. There are a variety of formulas to determine your MaxHR, but a good approximation for most people is to subtract their age from 220. Heart rate monitors are great training tools, but are not necessary to train properly. Another method of setting the zones is to use perceived effort. The zones are described as follows:

Zone 1: Zone 1 is described as the aerobic recovery zone, and is between 50—60% of MaxHR. At this intensity, the body burns fat for energy, and allows muscles to replenish their glycogen stores. On a perceived effort scale, this workout almost feels like a non-workout. At the end you should feel that you didn't go hard enough to accomplish anything perhaps. In reality, this is a great intensity to aid muscle recovery.

Zone 2: 60—70% of MaxHR is where the body is most efficient at building endurance. This is still an aerobic effort, and for those without a heart rate monitor, it is a pace that you can carry on a conversation while exercising. Since this is the best physiological zone for building endurance, a lot of your long workouts will take place at this intensity.

Zone 3: This is a bit of a gray area. Zone 3 is between 70 and 80% of your Max HR, and generally is the zone when you stop being able to talk in full sentences, but can still get out short bursts of words at a time. It's a bit too fast for really building endurance, and not fast enough to develop speed or anaerobic capacity, so most serious people spend little time training at this zone. It is useful for some tempo workouts, but is probably the zone to spend the least amount of your training time.

Zone 4: Here, we are talking about speed, discomfort, and shorter efforts. Zone 4 is the anaerobic threshold zone. At 80 to 90% of MaxHR, your body burns significantly less fat, using the glycogen stored in the muscles instead. This form of energy transfer is less efficient (lack of oxygen!) so lactic acid is a byproduct. At your anaerobic threshold, your body's ability to remove and process lactic acid is overwhelmed, and it begins to build up. This is translates to your race pace, and feels like an effort that you won't be able to keep up for very long, and what you'd like most to do is slow down or stop.

Zone 5: 90 to 100% of MaxHR. This is for pure speed and all out effort. It typically involves intervals, or short bursts of max effort, and is useful for increasing your anaerobic threshold and increasing your body's ability to cycle lactic acid and recover from hard efforts.

Training zones are a great way to set the goal for a workout and ensure that you are getting maximum benefit from your training sessions. Identify which zones you'll be working out in before hand to design the day's workout goals, and afterward assess yourself to see how you did - were you able to maintain your effort in your planned zone(s) throughout the workout?

The description of the zones is not set in stone. If your heart rate monitor says that you are in Zone 2 but you are having trouble carrying on a conversation, then you should scale back what you consider Zone 2 to bring it in to line. If you are going as fast as you possibly can but can't make it to Zone 5, then your MaxHR estimation might be a little high, and you can scale it down. Once the levels are dialed in, they are a great way both to design and track your workouts going forward.
Questions? Comments? Share your thoughts here on the RMI Blog!
---
Posted by: Dave Hahn | December 01, 2013
Categories: *Expedition Dispatches *Vinson Massif
A whole lot of airplanes got flown around Union Glacier today, but not ours. At first, the day looked like another storm day with low cloud and poor contrast, but by mid-morning, things began to shape up. About fifty mountains appeared from the mists and the sun came out to stay. Word was that clouds were persisting at Vinson Base, however. So we got out our ropes and toys and began reviewing crevasse rescue strategies. Meanwhile the planes began flying other folks to and fro around Antarctica. Camp emptied out as the weather got more and more pleasant. We trained, we ate, we waited. It wasn't until after dinner that conditions at Vinson improved enough for a try with the ski-equipped Twin Otter. But that plane was designated for others and ours was to be a second lap by the same plane… if time allowed. But it didn't allow. By the time the plane finally went, it was known that the pilots would reach the end of their "duty day" before a second lap. Ours will have to be tomorrow after breakfast… fresh pilots, fresh weather, fresh hope.
Best Regards,
RMI Guide Dave Hahn
On The Map
---
Posted by: Dave Hahn | November 30, 2013
Categories: *Expedition Dispatches *Vinson Massif
We got a chance to enjoy an Antarctic storm today. It wasn't one for the record books, no epic, not particularly special. Just a fair amount of cloud, snow, blowing snow and persistent wind. In other words, it was a "no fly" day. It sounded like Vinson Basecamp was reporting similarly bad weather at their end. At first we thought we might be able to spend the day reviewing climbing techniques, but then the wind picked up and it became an indoors day. So we passed time in the mess tent, getting to know some of the people who will try to visit Emperor Penguin colonies and speaking to those who will try to either bike, ski or walk to the South Pole. It was a day for reading and writing and resting. Perhaps tomorrow we'll get to fly out to Mount Vinson.
Best Regards
RMI Guide Dave Hahn
---
Previous Page
More Entries