Entries By ben liken
Posted by: Garrett Stevens, Ben Liken, Nick Brown | January 04, 2014
Categories: *Expedition Dispatches *Aconcagua
Elevation: 13,800'
The goal for today is to get as relaxed as possible here at our base camp. Towards that end, the team has been chilling in our group tent since breakfast, which included oatmeal, cereal, egg/bacon/onion quesadillas, and copious amounts of coffee. There is currently an epic game of Hearts happening, with various members tapping in and out as they get frustrated with picking up the Queen of Spades (David in particular).
Tomorrow will be a big day, as we will be moving up towards our next camp at 16,400'. The gear is staged, the crew is ready, and our team dynamic is as strong as one could hope. The weather continues to be gorgeous; light winds and lots of sun here at Plaza Argentina. Here's hoping it holds steady for the next few days!
We are sending positive vibes up to Jake Beren and his team, as we believe today is their summit day. Good luck to them…we are looking forward to seeing them as we bump up tomorrow. Until then, stick with us for more details!
Cheers,
RMI Guides Garrett Stevens, Ben Liken and Nick Brown
On The Map
---
Posted by: Ben Liken, Garrett Stevens, Nick Brown | January 03, 2014
Categories: *Expedition Dispatches *Aconcagua
Elevation: 10,550'
Today was a beautiful day here on Aconcagua, with clear blue skies and lots of sunshine for our carry up to Camp One. We had quite a bit of wind here in base camp last night and were worried that we might be walking up into the teeth of it today, but the weather gods smiled on us instead.
We were walking just as the sun came into camp, and were able to make steady progress through the broken and rocky morainal slopes above us. Soon enough we came to the heinous scree slope that guards the bench of Camp One, and the team made short work of the last few hundred feet.
We dropped our food, some equipment, and some gas for our launch towards the upper reaches of the mountain, and were headed down soon thereafter. All the luggage is currently awaiting our return, but tomorrow we'll take a hard-earned rest day. The team continues to climb strong, hydrate well, and eat hearty portions, which will pay dividends when we head up higher on this beautiful mountain.
Thanks for all the kind words, and keep your fingers crossed for continued good weather!
RMI Guides Garrett, Ben, and Nick
On The Map
---
Posted by: Garrett Stevens, Ben Liken, Nick Hunt | January 02, 2014
Categories: *Expedition Dispatches *Aconcagua
Elevation: 13,800'
Well, after three days of hard work on the approach to our climb, we are finally taking some deserved time off. This is the first of our "rest days" which we are using to relax, refuel, and acclimatize. The team is loving it.
We started the morning with some sleeping in and a leisurely breakfast of loaded egg quesadillas, while watching a few flurries drift off of the upper mountain. After the sun started to heat our base camp weather-port and some digesting had taken place the team prepared their gear for our carry to Camp 1 tomorrow at 16,200'. The packs are heavy but the spirits are high as the mountain looms above.
For the rest of the evening the name of the game is chilling…..playing cards, eating snacks, taking in the sights, and trying to guess what our dinner could be by the delicious smell coming from the kitchen. Stay tuned as we continue our ascent tomorrow!
RMI Guides,
On The Map
---
Posted by: Ben Liken | January 02, 2014
Categories: *Guide News
This past November I and several other RMI guides had the opportunity to further hone our guiding skills by participating in the American Mountain Guides Association (AMGA) Rock Instructor Course (RIC). I decided that after five years in the industry it would be enlightening to gain a perspective into this organization and put myself in the position of a student. The RIC is designed to create a foundation for guides looking to pursue a certification in the rock or alpine realm and is a prerequisite for many other AMGA courses. The program was set up as a contract course by RMI and was partially funded by the Eddie Bauer/First Ascent guide grant which kept the tuition costs low and excitement high.
The course took place in the world renowned climbing area of Red Rocks; just outside of the world renowned capital of partying and gambling, Las Vegas, NV. Red Rocks is formed out of beautiful Aztec sandstone that was left behind by sand dunes 180 million years ago in an environment much like today's Sahara Desert. With relatively short but, often complex, approaches and descents to long classic routes this is the ideal place to learn and play. The available climbing ranges from short sport climbs to 2500' big wall routes, however, this course focused on guiding in class 4 terrain and traditionally protected routes to the 5.9 level.
Most of us arrived at least a few days early to prepare for the course and get used to the rock; climbing Washington state granite, Bozeman ice, or glaciers on Mount Rainier doesn't always prepare you for long lines on soft sandstone. I arrived one week early and was thoroughly psyched to leave the soggy sight of the Puget Sound for a sun soaked desert. I quickly found myself back in the rock climbing culture at the local BLM campground, with campfires and some mellow acoustics at night as well as the blow torch sound of a propane stove firing in the morning. It was early to bed and early to rise for the next few weeks to maximize the limited winter light. The sun rose at 6:30 am but left us by 4:15 pm. After 6 great days of climbing and several months of preparation, I was ready to start the course.
It was a crisp Sunday morning and we were all up extra early to make sure our gear was in order and looking good. We had received a rather detailed itinerary via email and a few phone calls before the course but still were not sure exactly what to expect at the Red Springs picnic area that morning. For most of us this was our first experience with the AMGA and none of us had taken a "guide track" program before. I had heard that it was going to be serious and to go in prepared, which led me to have questions like "what will these instructors be like? And expect of us?" "Does my hair look okay?" "How much am I really going to learn?" Upon arrival it was the classic first time meet up. Overall pretty quiet with a few light conversations, introductions, and of course a lot of sipping coffee. At 8 o'clock sharp we began and the mood eased exponentially over the day; by 2pm there were dirty jokes being thrown around. The three instructors were not out to judge or be hardcore; they were clearly there to mentor because they love guiding.
The first part of the RIC was used to make sure we were all on the same page with the basics and begin to learn a few more advanced skills we would need later in the week. By the end of the second day it was becoming clear that some foul weather was in store, so we decided to get on the rock and start tugging as soon as possible. Over the next two and a half days we split into teams of four and got in well over 1000 vertical feet of climbing on a few classic routes. Our management of three ropes and four people on a hanging belay quickly went from obnoxiously poor to…….well…..not half bad. The stoke was high, and we were all excited to be learning from and climbing with some of the best guides in the business. As I was two pitches up on the four pitch "Big Bad Wolf", I looked over my shoulder and saw huge bands of rain pummeling Las Vegas in the valley below. We made the hasty call to link the last two pitches and bring a few ropes at a time to finish the climb before the rain hit us. As the last climber was cresting the top I felt the first drop hit my forehead. We continued with a crash course in short roping off the backside. As the dust turned to mud before my eyes I couldn't have known that the climbing portion of the course would be over. We were in the desert, right?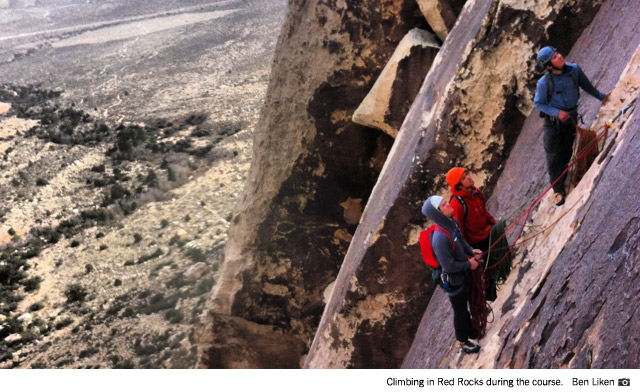 Over the next three days we practiced and perfected rescue and rope skills as the rain fell nonstop all around the pavilion we were under. It was fun to focus purely on the timed drills and creating one handed hitches as they were called out. Looking out we could see the rock getting wetter than it had been in months. The sandstone in Red Rocks is porous and thus absorbs water like a sponge. Even in the warmest months the rock needs 24-48 hours to dry after a soaking rain and we had a lot of soaking rain with cool temps and low sun. The issue with climbing on the damp rock was not going to be its slipperiness but rather the danger of holds breaking and a leader falling onto protection in that same type of rock that just broke. As the sun rose for the last three days of the course we had to turn down perfect climbing weather because of poor route conditions. I sympathized with the climbers I work with on Mount Rainier: they come from across the country after months of training, time, and money spent, only to be shut down by avalanche hazard or icy conditions on a beautiful, sunny day. All was not lost however; we were able to learn and practice new skills in the horizontal plane, on very sunny aspects, and in steep off trail terrain. We agreed that we learned just as much if not more in this manner than we would have high on the rock.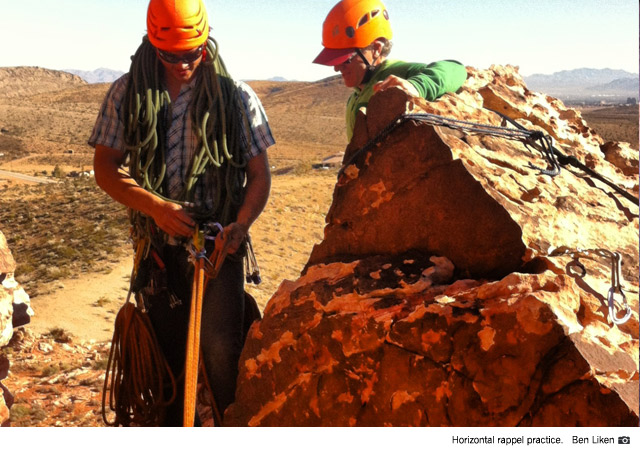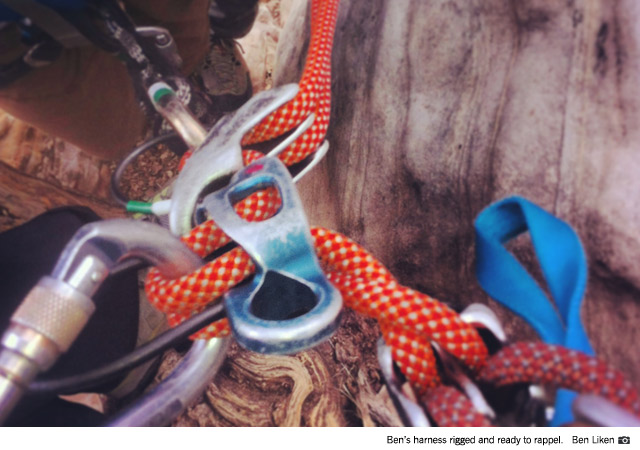 This was my first AMGA experience and it could not have been a better one. It solidified many skills that I can put to use in my current guiding and climbing. It was a great opportunity to develop myself in my profession and has opened the door for more courses and certifications. These courses and certifications are not required for guiding in the United States and many great guides are fully qualified through experience. This program and others offered by the AMGA however, get guides on the same page and forces us to be the best we can be, whether it be on Red Rocks sandstone, Mount Rainier Glaciers, or a remote peak in the Andes. Thanks to RMI, Eddie Bauer/First Ascent guide grant, and all the guides on the course for making this possible. Climb On!
---
Posted by: Ben Liken, Garrett Stevens, Nick Brown | January 01, 2014
Categories: *Expedition Dispatches *Aconcagua
Elevation: 13,800'
Happy New Year from the team, nestled in here at Plaza Argentina! How many of you can say you started off the new year riding on the back of a mule across a raging river? Well, everyone on the team did just that, and once we were all safely across the Vacas River we started today's long ascent up the Relinchos Valley.
The early morning shade gave way to sun, and unlike yesterday we didn't have a breeze to cool us down. While the absence of flying sand was nice, the heat wasn't exactly what many expected as we made our way higher and higher. Hydration was critical as we climbed closer to our goal, and by mid-afternoon we arrived in base camp - hot, tired, and happy to be here.
Our hostesses Griselda and Anita soon had delicious treats on the table and juice in our glasses, and the team took full advantage. After some much-needed rest, we sat down to a dinner of trout, potatoes and tomatoes, complemented with hot tea and lively conversation.
We are settled in now for the night, looking forward to tomorrow's well-earned rest day. Everyone is excited to be kicking off 2014 here on Aconcagua! Keep it locked in for more news from the crew…
RMI Guides Ben Liken, Nick Brown, and Garrett Stevens
On The Map
---
Posted by: Garrett Stevens, Nick Brown, Ben Liken | December 31, 2013
Categories: *Expedition Dispatches *Aconcagua
Elevation: 10,550'
Today the team woke to another perfect blue sky, light winds, and zero clouds in sight. We took advantage of the cooler morning temps to get breakfast eaten, get packed up, and head further up the Vacas valley towards our home for tonight at Casa de Piedras.
The early shade was a welcome relief from yesterday's sun, and for the first hour or so we moved smoothly uphill and further upstream. As the day stretched on, the sun came over the horizon in full force and we were soon wishing for the light breeze from yesterday.
Well, you definitely have to be careful what you wish for, because about halfway to our destination the wind got quite strong, with big gusts blowing huge clouds of dust and sand down the valley and into our faces. But this tough team just kept going, undeterred. If anything, spirits got higher as we moved together towards our goal, and smiles abounded (albeit a little gritty from the sand flying all around).
The crew got to test their tent erecting skills in strong winds, and were soon nestled into bomber shelter. We've been hydrating and hiding from the sun, ready for an early launch tomorrow up the Relinchos valley towards our base camp at 14,000'. Stay tuned for more!
RMI Guides Garrett, Nick, and Ben
On The Map
---
Posted by: Garrett Stevens, Ben Liken, Nick Brown | December 30, 2013
Categories: *Expedition Dispatches *Aconcagua
Elevation: 9,000'
Today dawned with crystal blue skies and high energy for the team at the hotel in Penitentes. We made our way to a delicious breakfast of bacon, eggs, cheese and ham, washed it all down with coffee and orange juice, and headed over to the staging area for last-minute preparations.
Within a half hour, we had the duffels fully locked and loaded, trekking packs ready, and were on our way. Everybody was ready for the exercise after a couple of days of bife de chorizo and Malbec, and within the first half hour we had hit our stride. Steady hiking took us further and further up the Vacas valley, along the west side of the turbid and roaring Vacas river.
The scenery and stories kept our minds off the strong sun, and within a few hours we arrived here at our first camp, Pampa de Leñas. A few other folks have moved in next to us. They are friendly and excited as we are to be here in this beautiful place. We are currently watching the sun slide behind the mountains, with dinner the next immediate goal. Everyone is healthy, strong, and stoked to continue up the valley tomorrow.
Thanks for watching our progress; stay tuned!
RMI Guides Nick, Ben, and Garrett
---
Posted by: Ben Liken, Garrett Stevens, Nick Brown | December 29, 2013
Categories: *Expedition Dispatches *Aconcagua
Today's mission: obtain permits, get the last few items on the shopping list, and head out to Penitentes. We started early, taking advantage of the cooler temps to head over to the payment and permit offices. Like many things here in Argentina, opening times for businesses are relative and quite fluid, so we ended up at the offices just a bit before they were open. Good thing we did, too, as there were about 50 other folks on the same itinerary as our team! We got the payments taken care of, headed over to the Permit office, and settled in for the long haul of stamping, reviewing, signing, and getting back the completed permits.
Permits in hand, we headed back to the hotel to pack our bags onto the waiting transport. For those who don't know, it takes a mountain of luggage to climb a mountain like Aconcagua. The team is now packed and ready to go. We are heading out for Penitentes to pack bags, get to bed, and start the trek in to Base Camp tomorrow.
The crew looks good as you can see here, so keep sending the good vibes as we start this incredible journey!
RMI Guides Garrett, Ben, and Nick
---
Posted by: Garrett Stevens, Ben Liken, Nick Brown | December 28, 2013
Categories: *Expedition Dispatches *Aconcagua
Hello from our RMI Aconcagua expedition, here in sunny Mendoza! The team all arrived today, with the last members landing just before 2:00 local time. All the crew, and all the bags, were on time and in place, which is the perfect way to start an expedition. After getting settled here at the beautiful and accommodating Nutibara Hotel, the team sat down for a round of introductions and discussion about our upcoming expedition. We enjoyed the cool air conditioning in the hotel for an hour or so, and then it was off for the final food shop at the local grocery store.
The temperatures in town, at 90 degrees or so, certainly have more than one of us eyeing the pool, or thinking about the cooler environment of the high camps on Aconcagua. Soon enough we will be up there, but for now we busied ourselves with gear review, final packing and preparations, and a delicious dinner of beef and Malbec at one of the local restaurants. Turn in was early (by Argentinian standards, anyway) to ready ourselves for tomorrow.
We will be up and out early to get the permits we need, do some last minute gear acquisition, and then take the ride out to Penitentes. The crew is in high spirits, and the team is coming together well! We are all excited to get the trip underway, and we will be sure to keep you updated on the progress as we head in to our objective. Keep your fingers crossed for continued good weather, and stay tuned for more!
RMI Guides Garrett Stevens, Ben Liken and Nick Brown
---
Posted by: Mike Walter, Solveig Waterfall, Ben Liken | May 26, 2013
Categories: *Expedition Dispatches *Mount McKinley
Elevation: 20,320'
Saturday, May 25, 2013:
Hi All!
Our team is safely back at high camp after a successful summit bid today! Our entire team made it to the top and we enjoyed near perfect weather and route conditions! We left camp at 9:30 this morning and were standing on the roof of North America at 4:45 pm. After taking photos, exchanging high fives and hugs, and enjoying amazing views we descended towards camp in the evening glow of Alaska sunshine and with the anticipation of hot tea and a warm dinner.
We are all excited to begin our decent tomorrow and look forward to talking to all our friends and family in a few days!
Cheers!
RMI Guides Solveig, Mike, Ben, and the McKinley Team
On The Map
---
Previous Page
More Entries