Entries By tyler jones
Posted by: Andy Hildebrand, Brent Okita, Tyler Jones, Tyler Reid, Mike King, Nick Hunt | May 19, 2013
Categories: *Expedition Dispatches *Mount Rainier
Elevation: 14,410'
The Four Day Summit Climb led by Brent Okita and the Five Day Summit Climb led by Tyler Reid both reached the summit of Mt. Rainier this morning just after 7 am PT. Brent reported beautiful weather - bluebird skies without any wind. The low marine layer of clouds we are experiencing in Ashford tops out around 6,000' -7,000'.
The teams started their descent around 8:30 en route to Camp Muir. They will take a break there before continuing their descent to Paradise.
Congratulations to today's teams!
---
Posted by: Tyler Jones, Zeb Blais | May 17, 2013
Categories: *Guide News
On May 8-10th RMI Guides Zeb Blais and Tyler Jones took advantage of the good weather in the Pacific Northwest to do a multi-day ski mountaineering tour on Mt. Rainier. The duo spent three days on the mountain and skied an incredible total of 21,000 vertical feet!
We caught up with Zeb and Tyler before their next mountaineering adventure.
RMI: On the first day of your trip you left from Paradise and skinned to Camp Muir. What were the conditions like?
Zeb Blais: The conditions getting to [Camp] Muir were ideal with fast-gliding and supportable corn snow that made for quick travel.
Tyler Jones: The warm afternoon snow conditions gave us a chance to get in a nice ski run in on the Cowlitz Glacier after we reached Camp Muir. At the same time, it provided us with a good trail for the morning to climb the Gibraltar Ledges Route to the summit. From there, our plan was to traverse to Liberty Cap to get a view of the big runs!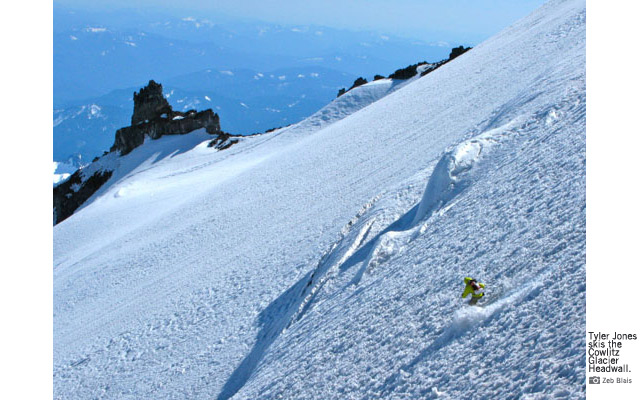 RMI: That night you left Camp Muir with the intention of skiing Liberty Ridge. Were you able to ski that line?
Zeb Blais: The key to skiing big exposed lines is always the snow conditions. When you're looking at skiing a line like Liberty [Ridge] you can only know what the conditions are like when you get there. We were hoping that the north and northeast facing snow would be chalky, smooth, and wind packed, but when we looked at the entrance to Liberty it was clear that it wasn't going to be skiable. The Liberty Ridge Route looked like mid-summer, maybe good for ice climbing, but certainly not skiable. The Liberty Cap Glacier was down to blue ice with lumps of rime glued to it, which I imagine is fairly common since it is so steep, but the skiing below looked the same. Rappelling the Liberty Cap Glacier and skiing the rest of the line did not look like an inviting option.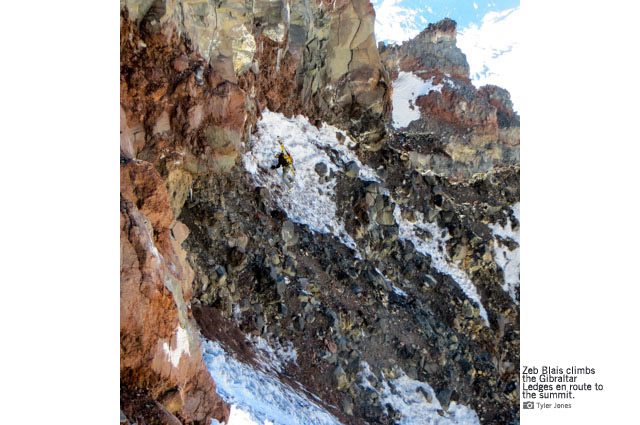 RMI: What did you end up skiing instead?
Zeb Blais: After realizing that Liberty was not suitable, we turned our focus to the Mowich Face - an amazing, steep face on the northwest side of the mountain. This looked tempting at first, but it was heavily rimed with blobs of water ice. It was not a place to be on skis! We retreated back to the ridge above and decided we needed to focus on warmer, spring like-snow. We decided on the Sickle, a west-facing chute on the Tahoma Glacier. The snow in the Sickle was prime for skiing!
Tyler Jones: On our ski we had nice soft spring snow down to 8,500 feet. From there we were able traverse to our objective for the next day: Success Ridge between the South Tahoma Glacier and the Success Glacier. We spent the night on the ridge, getting some well-deserved sleep, with the magnificent 4,000-foot Success Glacier Couloir above us waiting to be skied. The conditions on the Success Glacier were superb. The snow was firm for climbing and soft for skiing. After the amazing fall line decent, we continued traversing to [the trailhead at] Paradise. As we hit the Nisqually Glacier we added more vertical to our trip and finished at the Nisqually Bridge. In total Zeb and I traveled 24 miles, gaining 19,000 feet and skiing 21,000 feet in 3 days.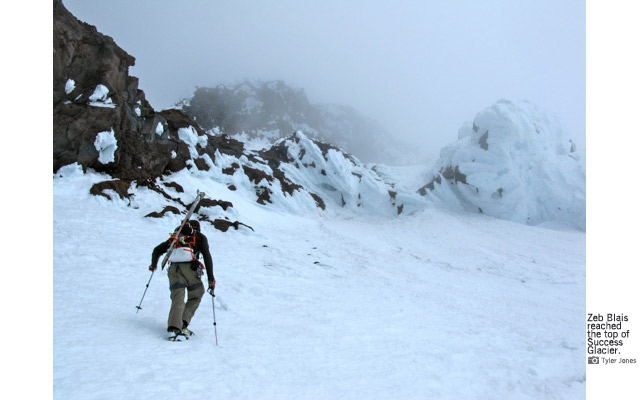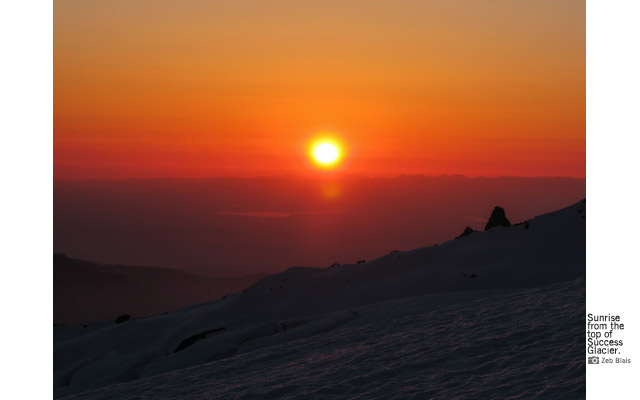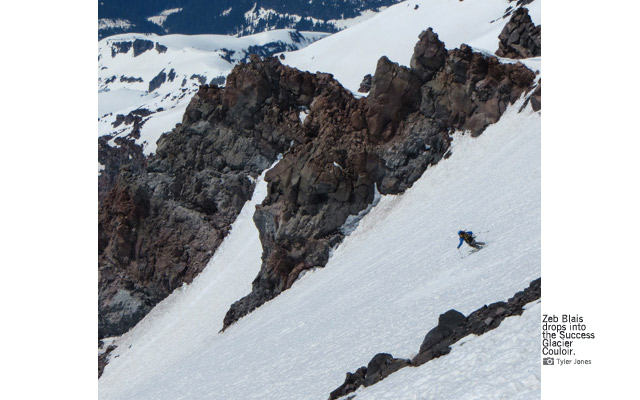 RMI: How does being a Guide help prepare you for trips like this?
Tyler Jones: Being a guide helps to develop your intuitive mountain sense, which is very important for making good decisions in the mountains. It is that gut feeling that can make all the difference.
Zeb Blais: Guiding also gives me a good base-line fitness for doing long days in the mountains. Mountaineering is a unique sport that requires specific techniques and fitness to be efficient. The more you do it the better you get!
RMI: What was your favorite part of this ski trip?
Tyler Jones: My favorite part of this trip was seeing a few new places, skiing a new run, and enjoying the views of the Tahoma Glacier from Sunset Ridge.
Zeb Blais: A huge part of the trip was sharing it with Tyler. Moving in the mountains with a partner who you enjoy and trust makes all the difference. There are thousands of big and small decisions to be made when doing a trip like this, from what gear to bring to what line to ski to 'do we go left here or right?' Making these choices and learning from other experienced climbers or guides is always something I enjoy.
Can't forget skiing! Maybe I should have said this first, but the skiing was awesome! Steep, exposed skiing with great snow is one of the most exhilarating things a person can do.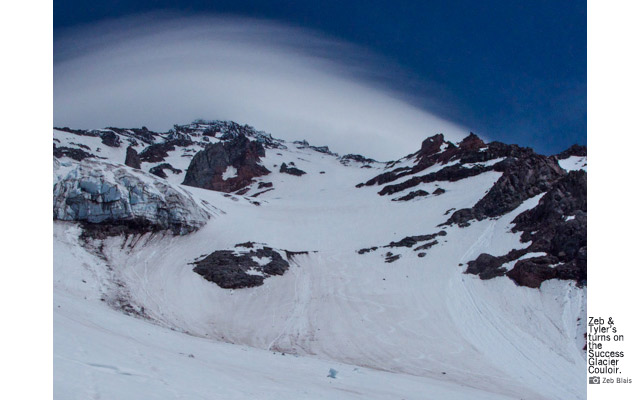 RMI: What adventures do you have planned next?
Zeb Blais: I am guiding a mountaineering trip on Shasta at the end of the month, and then I'll be back on Rainier for the climbing season with a Denali West Buttress trip at the end of June.
Tyler Jones: I am guiding a Denali trip in June. After that I am planning on flying back onto the mountain for a ski trip with my fiancé Laura. After that I will return to guiding on Rainier and the Grand Teton. Then, I am getting married in September!
---
Posted by: Seth Waterfall, Tyler Jones | September 20, 2012
Categories: *Expedition Dispatches *Mount Rainier
Elevation: 14,410'
RMI Guides Seth Waterfall and Tyler Jones reached the summit of Mt. Rainier! The Expedition Skills Seminar - Muir team enjoyed beautiful, warm weather on top and after taking summit photos, began their descent at 10:00 a.m. The team will stay at Camp Muir tonight and descend to Paradise tomorrow afternoon.
Congratulations to today's summit climbers!
---
Posted by: Seth Waterfall, Tyler Jones | September 19, 2012
Categories: *Expedition Dispatches *Mount Rainier
Elevation: 10,000'
Hi this is Seth. Today we did a dry run for our climb by heading up to Ingraham Flats this morning. The wind was blowing us around a bit but at least the sun was still out. After spending an hour at 'The Flats' we dropped down onto the Cowlitz Glacier for a round of crevasse rescue training. The crevasse that we picked out was great and everyone was brave enough to go down in it. Now we're relaxing for the evening. Tonight we climb!
---
Posted by: Tyler Jones, Seth Waterfall | September 18, 2012
Categories: *Expedition Dispatches *Mount Rainier
Elevation: 10,060'
The Expedition Skills Seminar - Muir is on our third day of the program and our second day on the mountain. After a great day of training at Rainier BaseCamp on Sunday, we spent most of the day yesterday getting up to Camp Muir and today we are launching into our training. The weather has been great so far and it's supposed to hold for the week. We're psyched for that. Here's a pic of Senior Guide Lindsay Mann teaching ice axe arrest.
We'll check in again soon.
---
Posted by: Tyler Jones, Tyler Reid | September 07, 2012
Categories: *Expedition Dispatches *Mount Rainier
Elevation: Summit
Our Four Day Summit Climb Teams led by Tyler Jones & Tyler Reid reached the summit of Mt. Rainier today. Tyler Jones radioed in from Columbia Crest reporting beautiful calm weather and very warm temperatures. The teams enjoyed some time on the summit and are now en route to Camp Muir.
Congratulations to today's teams!
---
Posted by: Tyler Jones, Geoff Schellens | September 03, 2012
Categories: *Expedition Dispatches *Mount Rainier
Elevation: 14,410'
Summit! Both Mt. Rainier teams reached the summit by the light of the moon and then the rise of the sun. What a beautiful day on top! RMI Guides Tyler Jones and Geoff Schellens radioed in with a bluebird report- light winds, blue skies and a bit chilly. The route is in excellent shape and both teams left the crater rim by 8:15 a.m.
---
Posted by: Adam Knoff, Tyler Jones | August 26, 2012
Categories: *Expedition Dispatches *Mount Rainier
Elevation: 14,410'
RMI Guides Adam Knoff and Tyler Jones led their teams to the Mt. Rainier summit this morning! A cloud cap was snuggled over the top of the mountain, which brought on some 30-40 mph winds. Both teams are doing well and began their descent at 7:30 a.m.
Congratulations to today's summit climbers!
---
Posted by: Win Whittaker, Tyler Jones | July 14, 2012
Categories: *Expedition Dispatches *Mount Rainier
Elevation: Summit
The ALA Climb for Clean Air led by Win Whittaker and our Four Day Summit Climb led by Tyler Jones reached the summit of Mt. Rainier at 6 am this morning. Win reported cold and breezy conditions with some high clouds. The teams have started their descent and are now en route to Camp Muir.
Congratulations to today's teams!
---
Posted by: Tyler Jones, Eric Frank, Logan Randolph | June 18, 2012
Categories: *Expedition Dispatches *Mount McKinley
Elevation: 348'
The day is coming to a close and things are back the way they were at the start of the trip. Our tents are laying here and our sleeping bags in the thick, moist air. It's tough to imagine that we were at 20,320 feet just the day before yesterday.
Thank you for all of your continued support as we took on Denali successfully. I realize how much it took both on the mountain and at home. Again, thank you. The amateur summiteer.
Thanks to all who continue to support my crazy adventures!! Your positive vibes and supportive thoughts mean more than you'll ever know! I return from the highest peak in North America simultaneously proud and humbled!! Michael C
Thanks to my family and friends and especially my wonderful wife Megan for supporting me in this adventure. It is difficult to describe the feeling of humbleness inspired by the the grandeur, majesty and (not least of all) weather of the Alaska Range. The seasoned judgment of TJ, Eric and Logan truly kept us alive and (mostly) comfortable. I cannot thank them enough. MJB
Thanks to all the friends and family for the awesome support! Despite the fact I was unable to make the summit the trip was amazing and will certainly be unforgettable. Much appreciation goes to the best guides anywhere for their judgement. "climbing mountains ain't easy"... The mountain won this time but I'll be back again! CPL
Thanks to all my family, friends, and business associate for supporting my " habit". The summit of North America is an amazing place. Our RMI guides are the best - Tyler, Eric and Logan !!!!
LWS
Belle expedition. Merci RMI. Merci a tous pour vos blog.
N
Now that the day is coming to a close, things are looking eerily similar to the way they did before we left. Tents and gear have been dried. Gear is slightly dirtier, but once again prepared for air travel. It would seem to the unknowing observer, that nothing has happened other than a few mild sunburns.
As the warm rain arrives in Talkeetna, the group runs for cover indoors. It's nice to be dry when it rains and warm when it's cold outside without to much effort. That said, there was something nice about even the coldest days on the mountain. As guides, we hope out clients feel the same way. Like proud parents, we have enjoyed the time we spent with the team as they grew. We have seen the group grow together and grow as individuals. We hope that this growth will have some relevance even in the dry and warm front country.
Thanks to our clients for their time, energy, patience and passion. The guide team hopes to work together and with members of our 2012 Denali trip soon. Weather this trip was the first big expedition or the last, we hope team members will keep trying new things, keep climbing mountains, or at least stay in touch.
The summit was great, but the team was better. Thanks guys,
RMI Guides Tyler Jones, Eric Frank and Logan Randolph
On The Map
---
More Entries