Entries By zeb blais
Posted by: Tyler Jones, Zeb Blais | May 17, 2013
Categories: *Guide News
On May 8-10th RMI Guides Zeb Blais and Tyler Jones took advantage of the good weather in the Pacific Northwest to do a multi-day ski mountaineering tour on Mt. Rainier. The duo spent three days on the mountain and skied an incredible total of 21,000 vertical feet!
We caught up with Zeb and Tyler before their next mountaineering adventure.
RMI: On the first day of your trip you left from Paradise and skinned to Camp Muir. What were the conditions like?
Zeb Blais: The conditions getting to [Camp] Muir were ideal with fast-gliding and supportable corn snow that made for quick travel.
Tyler Jones: The warm afternoon snow conditions gave us a chance to get in a nice ski run in on the Cowlitz Glacier after we reached Camp Muir. At the same time, it provided us with a good trail for the morning to climb the Gibraltar Ledges Route to the summit. From there, our plan was to traverse to Liberty Cap to get a view of the big runs!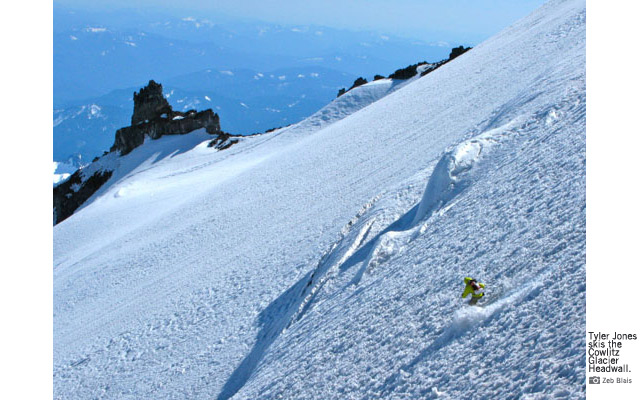 RMI: That night you left Camp Muir with the intention of skiing Liberty Ridge. Were you able to ski that line?
Zeb Blais: The key to skiing big exposed lines is always the snow conditions. When you're looking at skiing a line like Liberty [Ridge] you can only know what the conditions are like when you get there. We were hoping that the north and northeast facing snow would be chalky, smooth, and wind packed, but when we looked at the entrance to Liberty it was clear that it wasn't going to be skiable. The Liberty Ridge Route looked like mid-summer, maybe good for ice climbing, but certainly not skiable. The Liberty Cap Glacier was down to blue ice with lumps of rime glued to it, which I imagine is fairly common since it is so steep, but the skiing below looked the same. Rappelling the Liberty Cap Glacier and skiing the rest of the line did not look like an inviting option.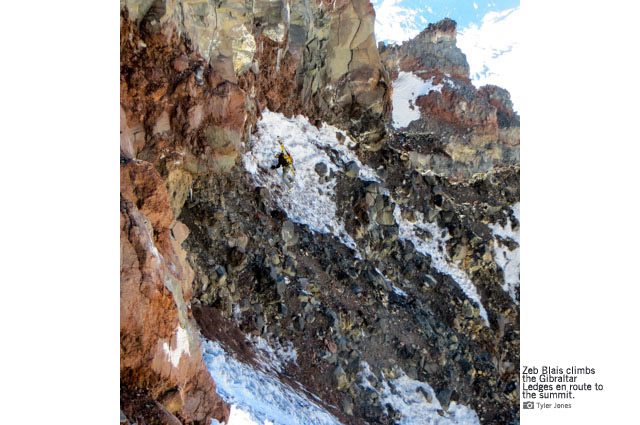 RMI: What did you end up skiing instead?
Zeb Blais: After realizing that Liberty was not suitable, we turned our focus to the Mowich Face - an amazing, steep face on the northwest side of the mountain. This looked tempting at first, but it was heavily rimed with blobs of water ice. It was not a place to be on skis! We retreated back to the ridge above and decided we needed to focus on warmer, spring like-snow. We decided on the Sickle, a west-facing chute on the Tahoma Glacier. The snow in the Sickle was prime for skiing!
Tyler Jones: On our ski we had nice soft spring snow down to 8,500 feet. From there we were able traverse to our objective for the next day: Success Ridge between the South Tahoma Glacier and the Success Glacier. We spent the night on the ridge, getting some well-deserved sleep, with the magnificent 4,000-foot Success Glacier Couloir above us waiting to be skied. The conditions on the Success Glacier were superb. The snow was firm for climbing and soft for skiing. After the amazing fall line decent, we continued traversing to [the trailhead at] Paradise. As we hit the Nisqually Glacier we added more vertical to our trip and finished at the Nisqually Bridge. In total Zeb and I traveled 24 miles, gaining 19,000 feet and skiing 21,000 feet in 3 days.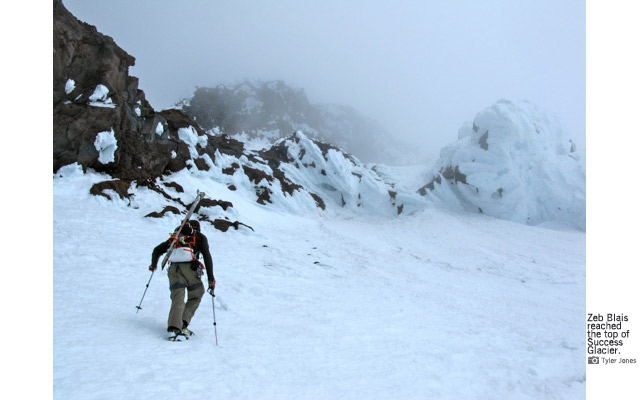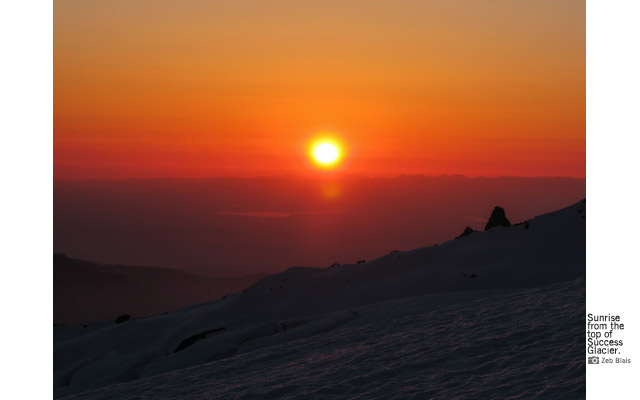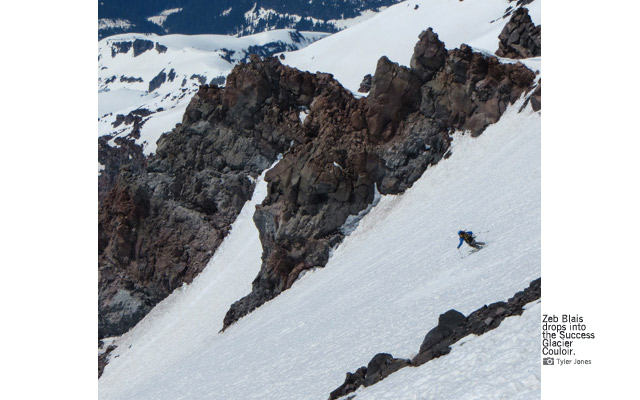 RMI: How does being a Guide help prepare you for trips like this?
Tyler Jones: Being a guide helps to develop your intuitive mountain sense, which is very important for making good decisions in the mountains. It is that gut feeling that can make all the difference.
Zeb Blais: Guiding also gives me a good base-line fitness for doing long days in the mountains. Mountaineering is a unique sport that requires specific techniques and fitness to be efficient. The more you do it the better you get!
RMI: What was your favorite part of this ski trip?
Tyler Jones: My favorite part of this trip was seeing a few new places, skiing a new run, and enjoying the views of the Tahoma Glacier from Sunset Ridge.
Zeb Blais: A huge part of the trip was sharing it with Tyler. Moving in the mountains with a partner who you enjoy and trust makes all the difference. There are thousands of big and small decisions to be made when doing a trip like this, from what gear to bring to what line to ski to 'do we go left here or right?' Making these choices and learning from other experienced climbers or guides is always something I enjoy.
Can't forget skiing! Maybe I should have said this first, but the skiing was awesome! Steep, exposed skiing with great snow is one of the most exhilarating things a person can do.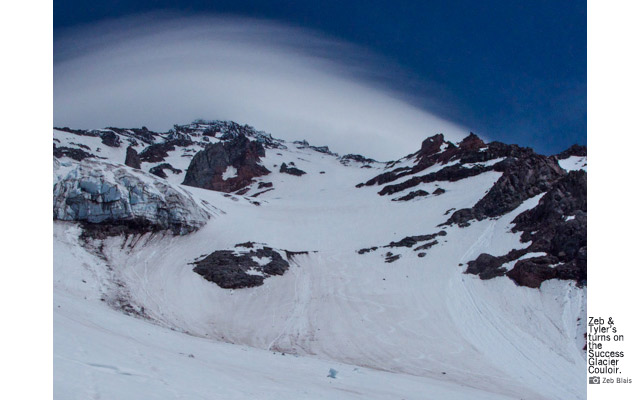 RMI: What adventures do you have planned next?
Zeb Blais: I am guiding a mountaineering trip on Shasta at the end of the month, and then I'll be back on Rainier for the climbing season with a Denali West Buttress trip at the end of June.
Tyler Jones: I am guiding a Denali trip in June. After that I am planning on flying back onto the mountain for a ski trip with my fiancé Laura. After that I will return to guiding on Rainier and the Grand Teton. Then, I am getting married in September!
---
Posted by: Jake Beren, Leon Davis, Zeb Blais | January 05, 2013
Categories: *Expedition Dispatches *Aconcagua
It has been a whirlwind few hours for the team, but we are all safe and sound in Mendoza, about to enjoy the comfort of a hot shower, actual bed and a celebratory meal. These things are certainly fine, but it will be tough to beat the meat cooked by our friends the herreros under the stars. I guess we'll just have to take it as it comes.
It sure has been a great trip with an awesome team. Thanks to the squad and everyone's people back home for letting them out for the holidays!
RMI Guides Jake Beren, Leon Davis & Zeb Blais
---
Posted by: Jake Beren, Leon Davis, Zeb Blais | January 04, 2013
Categories: *Expedition Dispatches *Aconcagua
Elevation: 13,800'
Another windy night in a tent at altitude made getting on the road no problem for the team this morning. We loaded up our packs with everything needed to survive up high and marched down to a warmer season at Plaza Argentina, stopping to pick up our caches along the way. In a few days time it will be summer in Mendoza and the cold we've lived in up high a memory, but until then we have many miles to walk and a grand asado with our mule driving friends.
Talk to you when we hit the tree-lined streets of Mendoza.
On The Map
---
Posted by: Jake Beren, Leon Davis, Zeb Blais | January 02, 2013
Categories: *Expedition Dispatches *Aconcagua
Elevation: 22,841'
What a proud day for our team! This morning we woke long before the sun came up and proceeded to hide from the bitter cold until a much more sensible option presented itself. All the teams left camp early turned back to protect their extremities while we enjoyed the rising sun and long summer day as we made our bid for the top. Don't get us wrong, it was a cold day but everyone managed quite well and is happy and healthy back at camp.
Aconcagua was most gracious to our team today, but boy did we have to earn it. The light snow winter has left the mountain nearly bare of snow and we did not even use crampons today. Scrambling up loose rock at just under 23,000 feet is a real treat and the team rose to the challenge, huffing and puffing all the way to the roof of the Andes.
All in all a great day with a stellar team. I'm certainly grateful to have gotten to share a beautiful day in the mountains with a great crew of climbers. Those of us that stood on top could not have done it without our team and though not every member shared the view today, they were all with us every step of the way.
[Summit audio transcription]
Hello. This is Jake Beren calling from the highest point in South America, the top of Aconcagua with a real strong team. Had a great summit day, perfect weather. We're up here with visibility in just about every direction. So, definitely proud of a real solid team and a real solid effort and we're halfway done. So we will give you a shout when we get to our camp. Thanks for all the weather help and we look forward to seeing everybody when we get back. Alright.

RMI Guide Jake Beren calls in from the Aconcagua summit!
On The Map
---
Posted by: Jake Beren, Leon Davis, Zeb Blais | January 01, 2013
Categories: *Expedition Dispatches *Aconcagua
Elevation: 19,600'
Lucky us! We had a near windless evening to celebrate the coming New Year. New Year's Day found us resolving to make it to Camp 3 in good style and we certainly did. We are slowly finishing up camp building in this rarified air and plan to rest for the remainder of the afternoon. If this weather holds for another day, we will have a great chance of making the summit mañana. Wish us some buenas suerte amigos.
On The Map
---
Posted by: Jake Beren, Leon Davis, Zeb Blais | December 31, 2012
Categories: *Expedition Dispatches *Aconcagua
Elevation: 18,000'
Brrrr. At least that was the theme of the first half of the day. Fortunately we had warm tents to rest in and after an acclimatization hike this afternoon, we are able to enjoy a little sun outdoors. Clouds have moved steadily over the Aconcagua summit today and it is our team's sincerest hope that they blow out and we are able to move higher tomorrow. Wish us luck, we are ready but prepared to be patient if conditions dictate.
On The Map
---
Posted by: Jake Beren, Leon Davis, Zeb Blais | December 30, 2012
Categories: *Expedition Dispatches *Aconcagua
Elevation: 18,000'
Even the heavy packs of a full camp move could not dampen the team's spirits as we left Aconcagua Camp 1 for our new home at Camp 2 aka "Chopper Camp" aka "Guanocos 3." The team arrived in the grand style to which we have become accustomed, with plenty of gas in the tank and fashionably dressed. We are now starting to feel like all our hard work is paying off, only one more camp before our summit push. Tomorrow we'll have a rest day and then, weather permitting, initiate our launch sequence. Cross your fingers for a solid weather window for us amigos!
On The Map
---
Posted by: Jake Beren, Leon Davis, Zeb Blais | December 29, 2012
Categories: *Expedition Dispatches *Aconcagua
Elevation: 16,200'
We are back at Camp Uno after a spectacular carry to Camp 2. The weather was quite pleasant and the team chewed up the few thousand feet with a load to prepare ourselves to move higher tomorrow. Once at Camp 2, we enjoyed the new views as the northern side of Aconcagua came into view. You sure can see a long way from 18,000 feet on a clear day!
Wish us good luck on the weather front for the next few days, if these conditions persist we will be in great shape to keep moving higher.
On The Map
---
Posted by: Jake Beren, Leon Davis, Zeb Blais | December 28, 2012
Categories: *Expedition Dispatches *Aconcagua
Elevation: 16,200'
With the winds at an all time low and the sun shining strong, our rest day at Camp I is at full power. This morning while we waited for our camp side stream to return to liquid, the team collected their cache a few hundred feet below. The remaining morning and early afternoon was spent in maximum rest mode. In a few minutes we will embark on a short acclimating hike uphill to stir the oxygen tanks and activate the circulation pumps. Needless to say we are happy and enjoying the mountain air, or at least what is left at 16,400 feet. Tomorrow we plan to carry a load to Camp II and our team is primed to do so. Until mañana…
---
Posted by: Jake Beren, Leon Davis, Zeb Blais | December 27, 2012
Categories: *Expedition Dispatches *Aconcagua
Elevation: 16,200'
Buenos Tardes from Campo Uno! Today the team did a fantastic job moving from Aconcagua's Basecamp in style and we rolled into camp under perfect conditions. Our carry served us well, providing a good acclimatization base for our move today. Tomorrow we will enjoy a little light activity, but mostly rest and celebrate Leon's cumpleanos.
On The Map
---
More Entries