---
Elbrus Northside Team waits at Camp 1 for weather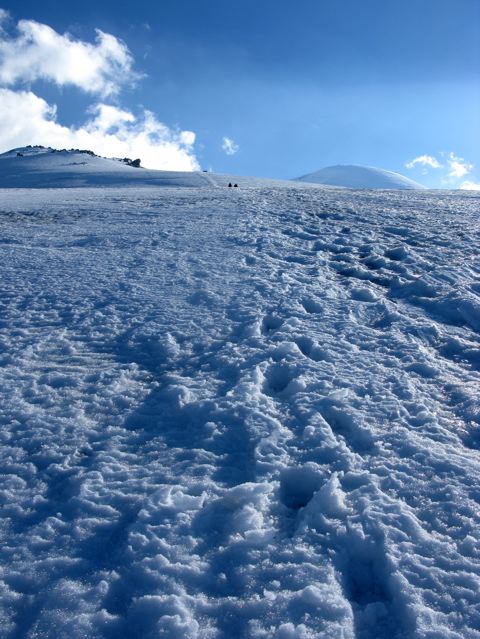 The winds picked up again after dinner yesterday and continued to blow all night, not letting up until the early hours of the morning today. When we emerged from the tents they had died to a whisper around camp but they continued to rage higher up on the mountain. We could see gusts of wind carrying giant waves of spindrifted snow through the rocks at Camp 2 from down below as we ate breakfast. With the weather still poor up high we opted not to push up to Camp 2 today to cache gear, choosing instead to climb part of the way, focusing on reviewing climbing skills and acclimatizing a bit.
Thankfully the winds seemed to stay above 14,000' today, making for great climbing conditions below. We left camp and set out onto the glacier, gradually ascending the lower slopes to a bench at ~12,600'. After so many days of travel and approach on the lower mountain, it felt great to at last be using our climbing gear on Elbrus. Above the bench the pitch steepens a bit and a sizable system of crevasses cuts across the slope, forcing us to carefully pick our way amongst them to gain the smoother slopes above. At ~13,500' we reached a false plateau where the winds from above began to hit us. With our training and acclimatization accomplished for the day, we headed back down our route to camp.
Returning to camp by midafternoon, we spent a leisurely couple of hours lounging amid the rocks soaking in the sun. After 36 hours of intense winds and precipitation it felt nice to sit outside in short sleeves.
We have just wrapped up dinner and are finishing sorting our gear for tomorrow. If our improving weather pattern holds we will move to Camp 2 tomorrow and be in position for a summit bid.
---
More to Explore
Elbrus Northside Team at Camp 1
September 2, 2010