---
Everest Base Camp Trek & Island Peak Climb: Entering Sagarmatha National Park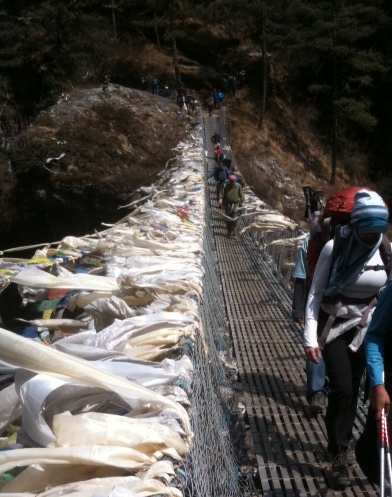 Yesterday's afternoon clouds cleared overnight and it was a warm, beautiful morning here in the Khumbu. Leaving our teahouse in Phakding we wound our way up the valley, traversing above the raging Dudh Kosi on steep hillsides that descend thousands of feet from the peaks above. Wherever the terrain offers a break small terraces have been carved into the hillsides and with spring arriving here in the lower Khumbu the fields of wheat and vegetables are starting to sprout while along the trail the cherry, magnolia, and rhododendron trees are in full bloom. We walked through the fields and villages, crossing back and forth from one side of the valley to the other on swaying suspension bridges that stretch above the milky blue water below, and soaking in the spring bloom along the way.
By midday we officially entered into Sagarmatha National Park, the park that bears Everest's Nepali name. Just past the Park entrance the trail emerges from the villages and green fields of the lower Khumbu and begins to climb to Namche Bazaar. A strong breeze was blowing up the valley when we crossed the suspension bridge at the base of the climb and the hundreds of prayer flags and white kata scarves stretched along it flapped in the wind, distracting us from the void in between the slats at our feet that stretched between us and the river hundreds of feet below.
The hill up to Namche is the first big climb of the trip, gaining over 2,000' from the valley floor to where Namche sits. In a series of switchbacks and long traverses we made our way upwards, staying well clear of the trains of dzopkyos - yak/cow hybrids favored at these lower elevations - that came barreling down the hill without much concern for those in their path. It was a healthy climb but felt good to put our heads down and climb for a bit.
Despite the spring temperatures lower in the valley a glance around the mountains above revealed fresh snow and as we arrived into Namche light flurries of snow blew in, at times blowing uphill as the flakes were buffeted by the swirling winds at the confluence of the two valleys. With tired legs we retreated to the teahouse, content to watch the low hanging clouds play amongst the peaks across the valley.
It has been a great day of walking and the team is settling into trail life well. We are spending the weekend in Namche, visiting the Saturday morning market tomorrow and exploring some of the surrounding villages as we acclimatize before going higher.
-RMI Guide Linden Mallory
On The Map
×
Sign Up For Everest BC Trek 2011 Emails
{/exp:mailinglist:form}
---
More to Explore
Everest Base Camp Trek & Island Peak Climb: Flight to Lukla
March 24, 2011