---
Everest Basecamp Trek and Island Peak Climb: Namche Bazaar Saturday Market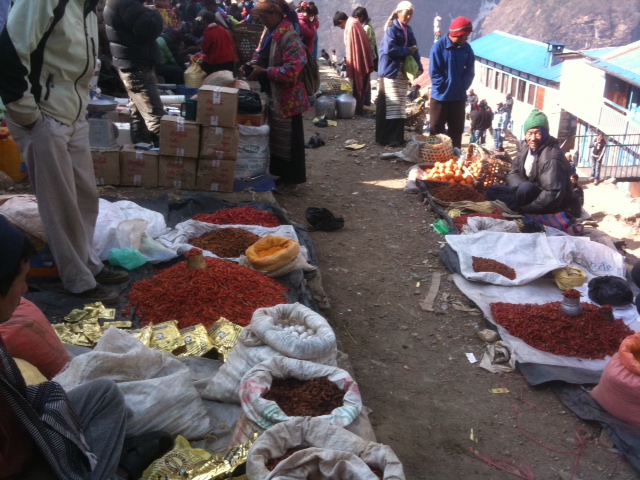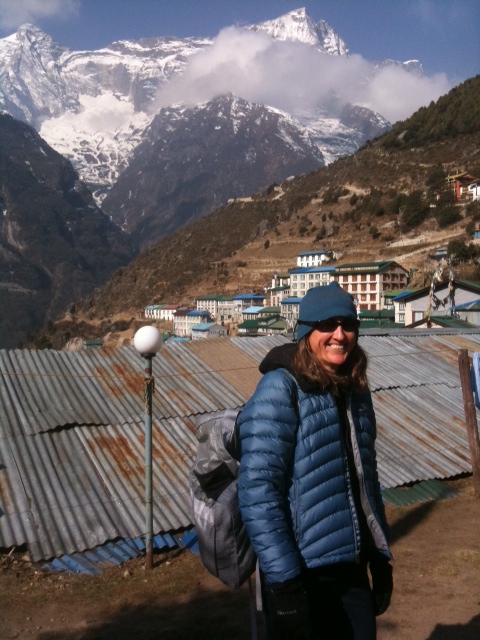 The evenings clouds lifted over night and morning broke with clear skies above Namche. The Kongde massif, sitting directly across the valley shimmered with freshly fallen snow. As we emerged from our sleeping bags the sounds of the waking village seeped in through the thin teahouse walls. Chickens, dogs, and the bells of yaks and dzopkyos combined with the cries of children preparing for school and the faint tinking of stone masons beginning their day's work laboriously carving the stone into finely crafted blocks for the growing number of lodges being built in Namche.
Built in a horse shoe shaped bowl tucked into the hillside above the confluence of the Bhote Valley and the main Khumbu Valley, Namche is the largest village in the Khumbu and a cultural and trade center for the region. Vegetables and fresh goods are brought up from further down the valley while every summer Tibetan traders bring goods on yak over the passes further up to trade here. The town is built into a steep hillside and the tiny streets that criss-cross throughout are built of stone and plied by locals, trekkers, traders, yaks, and dogs alike. It is a bust, vibrant, and exciting place. This morning was Namche weekly market when locals from the nearby village come to purchase goods and after breakfast we wandered among the blankets of goods laid out on a series of terraces on the edges of town. Everything from fresh grapes and tangerines to chickens, peanuts, batteries, and cases of Red Bull were for sale there, offering a fascinating and often amusing scene.
After exploring the market we climbed to a shallow saddle to the east of Namche where the National Park headquarters, army post, and museum of the Park are located. From the knoll where they sit we caught our first view of the Everest panorama further up the valley. Already starting to hide among the clouds by midmorning, we caught occasional views of the recognizable summit pyramid, flying it's trademark plume of snow as the jet winds whipped across its summit. Lhotse, Nuptse, and Ama Dablam were also visible, standing tall above the valley floor further up.
Visiting a few more museums in the area, we passed the rest of the morning looking at collections of Sherpa mountaineering history, photographs, and visiting a traditional Sherpa home. The rest of the day was spent relaxing in Namche, exploring the towns narrow streets of hand laid stone, browsing the stalls of shops selling traditional jewelry and shawls along with knock off brand name down coats and climbing gear both new and old.
Tomorrow we will take a day hike above Namche to several villages nearby, stretching our legs and hopefully catching more views of the mountains up the valley.
RMI Guide Linden Mallory
×
Sign Up For Everest BC Trek 2011 Emails
{/exp:mailinglist:form}
---
More to Explore
Mt. Everest Expedition: Flight of the Climbers
March 26, 2011