---
Everest Base Camp Trek & Island Peak Climb: Team at High Camp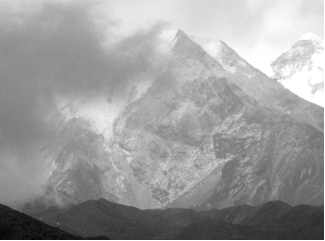 Hey RMI this is Linden Mallory calling from Island Peak. We are up here at High Camp, it's another fairly nice evening out, certainly on the chilly side but we didn't get any of that afternoon precip that we've seen the past couple of days. This has definitely been some of the better weather we have seen in the past few days. It's cold. Cold, cold temps right now about to jump in the tent and get warm.
We spent the morning wrapping up our training down at Base Camp and then moved up here to High Camp got in about mid day. We spent the afternoon sorting our gear and preparing.
I ran up to check out the route and get things started with Kulan Tusing, one of our Sherpa, so everything is looking good up there.
We just wrapped up an excellent dinner and off to bed. We are looking at an early morning start somewhere around 2 to 3 o'clock in the morning. With these cold temperatures we might delay our start a little bit but definitely get an alpine start. A couple hours through the rocks up onto the glacier and then move our way up the snow and ice to hopefully get to the summit of Island Peak. We will check in tomorrow and let you know how things go.
The team is doing well we are definitely excited to have the climb here and everybody is in good spirits and we send our best to everyone back home.
We'll check in tomorrow. Take care.

RMI Guide Linden Mallory checks in from High Camp on Island Peak
On The Map
×
Sign Up For Everest BC Trek 2011 Emails
{/exp:mailinglist:form}
---
More to Explore
Mt. Everest Expedition: Team Checks in from Base Camp
April 8, 2011