---
Mt. Everest Expedition: Big days at the mountain… comings and goings… daily snowstorms.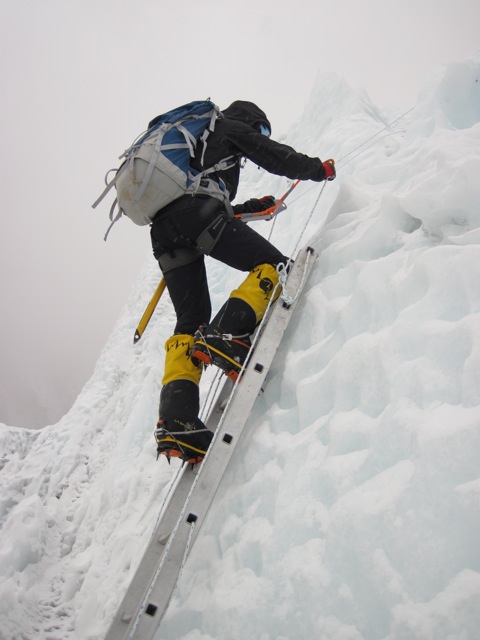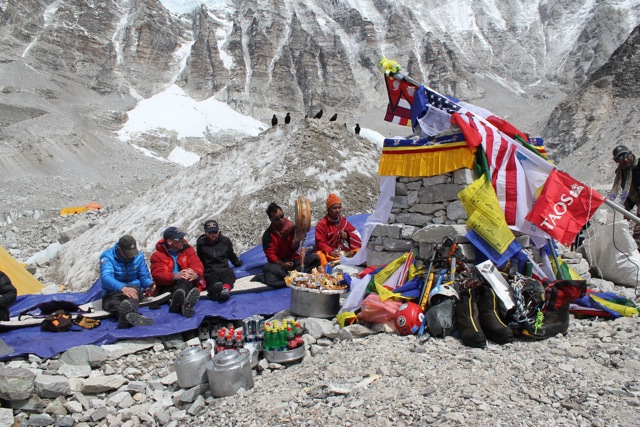 We've strung together a number of important milestones over these past few days. The Puja ceremony was a symbolic starting point to the climbing portion of the expedition. It seemed to go off without a hitch as we sat in warm sunshine and calm air for the morning… staring up into the Khumbu Icefall as we listened to the chanting and drums of the monks. We were lucky enough to have the docs from "Everest ER", the HRA clinic, as guests at the Puja and even a few of our good friends from the "Icefall Doctors" team. The Icefall Docs were taking a well-deserved day off from fixing the route up to Camp I. Ang Nima, who has been building climbing routes on Mount Everest since the 1970's, told me they were waiting for a new shipment of rope from down-valley anyway, so relaxing at our puja was the perfect way to pass a morning, getting a little more blessing from the gods for the dangerous and essential job they perform.
We were blessed at the end of the Puja to see Mark Tucker marching into camp. Tuck is our Base Camp Manager and is well-known as the de-facto mayor of the little community that springs to life about this time each year. Tuck and I started guiding together on Mount Rainier in 1986 and have been together on many expeditions to weird parts of the world, so on a personal level I was quite happy to see my friend arrive on the scene. Tuck got to work quickly, hunkering down with Jeff Martin to coordinate logistics and inventory lists in advance of Jeff's departure. He also began immediately to scope out venues on the rough glacial moraine for golf, baseball and horseshoes… all the normal mountain-climbing related diversions. Bill was plenty happy to have another worthy games and contests opponent around… so he could get busy walloping Tuck at everything.
The day after the Puja, we took the opportunity to go for a little practice session on ladders and fixed rope climbing not so far from Base Camp. Lam Babu and his crew quickly established a little jungle gym of obstacles for us to practice on and Bill, Sara and I took full advantage. Despite the fact that the weather was swinging every ten minutes between blazing sun and freezing snow-showers, we did a number of laps across canyons and up sidewalls to get the hang of steel crampons scratching on aluminum ladder rungs.
Yesterday was quite a significant day for our overall team as Camp I and Camp II were established. The Icefall Docs had managed to complete the route to CI while we were practicing on our jungle gym and Lam Babu, Tshering, Dawa and Kami meant to be there in force for yesterday's "opening" of the Icefall route. If at all possible, I wanted to join our climbing Sherpas so as to survey the condition of the Icefall route and in order to have some positive input on the siting of Camp I. We woke at 4:15 AM, choked down some rice porridge and coffee (I went for the coffee, the Sherpas preferred tea) and we got walking out of camp by headlight at 5 AM. There were only a handful of Sherpas from other teams out on this morning, walking in a few inches of new overnight snow. Most of these other climbers were on a sort of homesteading land-grab… shooting up with light packs to claim favored spots at Camp I and II. This was only partly a concern of ours, since our team is relatively small and finding suitable campsites won't really be that big a deal, but none-the-less having our pick of sites is still a good thing. In contrast to the others on the route, each of our team had a decent sized load of climbing and rescue gear bound for caching at CI. Tshering, Dawa and Kami set a more aggressive pace for the day while Lam Babu stayed back with the lightly acclimated and elderly team leader (me). There were the usual number of places where I had to hold my breath and swallow my fear in order to balance along some ridiculous bridge under some preposterously leaning tower or wall of heavy and hard ice… but sure enough, the Ice Docs had found a way to the top. I came to realize why they'd needed more rope since I could see that a good section of their ladders and rope already had avalanche debris burying it in the mid-section of the route to CI. Lam Babu and I made it up into the Western Cwm and to Camp I in a little under four hours. By this point, Tshering and Dawa had determined that it was worth their effort to rope to one-another and proceed on up to Camp II (ABC). Kami, Lam Babu and I contented ourselves with marking out the perfect site at CI… off the main herd-path, out of major avalanche debris fields, and free of crevasse hazard. We secured our cached gear and got busy descending. I always find the Khumbu Icefall to be tricky and difficult, but this time I think it was a little more-so since the route was so new that it hadn't been tracked in and trouble-shot just yet. The numerous little walls that needed negotiating just had scratch marks, whereas in a week of heavy traffic, they'll develop nice bucket steps and handholds. The troubleshooting that I expect will occur results from a few hundred sets of errant feet finding all of the hollow spots along the edges (and occasionally in the middle) of the track. Yesterday, I was the troubleshooter and naturally I stuck my big size 14.5 boots a few places that I instantly regretted. Kami and Lam Babu looked back at my shrieks and groans a few times to see if I was still upright and viable. Even so, we bounced down and out of the Ice by about noon and I met Bill, Sara and Tuck on a training hike, enjoying the fine morning sunshine. By the time we were back at camp for lunch it was cloudy and snowing again. Tshering and Dawa raised our flag at ABC… 21,300 ft and I'm quite proud of that effort and of their safe descent afterward. I'm also excited that we got our Camp I gear in place at 19,900 ft. We enjoyed one last lunch with Jeff Martin before he headed down valley to get back to work managing things on far-off Mount Rainier.
Things are humming along at Mount Everest. Today we are listening to the sounds of about a dozen Pujas taking place around the area as most of the big climbing teams are now on scene. We've been visited by a number of friends coming by to check up on us and between social calls we are taking the morning off from climbing… time for some washing up and basking in the temporary sunshine before the daily snows.
Best,
Dave Hahn
×
Sign Up For Everest 2011 Emails
{/exp:mailinglist:form}
---
More to Explore