---
Mt. Everest Expedition: Team Feels Strong After First Night at Camp 2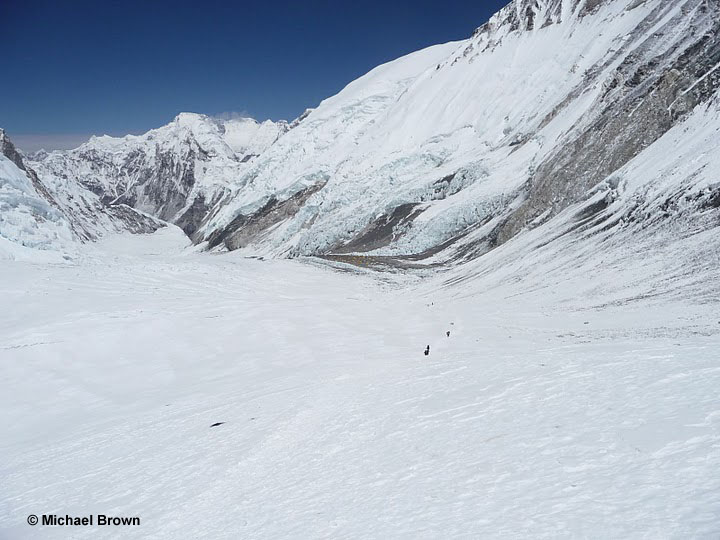 The weather could not have been better last night and early today. Right now it is snowing lightly. It can sure help to have stable weather conditions for any night at 21,300' and a major bonus to have calm weather for the first night of many at that altitude. The word from above is that the team did well during the night. So well in fact, that Dave was able to rally the team early this morning for a 7:30 a.m. departure and climb to just below the Lhotse Face. That section took about an hour and forty-five minutes. We would call that part of the day, the approach to the climb. Above where they stopped is a continuous steep climb to get up to Camp 3, which sits at 23,900' more or less. Dave reports that since we have been having daily snow, the conditions on the face have improved. What we saw in the earlier part of the month was blue ice on most of the face.
The previous dry winter has created a big gap between the lower angle slopes and the steep face, which is referred to as a bergshrund. If it were a wet winter with lots of snowfall, that gap could be filled in with snow making crossing much easier. At the last meeting of the teams, we decided to send up a ladder to be placed in that area if it seemed like it would help the climbers get on to the steep section. More progress was made by the fixing team above Camp 3. Sounds like the ropes are set to Camp 4, which is the South Col (26,000'), our final camp before the summit push. More work will be needed to improve the ropes from Camp 2 to the South Col but that is huge to have the initial set in place. Dave, Sara, Bill, and Linden plan on getting on the face tomorrow. This will be a taste of steep climbing at extreme altitude.
The team is right on track and fired up!
Till next time,
RMI Guide Mark Tucker
×
Sign Up For Everest 2011 Emails
{/exp:mailinglist:form}
---
More to Explore
Mt. Everest Expedition: Team at Camp 2
April 29, 2011