---
Mt. McKinley: Mallory & Team Back to Camp After Retrieving Cache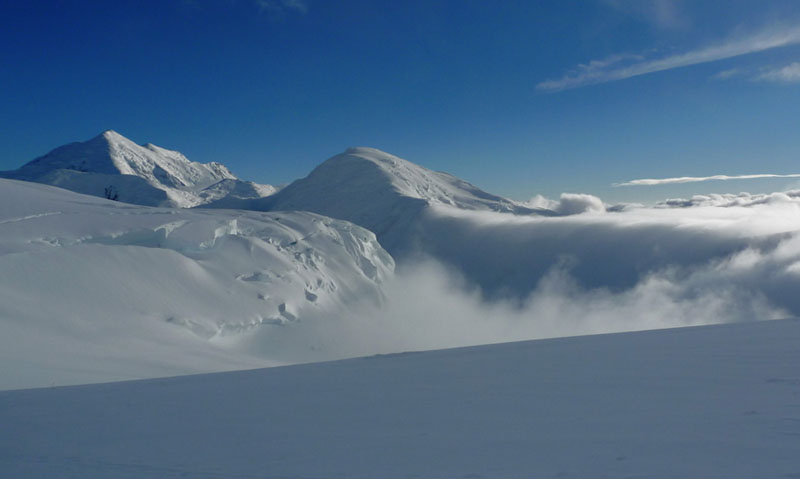 The clouds cleared last night after dinner and for an hour or so we sat in the evening light at 11 Camp, watching the cloud bank below us race through Kahiltna Pass and over Kahiltna Dome, a peak across the valley from 11 Camp. Unfortunately the improved conditions did not persist and when we woke up this morning we were back in the clouds with a light snow falling. After a quick breakfast we grabbed our nearly empty packs, pulled on our gore-tex shells and goggles, and headed back to our previous camp. As is typical near Kahiltna Pass, where the weather funnels through the low gap in the mountains, the conditions deteriorated with the wind whipping snow by us. But we pushed through it, reaching our old camp at 9200' before long.
We dug up our food bags and supplies we left cached there yesterday and loaded everything into our packs before setting off back uphill. The knowledge that our warm tents awaited us was good motivation for the team and we motored back to 11 Camp through the wind and blowing snow. When we got back to camp we found our tents starting to sink beneath the accumulating snow so we pulled out the shovels and cleared out camp from the drifted snow. Before long everything looked as it had when we left this morning. We've spent the rest of the afternoon hanging out in the tents. The skies have cleared a bit and the sun is managing to poke through every now and again.
We are hoping to carry a cache of supplies to 13,600' tomorrow but the conditions are looking questionable. There are a few teams here that have been waiting for a few days to do the same thing but haven't because of the weather. Unfortunately the forecast for tomorrow looks like more of the same, but we're keeping our fingers crossed anyways.
RMI Guide Linden Mallory
×
Sign Up For Denali 2011 Emails
{/exp:mailinglist:form}
---
More to Explore