---
Everest Base Camp Trek: Tucker and Team Enjoying a Rest Day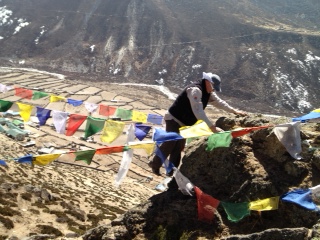 Hello!
I finally get another chance to get a word or two in. Today was a rest day and we tried to do just that. . . rest as much as we could. We did a short hike in the morning that took us to the ridge line above us. There we could see three of the 8,000 meter peaks: Makalu, Cho Oyo, and Lotse. We also saw our first glimpse of Island Peak. It looks very steep, high, and cold.
Our hike took us to 14,500ft, which is higher than any peak in the continental United States. So, it was an exciting moment for us.
Later in the day we attended an information session presented by the Himalayan rescue association on the effects of altitude on the body. Besides learning about AMS (Acute Mountain Sickness), HACE (High Altitude Cerebral Edema) and HAPE (High Altitude Pulmonary Edema), we learned about HAFE (High Altitude Flatulence Expulsion). The latter one is very real to us as John has been suffering from it for days. Actually, I have been doing the suffering since I have been walking behind him on the trail.
John claims the food is to blame for his HAFE. So, I will share a bit about our eating experiences thus far. The tea-houses offer a similar menu for the most part. For lunch or dinner, the typical choices are some sort of rice (fried, steamed, or curry), some sort of noodles ( fried or with a tomato sauce), some sort of potatoes (boiled or fried), soup, or dal baht. Dal baht is a Nepalese meal of rice and a sort of lentil soup that is poured over the rice. It appears that the Sherpas traveling with us eat dal baht at every meal. Occasionally, the tea-house will have chicken. When that is the case, we order a special treat called chicken chile. It is a spicy chicken dish that is delicious. All of the food is very good, but the menu lacks diversity. The dessert is especially interesting and I have come to like it very much. They offer Snickers or Mars pie, which is just a deep fried Snickers or Mars (Milky Way) candy bar. Sometimes they also have a deep-fried Bounty (Mounds), which is my favorite. Mmmm, delicious.—Kim
P.S. A big shout-out to Mrs. Hartman's 3-5 classroom.
On The Map
×
Sign Up For Everest BC Trek 2012 Emails
{/exp:mailinglist:form}
---
More to Explore
Everest Base Camp Trek: Up To Island Peak or Down to Namche…
March 28, 2012
Everest Base Camp Trek: Arrive at Island Peak Base Camp
March 29, 2012