---
Everest Base Camp Trek: Long and Rainy Walk Back to Lukla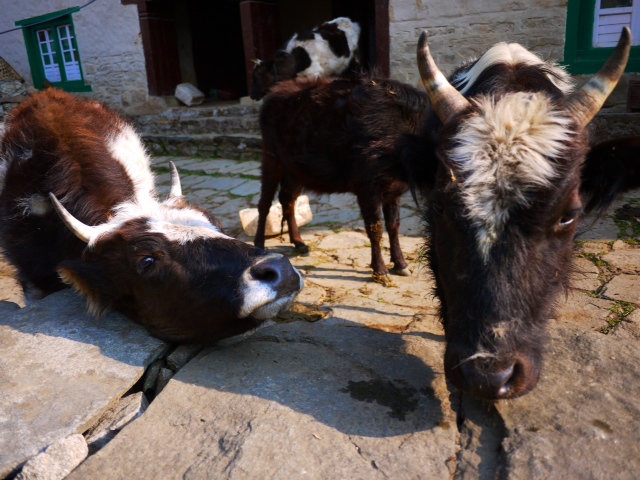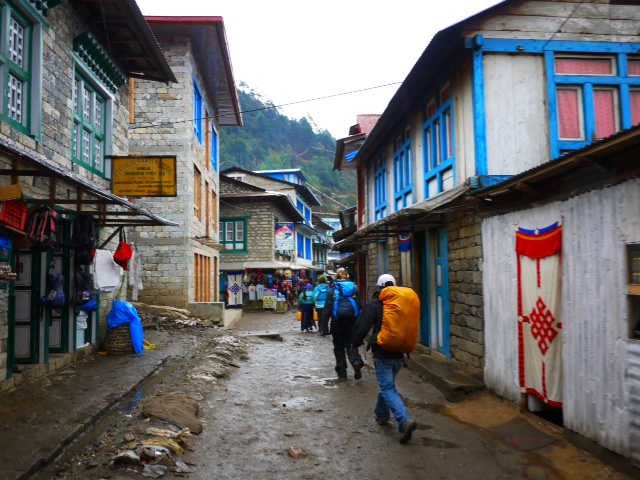 A forest fire burning lower in the valley gave the skies a light haze this morning over Namche and we could catch glimpses of the smoke rising from the valley sides further down as we left our teahouse. It was warm as we walked out of Namche and descended the hill to the valley floor but by the time we reached the bottom, clouds crept up the valley to block out the sun. As we crossed the suspension bridge above the river the first few droplets of rain began to fall. Soon the rain was falling in force and thunder echoed in the mountains above, and the smoke from the fire began to dissipate. We walked through the villages below Namche, crossing back and forth across the river on suspension bridges, while the rain came and went. Before long thunder was rolling through with hardly a pause between claps and we sought refuge in the nearest shelter we could find, piling into a tiny shack on the side of the trail already full of porters also seeking refuge.
Sitting crammed in the one room building, we sipped some tea heated up on a fire nearby as the thunder and lightning passed over us and faded away higher up the valley. Once all we could hear was a light rain pattering on the roof we set out on the trail again, picking our way down the trail as we skirted the small streams and puddles forming in our path. We made steady progress back down the valley, finally pausing in the village of Phakding for lunch. The rain kept coming down and we sat around the stove in the teahouse doing our best to dry out as we ate lunch. When we set out and the rain was letting up; with every step we made closer to Lukla the clouds seemed to rise equally as well. Soon we could see the fresh snow covering the base of the peaks above and all of the fields around shone a brilliant green with the arrival of spring in the lower Khumbu Valley. The cherry trees, rhododendron, and piries janponica trees were all in full bloom - pink, red, and white flowers dotted the trees bordering the fields and we kept pausing to take it all in.
By late afternoon we climbed the final rocky steps of the trail and walked into Lukla. We found our teahouse and shed our packs and damp gear, finally reaching the end of the trail. We are happy to be warm and dry again after the many hours of walking in the rain today and if the weather cooperates and the clouds continue to lift we hope to catch an early morning flight back to Kathmandu tomorrow. It is a bit strange not to have more trail to cover tomorrow but we are excited to get back to Kathmandu and keeping our fingers crossed for clear skies so we can fly out!
On The Map
×
Sign Up For Everest BC Trek 2012 Emails
{/exp:mailinglist:form}
---
More to Explore