---
Mt. McKinley: Hahn & Team - Change is Good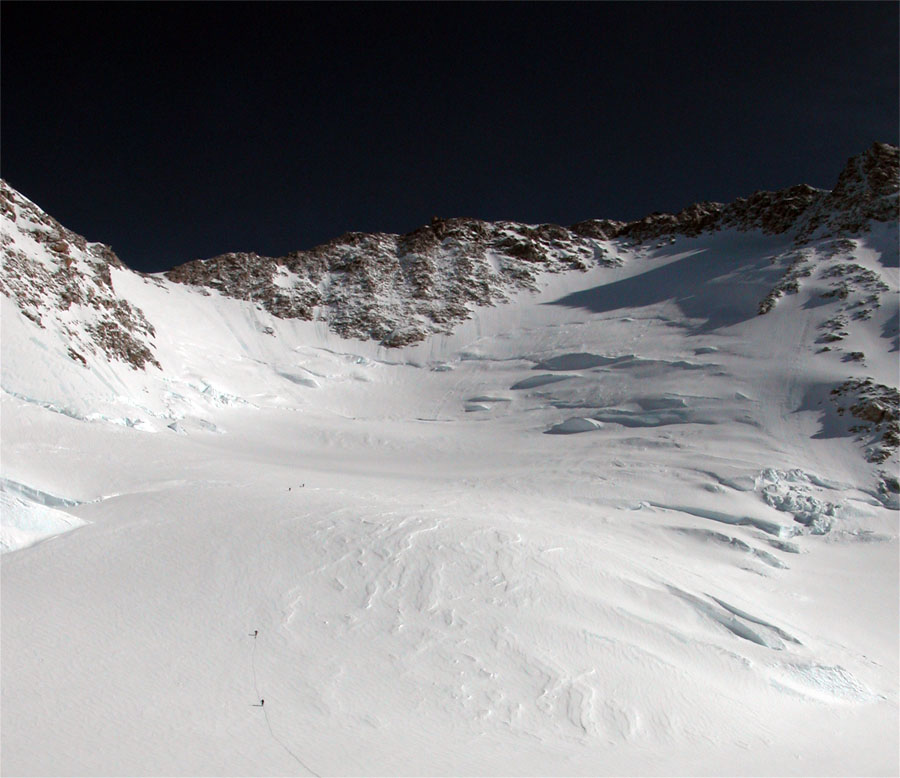 It started out like Groundhog Day as we got out to start the stoves…. socked in with clouds and light falling snow… 14,200 camp was in the soup. I joked to the gang at breakfast that there certainly wouldn't be any climbing on this day (admittedly a lame joke on the heels of so many non-climbing days). We took a few enjoyable extra minutes at breakfast since the weather was so poor outside the POSH tent. It seemed a good time to read out the comments posted on the blog (and cut and pasted into a message for us by the RMI office). We all got laughing and forgot about the storm and then a funny thing happened. We unzipped the tent, walked outside and the storm was gone. There was the usual sea of clouds just below us, but only calm, blue skies above. Within a few minutes, a plan was hatched to team up with the other guided teams at 14,200, to get the climb leaders up in the direction of those suspect slopes and to determine once again just how suspect they still were. Mountain Trip sent two guides, Alaska Mountaineering School sent three, and Tim and I went to represent RMI. Meanwhile Cody and Solveig conducted a course in ropework and belay techniques for the gang in camp. Those of us on the survey mission found ways to keep getting higher without taking unreasonable risks. It took all day long and a few mini-conferences as to the best way to proceed -we traded off the honor of being out front where trailbreaking and risk evaluation were both essential and intense jobs. By late afternoon we felt we had a good understanding of the snowpack and where we could and couldn't go. We agreed that it was reasonable to try busting through the last couple hundred feet of snow to reach the fixed ropes. We took a cautious approach, setting up good anchors and a protected belay station, since by this point we were dealing with a fairly steep slope, crevasses, and all that recent snow we've been moaning and groaning about for days. It all paid off as we reached the security of the ropes without incident.
We knew we finally had a safe route to take our teams climbing toward the West Buttress in the morning. Which is just what we'll do if the weather cooperates. Having reached about 15,500 ft in elevation, it was a thrill to ramble down the "safe trail" at flank speed and spread the good news to our climbers.
We still need plenty of luck, and there still may be insurmountable obstacles between us and the summit, but at least we finally get to go looking for them.
Best Regards,
RMI Guide Dave Hahn
On The Map
×
Sign Up For Denali 2012 Emails
{/exp:mailinglist:form}
---
More to Explore