---
RMI Guide Geoff Schellens Recaps his Climb of Mt. Hunter with RMI Guides Jake Beren and Leon Davis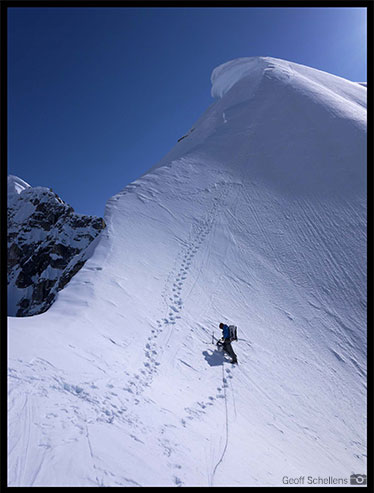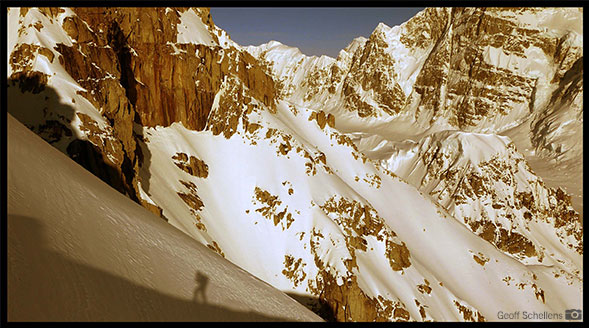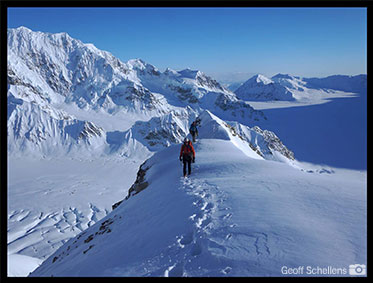 Guides and climbers often struggle with sitting still, so RMI Guides Jake Beren, Leon Davis, and I quickly decided on a personal trip into the Alaska Range this spring. The three of us have guided Denali many times - and as any climber who has been to the Alaska Range knows, it is difficult to travel past countless beautiful peaks, ridges, and faces and ignore the siren call to come climb them. This trip was all about pulling the wax from our ears and sailing directly towards the siren's song. With no clear plans or objectives, we decided to simply climb what looked enticing. After ten days in the Ruth Gorge, the three of us were picked up from the Ruth Glacier and flown to the Southeast Fork of the Kahiltna Glacier. In early May we climbed the Southwest ridge of Mt. Francis, an excellent ridgeline that offered quality alpine rock and steep snow climbing. With good weather holding, we rested and restocked for the West Ridge of Mt. Hunter.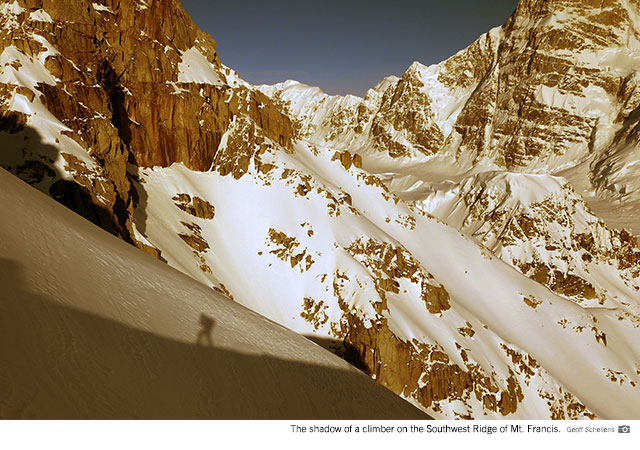 On May 9th Jake and I departed from Base Camp around 8:00 AM, skiing down the Southeast Fork through the cold, crisp morning air to the main flow of the Kahiltna Glacier. We continued down the glacier for another half hour and reached the West Ridge of Mt. Hunter. Here Jake and I cached our skis and began climbing. We approached this objective in a light and fast technique, known as "alpine style," bringing four days of food, a small stove, a lightweight tent, and no comfort items. As we started climbing we found a very nice boot pack leading up the ridge that made for extremely efficient travel. At first we felt guilty drafting behind someone else breaking trail, but soon decided that each of us has done our fair share of trail breaking on other peaks and that we ought to just enjoy this one. As the two of us climbed higher on the West Ridge with ear-to-ear smiles we decided on a plan, "Lets climb until we're not having fun and then camp there." Well, the climbing on the West Ridge was extremely fun and after twelve hours of navigating the corniced ridge, peppered with exquisite sections of rock, steep snow and ice, we found ourselves at the 11,400' bivy - tired but still smiling. We set our tent in a small notch and ate freeze-dried dinners with a fantastic view of the Alaska Range. It was truly an awesome place to be.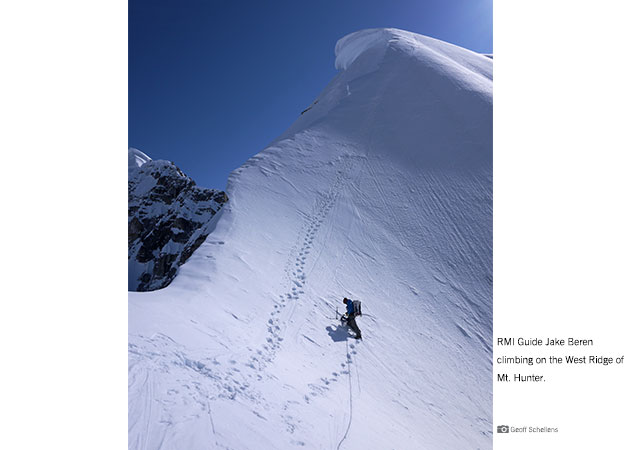 The next morning brought beautiful weather and a sense of excitement for where we were and what lay ahead. With our approach of simply having fun, we enjoyed the morning views and a few cups of coffee before breaking camp at noon. Moving quickly relishing every step and with a swing of an ice tool we ascended steep snow pitches and navigated gaping crevasses. Soon we found ourselves on the summit plateau at 13,000' walking across the largest stretch of horizontal terrain we had seen in thirty hours. From there we ascended the final 55° slope that took us to the summit ridge. From there, forty more minutes of easy climbing gave way to the summit of Mt. Hunter. While standing on the summit Jake and I hooted and hollered with excitement, "What a fun climb!"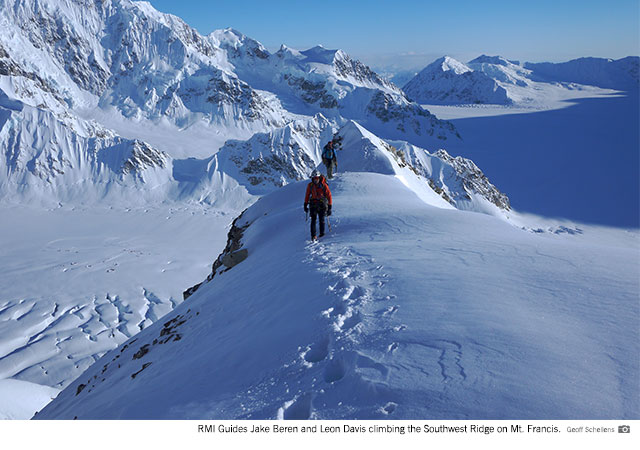 Soon we began our descent with the same approach we used on the ascent - climb until it is not fun and then set up camp. Down the ridge we went back to our bivy site, where we decided to descend via the Ramen Route. Quickly Jake and I realized that we had made a wrong turn into the entrance of the Couloir. This meant that we had to do a few tricky rappels and down climb through seracs to get ourselves back on route. Once we were back on track, we had a few more rappels before softer snow conditions allowed us to down climb to the base of the 3,300' Ramen Coulior.
Now, for the second time in two days, we found ourselves again on flat glaciated terrain. At this point it was getting late in the day, but we were still enjoying ourselves and decided to continue our descent. Due to the time of day we chose to navigate the extremely broken-up glacier since it provided more camping opportunities if we needed to set up camp. This was a time intensive descent however as Jake and I soon found ourselves in a world surrounded by incomprehensible seracs and crevasses. A couple more hours brought us back to the main flow of the Kahiltna Glacier and our skis. After forty-two hours we arrived back at Base Camp exhausted, hungry, thirsty, and smiling. Employing our tactic of "climb until we are not having fun" had been the perfect strategy for this route.
_______
RMI Guide Geoff Schellens is a senior guide leading trips on Aconcagua, the North Cascades, Mt. Rainier, as well as, guiding Ice Climbing and Mt. McKinley. He is currently preparing for his next adventure this spring on Dhaulagiri, an 8,000 meter peak in the Himalayas. See more of Geoff's mountain photography on his website.
---
More to Explore
Mexico's Volcanoes: Team Resting in Puebla
October 24, 2013
Mexico's Volcanoes: JJ & Team Ready for Summit Bid on Orizaba
October 25, 2013