RMI Guides Katie Bono and Andres Marin Climb the West Face of the Kahiltna Queen
Posted by: | July 22, 2013
Categories: *Guide News
RMI Guides Andres Marin and Katie Bono spent a week leading RMI's Alaska Alpine Skills Seminar this spring. After the seminar they returned to the Alaska Range for a personal climbing trip.
Andres Marin: I guided the Alpine and Expedition seminars in Alaska, where our teams had an incredible time climbing and learning. When the seminars ended, I had a few days to spend climbing around Base Camp.
Katie Bono: Both Andres and I had time at the end of our trip for some personal climbing. We bid adieu to our team in Talkeetna and the next morning flew back into Kahiltna Base Camp.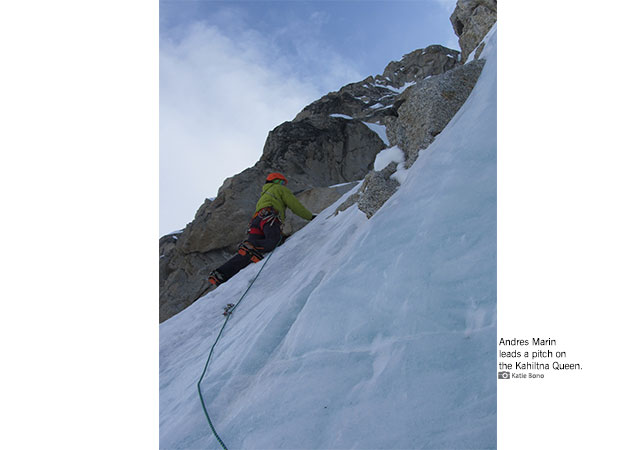 Kahiltna Base Camp sits in the heart of the Alaska Range, surrounded on all sides by peaks such as Denali, Mt. Foraker, and Mt. Hunter. With the plethora of climbing options the pair decided to climb the Kahiltna Queen (12,380').
AM: Around Base Camp there are so many cool peaks to climb and one of those is the rarely climbed Kahiltna Queen. This peak is located at the end of the southeast fork of the Kahiltna glacier. It is the only peak in the range that divides three different glaciers: the Kahiltna, the Ruth and the Tokositna.
KB: Andres and I spent a day skiing up the Southeast fork of the Kahiltna Glacier, stopping along the way to look at different climbing options and to do some ice climbing. Kahiltna Queen looked like a gorgeous peak to climb and both of us were stoked about trying an unclimbed route.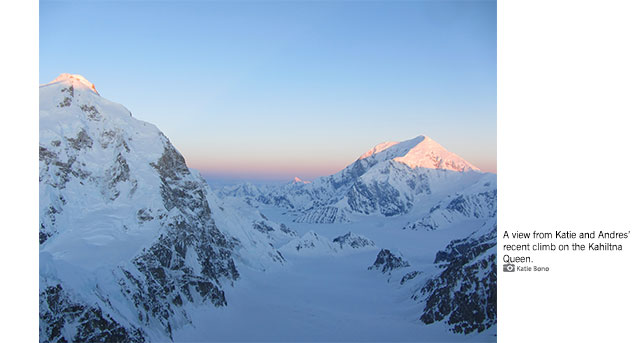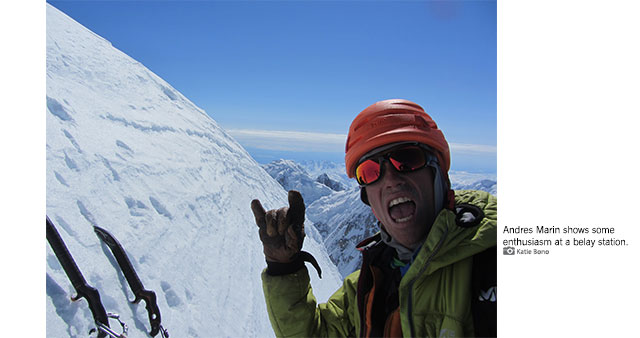 The following night Katie and Andres began their climb up the West side of the Kahiltna Queen.
KB: The line we took followed a rib splitting the west face, starting from where the rib emerged from the glacier. The part of the climb was mostly steep snow climbing on some great and not-so-great neve (granular snow that accumulates near mountain tops from wind and precipitation). The route then transitions into ice climbing with some rock mixed in.
AM: The mixed climbing was great all the way to the summit. The day was incredible and the views were just amazing. At the top we stopped to melt water and high five. Then it was time for us to start descending the West Couloir Route. The descent ended up being longer and more difficult than I expected as we had to do over fourteen rappels.
Following the successful climb, Katie and Andres, skied two hours back to Base Camp. After 25 hours of climbing they returned safely to Base Camp.
KB: Seeing the moonrise while we were climbing was awesome! It came up for maybe an hour or so and just skimmed the edge of the horizon. For the whole way up we had splitter weather and were basking in the sun at the summit. After this trip I can definitely understand why my friends are excited about Alaska. It was great to be able to climb the Kahiltna Queen after guiding the Alaska Seminar since it enabled me to spend so much time in the Alaska Range. Andres has heaps of experience in the Alaska Range and I learned a lot from working and climbing with him.
AM: All and all it was a great climb with a great partner. I am already looking forward to next year's seminar and more personal climbs in the Alaska Range.
Andres Marin is a senior guide at RMI leading programs in Washington, Alaska and Colorado. He is an off-width specialist and an accomplished ice and mixed climber. One of his recent achievements includes climbing the five hardest mixed lines in Ouray, Colorado, in a day. Andres is a fully certified alpine and rock guide sponsored by Millet, Blue Water Ropes, 5.10, Petzl, GU and Ice Holdz.
Katie Bono is an RMI Guide and accomplished climber with impressive ascents in North America and Canada. A retired Nordic ski racer and Millet athlete, she currently holds the women's speed record on Mt. Rainier.
To see more of their climb check out Andres' Kahiltna Queen video.
1438 views
Comments
Anyone looking into Andres' background as a guide or a teammate can have confidence that he is capable of more than most and still patient with those less skilled. (thanks again, Andres)
Posted by: Creighton Miller on 8/15/2013 at 7:15 pm
Congratulations Andres & Katie ! Andres it is nice to see the video and hear your voice. I'll never for your guiding my son Creighton & I up Dragontail (WA) a few years ago. Thanks for all the wonderful memories.
Posted by: John Miller on 8/15/2013 at 4:57 pm
Leave a comment for the team
---