---
Everest Base Camp Trek: Casey Grom & Team Enjoy the Sights in Kathmandu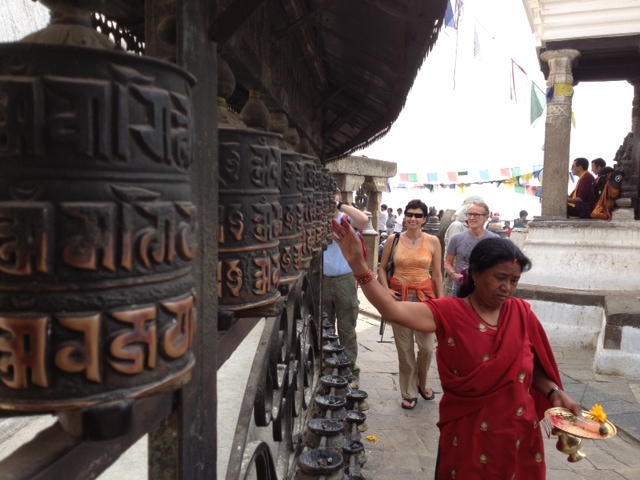 Hello everyone!
After our really long flights (nearly two days) the team arrived yesterday and had a early dinner and then off to bed to catch up on some much needed sleep.
Today we had our official team meeting and discussed the adventure ahead. After our meeting we headed out into Kathmandu to explore a little before we head into the mountains. Our first stop was to the Swayambunath, aka the Monkey Temple. It's a beautiful temple that sits above most of the city with views in all directions and is incredibly important to the Buddhist population here in the city. Next we paid a visit to the Pashupatinath Temple which is where the Hindu's bring their dead for cremation, and it was very surreal to be present while this ceremony was taking place. We then made a quick stop at the Boudhanath Stupa which is the second largest Stupa in the world.
After our city tour the team made our way back to our hotel and finalized our packing and finished the day off with a nice meal at the Famous Rum Doodle where they have saved autographs from all the climbers and Everest summiteers over the years: Sir Edmund Hillary, Reinhold Messner and many others.
It was a pretty full day to say the least. Everyone is doing great and looking forward to getting into the mountains and stretching their legs.
RMI Guide Casey Grom and crew
On The Map
×
Sign Up For Everest BC Trek 2013 Emails
{/exp:mailinglist:form}
---
More to Explore
Everest Base Camp Trek: Tucker & Team Reach Namche Bazaar
March 23, 2013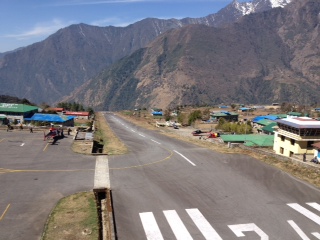 Everest Base Camp Trek: Casey Grom & Team Land in Lukla
March 24, 2013