---
Mt. Everest: Sherpas to Everest C1, Climb Members to Pumori C1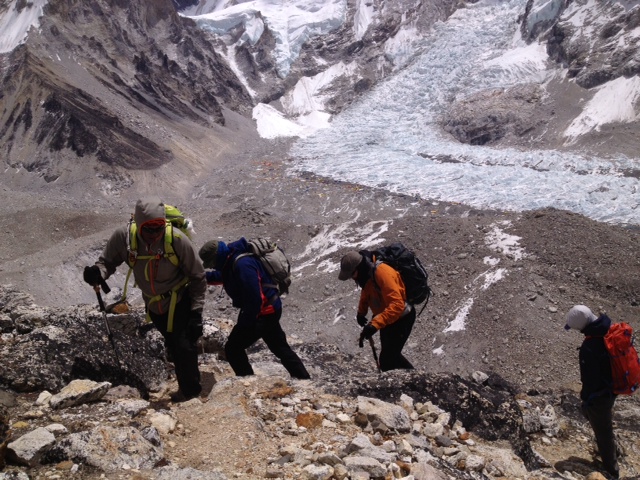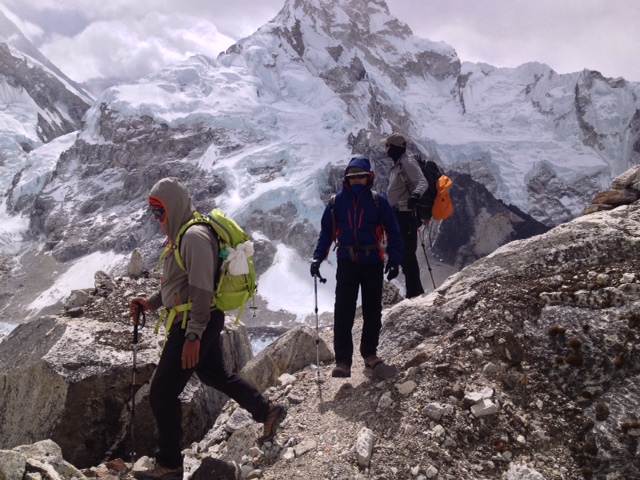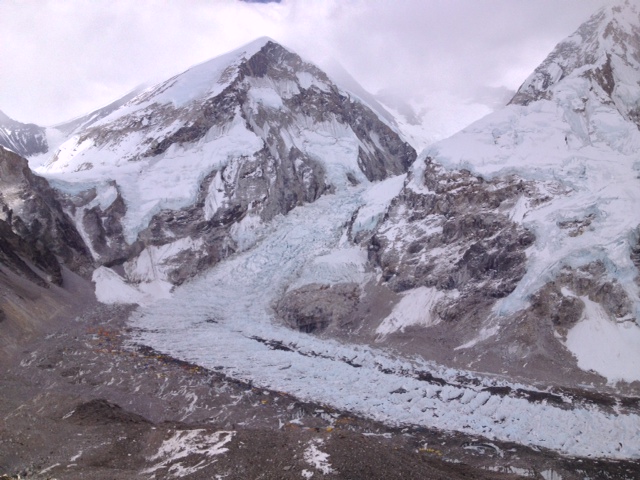 The storm that seemed to be coming in yesterday afternoon got here. The morning wasn't actually all that bad. Just a bit breezy and overcast, but it was obvious that up high it was hitting a lot harder. For all of that, though, it didn't hold our team back. Lam Babu and the Sherpa team (Cherring, Kaji, Gyaljen, and Uberaj) were out in the dark, walking just after 4 AM bound for Camp One. The first carry went well and the boys established camp at close to 20,000 ft, reporting not much in the way of difficulties with the Khumbu Icefall (in truth though, our guys rarely report much in the way of difficulties).
Not willing to be totally sedentary while the Sherpas were setting such a fine example, the rest of us set off on a hike to Pumori Camp One. We figure that camp sits at about 18,600 ft, so it is perfect for getting in a workout and getting a little time up high without exposing ourselves to hazard. We even got some great views of the black pyramid-top of Mount Everest fighting it out with monster storm clouds. The West Ridge was taking on its ten millionth storm, splitting wind and clouds with its jagged rock prow. As we got a bit higher, scrambling our way up a rocky trail, we were treated to views of both the North Col (23,000 ft in Tibet) and the South Col (26,000 ft in Nepal). We were able to see all the mountains we'd trekked through to get to Everest, and closer to home it was humbling to look at the giant hanging glaciers of Pumori and Nuptse, up close and personal. We didn't spend too long at Camp One, before dropping back down and joining the trekker traffic again on the main trail to Basecamp. We were well motivated by Chef Kumar's lunch scheduled for 1:30 PM. As we got in the tent for lunch, it began snowing outside and so we mostly just huddled up and slept, read and played games for the afternoon. Such is expedition life at the moment. We are getting stronger each day now… We hope.
Several days ago a tragedy occurred as one of the "Icefall Doctors" suffered a crevasse fall and died close to Camp One on Everest. We were very much aware of this sad circumstance at the time, but chose not to break such news on the blog. Obviously it wasn't our news to break and we didn't want to get ahead of word reaching family and loved ones through proper channels. But it is time to acknowledge the loss of one devoted climber and of the selflessness of our own Sherpa team, who played a key role in the rescue effort. Chherring Dorje flew by helicopter to the scene and managed the retrieval while Lam Babu conducted things from the heli-pad at Everest Basecamp. Although there was a sad outcome, I was extremely proud that our partners were able to offer help to the Icefall Docs, whom we admire very much. This small team of about a half dozen men are hired by the National Park to establish and maintain the route through the Khumbu Icefall. It is physically demanding and dangerous work. The docs do an incredible job each year, and the same men come out year after year. They never boast or seek recognition… They aren't rewarded by being able to tag the summit and run up their "count" on the mountain, and they are paid modestly. Mingma was from the village of Dingboche and leaves a wife and several daughters. Of course many of us will try to help out with donations… Mingma was working on our behalf… but there is no getting around the reality: this dangerous work has once again taken the ultimate toll.
Best Regards,
RMI Guide Dave Hahn
On The Map
×
Sign Up For Everest 2013 Emails
{/exp:mailinglist:form}
---
More to Explore
Mt. Everest: Icefall Practice Day
April 11, 2013