On May 8-10th RMI Guides Zeb Blais and Tyler Jones took advantage of the good weather in the Pacific Northwest to do a multi-day ski mountaineering tour on Mt. Rainier. The duo spent three days on the mountain and skied an incredible total of 21,000 vertical feet!
We caught up with Zeb and Tyler before their next mountaineering adventure.
RMI: On the first day of your trip you left from Paradise and skinned to Camp Muir. What were the conditions like?
Zeb Blais: The conditions getting to [Camp] Muir were ideal with fast-gliding and supportable corn snow that made for quick travel.
Tyler Jones: The warm afternoon snow conditions gave us a chance to get in a nice ski run in on the Cowlitz Glacier after we reached Camp Muir. At the same time, it provided us with a good trail for the morning to climb the Gibraltar Ledges Route to the summit. From there, our plan was to traverse to Liberty Cap to get a view of the big runs!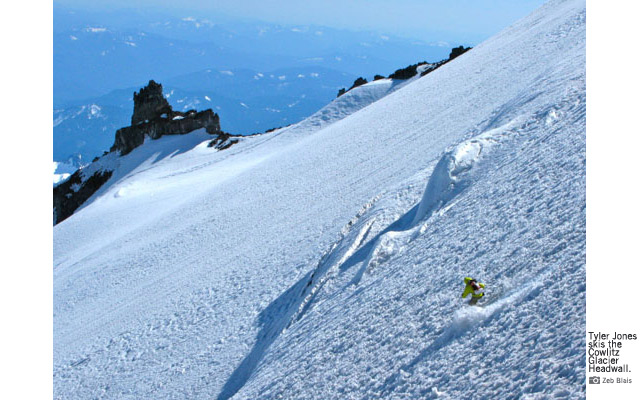 RMI: That night you left Camp Muir with the intention of skiing Liberty Ridge. Were you able to ski that line?
Zeb Blais: The key to skiing big exposed lines is always the snow conditions. When you're looking at skiing a line like Liberty [Ridge] you can only know what the conditions are like when you get there. We were hoping that the north and northeast facing snow would be chalky, smooth, and wind packed, but when we looked at the entrance to Liberty it was clear that it wasn't going to be skiable. The Liberty Ridge Route looked like mid-summer, maybe good for ice climbing, but certainly not skiable. The Liberty Cap Glacier was down to blue ice with lumps of rime glued to it, which I imagine is fairly common since it is so steep, but the skiing below looked the same. Rappelling the Liberty Cap Glacier and skiing the rest of the line did not look like an inviting option.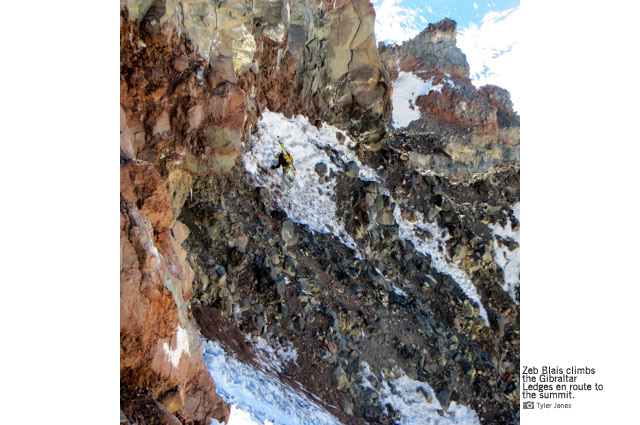 RMI: What did you end up skiing instead?
Zeb Blais: After realizing that Liberty was not suitable, we turned our focus to the Mowich Face - an amazing, steep face on the northwest side of the mountain. This looked tempting at first, but it was heavily rimed with blobs of water ice. It was not a place to be on skis! We retreated back to the ridge above and decided we needed to focus on warmer, spring like-snow. We decided on the Sickle, a west-facing chute on the Tahoma Glacier. The snow in the Sickle was prime for skiing!
Tyler Jones: On our ski we had nice soft spring snow down to 8,500 feet. From there we were able traverse to our objective for the next day: Success Ridge between the South Tahoma Glacier and the Success Glacier. We spent the night on the ridge, getting some well-deserved sleep, with the magnificent 4,000-foot Success Glacier Couloir above us waiting to be skied. The conditions on the Success Glacier were superb. The snow was firm for climbing and soft for skiing. After the amazing fall line decent, we continued traversing to [the trailhead at] Paradise. As we hit the Nisqually Glacier we added more vertical to our trip and finished at the Nisqually Bridge. In total Zeb and I traveled 24 miles, gaining 19,000 feet and skiing 21,000 feet in 3 days.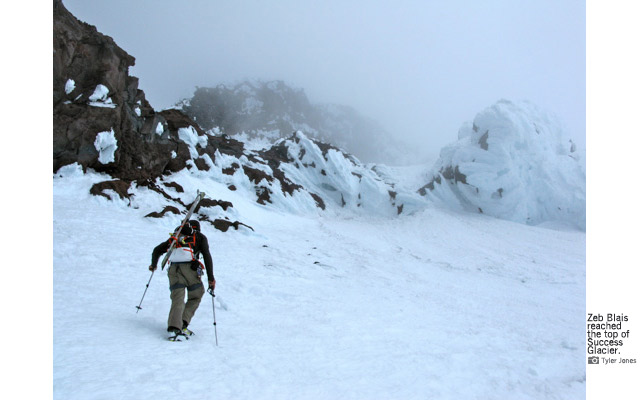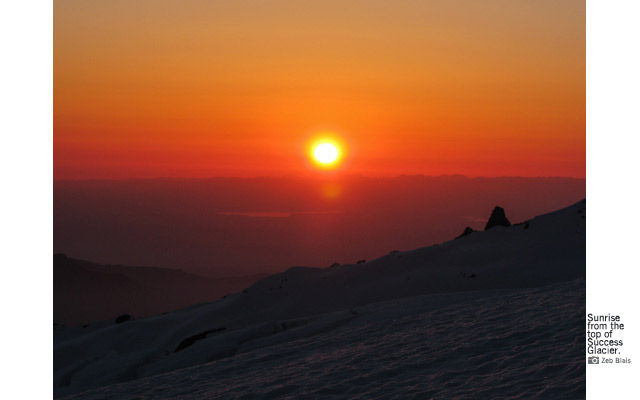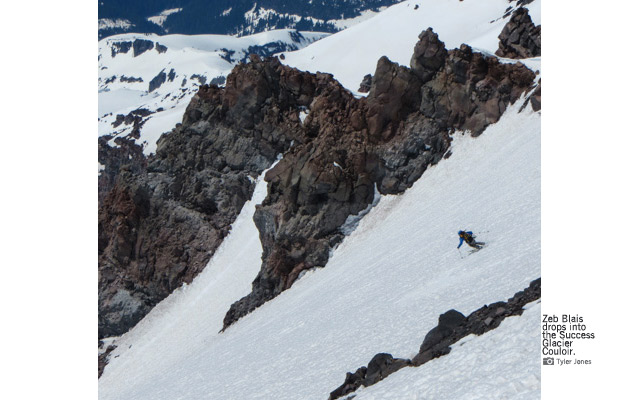 RMI: How does being a Guide help prepare you for trips like this?
Tyler Jones: Being a guide helps to develop your intuitive mountain sense, which is very important for making good decisions in the mountains. It is that gut feeling that can make all the difference.
Zeb Blais: Guiding also gives me a good base-line fitness for doing long days in the mountains. Mountaineering is a unique sport that requires specific techniques and fitness to be efficient. The more you do it the better you get!
RMI: What was your favorite part of this ski trip?
Tyler Jones: My favorite part of this trip was seeing a few new places, skiing a new run, and enjoying the views of the Tahoma Glacier from Sunset Ridge.
Zeb Blais: A huge part of the trip was sharing it with Tyler. Moving in the mountains with a partner who you enjoy and trust makes all the difference. There are thousands of big and small decisions to be made when doing a trip like this, from what gear to bring to what line to ski to 'do we go left here or right?' Making these choices and learning from other experienced climbers or guides is always something I enjoy.
Can't forget skiing! Maybe I should have said this first, but the skiing was awesome! Steep, exposed skiing with great snow is one of the most exhilarating things a person can do.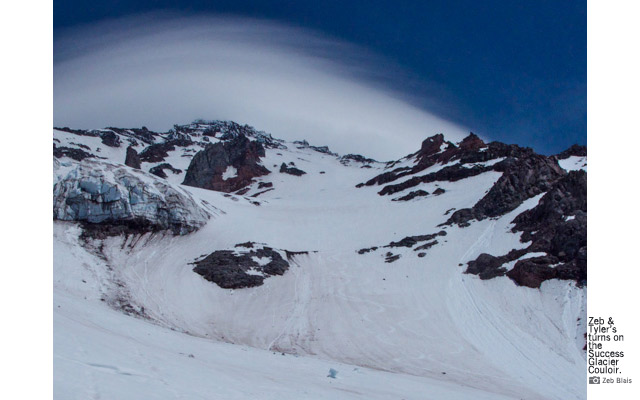 RMI: What adventures do you have planned next?
Zeb Blais: I am guiding a mountaineering trip on Shasta at the end of the month, and then I'll be back on Rainier for the climbing season with a Denali West Buttress trip at the end of June.
Tyler Jones: I am guiding a Denali trip in June. After that I am planning on flying back onto the mountain for a ski trip with my fiancé Laura. After that I will return to guiding on Rainier and the Grand Teton. Then, I am getting married in September!
---
More to Explore