---
Mt. McKinley: Haugen's Team Has a Rest Day at 14K Camp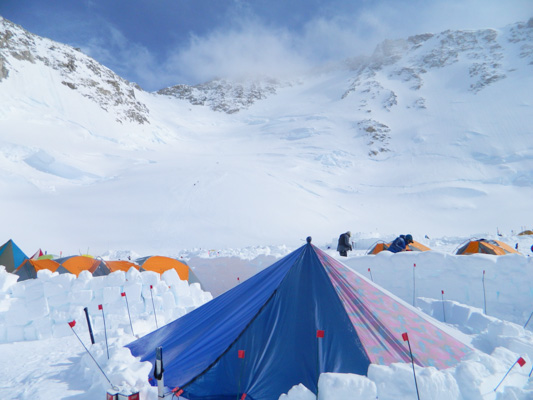 Friday, June 21st, 2013
Ahhhh a day of rest. We did not even move in our tents until the sun hit them at 9:30. We had a morning of slowly cooking pancakes for the group. We believe pancakes are the perfect acclimatization food.
We volunteered to be guinea pigs for a medical experiment having to do with high altitude. The test involved having a series of heart rate and oxygen saturation measurements taken and then walk around a track for 6 minutes to see how those measurements change. It was not a competition, but let's just say our group crushed it!
If the weather is nice tomorrow, our plan is to move some gear up to 17,000' Camp. On Denali, 60% of the time the weather is good all the time!
RMI Guide Mike Haugen and RMI Summit Team 6
On The Map
×
Sign Up For Denali 2013 Emails
{/exp:mailinglist:form}
---
More to Explore
Ecuador's Volcanoes: Mike Walter & Team Ascend Fuya Fuya
June 21, 2013