---
Denali - West Buttress Expedition
Mt. McKinley: Okita & Team Have Wind, Snow, Wind and Some Relax Time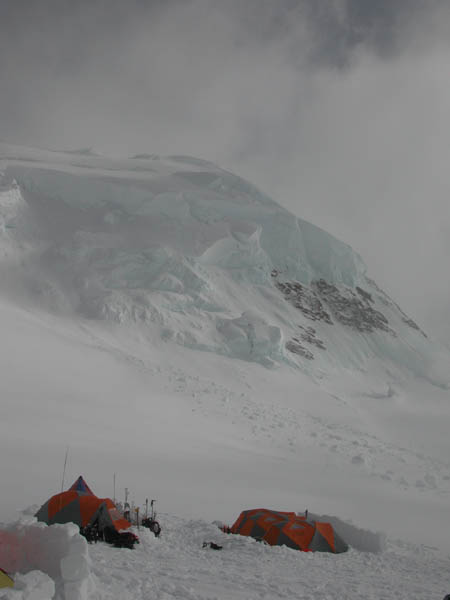 May 27, 2014 - 7:08 pm PT
Hearing light snow hitting the fly of our tent this morning prepared us for the possibility that today might finally be the day that stopped our upward progress on the mountain. Very light snowfall coupled with wind and clouds were part of the view from our vestibule. Neither the best nor the worst weather Denali has to offer, so we decided to get up and at least have breakfast while we waited to see if the day might take a turn for the better.
Over a breakfast that would rival the best your local greasy spoon could offer, the outlook for the day became ever more apparent, we were going to enjoy our first rest/storm day. That no one really voiced any complaint reflected the shared sentiment that we were all ready for a break from the constant pace of the trip so far.
Following our breakfast of scrambled eggs, bacon and hash browns, we set to explore and debate many of the world's challenges and recount some of our personal histories. Of course, such heady conversation, fueled as it was by caffeine and unexpectedly unused climbing energy, soon left even the strongest of us deserting our Posh House tent for the cozy comfort of our tents and sleeping bags. And so has passed our day, playings cards, reading, listening to music, and just plain relaxing.
Life is great!

RMI Guide Brent Okita
On The Map
×
Sign Up For Mount McKinley 2014 Emails
{/exp:mailinglist:form}
---
More Updates
Previous
May 20, 2014
Denali - West Buttress Expedition
Next
May 8, 2014
Denali - West Buttress Expedition
Mt. McKinley: Walter & Team Pull into 11K Camp and Team Okita's Hospitality