---
Mt. McKinley: Jones & Team - Fun game of the Day: Add-on!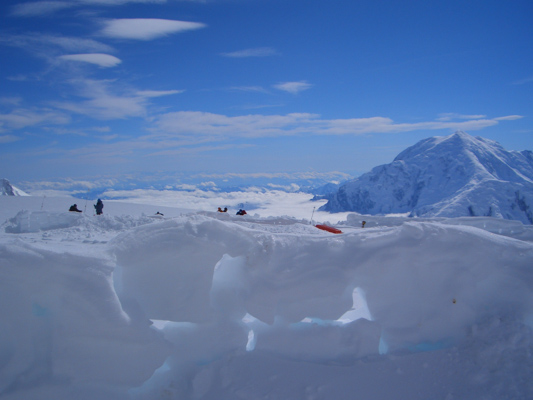 June 14, 2014 - 4:00 pm PT
It's another rest/weather day here at 14k camp, and we've decided to combat a few hours of down time with a fun dispatch game called add-on! We're going to pass the phone around and let folks contribute their own voice to the blog today…have fun guessing who wrote what!
So there I was tied up to Denali....eating cheez its, looking for makin bacon. Wondering how long before I will be done piggin out.
Just like our bacon pieces we were fryin.
Hard days are made easier by good company, good food, great views and most of all encouraging blog comments…and Jerry.. Yes, the comments are great and looking forward to those promised margaritas at Amado's.. And the mountain diet will defo put magic into the armadillo hoppyum combo. The coffee could be better too bad there is no Berres brothers coffee.
I would prefer Jim Beam but whatever, I guess better coffee would work for now. I think Charlie Brown ran past my tent. I guess I will go back to the posh and listen to Jimmy Buffett and wait for my cheese burger in paradise.
And there you have it. Some of these may be references to very personal items - we decided it was probably better not to ask too many questions. Time keeps on slippin' by here in advanced base camp, but spirits are high and team No Troubles is ready when the mountain gives us a chance. Hasta pronto!
RMI Guides Garrett Stevens, Tyler Jones, Bryan Hendrick and the crew
On The Map
×
Sign Up For Denali 2014 Emails
{/exp:mailinglist:form}
---
More to Explore
Mt. McKinley: Beren & Team Carry Day
June 14, 2014
Mt. McKinley: Haugen & Team - A Good Day on the Mountain
June 15, 2014