---
Everest Base Camp Trek: Team Describes Their Days, Ascends to Gorak Shep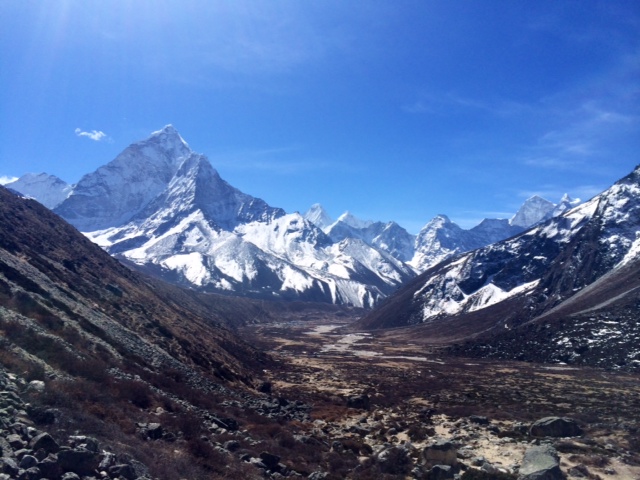 Hello Everyone
All is well here in the Khumbu.
It's incredibly beautiful, peaceful, and the mountains are grandiose. We've been very comfortable hiking each day in the sunny weather, then bundling up in our warm sleeping bags each night as the temperature drops.
Our normal schedule goes generally like this,
We wake up around 7am start getting packed up, then the team meets for breakfast at 8am, with eggs, toast, potatoes, and plenty of fresh coffee we bought along.
We hit the trail as close to 9am as we can, then hike anywhere between 3 and 7 hrs to our next stop. We break at least once an hour to hydrate and eat snacks, and on the longer days we stop at one of the many tea houses and have lunch.
Once we've arrived at our new village for the night we check in to our rooms and take a small nap/break. We then often meet around 5pm for a little tea, popcorn, and card playing.
Dinner is often at 6:30-7 and the menu is pretty much the same at every tea house with plenty of soups, simple pasta, potatoes, and typical Nepalese Dal Bat.
After dinner we relax and have a brief review of the day ahead and then it's off to bed.
The group moved up to Gorak Shep today under the towering peaks of Nuptse, Pumori, and Everest. Today started cold and clear with stunning views all around. We were all reluctant to leave the warmth of our cozy down sleeping bags but the smell of French press coffee enticed us out. For breakfast was a mix of cinnamon rolls, eggs, Tibetan bread, and rossti (potato pancakes). After our duffels are loaded on the Zoopkios we head off at a slow pace (given the 16,000 foot elevation). Along the trail every language can be overhead and porters are seen carrying 100 pounds across their foreheads. We stop for pictures and to share sweet snacks about ever hour and continue towards the Khumbu Glacier. Tomorrow we'll be in Everest Base Camp with hopes of peering into the popcorn field of the notorious ice fall.
That's all for now
RMI Guides Casey Grom & Christina Dale
On The Map
×
Sign Up For Everest BC Trek 2017 Emails
{/exp:mailinglist:form}
---
More to Explore
Everest Base Camp Trek: Grom & Team's Rest Day in Pheriche
March 24, 2017