The Expedition Skills Seminar - Muir is on our third day of the program and our second day on the mountain. After a great day of training at Rainier BaseCamp on Sunday, we spent most of the day yesterday getting up to Camp Muir and today we are launching into our training. The weather has been great so far and it's supposed to hold for the week. We're psyched for that. Here's a pic of Senior Guide Lindsay Mann teaching ice axe arrest.
We'll check in again soon.
Michelle we are all so very proud of you and the rest of the team.
Please know that we're keeping you in our prayers. Glad to hear the weather is good.
May God keep you all safe!!
Posted by: Flor Frei on 9/19/2012 at 3:26 pm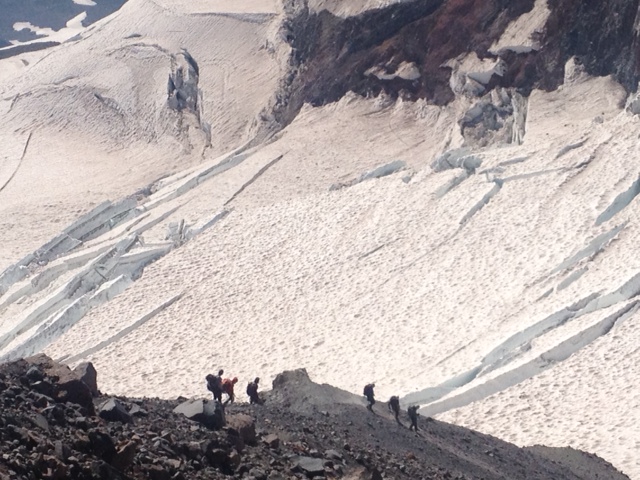 Hi this is Seth. Today we did a dry run for our climb by heading up to Ingraham Flats this morning. The wind was blowing us around a bit but at least the sun was still out. After spending an hour at 'The Flats' we dropped down onto the Cowlitz Glacier for a round of crevasse rescue training. The crevasse that we picked out was great and everyone was brave enough to go down in it. Now we're relaxing for the evening. Tonight we climb!
RMI Guides Seth Waterfall and Tyler Jones reached the summit of Mt. Rainier! The Expedition Skills Seminar - Muir team enjoyed beautiful, warm weather on top and after taking summit photos, began their descent at 10:00 a.m. The team will stay at Camp Muir tonight and descend to Paradise tomorrow afternoon.
Congratulations to today's summit climbers!