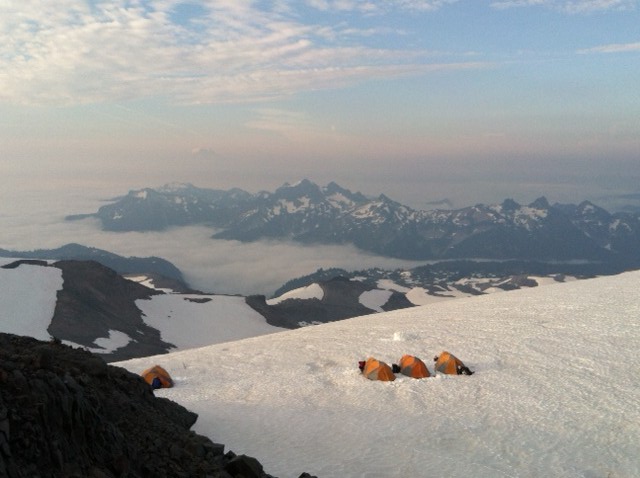 A beautiful but smoky morning at our first camp on the Paradise Glacier. Yesterday the team did great getting here. Today we move camp to 8,500 feet on the Cowlitz Glacier where we will spend the next few days training before our summit attempt.
Hey Eric, congratulations and way to go! You and your family never cease to amaze me with your multi-talentm. Very impressed, very inspiring!
Kimi and your team at MS
Posted by: Kimi Sato on 8/7/2013 at 8:02 am
Go Lew. I see your toe sticking out of that tent. Make sure you eat your veggies. Guess your singing "Climb the Highest Mountain".
Posted by: Uncle Jake on 8/1/2013 at 8:28 am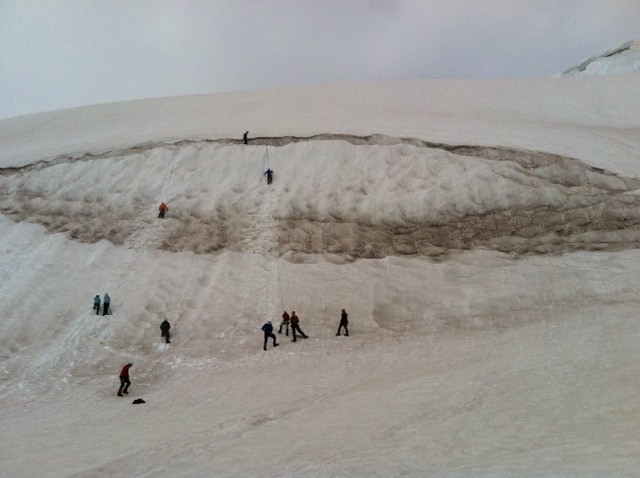 The Paradise Glacier Seminar is in full effect with loads of exciting training taking place. We have a beautiful camp at 8,500 feet on the Cowlitz Glacier surrounded by steep walls and breathtaking crevasses. Our team is all in great spirits and thriving in what has been described as a high excitement summer camp for aspiring mountain climbers. The weather is not as sunny as the two previous days but at least some of the forest fire smoke has subsided opening up some great views. We are all getting psyched for our move to Camp Muir tomorrow.
Team Paradise sends their best to family and friends.
Climb High Laurel!
Looking forward to hearing about your adventure.
Love you!
Posted by: susan Turnquist on 8/2/2013 at 11:39 am
Hey Laurel!!!
Meg and I are thinking about you up there on the icy mountain. Great group picture! Enjoy the climbing.
We will be praying for a safe ascent tomorrow.
Love you girl!
Posted by: Susan Turnquist on 8/1/2013 at 12:21 pm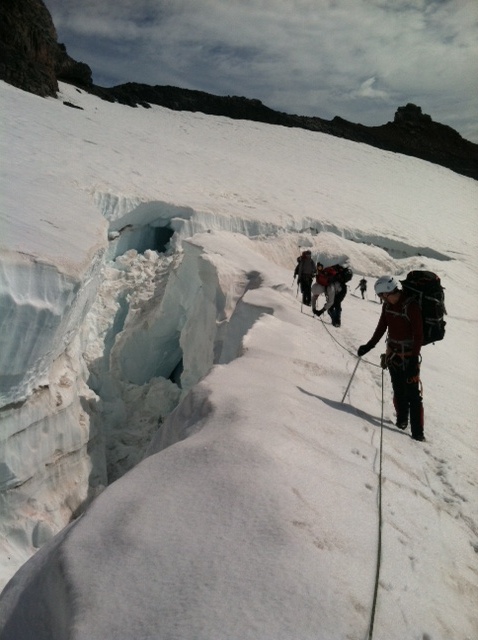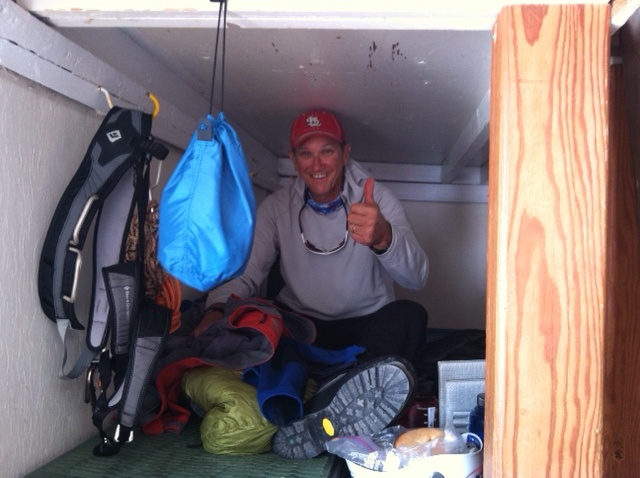 Today team Expedition Skills Seminar - Paradise was relieved to crawl out of our tents to clear skies and warm temps. Last night, directly after arriving in camp after crevasse rescue training we were graced with a purifying rain burst but then rudely interrupted by a brief but intense lightning and thunder storm. It cleared in time for dinner and a peaceful sleep.
After packing up camp this morning, a stimulating walk through a large crevasse field and icy section brought us to Camp Muir at 10,060 feet. Here we will rest and prepare for our summit climb tonight. Folks are happy to be moved into the bunk house here and even happier to hand off some group gear to a guide heading down hill. Yea for lighter packs!
Wish us luck tonight on our climb.
GO Dusty, Rock-N-Roll brother. Many Blessings.
Posted by: Greg Smith on 8/2/2013 at 7:38 am
Good luck! Hope your climb goes well! Love you!
Posted by: Emma on 8/2/2013 at 6:15 am