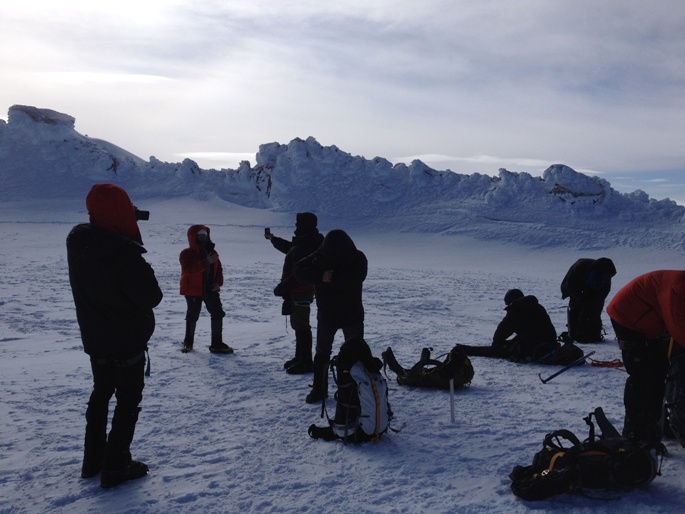 Our Four Day Summit Climb Teams led by Mark Falender and Solveig Waterfall reached the summit of Mt. Rainier today. The teams reported light winds, few clouds, and very pleasant weather with the sun peaking through every now and then. The teams are now en route back to RMI Basecamp in Ashford.
Mike Haugen and the Expedition Skills Seminar team also reached the summit of Mt. Rainier via the Kautz Route and reported similar conditions. They are headed back to their high camp at 10,800' feet and will finish their week of training on the mountain and return to RMI Basecamp tomorrow afternoon.
Congratulations to today's teams!
I was part of the 4 day summit climb on June 19 with Mark & Solveig. What a magical day it was and I feel extremely privileged to have been part of it. Thank you guys so very much for your guidance, expertise and support. This has truly been one of the greatest challenges of my life and I will cherish it for a long time to come. I have taken so much away from this experience - the challenges that this mountain presents, especially the Cleaver, had me digging deeper than I ever had to attain success. Mark, Solveig, Sean, Geoff and Levi - you guys are all rock stars!! RMI can and should be very proud of you. I was sad to see the program end. Hopefully, I will link up again with Mark for a climb up Grand Teton!
Thank you again very much!
Ben Elliott
Posted by: Ben Elliott on 6/21/2012 at 2:19 am
Hey Hans ....... GREAT JOB. Blue sky's 365 !!! Gotta love it. xoxo Love and hugs greta
Posted by: greta hardwick on 6/20/2012 at 9:18 pm