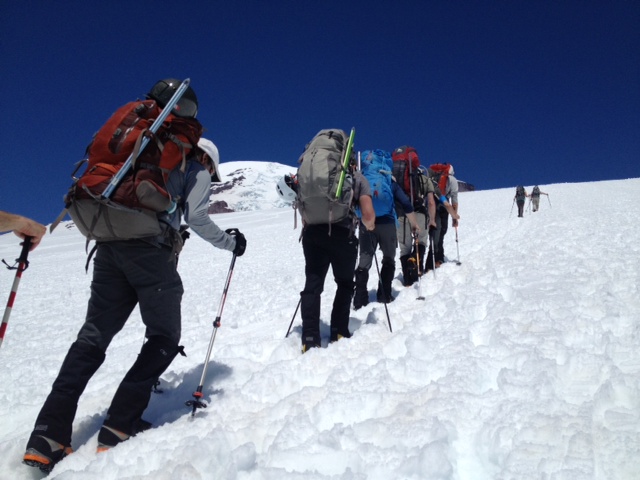 The Four Day Summit Climb Teams Led by RMI Guides Brent Okita and Walter Hailes called as they reached the Summit of Mt. Rainier at 6:59am this morning. The teams have clear weather with light winds, but cold temperatures. They spent some time on the summit before starting their descent back to Camp Muir.
Congratulations to today's teams!
RMI Guide JJ Justman's team was awarded with a beautiful day of climbing up to Camp Muir. The team is keeping their fingers crossed for good weather tomorrow morning!
What an awesome journey you have just completed. Walking by the full moon in the wee hours of the day to stand on top of the world must have been exhilarating and inspiring. Your hard work was admirable as you put your energy into reaching your goals. I bow gently in respect for all of you. Now…What's next?
Posted by: Jan Alexander on 6/22/2013 at 5:45 pm
Outstanding pic! Can't wait to se the videos.
Posted by: Tom Buser on 6/22/2013 at 1:25 pm