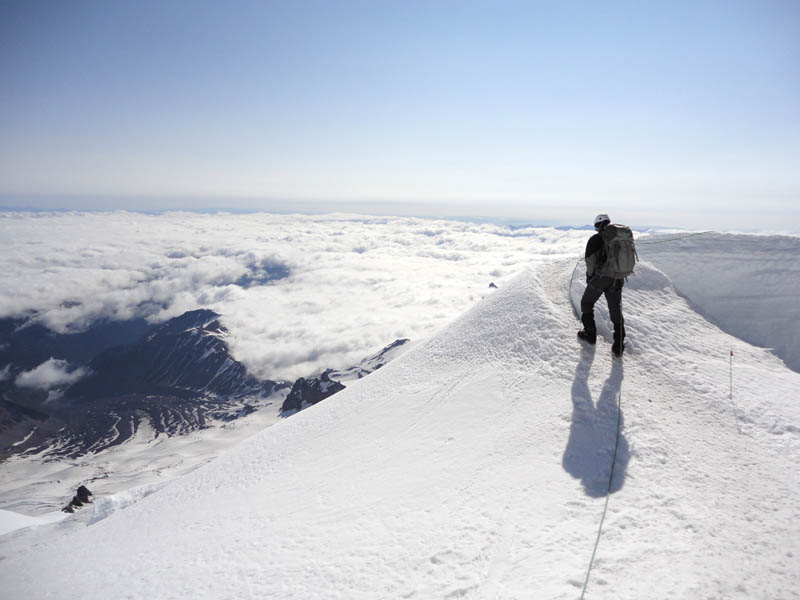 Another beautiful day on Mt. Rainier and another summit! Congratulations to the Four Day Summit Climb! The team spent some time marveling in the views and great weather before starting their descent at 7:45 a.m.
RMI Guide Mike Haugen's Expedition Skills Seminar - Kautz checked in from their camp at 13,000', atop the Wapowty Cleaver. They are enjoying a perfect day of Crevasse Rescue Training and hanging out in the sunshine. Mike received the "best weather report" and they are planning on heading for Columbia Crest early in the morning and hope to meet the RMI Four & Five Day Summit Climb teams on top of Mt. Rainier.
RMI Guide Tyler Reid and the Expeditions Skills Seminar - Emmons are beginning four days on the northside of Mt. Rainier where they will gain valuable mountaineering skills and try for the summit later in the week. They will make their first camp tonight at 7,500' on the Inter Glacier.
In the North Cascades, RMI Guide Mike Walter and team reached the summit of Forbidden Peak via the West Ridge. They described a beautiful and warm day. The team descended to their camp in Boston Basin and will complete the walk out to the trail head tomorrow morning.
Congratulations to all the team's that reached the summit today!
You're all Gold Medalist.
Nice job guides.
Posted by: Bob Johnson on 8/1/2012 at 8:32 am
Congrats bro (DTM)!
Posted by: Greg Dawson on 7/31/2012 at 10:46 am