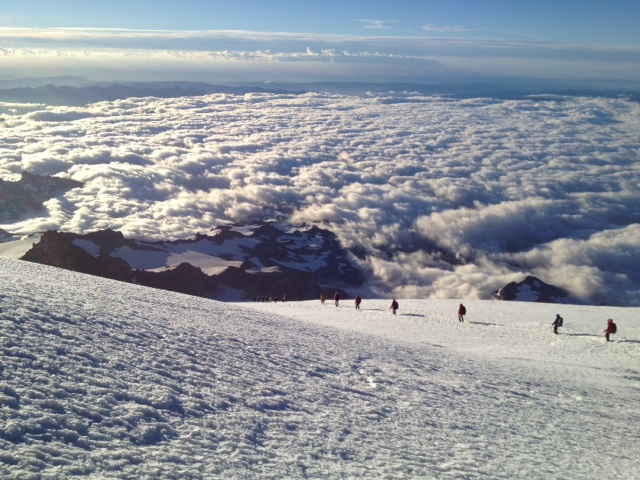 RMI Guides Pete Van Deventer and Geoff Schellens led the Four Day Summit Climb to the summit of Mt. Rainier this morning. Pete reported blustery, clear, and cold conditions on the upper mountain. The teams will spend some time on top before beginning their descent to Camp Muir. We look forward to seeing the teams in Ashford this afternoon.
Congratulations on a great climb!
The guides at RMI really make the difference here! We were fortunate to have Pete and Chase who pushed us along the way and made sure that we were doing all the right things to make the summit! Thanks Guys!
Posted by: Anil on 8/14/2013 at 11:26 am
Congratulations gang! I hated to 'bail-out' but conditioning is the key to keeping a group on-schedule and I personally didn't feel I had it yet. No worries… Next time! Thanks Pete for your most professional guidance…and to Chase for yours. Again thanks!... Congratulations…and 'See you on the mountain!' Cheers!
Posted by: Dave McLaughlin on 8/13/2013 at 12:28 pm