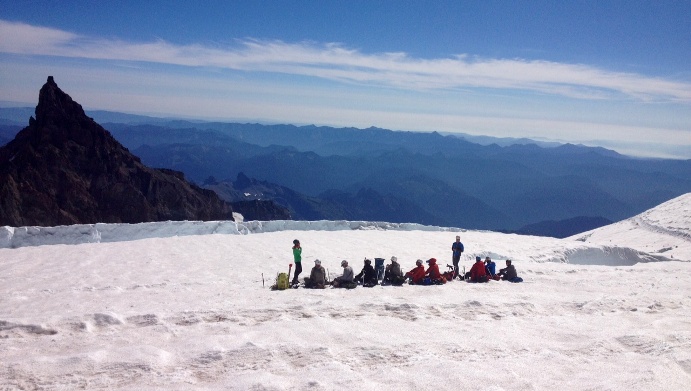 The Expedition Skills Seminar – Emmons led by RMI Guide Garrett Stevens called from Columbia Crest at 6:56 am, the team arrived at the summit around 6:30 am PT. Garret reported clear skies with a marine layer below at 5,000', moderate winds and cold temperatures on the Emmons route. The team will return to their high camp for a final night on the mountain.

RMI Guide Casey Grom & the Four Day Summit Climb approached the crater rim of Mt. Rainier shortly before 7 am. Casey reported 100% of the team members would be reaching the summit. He also reported winds from the west and good route conditions.
Congratulations to today summit climbers!
It was all because of our incredible guides Casey, Nick and Nick. They took really good care of me, supported me all the way. Email me and well talk further.what an adventure! Thanks to the whole incredible team for making my 50th birthday my summit day!
Posted by: Amy Daniels on 8/14/2013 at 8:34 am
Congrats Amy and Marc! We don't know each other but my husband Richard and myself are just waiting for next Aug dates to sign up! I'd love to hear about your guys journey! Hope to hear from you when the dust settles.
Again, CONGRATS!
Posted by: Beth on 8/13/2013 at 11:21 pm