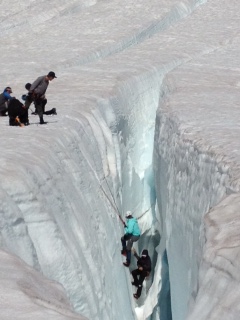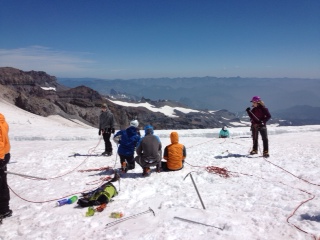 The Four Day Summit Climbs August 11 - 14, 2012 reached the summit of Mt. Rainier this morning. The teams reported a beautiful day with 25-30 mph winds and clear skies. RMI Guides Brent Okita, Tim Hardin and Andres Marin started down from the crater rim with their teams around 7:30 a.m. They will return to Camp Muir and then continue their descent to Paradise later this afternoon.
The Expedition Skills Seminar - Paradise crew moved to 9,000' on Monday and set up camp where they will remain until Wednesday morning. They watched a beautiful sunset last night. Today the team practiced fixed line travel on a 60 degree slope and are currently hanging out in crevasses.
Congratulations to today's Summit Climb teams!
Great job Paradise crew! Danielle, I'm so proud of you (little sis). I hope the weather continues to be awesome for you all. Be safe and savor the scenery…God be with you all.
Posted by: Tisha on 8/16/2012 at 7:40 am
Good luck on your summit climb in the morning Paradise crew.
We hope for more great weather! God bless you and a safe return.
Love you Danni
Posted by: sam on 8/15/2012 at 7:16 pm