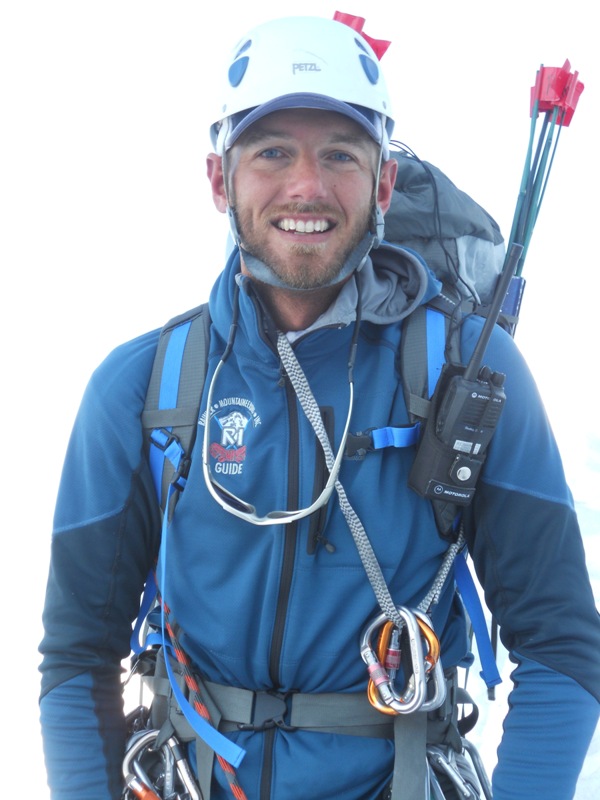 "By far the best of the year" was RMI Guide Brent Okita's description of today's weather on the summit of Mt. Rainier. Brent led the Four Day Summit Climb July 29 - 1 August to the top this morning. RMI Guide Eric Frank led the Five Day Summit Climb July 28 - 1 August to Rainier's summit with 100% of his team. Both teams reported warm temperatures with just a whisper of wind. They began their descent from the crater rim just before 8 am. The teams will return to Camp Muir and then continue their descent to Paradise.
RMI Guide Mike Haugen led the Expedition Skills Seminar on the Kautz Glacier. The team spent the week training at Rainier BaseCamp and on the mountain. This morning they packed up their camp at 13,000' atop Wapowty Cleaver and reached the summit of Mt. Rainier. The team will descend via the Disappointment Cleaver Route. This marks the 100th summit of Mt. Rainier for RMI Guide Mike Haugen. Congratulations Mike!
RMI Guide Jake Beren called to check-in from Mt. Shuksan. The team is back at camp after being 100% on top today. Jake reported that the route is "near perfect" with an amazing sunrise, views of Mt. Baker and the surrounding Cascades. They ascended the central gulleys of the summit pyramid and stood on top with windless, sunny conditions. The team had a great descent, rolling in to camp at the same time as the fog. They are back at camp hydrating and resting before hiking out tomorrow.
We look forward to seeing all the groups at Rainier BaseCamp this afternoon. Congratulations to today's teams!
Congrats Lindella and team. We are so proud of you!Mom and Dad
Posted by: Linda Smith on 8/4/2012 at 9:20 am
Congrats to Mike on 100!! I was there on the summit with him and our team had an incredible climb together. Thank you to our amazing guides and to my fellow climbers for a great four days on the mountain.
Posted by: Cindee Teer on 8/3/2012 at 9:12 pm