The Expedition Skills Seminar - Muir September 9 - 13 led by RMI Guides Jake Beren and Mike Walter continue their training at Camp Muir. The teams ascended on Monday from Paradise to Camp Muir. They have been working on their mountaineering skills including cramponing, rope travel, running belays and ice axe arrest. The teams have been enjoying beautiful weather and spending time on the mountain. They plan to make their summit attempt this evening.
We wish them luck!
bet you don't miss the I-phone… gr8 job.
Posted by: emerold on 9/15/2013 at 6:22 am
Eric - Awesome accomplishment!! Wishing you continued good weather on your descent. Be safe!
Posted by: Susan and jim on 9/13/2013 at 6:11 am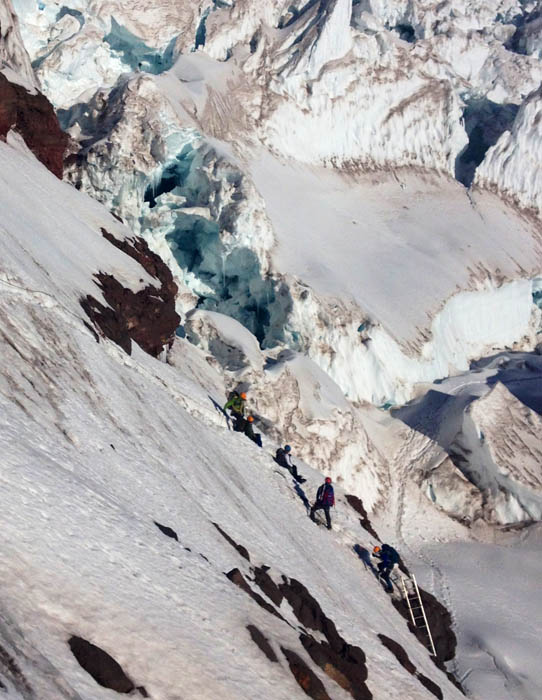 Our Expedition Skills Seminar - Muir led by RMI Guides Mike Walter and Jake Beren reached the summit of Mt. Rainier early this morning. The team reported great route conditions, warm temperatures and clear skies. The team is now en route to Camp Muir and will spend the spend the rest of their time at Camp Muir training before returning to RMI Basecamp tomorrow.
Congratulations to today's team!
Job well done!!!! Not too many people can say they did this. Congratulations…. from the other Eileen & Ty
Posted by: Eieen on 9/16/2013 at 6:29 am
YEAH! Great News Thrilling… what an accomplishment.
Love Mom, Ty ( Bluefin Tuna Fishing on Cape Cod) and Kate!!!
Posted by: meg on 9/12/2013 at 6:12 pm