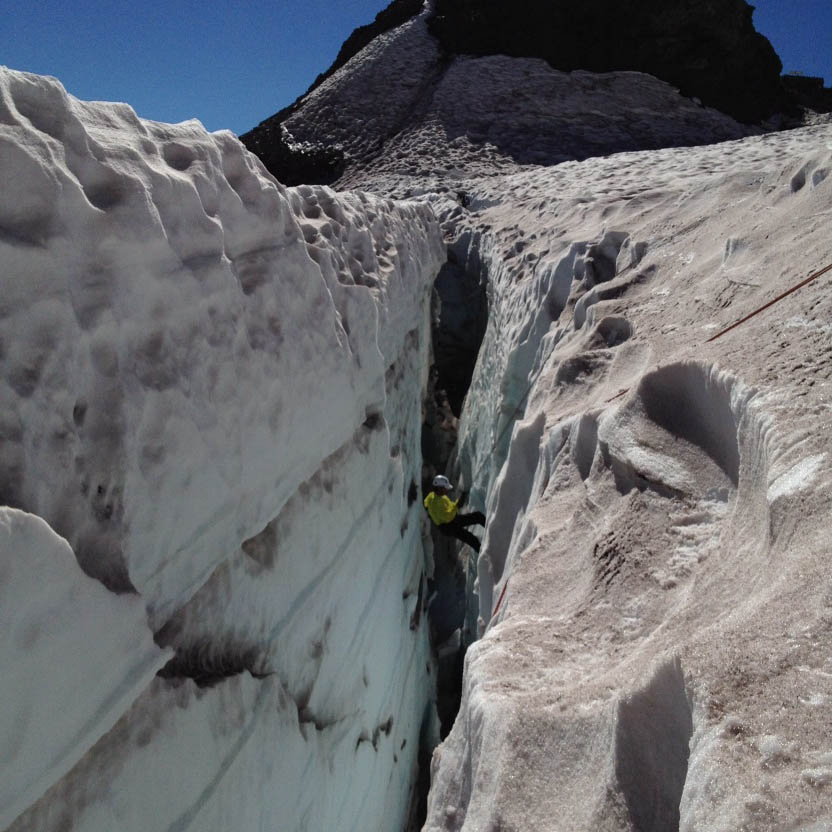 RMI Guides Brent Okita and J.J. Justman are leading the Expedition Skills Seminar - Muir this week. The team hiked to Camp Muir on Monday and has spent several days training at the 10,060' camp. Today the team is receiving instruction on crevasse rescue techniques. The weather has been clear with warm temperatures. We hope the weather holds for their summit attempt tonight.
Good luck to the team!
hi . my name is mike . i am brand new to the area from georgia, and a through hiker of the appalachian trail, to my surprise these mountains are nothing like im used to ;) trying to find info about hiking rainer hopefully in the peak season of 2013 . any info or traing etc.. would be very helpfull. thanks . happy hiking
Posted by: mike harris on 1/11/2013 at 10:57 am
Wishing the team much success. A special SHOUT OUT to Phil Goss from the Trustmark Clan - we're all rooting for ya' Phil!
Posted by: Lorena Reyes on 9/27/2012 at 6:19 am
On a perfect weather day, the Expeditions Skills Seminar - Muir team called in from the top of Mt. Rainier! RMI Guides Brent Okita and JJ Justman were happy to report 100% of the team reached the summit this morning! After spending some time reveling in the views and taking photos, the team began their descent at 9:30 a.m.
This marks RMI's last Mt. Rainier program for the 2012 season. Congratulations to all the summit climbers this season that we have had the pleasure of guiding to the highest point in Washington state!
Yay!! Congratulations to all! I am so delighted for you all! how awesome to have made it to the summit!!
Love,
sandy
Posted by: sandy on 9/27/2012 at 2:44 pm
Congratulations Steve and your whole team also. Looking forward to hearing all about your adventures.
Love, Dad & Pat
Posted by: Bob & Pat Bussolari on 9/27/2012 at 1:34 pm
This morning the Expedition Skills Seminar - Muir team woke to this beautiful view at Camp Muir. After a week of training and a successful summit climb Brent Okita, JJ Justman and team wrap up our 2012 season here on Mt. Rainier.
Thank you to all who joined us for an adventure on Mt. Rainier this season. We hope to see you in the mountains soon!
It was great to share the experience with all of you.
-Steve
Posted by: Steve Bussolari on 9/30/2012 at 6:32 pm
Absolutely an amazing experience. Loved every minute on the seminar and climb.
Posted by: Brian Christianson on 9/29/2012 at 6:13 pm