Posts for Everest BC Trek
Posted by: Casey Grom | March 24, 2015
Categories: *Expedition Dispatches *Everest BC Trek
Elevation: 11,300'
Hello again everyone back home.
It was another great day here in the Khumbu Valley, with the team waking up to bright beautiful clear skies, and mountains in every direction. We had a casual breakfast and decided to make the most of our scheduled rest day by hiking a little way to visit a Monastery in Tamo that is home to wonderful group of female Tibetan refugees. They apparently escaped over the border which is only a few miles away and have made this home like the Sherpa community did some 500+ years ago. When we arrived the nuns were in the monastery reading their Tibetan prayers and happily invited us in to listen. It was surreal to say the least and we all felt lucky to have been able to share the moment with them. After the prayer session we purchased a few prayer flags and prayer beads to help support them and then made our way back to Namche for lunch.
Then evening was spent exploring Namche and doing a little bargaining for a few gifts and we wrapped up the night with another great meal and the start of the Cribbage championships.
All is well and everyone is doing great.
RMI Guide Casey Grom and crew
---
Posted by: Casey Grom | March 23, 2015
Categories: *Expedition Dispatches *Everest BC Trek
Elevation: 11,300'
Greetings from Namche Bazaar!
Yesterday we left Kathmandu and had a rather enjoyable flight to Lukla. There was little turbulence and the sky was clear which allowed beautiful views on the Himalayas as well as a brief sighting of Everest. After arriving we waited at a tea house for all of the porters to be chosen and then hit the trail. We hiked for about 3 hours to reach our first camp of the trip in a small village called Phakding. The weather was perfect and everyone did great on the hike.
This morning we left the tea house and headed up this beautiful valley to the toward Namche Bazaar, which is the largest village in this famous valley. It was another nice day for hiking with mostly clear skies and just a gentle breeze to keep us cool. Everyone enjoyed the views and no one seemed to mind pausing often for the endless mules and yaks carrying loads. Crossing the the high suspension bridges was another thing, but everyone persevered.
We wrapped up the evening with a wonderful meal and a little lesson on cribbage. All is well and we are looking forward to tomorrow.
RMI Guide Casey Grom and crew
On The Map
---
Posted by: Casey Grom | March 22, 2015
Categories: *Expedition Dispatches *Everest BC Trek
Elevation: 8,700'
Hello everybody this is Casey Grom checking in from the Everest Base Camp Trek. Just want to let everyone know that everything is going great here in the Khumbu Valley. Today we got up early and checked out of our hotel and headed to the local airport and caught our 7:45 flight, that went relatively well. It was a smooth flight all the way to the Lukla airport. It was a clear day and we had beautiful views of the Himalaya as we headed into the valley. And then we had a brief glimpse of Mt. Everest right before we touched down. We spent the next couple hours just gradually making our way down the valley. We ended our day, here in Phakding and we are relaxing in the tea house, having dinner and just enjoying the surroundings. The team is doing great. We are looking forward to getting some wi-fi tomorrow where we will be able to send a few pictures to let you know what the trip is looking like so far. Everyone is doing great and we will check in again tomorrow.

RMI Guide Casey Grom checks in from Phakding.
On The Map
---
Posted by: Casey Grom | March 21, 2015
Categories: *Expedition Dispatches *Everest BC Trek
Namaste everyone
The team has arrived after some very long and tiring flights. Everyone is doing well after a well deserved night of rest here at the tranquil Yak & Yeti Hotel.
Today we met for breakfast and a team meeting to discuss all the gear and the adventure that we are about to take. After our meeting we headed out on a tour of Kathmandu were we visited the beautiful Monkey Temple, the Boudhanath Stupa and a quick stop at the famous Durbar Square.
It's quite the culture shock visiting this busy city packed with nearly 4 million people. The streets are packed with people, motorcycles, and cars that honk endlessly.
I'm sure everyone is looking forward to the peace and quietness of the Khumbu where we head tomorrow.
RMI Guide Casey Grom and crew
---
Posted by: | July 23, 2014
Categories: *Everest BC Trek
There is something to admire around every turn of the 31 mile trail through the Khumbu Valley from Lukla to Everest Base Camp. Monasteries, cultivated fields, grazing yaks, and tiny villages all share the valley, sitting beneath the some of the world's tallest and most stunning mountains. A few of our guides sat down to compile a list of ten things to be sure and experience on the Everest Base Camp Trek:
 
10. View From Kala Patar: It's not widely known, but the view from the top of Kala Patar, a rocky outcropping above Gorak Shep, provides a sweeping panorama from Everest to Ama Dablam and are far better than those of Base Camp.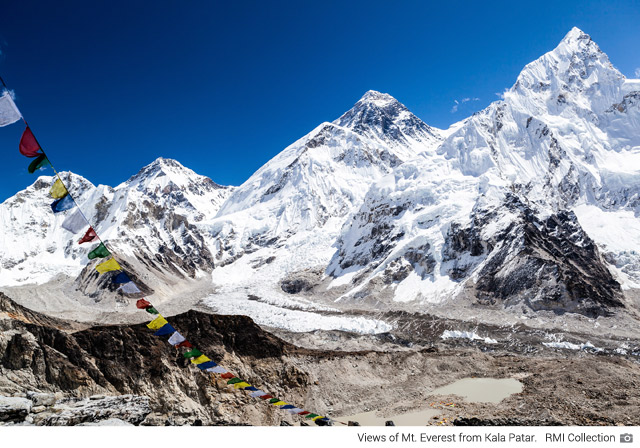 9. Lama Geshe: A renowned spiritual leader living in a small house in Pangboche, Lama Geshe never fails to greet visitors with a deep laugh and broad smile. As he chants prayers in his native Tibetan in a deep but soft voice, he provides a fascinating appreciation and insight into the Buddhist process of embarking on a journey, whether for an Everest Expedition or a trip to visit distant relatives.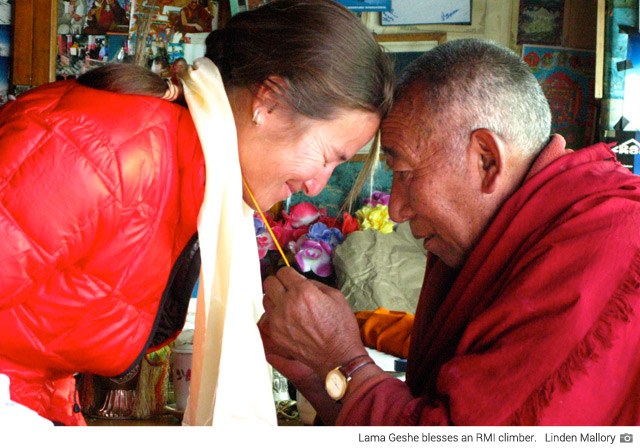 8. Momos: Akin to Chinese dumplings, the Nepalese momo is a delicious treat after a long day on the trail.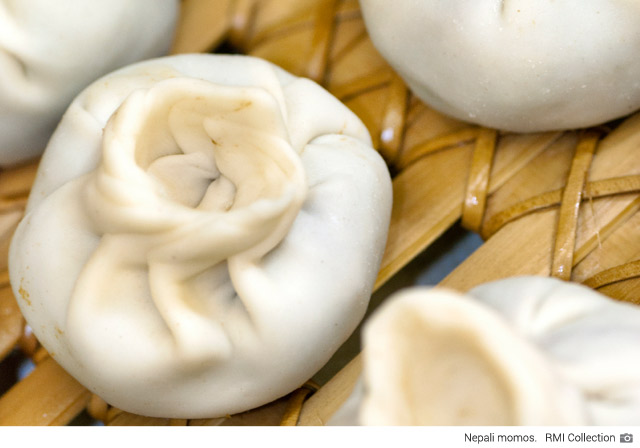 7. Afternoon prayers at the Tengboche Monastery: After making the 1,300' ascent to the ridge top Monastery, find a seat along the edges of the Dokhang (the prayer hall), framed by a two story tall golden statue of Buddha, and listen to the deep chants of the resident monks fill the space.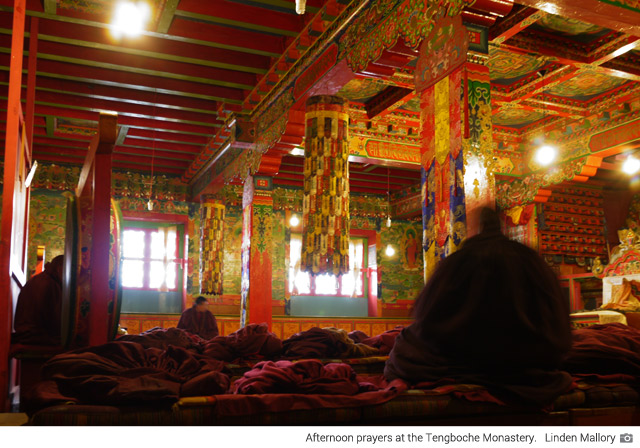 6. Exploring Namche Bazaar: Perched on a hillside in the middle of the Khumbu, Namche Bazaar is the cultural and economic hub of this mountainous region. Yaks, monks, and Tibetan traders share the narrow streets with locals and trekkers alike, and a new discovery can be found around every corner, from tailors to bakeries to monasteries and museums.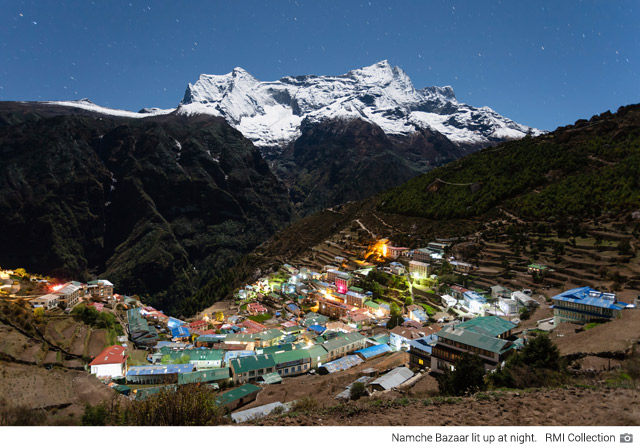 5. The experience of trekking lodge-to-lodge: After a warm breakfast served in a cozy dining room, shoulder a light day pack with only the gear you need for the day, leaving your duffel outside your door, and start up the trail. Spend the day wandering through villages, fields, and valleys, until you reach your next night's teahouse where your bag awaits. The teahouses are simple but comfortable, with cozy community dining rooms to eat, relax, and socialize in and sleeping rooms just down the hall.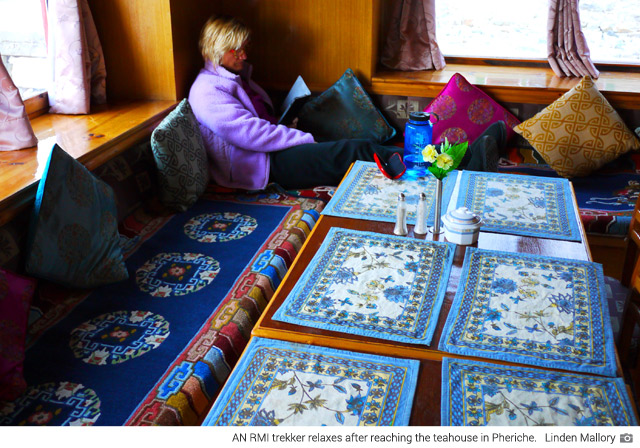 4. The Trail: While the excitement of trekking to Base Camp is reaching  the foot of Everest at the end of the trail, the wonder comes from the entire experience of traveling the trail, where a simple centuries old footpath serves as both highway through the valley and the villages' Main Streets. Slow your pace now and again to look around and take in the shops, homes, and life that all happens right along the path!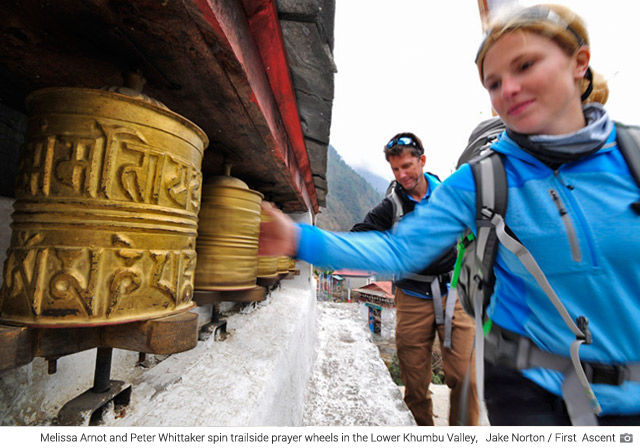 3. Island Peak's summit ridge: Ringed by several of the world's greatest mountains (Nuptse, Lhotse, Everest, and Ama Dablam), the airy summit ridge of Island Peak provides all of the excitement of Himalayan climbing in a short extension to the spring trek.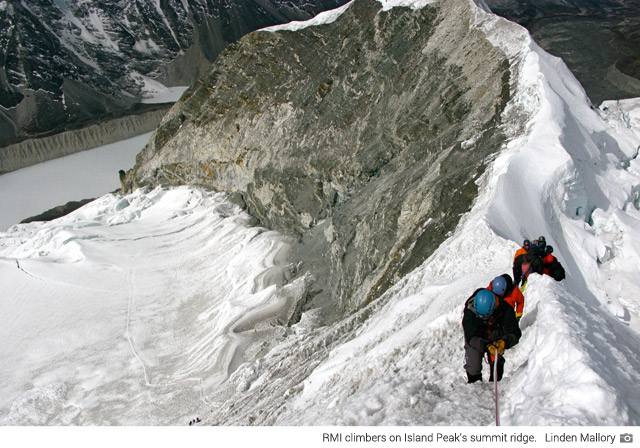 2. Spending the night at Everest Base Camp: you've walked all that way, why turn around and leave again in a matter of hours? Spending the night in Base Camp is a peek into the full experience of embarking on an Everest Expedition and enjoying a cup of tea while watching the sun peak over the top of the Western Cwm is an unforgettable moment.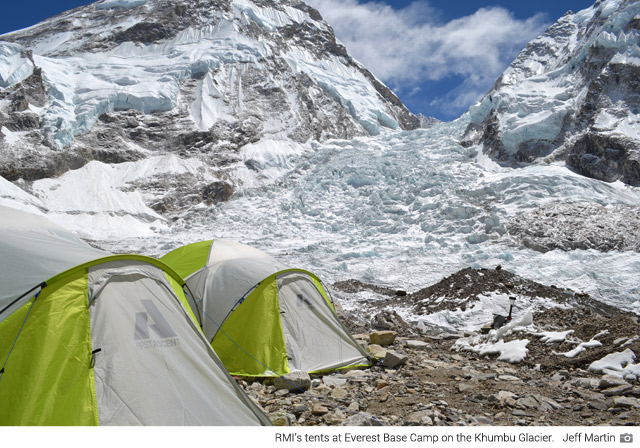 1. Stopping to soak it all in: The Khumbu is simply an amazing place. One of the best things is just being there: stopping to dig your heels into the ground and looking around. There is nowhere else in the world like it.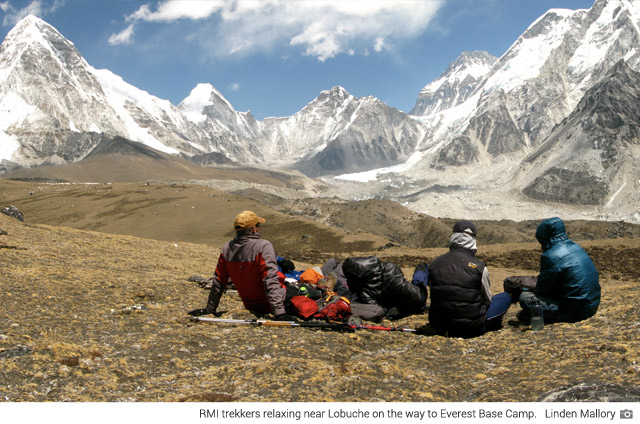 Ready to experience the Khumbu for yourself? Join RMI on a trek to Everest Base Camp!
---
Posted by: Mark Tucker | May 09, 2014
Categories: *Expedition Dispatches *Everest BC Trek
On March 21, RMI Trekker Susan R left her home in Florida en route to Kathmandu, Nepal. Susan would be joining RMI Guide Mark Tucker and their team on a 21 day adventure through the Khumbu Valley. From Kathmandu the team would fly to Lukla and begin their trek to Everest Base Camp at 17,575'.
Along with the jackets, hiking boots, sleeping bags and other items needed along the trail, Susan brought with her a special Courage Quilt. This quilt was given to her by Mrs. Hixon's 4th Grade class from Oakton Elementary School in Oakton, Virginia. Mrs. Hixon and her class did a project on Nepal and the Himalaya. " It certainly helped me and I think it helped the other team members as well." said Susan.
The students were asked the following questions:
What is courage?
What does it look like?
What do you think about when you need to be courageous?
The photo below is of the Courage Quilt given to Susan which she brought with her to Nepal.
---
Posted by: | April 08, 2014
Categories: *Expedition Dispatches *Everest BC Trek
Elevation: 4,383'
Hello everyone
We have finally returned to Kathmandu!
We arrived yesterday in Lukla after a long enjoyable hike down from Namche. It was a beautiful day with sunshine most of the way and just a sprinkle at the end to welcome us back.
After a quick shower we stepped out to the local pub and had a drink to celebrate the journey.
This morning we were delighted to wake to clear skies and hear that we were on one of the first flights out. And better yet, arrived back in Kathmandu early enough for breakfast.
It's been a wonderful adventure and it will be sad to say goodbye to the team. But it's time to get home.
Thanks for following!
RMI Guide Casey Grom and crew
---
Posted by: Casey Grom | April 06, 2014
Categories: *Expedition Dispatches *Everest BC Trek
Elevation: 11,300'
Today we descended back down the valley all the way to Namche where we passed hundreds of trekkers, climbers, and endless yaks trains! We paused occasionally to take in the amazing views and to see where we had been. It only took about 4 hours to reach Namche where we arrived just before a few groups and took advantage of the much needed hot showers. The team spent the rest of the afternoon doing a little gift shopping and just relaxing in the warmer temperatures.
Everyone is in good spirits and looking forward to our last day on the trail.
RMI Guide Casey Grom and crew
On The Map
---
Posted by: Casey Grom | April 05, 2014
Categories: *Expedition Dispatches *Everest BC Trek
Elevation: 12,687'
Hello again everyone. We're finally back in the cell and wifi zone!
I'm not sure if the last few sat phone calls went through but here's a quick recap:
Thursday night it snowed for a few hours before we woke for our Island Peak summit climb. Thankfully it was only a few inches and the weather cleared before we started climbing. However, it was just enough to obscure the trail and make our going a little slippery, not dangerous, just very slow and tiring. We climbed up a steep slope into a tricky rock gulley that led to the start of the glacier where we strapped on our crampons and pulled out our ice axes. The start of the glacier was very broken and again required our full attention and lots of stamina, then eased off before the final steep headwall. The last few hundred feet had us ascending fixed rope to the summit and was exhausting due to the thin air. We took a few photos and started rapelling back down to the glacier. All in all it took us eight hours to reach the summit and another five to get back to camp. Three of our six climbers were able to battle to the top and the others gave us as much support as they could.

Today we hiked all the way back to Tengboche and are currently relaxing in a tea house and are very excited about hot showers tomorrow in Namche.
RMI Guide Casey Grom and crew
---
Posted by: Mark Tucker | April 04, 2014
Categories: *Expedition Dispatches *Everest BC Trek
Elevation: 9,350'
BIG is done! Here in Lukla and enjoying the thick air and relatively warm temperatures. Long day from Namche to here, all is well. Good day weather wise and lots to view. Beautiful blooming fruit trees that were not at that stage on the way in. Amazing what new sites you see from the opposite direction. We took our time, tried to take in as much of the region as we could and still get us to our home for the night before dark. It was nice to stop and see the children, out and about having fun and a joy to observe the everyday live of the Sherpa people. They have always been such a friendly folk and it held true on this trip as well. Two of our favorite people of the Khumbu, Karma and Mingma part of our local staff that helped make this such a successful trip, left us after dinner. Safe journey to them and thanks so much. Pemba will stay with us till the early flight tomorrow morning. It's been a blast. Till next time. Get out while you can.
On The Map
---
Previous Page
More Entries