Posted by: Dave Hahn | December 10, 2013
Categories: *Expedition Dispatches *Vinson Massif
Elevation: 7,000'
The RMI Vinson teams traded places this evening. It was a day of wait-and-see as far as flying was concerned. High winds at Union Glacier, high winds in the intended flight path through the Ellsworth Mountains, and big winds that we could see on the upper slopes of Vinson. But things began to calm as the day went on and there was continued hope that the flight would happen before the day was out. I'd just sat down to dinner with group one at Vinson Base when news came that group two was in the air headed our way. Kara, Juan, Piotr, and Spencer packed fast and watched the ski equipped twin otter make a perfect uphill landing on the Branscomb. It was great to see Bill, Sarah, Fatima, and Larry emerge from the plane. The two teams mingled and compared notes as the plane was unloaded and reloaded. We were all happy to hear that team 2 was treated to such a fine time during their several days stay at Union. And I believe team 2 was relieved to see that team 1 had managed to come through a Vinson climb appearing happy and no worse for the wear.
Then it was load up time and I said goodbye to team 1. We shared some wonderful times together. Rumor has it that there are Ilyushin flights scheduled as early as tomorrow, so perhaps they'll be luckier on their Antarctic exit than they were on their entrance. Team 2 bedded down for the night at VBC… Ready to climb.
Best Regards
RMI Guide Dave Hahn
---
Posted by: Dave Hahn | December 09, 2013
Categories: *Expedition Dispatches *Vinson Massif
Elevation: 7,000'
The storm finally hit. Crazy clouds were forming over the upper mountain as we went to bed last night. The morning at Vinson Base was devoid of sunshine and chock full of newly falling snow. It is actually a rare thing to get five inches of powder snow in this place, like rain in the desert, but that is what we got. Flying -either to get the successful summiteers out or to bring in our next team of climbers from Union Glacier- was not happening. It was a hunker down day. The word was that the teams up the mountain were doing the same. Rest and relaxation wasn't exactly an unwelcome plan for the day for my team. Most had sore feet and tired knees after the last few big days of up and down walking. Each climber is ready to be moving on when conditions permit, of course. Juan wanted to be sure that Eva Maria knew he was wishing her a very happy 21st birthday from Antarctica.
Best Regards,
RMI Guide Dave Hahn
---
Posted by: Dave Hahn | December 08, 2013
Categories: *Expedition Dispatches *Vinson Massif
Elevation: 7,000'
The day went pretty well on schedule. We were up at around 8 AM at high camp, thankful that the winds had not yet found our tents. It was obviously kicking a bit higher, with streamers of snow blowing off ridges and frozen dust devils dancing across our ascent route of the day before. But we were granted calm and sunny conditions in which to eat breakfast and pack for the descent. We bailed out of high camp at 11:20 and carefully picked our way down the fixed lines. Coming into Low Camp was a bit of a shock as there were dozens of climbers there and we'd gotten so used to having the mountain to ourselves. Folks were hanging there rather than ascending since forecasts say that the winds will build and dominate the upper mountain for several days. We shuffled our loads, repacked and headed down to Vinson Base, arriving by 5:30 PM. No flights back to Union today as the winds have the pilots hunkering down, so we set tents and enjoyed a victory dinner together at 7000 ft on the Branscomb Glacier.
Best Regards
RMI Guide Dave Hahn
On The Map
---
Posted by: Dave Hahn | December 07, 2013
Categories: *Expedition Dispatches *Vinson Massif
Elevation: 16,067'
Safe and sound at high camp, once again. It was such a nice day that we spent an hour on the Vinson summit. The trip back down took three hours and so we arrived back at high camp around 8:30 PM, making for 11 hours round trip on the day. Almost as soon as we reached camp, the weather began to change, with glacier fog down below and patches of cumulus forming around the upper slopes of the big peaks. Light winds have begun to stir the tents. We'll now hope they don't turn into heavy winds until after we've gotten down the fixed ropes in the morning. We are all feeling pretty fortunate to have had the day we had on the Roof of Antarctica.
Best Regards,
RMI Guide Dave Hahn

RMI Guide Dave Hahn from the Vinson summit!
On The Map
---
Posted by: Dave Hahn | December 06, 2013
Categories: *Expedition Dispatches *Vinson Massif
Elevation: 12,300'
Our string of good days continues. We made good use of this one as well, climbing in good style to our 12,300 ft high camp. We were up at the crack of 11:15 AM as usual for low camp… waiting for the sun. But then it was a big flurry of activity for us as we ate brunch, knocked down the tents and packed up our packs. Spikes were on and we hit the trail at 1:30 PM. We made great progress today, with everybody feeling strong and enjoying the limitless scenery. Likely we are getting the benefit of having already climbed most of the way on our carry two days back, and certainly yesterday's rest didn't hurt. As we got higher on the fixed lines, it did seem like we were able to see for hundreds of miles… the horizon couldn't actually have been that far, but when it is ice as far as the eye can see, it does start to feel global in scale.
We were lucky to have calm conditions as we exited the ropes and made our way up the last 500 vertical feet to camp. We managed it all in a respectable six hours, pulling in at 7:30 PM. Everybody was in a pretty good and optimistic mood, as they should be. If the good weather continues we could be on the summit tomorrow afternoon.
Best Regards,
RMI Guide Dave Hahn
On The Map
---
Posted by: Jeff Martin | December 05, 2013
Categories:
We had an early wake up call this morning and were down in the hotel lobby by 4:30 am. The word was that the weather was cooperating and the flight would go as scheduled. We loaded up into the bus and headed out. We had a few more climbers to pickup on the way to the airport and then we went into the terminal for the standard boarding process. As we mentioned yesterday, there was going to be a stop en route to Union Glacier to re-fuel. This was the first time that this was done by our outfitter and it went very smoothly, only adding a little more time the flight. The group landed at Union Glacier around 2:00 pm local time. Now they are settled in and are enjoying their first night on the ice.
The plan now is for the team to spend a day or two at Union Glacier and then fly to Vinson Basecamp where they will meet up with Dave Hahn.
We might not get a dispatch out while the team is at Union Glacier, but will definitely dispatch once they start their climb.
Best regards,
RMI Guide Jeff Martin
---
Posted by: Dave Hahn | December 05, 2013
Categories: *Expedition Dispatches *Vinson Massif
Elevation: 9,100'
Again it was bitterly cold in the hours before the sun hit low camp, but then the rest of the day was calm sunny and perfect. We took full advantage by resting the day away. We ate, we drank, we napped and we repeated ourselves. The teams that went for the top (some with success, some without) came by on their descent and we traded notes and wished each other well. It is certainly our hope that tomorrow we will go for high camp feeling stronger and more ready as a result of today's rest. But as usual, we need continued good luck in the weather department.
Best Regards,
RMI Guide Dave Hahn
---
Posted by: Robby Young, Sean Collon, Steve Gately | December 05, 2013
Categories: *Guide News
October marks the end of the guiding season on Rainier, and the beginning of some of the best rock climbing weather and conditions throughout the Rocky Mountain West. RMI guides Steve Gately, Robby Young and Sean Collon celebrated "Rocktober" this year by spending their time down in Indian Creek near Moab, Utah. "The Creek" is home to some of the best pure crack climbing in the world, with fissures ranging from too small for fingers up to chimneys large enough for your entire body; running a hundred feet up otherwise featureless sandstone walls. It attracts climbers from around the world and is a popular hangout for guides in the October off-season. Sean, Steve and Robby documented their time in The Creek through film, and recount their experiences:
Robby Young: There is no place like Indian Creek. The abundance of stunning cracks splitting through vertical sandstone walls appear otherworldly amongst the beautiful desert landscape of Southern Utah, located just a few hours from my home in Park City, UT. I was very excited to have the opportunity to spend some time in this wonderful place with some good friends, and fellow RMI guides. The vibrancy of the red rock offers a dramatic contrast to the snow and glacier covered landscape of Mt. Rainier in which we spend much of our summer. I was also lucky to be able shoot photographs and capture film of some of friends as they pushed their climbing skills in the never-ending pursuit to become better climbers and alpinists.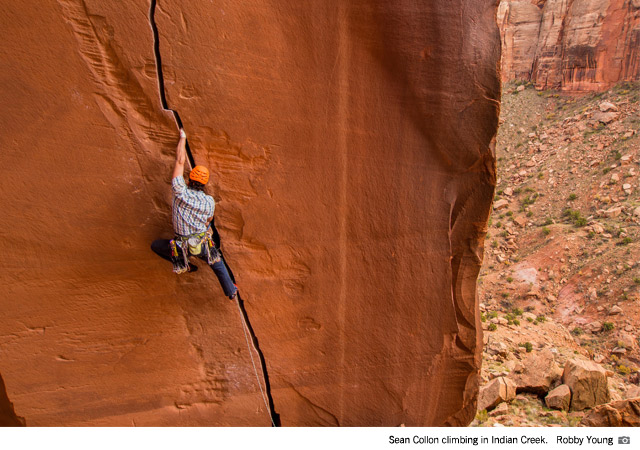 Sean Collon: Rock climbing and mountaineering have a large number of common skills, techniques and physical requirements. Approaching rock climbs with heavy packs full of gear builds stamina, and the climbing itself requires total body strength; all of which contributes to success in the big mountains. When guiding, or on personal mountaineering trips, I rely heavily on the rope skills I have developed largely in the vertical world of rock climbing. But more than all of this, rock climbing, in and of itself, is fun. Like any type of climbing, it is physically and mentally demanding. It can be pure enjoyment, often scary and painful, but always tremendously rewarding.
Steve Gately: After a busy Rainier season, trips like this provide us with some welcomed vacation time, while also allowing us a great opportunity for continued training. With back-to-back trips to Aconcagua coming up this winter, keeping my skills sharp is important to me. One aspect that goes consistently overlooked is not only the mental capacity but also the situational awareness needed for such long expeditions. For me, rock climbing is a way to keep my assessment skills sharp. There is some inherent risk in rock climbing, similarly to anytime that we step out into the mountains. This requires you to be constantly assessing situations, risk, hazards, terrain etc. This level of awareness is invaluable. You can be as strong as the best climbers out there, but without that ability to constantly assess your surroundings and problem solve when needed, well, you won't last very long in the mountains. For me, as a guide, this is one of the most important contributions I can bring to my trips and rock climbing provides an excellent way to stay strong, keep my skills sharp, and have a ton of fun while doing it!
______
Robby Young is as talented on rock as he is on glaciers and skis. He is spending the winter ski patrolling and teaching several avalanche courses in Utah and planning on a ski trip to Iceland this spring before his Denali expedition. See more of Robby's photography at www.robbyyoungphotography.com.
Sean Collon is an RMI guide, originally from Michigan, spending this winter season in Utah ski instructing at Canyons Resort and training for the AMGA Rock and Ski Instructor Courses. He has climbed rock and alpine routes all around the Pacific Northwest and throughout the country, and guiding with Dave Hahn next summer on Mt. McKinley.
Steve Gately is heading to the southern hemisphere this winter to guide on Aconcagua. Returning to Park City, UT, he will be found skiing, ice climbing and working on another short film about backcountry skiing in Utah's Wasatch Range before heading north to Alaska next summer.
---
Posted by: Dave Hahn | December 04, 2013
Categories: *Expedition Dispatches *Vinson Massif
Elevation: 9,100'
Another perfect weather-less day, a bunch more Antarctic climbing. The sun didn't show until 11:15 AM -as expected, but even knowing it would be cold in the hours before the sun didn't keep us from being a little shocked at the big chill. We put our crampons on and took our ice axes in hand for today's climb, happy that the sled-pulling approach is done and that the real climbing has begun. We took about five hours to carry a load of food and gear from camp to the top of the fixed ropes. The terrain was up continuously steep and firm snow. It was a pretty good workout and perfect from an acclimatization standpoint as we reached 11,800 feet. We descended carefully, working out the kinks in our fixed line technique, and were back in camp by 8:30 PM.
We seem to have the mountain all to ourselves now as the other teams turned out to be on schedules that put them well ahead of us. We'll likely take a rest day tomorrow to firm up the aforementioned acclimatization before our final assault on the heights.
Best Regards,
RMI Guide Dave Hahn
On The Map
---
Posted by: Dave Hahn, Jeff Martin | December 04, 2013
Categories: *Expedition Dispatches *Vinson Massif
Hello,
We had our pre-flight briefing this morning at 10:30 am. There were about 20 climbers from all over the world who met up at the ALE office in Punta Arenas for this very informative presentation about what will be happening over the next day or so. One of ALE's owners, Mike Sharp, covered all the details regarding our 4 1/2 hour flight down to Union Glacier. We learned that due to construction on the runway here at Punta Arenas, there is not enough distance on the runway for our plane to take off fully loaded. The solution: take off with only half the fuel needed for the trip and fly a short distance to Ushuaia, Argentina and top off the tanks. And by topping off the tanks, we are talking 40 tons of fuel. It will add a little time to our flight, but there's no refueling options on the 3800 mile round trip flight to Antarctica.
The plan now stands as us getting picked up at our hotel tomorrow morning at 4:45 am and heading out to the airport. They have already picked up our luggage and it will be loaded on the plane tonight and ready for our early departure.
Remember, it's only a plan at this point, as there are still a few big unknowns, mainly the weather at Union Glacier. Winds with blowing snow and poor visibility will mean that we will stay put for another day or two. But the forecast is looking favorable and we are ready to fly out whenever we get the green light.
Tonight we ventured off the usual circuit of restaurants and found a local's hangout. The food was great and we have Bill to thank for picking up the tab this time. Now it's early to bed because it will be early when we rise.
Hopefully the next dispatch will be from Antarctica!
RMI Guide Jeff Martin
---
More Entries