Posted by: Billy Nugent, Dave Hahn, J.J. Justman, Mark Tucker | April 16, 2014
Categories: *Expedition Dispatches *Everest
Elevation: 17,575'
Hello out there. Billy here checking in for the rest of the gang after another day deep in the Khumbu. Not much to report on another rest day here, other than the fact that the NCell tower began sporadically working today after nearly a ten-day outage. Our team was starting to go crazy… I mean it was like camping back in the 90's where you were in a deep black hole.
Anyway, clear skies this morning meant more helicopters buzzing basecamp as a film production crew has been ferrying tons of equipment up valley. The rumor is that they'll need more than fifty flights to get all of their gear in, we're all looking forward to it! Regardless, we're rested and ready for the next phase of our climb which involves an early wakeup dress rehearsal for tomorrow. It's the last step before we begin our first true rotation up the mountain.
All for now, will check in again tomorrow after another romp through the icefall…
---
Posted by: Mark Tucker, Dave Hahn, J.J. Justman, Billy Nugent | April 15, 2014
Categories: *Expedition Dispatches *Everest
Elevation: 17,575'
Summit… of Kalapathar! The team took on Kalapathar, and had a great payday of views galore. Nice weather for most of the day. The Sherpa team also benefited from weather as they are nearly done with all the makings of Camp 2. One comment from a Sherpa that it was very hot in the Khumbu Icefall. Seems ironic.
The climbing team is gearing up for a possible early morning test run in the Icefall. We'll keep you posted.
On The Map
---
Posted by: Brent Okita, Zeb Blais, Ben Liken, Robby Young | April 15, 2014
Categories: *Expedition Dispatches *Mount Rainier
Elevation: 10,060'
We had a great day for making our way to Camp Muir yesterday. Blue skies and just enough wind to keep us from over heating. Everyone did well!
Camp Muir will be home through Friday. The next few days we'll be training around Camp Muir. It's going to be a fantastic week!
---
Posted by: Geoff Schellens | April 15, 2014
Categories: *Guide News
With support from the Eddie Bauer - RMI Guide Grant, RMI Guide Geoff Schellens took part in an American Mountain Guides Association (AMGA) Ice Instructor Course this winter near Ouray, Colorado. Afterward, Geoff sat down and shared some stories from the course.
Ice climbing is a unique discipline of climbing, which poses specific challenges for the climber: ice fall, rock fall, specific equipment needs, over heating, becoming too cold, and avalanche hazards, just to name a few. Guiding ice climbing requires quite a bit of preparation, awareness, and technique to mitigate these challenges.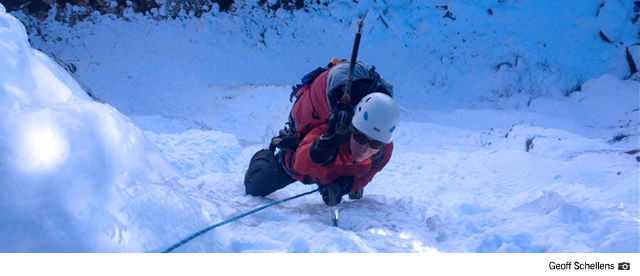 On the third day of my five-day AMGA Ice Instructor Course, we had planned to take two groups to Eureka, Colorado, to climb long multi-pitch ice routes. Avalanches from large snow bowls above threaten many of these routes, like the classic Stairway to Heaven. On this cold, crisp morning we encountered six inches of new snow, and after driving up to Red Mountain Pass we decided that the avalanche risk was too high and opted to go with our back up plan: climbing at Dexter Falls.
Dexter is just north of Ouray, Colorado, and offers excellent multi-pitch ice routes that are exposed to less avalanche hazard. Climbing Dexter Falls with two teams of three climbers posed new guiding challenges. Namely, avoiding knocking ice onto the climbers below. We chose to climb with both teams parallel to each other to protect against this. Parallel rope technique requires that the lead climber is thoughtful about where both following climbers will be ascending. The goal to keep them on slightly separate routes, allowing any loose ice to fall without risking injury to either climber.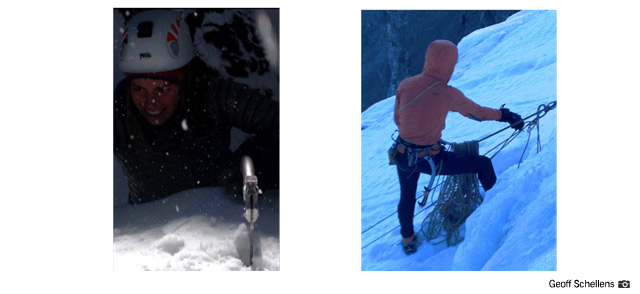 The climbing was fun and we topped out having done it in a safe manner. Climbing ice in Ouray, Colorado, or anywhere for that matter, is easy and enjoyable after acquiring a relatively straightforward skill set.
I hope you enjoy the photos!
____
Geoff Schellens is a senior guide for RMI Expeditions, leading trips in Argentina, the North Cascades, Alaska, and Colorado. Geoff is currently climbing Dhaulagiri, an 8,000 meter peak in the Himalayas. See more of Geoff's mountain photography on his website The Exposed Edge.
---
Posted by: Dave Hahn, J.J. Justman, Billy Nugent, Mark Tucker | April 14, 2014
Categories: *Expedition Dispatches *Everest
Elevation: 17,575'
Today was a well-timed rest day. Following our recent daily pattern, it was sunny and calm in the morning and snowing and socked in by noon. The team took the chance to wash up and get clean during the sunny hours, and then hunkered down within the tents for the afternoon. The much talked about Everest Basecamp WiFi hotspots and 3G cell coverage have both been dysfunctional in the extreme of late, bringing the teams back virtually to the 1990's in terms of connectivity… roughing it. Yesterday was a very popular day for Puja ceremonies and so the drab moraine rubble we call home was transformed by a vast spiderweb of interconnected colorful prayer flags streaming from the numerous chortens. Tomorrow, our Sherpa team is geared up for a carry to Camp II while the climbers have a conditioning hike to Kalapathar in mind.
Best Regards,
RMI Guide Dave Hahn
---
More Entries