Sign up for information on 2015 climbing dates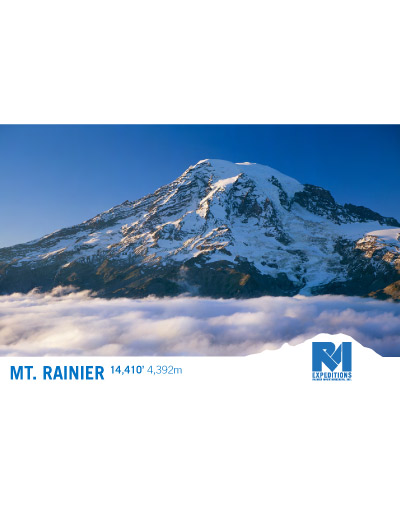 Download Brochure
Mount Rainier, the most extensively glaciated mountain in the continental United States, rises 14,410 feet above the nearby Pacific and offers limitless mountaineering possibilities. The combination of high altitude, variety of routes, and unpredictable Northwest weather make climbing Mount Rainier a true mountaineering experience.
Historically, "The Mountain" has served as a training ground for generations of American mountaineers. Countless climbers have scaled Mt. Rainier before going on to climbing careers and adventures on other peaks and adventures around the world.
With 40-plus years of guiding experience, RMI is the leading guide service on Mt. Rainier. We offer a variety of program choices for climbers of all abilities, from climbs of the mountain's classic routes, to expedition skills seminars, to specialized skills clinics. RMI's guides are here and ready to help you meet the challenge of modern mountaineering.
Seminars (May - October)
Expedition Skills Seminar - Muir
Spend your work week at 10,000' on Mt. Rainier, learning and practicing essential mountaineering skills in preparation for a summit bid and gaining important experience for future climbs.
Expedition Skills Seminar - Emmons
Establish a solid foundation of mountaineering skills and prepare for bigger peaks on this expedition style climb that ascends Mt. Rainier's largest glacier.
Expedition Skills Seminar - Kautz
A more technical expedition style climb of Mt. Rainier, focusing on building foundational mountaineering skills and techniques and preparing climbers for future expeditions.
Expedition Skills Seminar - Paradise
An expedition style ascent of Mt. Rainier's Paradise Glacier, teaching foundational mountaineering skills before making a summit attempt on Rainier's classic Disappointment Cleaver Route.
Summit Climbs (May - October)
Four Day Summit Climb
The classic climb of Mt. Rainier: after learning the foundational mountaineering skills on the mountain's lower slopes, tackle Mt. Rainier on a two day climb to the summit on the mountain's most popular route.
Five Day Summit Climb
After an introduction to mountaineering skills, climb to 10,000' on Mt. Rainier and spend two nights there to acclimatize and prepare before for a summit attempt of Mt. Rainier's classic route.
Five Day Emmons Climb
An expedition style climb of Mt. Rainier by way of the Emmons Glacier, the largest glacier in the continental U.S.
Five Day Kautz Climb
An exciting ascent of Mt. Rainier in an expedition style climb up the moderately technical Kautz Glacier.
Liberty Ridge Climb
A legendary route in American mountaineering: a 5,000' ridge splitting Mt. Rainier's north face that is both physically and technically demanding.
"The Muir Skills Seminar was fantastic! It provides a great opportunity to learn foundational mountaineering skills in an immersive environment and with guides that are clearly skilled, knowledgeable, and enthusiastic."
"We had a great experience and we have you guys to thank for it. We'll never look at that mountain the same way again!"
"I can't emphasize enough how impressed I was with the guides. Not only their technical ability, but more so with their effort to make the trip as enjoyable as possible for the clients."
Schools (May - October)
Mountaineering School
Learn how to travel efficiently and safely in the mountains in this introduction to alpine mountaineering techniques.
Crevasse School
Become skilled in crevasse rescue, learning the techniques needed to travel safely in glacial terrain.
Winter Programs (January - April)
Expedition Skills Seminar - Winter
Make an attempt of Mt. Rainier, building important mountaineering skills and experience by managing the challenges of the mountain in a winter environment.
Intro to Ski Touring
Introduces the foundational skills of safe backcountry skiing techniques in order to gain the knowledge and experience to venture safely beyond the ski area boundaries.
Intro to Ski Mountaineering
Combine your backcountry ski touring experience with the mountaineering skills needed to to approach skiing in big mountain terrain.
"It was unlike anything I have ever done before. It was a fantastic and truly challenging experience that rewarded me with fond memories that will surely last for the rest of my life!"
"From initial booking and getting pre-climb questions answered to summiting and post summit pizza and beer celebration, RMI met and exceeded all my expectations. Highest recommendations to the entire RMI organization."
"All in all a fantastic and unforgettable experience. The guides were professional and highly capable and I came away with skills that would have taken years to acquire. I'd recommend RMI to anyone and I'll be back!"
Authorized Concessioner
RMI Expeditions is an authorized concessioner of Mount Rainier National Park.