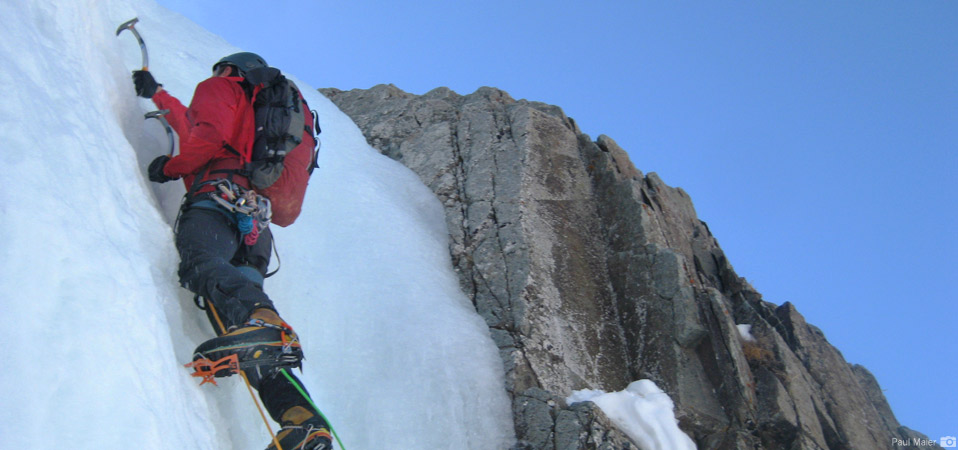 The San Juan Mountains offers the finest ice climbing in the world. Talk with one of our experienced local guides about your goals and fashion a program suiting your needs and schedule. This can be a great introduction to the sport for first time climbers or a great way to a get onto those longer more committing backcountry routes if you are a more experienced climber.
Give us a call to speak with a guide: (888) 892-5462
PRIVATE GUIDED ICE PROGRAMS
Ouray - Full Day
1:1 guiding $379/day
2:1 guiding $259/day
3:1 guiding $209/day
4:1 guiding $189/day

Ouray - Half Day
1:1 guiding $269/day
2:1 guiding $169/day
3:1 guiding $149/day
4:1 guiding $129/day

Silverton and Ouray Backcountry
1:1 guiding $429/day
2:1 guiding $299pp/day

*A $20 transportation fee will be charged for Private Guiding in Silverton.
Our ice courses are taught in the Durango, Silverton, and Ouray areas in Colorado's San Juan Mountains. This is a program organized by Rainier Mountaineering, Inc. and led exclusively by San Juan Mountain Guides, LLC (SJMG). SJMG is based in Ouray, Colorado, and is an authorized permit holder in the San Juan National Forest, Grand Mesa, Uncompahgre and Gunnison National Forests under priority use permit from the Forest Service, USDA.