Mt. Rainier - Four Day Climb
This is the undisputed classic climb of Mt. Rainier. It is the best introduction to mountaineering anywhere in the lower 48 states.
CLIMB HIGHLIGHTS
An afternoon orientation and one full day of mountaineering training to prepare for the climb.
Utilize the mountain hut at Camp Muir (10,060'), sitting high alongside Mt. Rainier's glaciers.
Experience the classic Mt. Rainier climb, ascending 9,000' from its alpine meadows to its glacier-capped summit.
Climb with experienced RMI guides, benefiting from their background, training, and expertise; see why we continue to set the standard in guiding excellence.
As Mt. Rainier's definitive summer climb, RMI's Four-Day Disappointment Cleaver Climb is the classic adventure for anyone interested in or involved in mountaineering. Focusing on team building and training, the first two days prepare us for our climb with an afternoon orientation and a Mountaineering Day School. We then ascend Mt. Rainier's lower slopes to Camp Muir (10,060'), where we stay for the evening and prepare for the climb ahead. On summit day, an alpine start brings us up the Ingraham Glacier or Disappointment Cleaver route to the mountain's summit. With a short time commitment, this climb is ideal for anyone looking to attempt one of America's great mountaineering challenges.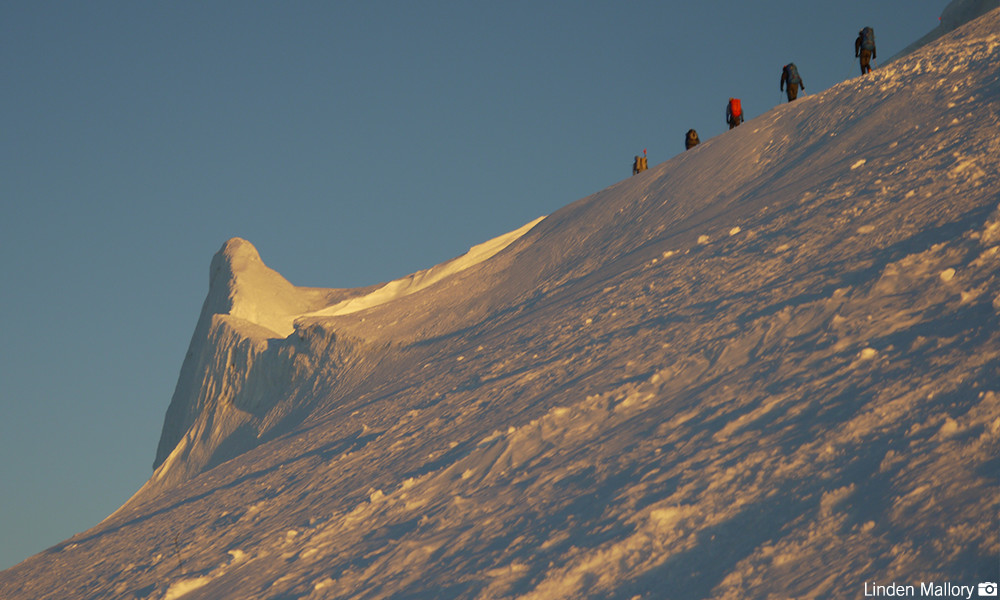 THE RMI DIFFERENCE
The Mountain Guides at RMI have a reputation as top guides in the United States. RMI Guides participated in some of America's first ventures into the far reaches of the Himalaya. Years of expedition guiding and climbing around the world have built a core of consummate professional guides.
Our guides are celebrated teachers and trainers, known for their leadership as well as their character. They possess the compassion, enthusiasm and ability to empower others and inspire them forward. Such qualities may only be found in people at the top of their profession. Despite their vast experience, RMI Guides still remember their own first steps into the mountains, and enjoy helping other climbers reach new heights.
Our exceptional focus to detail, our unparalleled level of climber attention, and our genuine excitement for these adventures make our programs truly memorable.
SAFETY
RMI strives to create the safest mountain experience possible. Our experienced team of guides focuses on leading fun and successful climbs without compromising safety. Each climb includes careful pre-trip planning, daily weather forecasts, avalanche forecasts, and diligent attention to detail. All RMI Guides are highly trained in remote medicine and rescue skills and carry comprehensive medical kits, rescue equipment, and radio communication equipment throughout the program. Regardless of the objective or the destination, safety remains RMI's top priority.
---
Authorized Concessioner
RMI Expeditions is an authorized concessioner of Mount Rainier National Park.
Address comments to:
Superintendent | Mount Rainier National Park
55210 238th Avenue East
Ashford, WA 98304
These services are operated in an area under jurisdiction of the U.S. Department of the Interior. No discrimination by segregation or other means in the furnishing of services or privileges on the basis of race, creed, color, ancestry, sex, age, disabling condition or national origin is permitted in the use of this facility. Violation of this prohibition are punishable by fine, imprisonment, or both.
Climate Change
All of our climbs in Mt. Rainier National Park are 100% carbon neutral. We have partnered with Offsetters, Canada's leading carbon management solutions provider, to purchase offsets for our greenhouse gas emissions. Their projects are verified and validated by third parties to ensure that the emission reductions are real, additional, and permanent, so we know that our contribution is making a real difference.
By supporting this project, we prevent the equivalent amount of greenhouse gas emissions that were generated by our operations from being emitted somewhere else. These offsets allow us to achieve our goal of sustainability and further promote responsible environmental practices.
Contact Us
As you prepare for your upcoming adventure please feel free to contact our office and speak directly to one of our experienced guides regarding equipment, conditioning, the route, or any other questions you may have about our programs. We are available Monday thru Friday 8:30 a.m. to 4:00 p.m. at (888) 89-CLIMB or info@rmiguides.com.
---
Climber Reviews
There's always more
to know, log in
To access our brochure

Learn More
Upcoming Climbs

Show All

Price

$1194

Deposit

$350

Duration

4 days

Difficulty

Type

Mountaineering
Table of Contents
Print all Trip Details
Print this Page
Day 1
PRE-TRIP ORIENTATION
3:00 - 6:00 p.m.: We will meet at 3:00 p.m. at Rainier BaseCamp in Ashford, WA. Please dress casually and bring your climbing equipment and clothing.
We begin our Pre-Trip Orientation with a welcome and introduction of team members and guides. The afternoon is spent providing a focused introduction to a variety of topics and preparing climbers for the climb. This includes a detailed personal equipment discussion and gear check; an introduction to safety practices including use of helmets, harnesses, and avalanche transceivers; and instruction regarding Leave No Trace practices and environmental considerations.
Please make your own arrangements to stay in the Ashford area this evening.
Day 2
THE MOUNTAINEERING DAY SCHOOL
8:15 a.m. - 5:00 p.m.: Meet at 8:15 a.m. at Rainier BaseCamp. Please arrive dressed for hiking and packed with your Mountaineering Day School gear.
The Mountaineering Day School is spent training on the lower slopes of Mt. Rainier above Paradise. Climbers are introduced to a number of skills, from the foundational techniques of efficient mountain travel (rest-stepping and pressure breathing) through cramponing, roped travel, and ice axe arrest practices. The training is a great introduction to mountaineering for novice climbers as well as a refresher for those with previous experience, ensuring that all climbers have the basic skills to climb safely and comfortably together on the mountain.
Please make your own arrangements to stay in the Ashford area this evening.
Day 3
CLIMB TO CAMP MUIR
Meet at 8:15 a.m. at Rainier BaseCamp. After a short team meeting, a shuttle takes our group to the trailhead at Paradise.
The hike from Paradise (5,400') to Camp Muir (10,060') is nearly 4.5 miles and takes most of the day. Once at Camp Muir, the guides will address the specifics regarding the climb, including route conditions, food, equipment, clothing recommendations, and any further questions you might have. Accommodations at Muir consist of a small mountain hut with bunks and sleeping pads. After dinner we retire to our sleeping bags to rest for the upcoming summit attempt.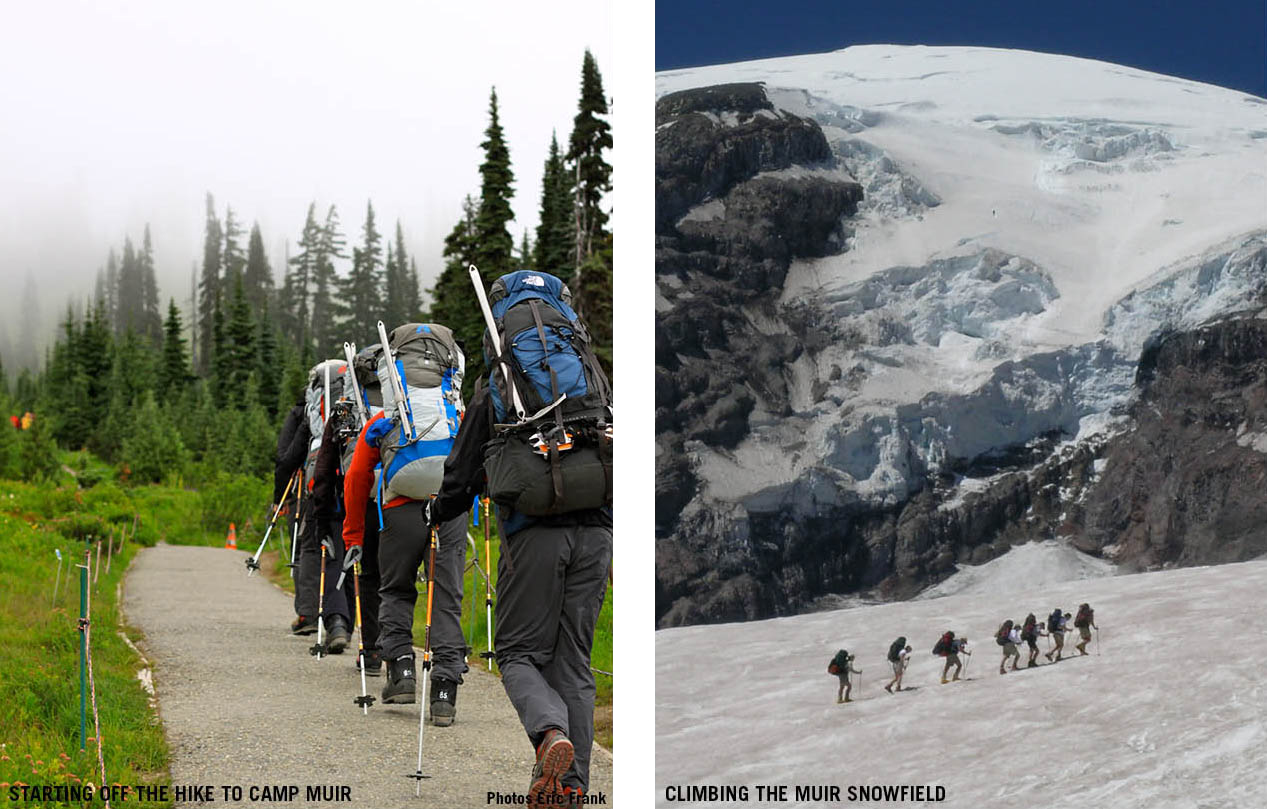 Day 4
SUMMIT BID
We make an alpine start for our summit attempt, beginning in the early hours of morning. We don ropes, crampons, helmets, and grab our ice axes, leaving Camp Muir by the light of our headlamps. The route begins with a rising traverse across the Cowlitz Glacier and ascends the pumiced switchbacks of Cathedral Gap. From here, we gain the Ingraham Glacier and ascend either the Ingraham Direct or Disappointment Cleaver routes, small variations to a similar line of ascent with the actual route choice being determined by many factors that vary throughout the season. Once above the Disappointment Cleaver, we ascend the upper slopes of Mt. Rainier, navigating the crevassed glaciers to gain the summit crater. If the weather and timing cooperate, we take a short hike across the crater floor to Register Rock, and then to Columbia Crest (14,410'). This is the highest point in Washington, and when the weather is clear, the view from the summit is spectacular. Panoramic views stretch for miles in all directions, from the Pacific to the eastern side of the Cascades. The summit crater is a wildly unique environment, capped in perennial snow, with steam rising out of the cavernous vents.
From our high point, we descend back to Camp Muir. The descent typically takes approximately half the amount of time that it takes for the ascent, but requires significant effort as we retrace our route down the mountain. The duration of the climb depends on many variables including snow conditions, the time of the year, the route conditions, and the weather.
After arriving back at Camp Muir, we pack up our gear and descend to Paradise in the early afternoon. At Paradise, our shuttle takes the team to Rainier BaseCamp. With our gear unloaded in Ashford, it is time to gather as a team to celebrate our adventure.
*We do not recommend scheduling an airline flight before midnight on the last day of your program.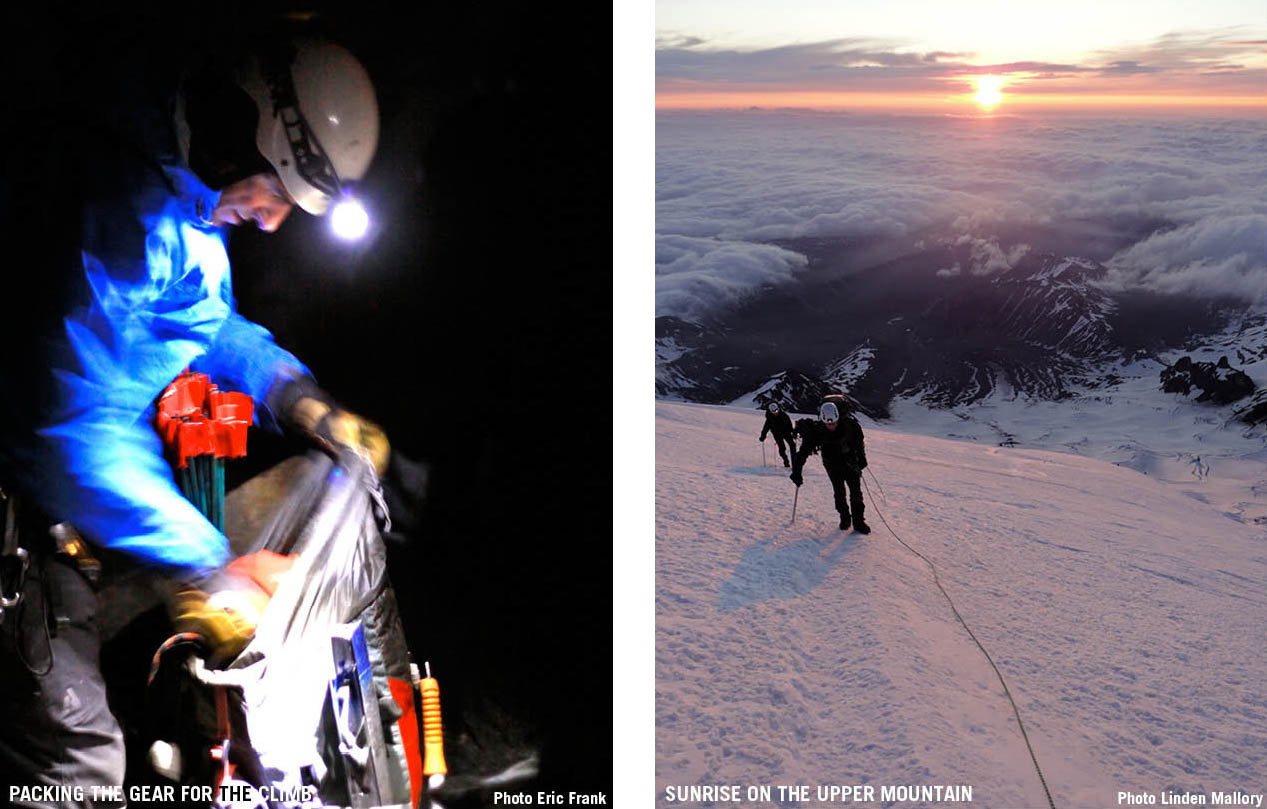 Print all Trip Details
Print this Page
Travel Consultant
RMI has partnered with Erin Rountree to provide comprehensive travel support. We have been working with Erin for many years. As an independent agent of the Travel Society, she has booked countless miles for adventure travelers across the globe and is extremely knowledgeable about the travel needs of our programs. Please call (208) 788-2870 or send email to etravel@cox.net.
Travel Insurance
We strongly encourage everyone to purchase travel insurance which can cover trip cancellation, interruption, delay, baggage loss or delay, medical expenses, medical evacuation, and more. Travel insurance offers the best possible protection in the event of a sudden, unexpected illness or injury prior to or while traveling. You can purchase travel insurance at any time prior to the trip departure. Should you need to cancel from a program, Trip Insurance will refund you for any non-refundable cancellations fees when cancelling for a covered reason.
There are several things to note when purchasing trip insurance:
Cancellation Insurance is included in the standard Trip Insurance policy if you are injured, or have a medical or family emergency prior to or while traveling. Should you need to cancel your program, Trip Insurance will refund you for any non-refundable cancellations fees when cancelling for a covered reason. Most travel insurance companies provide an option to include coverage that allows you to "Cancel for Any Reason", but the initial policy must be purchased within 15 days of placing your deposit for the program.
In order to cover your trip with RMI Expeditions you may need to include options such as an "Adventure or Sports" upgrade. Not all travel insurance will cover mountaineering, climbing, skiing or trekking adventures. Some will not cover due to gear used (crampons, ice axe), others will not cover above a certain elevation and/or region of the world. Check your policy carefully to make sure your activity is covered.
Purchasing Travel insurance is also dependent on your state of residence. If one company doesn't offer coverage for you because you live in Washington, another company might.

Harbor Travel Insurance covers the following critical benefits:
Evacuation to a nearest appropriate hospital once hospitalized.
Trip cancellation/interruption, primary medical expense coverage, sporting goods, baggage loss, emergency dental, AD&D and more.
Completely integrated one-stop program with a single contact for emergency services to travel assistance and insurance claims
24/7 access to paramedics, nurses and military veterans.
Harbor Travel Insurance is powered by Redpoint Resolutions, a medical and travel security risk company. Their team is comprised of special operations veterans, paramedics, Stanford Medicine affiliated physicians, former intelligence officers, insurance actuaries and global security experts with dozens of years of experience in theaters around the world. The Redpoint network covers the globe, making them uniquely equipped to provide elite rescue travel insurance – in every sense of the word.
Getting There
Rainier BaseCamp is located in Ashford, WA and is the home of RMI Expeditions, Whittaker Mountaineering, Basecamp Cottages, Whittaker's Bunkhouse, and Mt. Rainier Visitor Center. Ashford is located 75 miles from the Sea-Tac Airport and most climbers traveling to Ashford will want to rent a car. This is the most convenient and reliable way to get here.
Ride Share: If you are interested in sharing a ride, please go to your RMI Account, then to "Discussion Board" and "Ride Share" to post your information.
Other transportation options are:
Ashford Area Accommodations
Weather
For updated Mt. Rainier weather forecasts, click here.
Please click on the links below to see the Mt. Rainier webcams:
Tipping
Our guides work hard to ensure your well being and success on the mountain. If you have a positive experience, gratuities are an excellent way to show your appreciation. Amounts are at your discretion and should be based on your level of enjoyment. Tips for excellent service normally average 10 - 15% of the cost of the program. If you would rather not bring the guide gratuity with you on the trip, you can send a check or call the RMI office to pay with a credit card upon your return.
Facts
Mt Rainier became the nation's fifth National Park in 1899, some twenty-nine years after it was first climbed. Mt. Rainier National Park encompasses 235,625 acres and is 97% wilderness and 3% National Historic Landmark District. Mt. Rainier, at 14,410', is the most prominent peak in the Cascade Range. It is a dormant volcano that last erupted approximately 150 years ago.
Guided mountaineering activity has taken place from the late 1800's, and The Mountain is still considered a prime training ground for climbing in Alaska, South America and the Himalayas. With more than 20 active glaciers encompassing some 36 square miles of ice, Rainier boasts the largest ice cover of any peak in the lower 48 United States. Its weather can be deceptively gentle or as fierce as encountered on any high mountain anywhere in the world. There is a wealth of information on the Mt. Rainier National Park website. We encourage you to enhance your enjoyment of the climb with some fun facts about the Park and history of climbing there.
Resources
General Information on Mt. Rainier National Park (MRNP) - www.nps.gov/mora
The Mountaineers Book - www.mountaineersbooks.org
Gateway Communities & Activities outside Mt. Rainier National Park - www.visitrainier.com
Recommended Reading
The Challenge of Rainier, by Dee Molenaar
Mt. Rainier - A Climbing Guide, by Mike Gauthier
Mt. Rainier: The Story Behind the Scenery, by Ray Snow
National Geographic Trails Illustrated MRNP topo map
Print all Trip Details
Print this Page
Qualifications
This trip is open to all individuals in excellent physical condition. There are no technical climbing prerequisites to join this program.
Get In The Best Shape Of Your Life
And Then Go
Climb A Mountain

Create A Fitness And Training Program
Physical Fitness Training
Mountaineering requires a high degree of physical stamina and mental toughness. Even for the healthiest and fittest individuals, climbing mountains qualifies as an extremely challenging endeavor.
Start immediately. Start a rigorous fitness and training program now with the goal of arriving in top physical condition and confident in your skills.
Be intentional. Focus on gaining the necessary strength, stamina, and skills to meet the physical and technical demands of the climb.
Be sport-specific. The best fitness and training program mimics the physical and technical demands of your climbing objective. The closer you get to your program date, the more your training should resemble the climbing.
For the Four-Day Mt. Rainier Climb, you are preparing for:
Hiking with a 35-45 lb load
Steep climbing and glacier travel with a 20-25 lb load
A 10-14+ hour summit day
Mountaineering techniques requiring core strength and flexibility
Nothing ensures a personally successful adventure like your level of fitness and training. Bottom line: Plan on being in the best shape of your life and ready for a very challenging adventure!
Below are approximate outlines of the program's physical demands that will be helpful in planning your training schedule and goals:
Total Climbing Time

Elevation Gain / Loss

Total Distance

Pack Weight

DAY 1 — Pre-Trip Orientation in Ashford

n/a

n/a

n/a

n/a

DAY 2 — Mountaineering Day School

2 - 2 ½ hours
Round Trip

Gain = 1,000'
Loss = 1,000'

4 miles
Round Trip

20 - 25 lbs

DAY 3 — Hike from Paradise to Muir

4 - 6 hours

Gain = 4,600'

4.5 miles

40 - 45 lbs

DAY 4 — Summit attempt and descent to Paradise

8 - 12 hours (summit attempt)
+ 2 ½ hours
(Muir to Paradise)

Gain = 4,400'
Loss = 9,000'

12.5 miles
Round Trip

20 - 25 lbs

40 - 45 lbs
Please refer to our Resources for Mountaineering Fitness and Training for detailed fitness and training information.
Acclimatization
Excellent physical conditioning significantly increases your ability to acclimatize. Climbers in excellent physical condition simply have more energy to commit to the acclimatization process throughout the days and nights of the ascent, allowing their bodies to adjust to the altitude more easily.
While the key to climbing high is proper acclimatization, this climb effectively moves up and down the mountain at a rate that exceeds our body's ability to adjust (acclimate) to the high altitude. This is true whether a program spends 2 days or 5 days on the upper mountain (elevations above 10,000 feet). During our short climb, our bodies simply do not have the time to completely adjust to the altitude, and because of this short stay, our bodies do not typically succumb to altitude's ill effects. In short, climbers generally experience the mild but uncomfortable, yet normal, symptoms of their bodies beginning the adjustment process. While climbers will feel better rested on the slightly longer programs, fitness remains the key factor in a climber's performance.
In addition, physical performance at altitude is often related to how well you have taken care of yourself throughout the hours, days and weeks prior to summit day. Arriving healthy and well-rested, maintaining proper hydration and caloric intake, and protecting against unnecessary heat loss (staying warm) are usually key factors in an individual's success on a short-term visit to altitude.
Print all Trip Details
Print this Page
What You'll Need
A list of required personal equipment accompanies every RMI program, and the thought process behind each item is much greater than simply "preparing for the worst and hoping for the best." The list for your program takes into account factors such as: seasonality, route conditions, weather, elevation and more. As such, this list is framed within the broadest of contexts and is dynamic by its very nature. Therefore, certain variables (additions and/or subtractions) are inherent within such an all-encompassing list. We make every effort to recommend only top of the line clothing and technical gear and it is never our intention for you to buy or rent unnecessary gear.
The Guide Pick is an example of the listed item, giving you an idea of the material and specifications of the item. This exact item does not need to be purchased or used; however, any item you choose must have similar characteristics and performance abilities to the Guide Pick.
RMI Guides concur on the potential necessity of every item, thus every item on the list is required at gear check. However, guides may also have suggestions derived from their experience, some of which will vary from a given list. The guides' recommendation whether to bring along or leave behind certain item(s) comes during the gear check, when the team first meets. Occasionally this recommendation comes at the expense of having previously purchased an item. If a guide presents the option of leaving behind certain item(s) on the list of required equipment, it is for a reason. Their recommendation may be related to the weather, route conditions, freezing level, perceived strength of the party, or desired pack weight.
Ultimately, there will never be a consensus for a "perfect" equipment list for an ascent. It does not exist because of the multitude of variables faced by climbers throughout the climb. Please follow this equipment list closely so that you will arrive for the gear check with all the required items. Keep in mind the list is not black and white, fine tuning will occur once you meet with your guide. Have a great climb!
---
Most of the required equipment is available for rent or purchase from our affiliate Whittaker Mountaineering. RMI climbers receive a 10% discount on new clothing and equipment items ordered from Whittaker Mountaineering when they use code RMI2019 at checkout. This offer excludes sale items, rentals, meal packages, and Feathered Friends.
Equipment List
65-70+ LITER BACKPACK

Your backpack should be large enough to carry all of your personal gear, food and water, plus a portion of group gear. A separate summit pack is not needed.
SLEEPING BAG

We recommend a bag rated between 0° to 20° F. Both down and synthetic work well. Use the 0° bag in May, June and September when it is colder, and the 20° bag in July and August when it is warmer. Sleeping pads are provided at Camp Muir.
COMPRESSION STUFF SACK FOR SLEEPING BAG
SLEEPING PAD

Not required for this trip. Climbers' huts are equipped with pads.
ICE AXE

The length of your axe depends on your height. Use the following general mountaineering formula: up to 5'8", use a 65 cm axe; 5'8" to 6'2", use a 70 cm axe; and taller, use a 75 cm axe. If you hold the axe so that it hangs comfortably at your side, the spike of the axe should still be a few inches above the ground.
CLIMBING HARNESS

We recommend a comfortable, adjustable alpine climbing harness. Removable, drop seat or adjustable leg loops are convenient for managing your clothing layers over the course of the climb and facilitate going to the bathroom.
1 TRIPLE-ACTION LOCKING CARABINER

Used for clipping into the climbing rope.
HELMET

A UIAA (Union Internationale des Associations d'Alpinisme) or CE (European Committee for Standardization) certified climbing helmet.
CRAMPONS

The 10 to 12 point adjustable crampons designed for general mountaineering are ideal. We highly recommend anti-bot plates to prevent snow from balling up underfoot. Rigid frame crampons designed for technical ice climbing are not recommended.
AVALANCHE TRANSCEIVER WITH FRESH BATTERIES

A digital transceiver is preferred. If you rent a transceiver fresh batteries will be provided. Transceivers are worn on the upper mountain during your summit attempt.
TREKKING POLES

We recommend lightweight and collapsible poles.
WARM HAT

Wool or synthetic. It should provide warmth but also be thin enough to fit underneath a climbing helmet.
BUFF/NECK GAITER/BALACLAVA

One item for face protection is required. We recommend the Buff. A neck gaiter or balaclava is also acceptable.

GLACIER GLASSES

You will need protective sunglasses, dark-lensed with either side shields or full wrap-around frames. Almost all sunglasses block UV-A, UV-B and infrared rays adequately. Pay attention to the visible light transmission. The darkest lenses (glacier glasses) only allow approx. 6% visible light to get through, while lighter lenses (driving glasses) let in as much as 20+ %. A good rule of thumb is that if you can see the wearer's pupils through the lenses, they are too light for sun protection at altitude.
GOGGLES

Amber or rose-tinted goggles for adverse weather. On windy days, climbers, especially contact lens wearers, may find photochromatic lenses the most versatile in a variety of light conditions.
SAFETY GLASSES/GOGGLES (OPTIONAL)

Helpful in keeping blowing dust out of the eyes at night. If you wear prescription glasses, make sure they can fit over.
CONTACT LENSES/ EYEGLASSES (OPTIONAL)

Spare prescription glasses if you wear contact lenses/eyeglasses.
HEADLAMP

Be sure to begin the program with fresh batteries.
Each glove layer is worn separately as conditions change during the climb.
LIGHTWEIGHT GLOVES

Lightweight liner or softshell gloves. Lighter colors absorb less sunlight while still offering UV protection.
MEDIUM WEIGHT GLOVES

Wind and water resistant, insulated mountain gloves.
HEAVY WEIGHT INSULATED GLOVES OR MITTENS

Wind and water resistant, insulated gloves or mittens. These also serve as emergency back-ups if you drop or lose a glove.
We recommend a minimum of five upper body layers, all of which can be used in conjunction with each other. Two of these should be insulating layers, one light and one medium, that fit well together. Today there are many different layering systems to choose from, including fleece, soft-shell, down and synthetic options.
LIGHTWEIGHT BASELAYER OR SUN HOODY

Long-sleeve wool or synthetic top. Lighweight, light-colored, hooded baselayers (sun hoodys) are highly recommended for sun protection.
RAIN JACKET (HARD SHELL)

An uninsulated, waterproof shell jacket with hood.
INSULATED PARKA with HOOD

This expedition-style heavy parka should extend below the waist and must have an insulated hood and be able to fit over the rest of your upper body layers. While the parka is worn primarily at rest breaks on summit day, it serves as an emergency garment if needed. We recommend down rather than synthetic fill.
SPORTS BRA

We recommend a moisture-wicking, active-wear bra.
We recommend a system of four layers, all of which can be used in conjunction with each other. Products which combine several layers into one garment, such as traditional ski pants, don't work well as they don't offer the versatility of a layering system.
UNDERWEAR

Non-cotton briefs or boxers.
LIGHT TO MEDIUM WEIGHT BASELAYER

Synthetic or wool.
CLIMBING PANT

Soft-shell climbing pants offer a wide range of versatility. You can wear them in combination with the base layer on colder days, or alone on warmer days.
RAIN PANT (HARD SHELL)

Non-insulated, waterproof shell pants must be able to fit comfortable over your baselayer bottoms and softshell climbing pants. Full side zippers or 7/8 side zippers are required so that shell pants can be put on while wearing boots and crampons.
LIGHT WEIGHT TREKKING PANT OR SHORTS (OPTIONAL)

A lightweight, synthetic pair of pants is a good option for the approach trek when hiking at lower altitudes and in warm conditions. These pants have no insulation, are typically made of thin nylon, and commonly feature zippers to convert between pants and shorts.
Boots are one of the most important pieces of mountaineering gear, and bringing the right pair is critical to your safety and success on Mt. Rainier. You will need one pair of boots for this climb. For climbs in April, May, June, and September you will probably need double boots. For climbs in July and August, single boots are typically sufficient. If you arrive to your gear check with single boots and cold weather is forecast (a freezing level below 10,000') to climb safely with them, you may be advised or required to use double boots.
SINGLE MOUNTAINEERING BOOTS

Insulated, full-shank, and crampon-compatible leather or synthetic boots designed for mountaineering. Single boots tend to be lighter and more comfortable than double boots at the expense of warmth. For this reason, single boots are typically not sufficient in April, May, June, or September. While they are typically sufficient in July and August, if cold tempertures are forcast your guides might require you to use double boots. NOT NEEDED IF USING DOUBLE BOOTS.
DOUBLE MOUNTAINEERING BOOTS

Insulated double boots designed for mountaineering. Plastic-shelled models are acceptable, though modern synthetic models are lighter and more comfortable. These boots can be used year-round on Mt. Rainier and are consistently worn in April, May, June, and September, but cold weather may require their use at any time of the season. NOT NEEDED IF USING SINGLE BOOTS.
LIGHT SHOES OR HIKING BOOTS (OPTIONAL)

A pair of light running or approach shoes or hiking boots for one to two hours of use on the approach to Camp Mur (after the snow melts, typically by mid-July), and for use as a camp shoe.
GAITERS

A knee-length pair of gaiters, large enough to fit over your mountaineering boots. This will protect you from catching your crampon spikes on loose clothing.
2 PAIR OF SOCKS

Either wool or synthetic. Whatever sock combination you are accustomed to wearing during your training or previous adventures (whether single medium weight socks, a medium weight with a liner sock, two medium weight socks together, etc.), should work just fine for this climb.
MEALS

You are responsible for providing your own meals and snack food in town and while on Mt. Rainier. See the Food tab for suggestions and quantities.
2 - 3 WATER BOTTLES

One-liter water bottles with wide mouths made of co-polyester (BPA-free plastic). No hydration systems as they tend to freeze on the upper mountain and be hard to fill. Cold water for drinking is provided.
1 ZIP-LOCK BAG (1 GALLON)

Please use the Zip-Lock as your personal trash bag.
2 GARBAGE BAGS (LARGE)

We recommend lining your backpack with garbage bags to keep items in your backpack completely dry.

BOWL

Packable plastic bowl. Collapsable models can work but must be handled carefully to avoid unintended collapsing.
INSULATED MUG

Insulated outdoor-style mug. We recommed a model with a removable lid, which helps retain heat and prevent spills.
SPOON or SPORK

A spoon or spork made of durable plastic or anodized metal.
SUNSCREEN

We recommend small tubes of SPF 15 or higher, which can be carried in pockets for easy access and to prevent freezing.
LIP BALM

We recommend SPF 15 or higher.
TOOTHBRUSH AND TOOTHPASTE


CAMERA (OPTIONAL)

Many smartphones have excellent cameras. Action cameras, small point-and-shoots, and compact dSLRs are lightweight and work well at altitude.
First Aid and Medications
SMALL PERSONAL FIRST AID KIT

All guides carry a comprehensive first aid kit, so keep yours small and light. We recommend a selection of adhesive bandages, antibiotic ointment, Moleskin and blister care, medical tape and/or duct tape, basic painkillers, and personal medications.
TRAVEL CLOTHES

We recommend bringing a selection of comfortable clothing to wear while traveling as well as pre- and post-trip.
Purchase travel insurance.
Arrange lodging in Ashford.
Reserve rental equipment.
Arrange transportation to Ashford.
Be in the best shape of your life!
---
Provided Equipment
RMI provides the following equipment for your program: shelter, climbing ropes, sleeping pad, and blue bags (for solid waste disposal).
Every guide on your climb will carry rescue equipment and a first aid kit. Each climb has two-way radios and a cell phone for emergency contact.
Print all Trip Details
Print this Page
MEALS
On the Four-Day Mt. Rainier Climb you will need 3 mountain lunches, 1 dinner, and 1 breakfast while on the mountain.
MOUNTAIN LUNCHES
Mountain lunches are eaten during short breaks throughout the day. We continually snack to keep our energy levels up while we climb - lunch begins just after breakfast and ends just before dinner! Avoid packing any items that require preparation or hot water.
The importance of having foods that are genuinely enjoyed cannot be overstated. Eating properly is the key to maintaining strength while in the mountains. In order to combat the loss of appetite at altitude we aim to have a variety of foods that stimulate the whole palate, from sweet to sour to salty.
Recommended mountain lunch items: dry salami, smoked salmon, jerky (turkey, beef, fish), small cans of tuna fish, individually wrapped cheeses such as Laughing Cow or Baby Bell, crackers, bagels, candy bars, hard candies (Jolly Ranchers, toffees, Life Savers), gummy bears, sour candies (Sweet Tarts), cookies, dried fruit, nuts, energy bars, GORP mixes, and drink mixes (Gatorade/Kool-Aid).
Breakfast
Single-serving instant oatmeal or Cream-of-Wheat makes a good main course fare. A variety of granola bars, pastries, fruit and a hot drink mix of coffee, tea, cocoa or cider are suggested.
Dinner
Freeze-dried entrees are very convenient; it is best to be familiar with their taste (and the effects they may have on your stomach) in advance of your program. Instant soups and Cup-o'-Noodles are popular supplements to your main course. As an alternative, you might consider bringing a cold main dish such as chicken, pizza, sandwiches, pasta salads or stir-fry. We also recommend your bring hot beverage mixes such as coffee, tea, cocoa, or cider.
Don't worry too much about the nutritional aspect of meals; concern yourself more with a high calorie intake. Most importantly, choose a variety of foods that you like to eat. One of the normal, albeit disconcerting, adjustments to altitude is a slight loss of appetite.
Once we are at the Camp Muir hut, ample cold water is available for drinking and replenishing water bottles. Hot water will also be provided for your meals (freeze-dried dinners, instant soups, instant oatmeal, etc) and hot drinks. When planning your menu, don't bring any items that require extensive preparation, cooking or simmering. We are able to provide you with boiling water, but do not have the ability to actually cook food items.
Consider a Whittaker Mountaineering Meal Package For Well Balanced Meals
Designed By Climbers For Climbers

Reserve Your Meal Package
Print all Trip Details
Print this Page
Payments
Deposit Payments:* A non-refundable deposit payment of $350 per person secures your reservation.
Balance Payments:* The balance payment is due 90 days prior to the start of your program. We will send a payment reminder approximately three weeks before your payment due date. If your balance payment is not received 90 days prior to the start of you program, your reservation will be cancelled and all fees forfeited. Trips departing within 90 days must be paid in full at the time of reservation.
*Payments $2,500 or less may be made via MasterCard, Visa, e-check, check, or wire transfer. Payments over $2,500 must be made via e-check, check, or wire transfer.
Cancellation
The $350 per person deposit is non-refundable. Written notification is required for all cancellations.
Once RMI receives your written notification of cancellation, the following apply:
If you cancel 60 or more days before the start of your program, program fees will be refunded less the non-refundable $350 per person deposit.
If you cancel less than 60 days before the start of your program, no refunds will be issued.
Unfortunately, due to the time-sensitive nature of our business, and the difficulty in re-booking a trip close to departure, we cannot make exceptions to this policy.
Cancellation Insurance
We strongly suggest that everyone purchase travel insurance. Please see our Travel Page for details.
Change of Date
Date changes are subject to availability and apply only to the current climbing season. Date changes may be requested at any time up to 30 days prior to your departure date for a $100 fee per person. There are no date changes allowed less than 30 days before departure.
Risk Management
Managing risk is RMI's number one priority. Our guides manage significant hazards inherent in mountaineering such as avalanches, ice fall, rock fall, inclement weather, and high winds, but they cannot eliminate them.
Please clearly understand that mountaineering is inherently a hazardous sport. You are choosing to engage in an activity in which participants have been injured and killed. While those accidents are indeed infrequent, they may occur at any time and be out of our control. We ask that participants acknowledge the risk and hazards of mountaineering, and make their own choices about whether or not to engage in this activity.
Climber Responsibilities
Mountaineering is both an individual challenge and a team endeavor. Some of the responsibility for the team is carried by the individual climbers. For this reason, we ask that each participant:
is physically and mentally fit, properly attired and equipped, and continues to self assess throughout the program to ensure as safe a climb as possible. If a climber's own physical fitness limits his or her ability to safely continue upward, that can have a negative impact on the summit experience or opportunity of other climb participants.
honestly and accurately describe themselves, in terms of fitness, health and skills, and their equipment to their guides, and that they adhere to the advice of their professional mountain guide.
If the Participant decides to leave a trip at any time after the start of the trip and prior to its conclusion, he or she will not be entitled to a refund.
RMI reserves the right to dismiss the Participant from a trip or to send the Participant to a lower altitude at any time if RMI determines, in its sole discretion, that the Participant is not physically, technically, or psychologically prepared for or capable of participating in the program.
Age-Appropriate Guidelines & Restrictions
In the interest of the safety and well-being of all participants, RMI adheres to the following age-appropriate guidelines:
Ages 15 & under: No participants age 15 & under
Ages 16 & 17: Accompanied by parent or legal guardian
Ages 18 & above: No restrictions
An individual's birthday must precede the departure date of the program. For example: a 15 year old who turns 16 on July 1 may participate on a program beginning July 2.
Under-aged participants on Private Climb or Group Climb programs are assessed on an individual basis.
Both the parent or legal guardian and the Participant must sign all forms. A minor climber must be accompanied by their parent/legal guardian throughout the entirety of the program. If either climber must descend at any time during the program, both climbers must descend together.
Summit Attempt
RMI cannot guarantee that you will reach the summit. Weather, route conditions, your own abilities, or the abilities of other climbers may create circumstances that make an ascent unsafe, and you or your entire party may have to turn around without reaching the summit. Failure to reach the summit due to a person's own lack of fitness or to any of the events associated with mountaineering (such as weather, route, avalanche hazard, team dynamics, etc.), are not Rainier Mountaineering, Inc.'s responsibility and will not result in refund or reschedule.
General Policies
RMI's program schedule and itineraries are subject to change or adjustment based on a number of factors. These include, but are not limited to, route conditions, weather, terrain, or other environmental factors, currency fluctuations, changes in outfitting costs, government instability, and many other factors. RMI has complete discretion to change plans to accommodate any of these or other factors, including but not limited to increases in program fees, changes to program schedule or itinerary, and changes to guides or staff, as necessary for the proper and safe conduct of the program.
We reserve the right to cancel any program due to inadequate signups, weather or route conditions, or other environmental factors, government instability, unpredictable social, political or military conditions in countries that we travel. In such a case, you will receive a full refund of program fees paid to RMI, less any non-refundable payments that have been paid to our outfitters prior to the cancellation of the trip. When a trip is cancelled, RMI cannot be responsible for any additional expenses incurred in preparing for the program (i.e., airline tickets, equipment purchase or rental, hotel reservations).
The Participant understands and agrees that RMI assumes no responsibility or liability in connection with any travel and hospitality service provided to the Participant by others in connection with the trip, including but not limited to the services provided by airlines, hotels, and motor vehicle operators, and that RMI is not responsible for any act, error, omission, or any injury, loss, accident, delay, irregularity, or danger by a supplier of travel or hospitality services to the Participant in connection with the RMI program.
Print all Trip Details
Print this Page
What is the Climber-to-Guide Ratio on this program?
Our climber-to-guide ratio is 3:1 on the Disappointment Cleaver and Ingraham Direct routes.
What is the maximum group size?
The maximum group size of any program anywhere on Mt. Rainier is 12 individuals, including guides.