The Alaska Range: The rugged chain of glacier clad peaks slicing through Alaska's interior. It is home to the biggest, most impressive mountains in North America and crowned by 20,320' Mt. McKinley. Also known as Denali, McKinley is the highest mountain in North America and one of the World's Seven Summits.
RMI's guides have been climbing and guiding in the Alaska Range for over half a century. Lou Whittaker first climbed Mt. McKinley in 1960, marking the 12th ascent of the mountain. In 1975 Joe Horiskey led RMI's first guided ascent of Mt. McKinley and since then RMI has led over 300 Expeditions of Denali. With over 40 years of history on the mountain RMI is the longest running guide service working on Mt. McKinley today.
Whether you are looking to climb Mt. McKinley's classic West Buttress, spend a week on the Kahiltna Glacier training with our Alaska Mountaineering Seminar, learn alpine ice and rock skills in Little Switzerland, or climb the Upper West Rib of Denali, experience matters. RMI has over three decades of accumulated knowledge on the slopes of Denali passed down through generations of RMI guides for the purpose of a safe and successful expedition. Our guides are second to none in the guiding industry and we are especially proud of our history within Denali National Park & Preserve.
Alaska (May - July)
More Information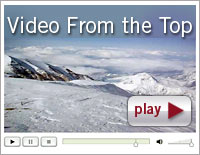 RMI has an outstanding safety and success record on Mt. McKinley. The overall success rates on McKinley's West Buttress stand at 54% over the past 9 years according to the National Park Service, while RMI's expedition success rate for that same period stands at 82%. Our climbs' success is due to the high quality of guides leading these climbs, our careful expedition preparation and structure and our promotion and cultivation of aspiring Denali climbers.
RMI addresses all the details of our expeditions, from our expedition organization and planning to the training and development of our Denali guides. We give our expeditions the support and autonomy to make the best decisions on the mountain, with no fixed end dates and thoroughly equipped and independent expeditions. This flexibility allows our teams to take into account considerations such as weather, route conditions, acclimatization and the strength of the climbing team while on the mountain. We move higher when the weather permits and climbers are ready, not just because of the need to adhere to a pre-determined schedule or the movement of other teams.
RMI is devoted to the Denali environment and the safety, success, and enjoyment of our Denali climbers. Leave No Trace (LNT) environmental ethics training is a strong component of all climbing programs. We work closely with aspiring Denali climbers to ensure they are prepared for the expedition. As a result we have strong and compatible teams on the mountain - a benefit to everyone involved. Expedition Skills Seminar training needs to be completed prior to Denali registration, as these programs give you a realistic appraisal of what to expect on a climb of this nature. The ascent of Denali truly is major league mountaineering, and likely the trip of a lifetime. There is much to learn about becoming an expedition climber, and we are available to assist you in every phase; from answering pre-climb questions to the summit and the return, safely.
As you prepare for Alaska, keep in mind there is no environment better than Mt. Rainier or Mt. McKinley for gaining the confidence and required technical skills for glacier climbing at altitude. Rainier's combination of weather, altitude and terrain closely resembles the environment of Denali, and presents limitless training possibilities. Whether you require technical training, additional glacier climbing experience, or perhaps just a mountaineering refresher, an RMI Expedition Skills Seminar on Mt Rainier or Alaska Mountaineering Seminar - Expedition, Ecuador Seminar or Peru Seminar, is the best way to prepare for joining a guided expedition to Mt. McKinley.
Authorized Concessioner
RMI Expeditions is an authorized concessioner of Denali National Park and Preserve.