Climb Details
Cost:
Deposit:
Length:
Difficulty:
Type:
$870
$350
3 day(s)


Mountaineering
Upcoming Climbs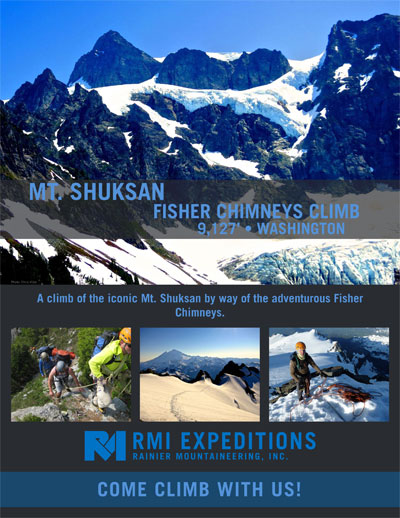 Download Brochure
Add Program To Favorites
"I just wanted to shoot you a quick note and let you know what an AWESOME time I had climbing Mt. Shuksan. We had a super fun climb, made the summit, and I got some much desired practice on rock, ice, and steeper snow."

— Chris V. | Read More Testimonials
Mt. Shuksan's Fisher Chimneys route is an exciting alpine ascent of a classic North Cascades peak. Climb highlights include:
Climb the rocky Fisher Chimneys to a high camp perched on a narrow ridge overlooking the North Cascades.
Approach through spectacular temperate and sub-alpine forests, traverse interesting glaciers and ascend moderate alpine rock to Mt. Shuksan's summit.
Enjoy a complete alpine experience with three full days on route with expert leadership and a 2 to 1 climber to guide ratio.
Mount Shuksan (9,127 feet) is a stunning massif of ridges, pinnacles, and glaciers located in Washington's North Cascades. The mountain has become an icon for climbers in the northwest with its rugged beauty and rich mountaineering history.
The Fisher Chimneys route on the mountain's northwest side offers an abundance of moderate, enjoyable climbing. The alpine rock and glaciated terrain which make up the climb are not difficult – but there is a lot of it! That is why we break the climb into three days. We take time to enjoy the climbing and spend two nights at a favorite high camp.
On day one of our program we ascend a scenic glacier-carved valley past Lake Ann and climb the interesting rock gully systems known as the Fisher Chimneys. High camp sits at the base of the glacier above at 6,700 feet. On our second day we navigate three different glaciers, climb low 5th-class rock on the summit pyramid and enjoy stunning views from the top. We then descend the route to our high camp for another night and climb down and out the following day. Taking three days to climb this tremendous route ensures greater success and more time to enjoy one of the range's premier alpine adventures.
We lead the Fisher Chimneys Climb at a 2 to 1 climber to guide ratio ensuring that you receive a high degree of hands-on instruction and have a small, efficient rope team during the summit ascent.
This intermediate level program requires great physical condition and previous knowledge of mountaineering techniques.
THE RMI DIFFERENCE
The Mountain Guides at RMI have a reputation as top guides in the United States. RMI Guides participated in some of America's first ventures into the far reaches of the Himalaya. Years of expedition guiding and alpine climbing around the world have built a core of consummate professional guides.
Our guides are celebrated teachers and trainers, known for their leadership as well as their character. They possess the compassion, enthusiasm and ability to empower others and inspire them forward. Such qualities may only be found in people at the top of their profession. Despite their vast experience, RMI Guides still remember their own first steps into the mountains, and enjoy helping other climbers reach new heights.
Our exceptional focus to detail, our unparalleled level of climber attention, and our genuine excitement for these adventures make our programs truly memorable.
SAFETY
RMI strives to create the safest mountain experience possible. Our experienced team of guides focuses on leading fun and successful climbs without compromising safety. Each climb includes careful pre-trip planning, daily weather forecasts, avalanche forecasts, and diligent attention to detail. All RMI Guides are highly trained in remote medicine and rescue skills and carry comprehensive medical kits, rescue equipment, and radio communication equipment throughout the program. Regardless of the objective or the destination, safety remains RMI's top priority.
As you prepare for your upcoming adventure please feel free to contact our office and speak directly to one of our experienced guides regarding equipment, conditioning, the route, or any other questions you may have about our programs. We are available Monday thru Friday 8:30 a.m. to 4:00 p.m. at (888) 89-CLIMB or info@rmiguides.com.
Day 1: ORIENTATION & APPROACH TO HIGH CAMP
7:30 a.m. Meet at the Ranger Station in Glacier, WA.
The group meets at the Ranger Station in Glacier for introductions, and personal gear check. Please see our Travel Details document for driving directions and carpool opportunities. We then carpool to our trailhead located at Artist Point, the very end of the Mt. Baker Highway. The climb begins with a moderate hike to Lake Ann after which the angle of our trail increases as we switchback and scramble to the base of the Fisher Chimneys. The team ropes up for the Chimneys, a series of 3rd and 4th class rock gullies taking approximately one to two hours to climb and bringing us to the base of the White Salmon Glacier. This moderate glacier leads us to high camp at 6,700 feet. At high camp we prepare relax for the evening and enjoy the spectacular vistas.
Climbing the Fisher ChimneysReaching High Camp
Day 2: SUMMIT DAY
Summit day begins with an alpine start to allow ample time for this full day of climbing. We ascend the moderate snow and ice slopes of Winnie's Slide and the Upper Curtis glacier eventually gaining the south side of the mountain. Now on the Sulphide Glacier we continue up to the routes final crux, Mt. Shuksan's summit pyramid. The 600 feet of climbing on the summit pyramid constitutes some of the best climbing on the route. Kicking steps and using ice axes for balance, we move up steep snow and make some belayed moves on the 4th and 5th class rock. From the top we enjoy unparalleled views of Washington's Cascade Range.
The descent involves rappels and belayed down-climbing to gain the glacier. We reverse our route down the Sulphide and Upper Curtis Glaciers back to high camp for the night.
Summit DayClimbing the Summit Pyramid
Day 3: DESCENT TO TRAILHEAD
Another alpine start and we reverse our route down the White Salmon Glacier, through the Fisher Chimneys and the four mile hike to the trailhead. The trip concludes with a celebratory lunch in Glacier. Those with a plane to catch should plan for a three and a half hour drive from the trailhead to Seattle, with the group usually arriving there in the early evening.
Mt. Shuksan - Fisher Chimneys Equipment List
The following is a list of required equipment. We may encounter a variety of weather conditions throughout our climb, including rain, wind, snow, sleet and extreme heat. Skimping on equipment can jeopardize your safety and success, so we want you to think carefully about any changes or substitutions you are considering. If you have questions regarding the equipment needed for your upcoming climb, give us a call and speak directly to one of our experienced guides.
Most of the required equipment is available for rent or purchase from our affiliate Whittaker Mountaineering. RMI climbers receive a 10% discount on new clothing and equipment items ordered from Whittaker Mountaineering. This offer excludes sale items. For internet orders, please use the discount code RMI2015.
Pack & Bag
Guides' Pick
Technical Gear
Guides' Pick
Head
Guides' Pick
Hands
Upper Body
Lower Body
Feet
Guides' Pick
Miscellaneous Items
Guides' Pick
Toilet Articles
Utensils
Guides' Pick
Pre-Trip Checklist
Provided Equipment
On the Fisher Chimneys, Mt. Shuksan Climb you will need three breakfasts, three trail lunches, and two dinners. To plan your meals, check out the following examples and suggestions of the types of food that work well. .
Breakfast
Single-serving instant oatmeal or Cream-of-Wheat makes a good main course fare. A variety of granola bars, pastries, fruit and a hot drink mix of coffee, tea, cocoa or cider are suggested.
Lunch/Snacks
Your "lunches" are taken in the field throughout the day during short 10 to 15 minute breaks. We suggest crackers, pizza, candy bars, jerky, chips, cookies, trail mix, fruits, Gu, energy bars, and hard candies. Drink mixes such as Gatorade and Kool-Aid help flavor your water. Add peanut butter, cream cheese, hard cheese, or pepperoni for additional calories and taste. If you enjoy bread items, bagels work well. Include some salty snacks to replenish lost salts.
Dinners
Freeze-dried entrees are very convenient; it is best to be familiar with their taste (and the effects they may have on your stomach) in advance of your program. Instant soups and Cup-o'-Noodles are popular supplements to your main course. As an alternative, you might consider bringing a cold main dish such as chicken, pizza, sandwiches, pasta salads or stir-fry. In addition, bring coffee, tea, cocoa or cider to warm you up before bedtime.
Don't worry too much about the nutritional aspect of meals; concern yourself more with a high calorie intake. Most importantly, choose a variety of foods that you like to eat. One of the normal, albeit disconcerting, adjustments to altitude is a slight loss of appetite.
Once we are at camp, ample cold water is available for drinking and replenishing water bottles. Hot water will also be provided for your meals (freeze-dried dinners, instant soups, instant oatmeal, etc) and hot drinks. When planning your menu, don't bring any items that require extensive preparation, cooking or simmering. We are able to provide you with boiling water, but do not have the ability to actually cook food items.
Qualifications
This trip is open to individuals in excellent physical condition with previous climbing experience. In order to participate, each team member is asked to possess, at a minimum, the following skills and experience:
An RMI Expedition Skills Seminars on Mt. Rainier or in Alaska or an equivalent multi-day mountaineering seminar.
Familiar with ice axe and crampon use, team rope travel skills, and ice axe arrest techniques.
Physical Fitness Training
Mountaineering requires a high degree of physical stamina and mental toughness. Even for the healthiest and fittest individuals, climbing mountains qualifies as an extremely challenging endeavor.
Start immediately. Start a rigorous fitness and training program now with the goal of arriving in top physical condition and confident in your skills.
Be intentional. Focus on gaining the necessary strength, stamina and skills to meet the physical and technical demands of the climb.
Be sport-specific. The best fitness and training program mimics the physical and technical demands of your climbing objective. The closer you get to your program date, the more your training should resemble the climbing.
For this Shuksan - Fisher Chimneys Climb, you are preparing for:
Steep hiking, climbing and glacier travel with a 45-50 lb load
A 12+ hour summit day
Mountaineering techniques which require core strength and flexibility
Nothing ensures a personally successful adventure like your level of fitness and training. Bottom line: Plan on being in the best shape of your life and ready for a very challenging adventure!
Below are approximate outlines of the program's physical demands that will be helpful in planning your training schedule and goals:
Total Hiking Time

Elevation Gain / Loss

Total Distance

Pack Weight

DAY 1 - Austin Pass to High Camp
DAY 2 - High Camp to Summit and Return

Gain = 2,427'
Loss = 2,427'

3 Miles
Round Trip

DAY 3 - Descend to Trailhead
Please refer to our Resources for Mountaineering Fitness and Training for detailed fitness and training information.
Acclimatization
No acclimatization is necessary for this program.
Travel Consultant
RMI has partnered with Erin Rountree to provide our clients with comprehensive travel support. As an independent agent of the Travel Society, she has booked countless miles for adventure travelers across the globe. We have been working with Erin for the last 8 years, and she is very knowledgeable about the travel needs of our programs. Please call (208) 788-2870 or email at etravel@cox.net.
Getting There
Our meeting place is the Ranger Station in Glacier, WA. Most climbers will fly into the Seattle-Tacoma International Airport the evening before the program and rent a car for the 2 1/2 hour drive. Click here for driving directions.
Ride Share: If you are participating in a climb and are interested in sharing a ride, please post your information in the "Ride Share" forum of your North Cascades Discussion Board by logging into your RMI Account.
Area Accommodations
Spend the night before the program in either the Seattle area or Bellingham.
Travel Insurance
We strongly encourage everyone to purchase travel insurance which can cover trip cancellation, interruption, delay, baggage loss or delay, medical expenses, medical evacuation, and more. Travel insurance offers the best possible protection in the event of a sudden, unexpected illness or injury prior to or when traveling. Note that many of the insurance options can be purchased under one policy but some coverage may only be available if purchased within 14 days of making your trip deposit or if purchased as an upgrade to an existing policy rather than as a stand-alone option.
Cancellation Insurance: Cancellation insurance offers protection of deposit and registration funds should you need to cancel from a program. This might be due to an injury during training, a personal illness, or it might be due to extenuating circumstances, such as family emergencies. Policies are determined based upon your home state, check with the insurance providers listed below for specific coverage details and options, including adventure/sports coverage*.
*Adventure/Sports Coverage: Most standard policies do not cover climbing or mountaineering. You can purchase Adventure/Sports Coverage as an upgrade to a standard policy. Please be sure to check with your provider and their description of coverage to make sure the policy you are purchasing provides you with adequate protection.
For more information please visit one of the websites below, or contact your local travel agent.
Weather
For updated North Cascades weather forecasts, click here.
Tipping
Our guides work hard to ensure your well being and success on the mountain. If you have a positive experience, gratuities are an excellent way to show your appreciation. Amounts are at your discretion and should be based on your level of enjoyment. Tips for excellent service normally average 10 – 15% of the cost of the program.
Facts
North Cascades National Park has over 300 glaciers, more than any other park in the lower 48 states. More than half the glaciers in the 48 states are concentrated in this mountainous wilderness region called the North Cascades.
For more facts click here, and for even more click here.
Resources
General Information on North Cascades National Park.
North Cascades National Park map.
Communities & Activities outside North Cascades National Park, click here.
Payments
Deposit Payments: A deposit payment of $350 per person secures your reservation. Deposit payments may be made via MasterCard, Visa, e-check, check, or wire transfer.
Balance Payments: The balance payment is due 90 days prior to the start of your program, and we will send a payment reminder approximately three weeks before your payment is due. If your balance payment is not received within 90 days of the program, your reservation will be cancelled and all fees forfeited. Trips departing within 90 days from the reservation date must be paid in full at the time of reservation. Please note that balance payments may be made via check, e-check or wire transfer only.
Cancellation
Once we receive written notification (e-mail or mail) that you are canceling an individual participant or your entire reservation the following fees will apply:
A fee of $350 per person will be charged for cancellations made more than 60 days before departure.
There will be no refunds for cancellations made less than 60 days before your program.
Unfortunately, due to the time-sensitive nature of our business, and the difficulty in re-booking a trip close to departure, we cannot make exceptions to this policy.
Cancellation Insurance: We strongly suggest that everyone purchase travel insurance. Please see our Travel Page for details.
Change of Date
Date changes are subject to availability and apply only to the current climbing season. Date changes may be requested at anytime up to 30 days prior to your departure date for a $100 fee per person. There are no date changes allowed less than 30 days before departure.
Risk Management
Safety is RMI's number one priority. Our guides manage significant hazards inherent in mountaineering such as avalanches, ice fall, rock fall, inclement weather, and high winds, but they cannot eliminate them. RMI guides draw from their wealth of experience and training to make sound decisions that improve your chance of reaching the summit without compromising the necessary margin of safety.
Please clearly understand that mountaineering is inherently a hazardous sport. You are choosing to engage in an activity in which participants have been injured and killed. While those accidents are indeed infrequent, they may occur at any time and be out of our control. We ask that participants acknowledge the risk and hazards of mountaineering, and make their own choices about whether or not to engage in this activity.
Climber Responsibilities
Mountaineering is both an individual challenge and a team endeavor. Some of the responsibility for the team is carried by the individual climbers. For this reason, we ask that each participant:
is physically and mentally fit, properly attired and equipped, and continues to self assess throughout the program to ensure as safe a climb as possible. If a climber's own physical fitness limits his or her ability to safely continue upward, that can have a negative impact on the summit experience or opportunity of other climb participants.
honestly and accurately describe themselves, in terms of fitness, health and skills, and their equipment to their guides, and that they adhere to the advice of their professional mountain guide.
Age-Appropriate Guidelines & Restrictions
In the interest of the safety and well-being of all participants, RMI adheres to the following age-appropriate guidelines and restrictions on all climbing programs, domestic and international.
Ages 15 & under: No participants age 15 & under
Ages 16 & 17: Accompanied by parent or legal guardian
Ages 18 & above: No restrictions
An individual's birthday must precede the departure date of the program. For example: a 15 year old who turns 16 on July 1 may participate on a program beginning July 2.
A minor climber must be accompanied by their parent/legal guardian throughout the entirety of the program. If either climber must descend at any time throughout the program, both climbers must descend together.
Under-aged participants on Private Climb or Group Climb programs are assessed on an individual basis.
Summit Attempt
RMI cannot guarantee that you will reach the summit. Weather, route conditions, your own abilities, or the abilities of other climbers may create circumstances that make an ascent unsafe, and you or your entire party may have to turn around without reaching the summit. Failure to reach the summit due to a person's own lack of fitness or to any of the events associated with mountaineering (such as weather, route, avalanche hazard, team dynamics, etc.), are not Rainier Mountaineering, Inc.'s responsibility and will not result in refund or reschedule.
General Policies
Any Participant under the age of 18 must be accompanied on the trip by a parent or legal guardian and both the Participant and parent or legal guardian must sign all forms.
RMI's program plans and itineraries are subject to change or adjustment based on a number of factors. These include, but are not limited to, route conditions, weather, terrain, and many other factors. RMI has complete discretion to change plans to accommodate any of these or other factors, including discretion to change program schedule or itinerary, and change guides or staff, as necessary for the proper and safe conduct of the program.
We reserve the right to cancel any program due to inadequate signups, weather or route conditions. In such a case, a full refund is given; however, RMI cannot be responsible for any additional expenses incurred in preparing for the program (i.e., airline tickets, equipment purchase or rental, hotel reservations).
If the Participant decides to leave a trip at any time after the start of the trip and prior to its conclusion, he or she will not be entitled to a refund.
RMI reserves the right to dismiss the Participant from a trip or to send the Participant to a lower altitude at any time if RMI determines, in its sole discretion, that the Participant is not physically, technically, or psychologically prepared for or capable of participating in the program.
The Participant understands and agrees that RMI assumes no responsibility or liability in connection with any travel and hospitality service provided to the Participant by others in connection with the trip, including but not limited to the services provided by airlines, hotels, and motor vehicle operators, and that RMI is not responsible for any act, error, omission, or any injury, loss, accident, delay, irregularity, or danger by a supplier of travel or hospitality services to the Participant in connection with the RMI program.
RMI recommends and strongly advises that the Participant have or purchase personal life, medical, accident, travel, baggage, trip cancellation, and other insurance that may pertain to participation in the program. The Participant understands that RMI provides no such insurance coverage in connection with the trip.