Climb Details
Cost:
Deposit:
Length:
Difficulty:
Type:
$9500*
$3500
21 day(s)


Mountaineering
* The 2016 price includes round-trip transfer to Talkeetna, three nights lodging in Talkeetna, NPS Mountaineering Permit Fee, and NPS Park Entrance Fee.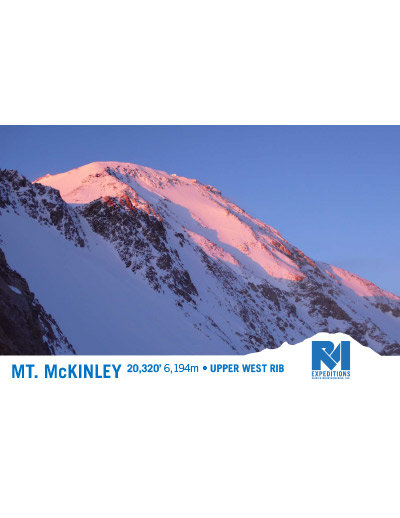 Download Brochure
Add Program To Favorites
Denali (20,310'), formerly known as Mt. McKinley, is the highest peak in North America and considered one of the most impressive mountains in the world. Denali's Upper West Rib Route is an inspiring and aesthetic line that climbs the steep south face from 14,200' to the summit ridge. High altitude, Alaskan weather, and the technical and committing nature of this route have drawn climbers to the Upper West Rib for over 50 years. Expedition highlights include:
Navigate the enormous Kahiltna Glacier up the flanks of Denali, establishing high camp at 14,200' in Denali's Genet Basin.
Weave through the granite rocks and snow ridgeline above Denali's south face on a summit bid up Denali's Upper West Rib.
Join an expedition structured for success: no pre-determined ending date and a flexible itinerary gives our expedition the freedom to make a summit bid on a timeline dictated by the mountain and the climbing team.
Climb with experienced RMI Guides, benefiting from their background, training, and expertise as you venture to high altitudes.
RMI's Upper West Rib Expedition approaches on the West Buttress Route, ascending the Kahiltna Glacier to Advanced Base Camp at 14,200'. We use the approach to acclimate and train before we move onto the Upper West Rib, climbing the prominent ridgeline toward the mountain's summit. The route offers spectacular exposure with climbing 35 -45+° snow, ice, and mixed terrain which requires endurance and stamina for the push from 16,300' to the top of North America. After reaching the summit, we descend the West Rib or return via the West Buttress route, depending on conditions and weather.
The Upper West Rib Expedition is ideal for climbers with strong technical backgrounds and experience at altitude. The climb is led with a 2 to 1 climber to guide ratio and a maximum of 6 climbers and 3 guides. These small ratios ensure extensive personal guidance and the highest level of safety on this committing route.
THE RMI DIFFERENCE
RMI was established in 1969 and is one of America's oldest and most-trusted guide services. We are the largest guide service on Mt. Rainier and Denali and leaders in guiding climbs and treks around the globe. We have guided on Denali since 1975 and have led over 300 expeditions on the mountain.
The remote and inhospitable landscape of Denali's slopes necessitate that all the finer points of an expedition are addressed and our years of leading mountain adventures give us the experience and knowledge to create the best possible trips; we work hard to live up to our reputation as an industry leader. Our preparation before departure helps you with the trip logistics, from the expedition planning, to help with travel plans, to mountain flights with K2 Aviation - so that you can focus on preparing for the climb. RMI does not establish final end dates to our expeditions, giving us the flexibility to take into account considerations such as weather, route conditions, acclimatization and the strength of the climbing team while on the mountain. This flexibility allows us to move higher when the weather permits and climbers are ready, not just because of the need to adhere to a pre-determined schedule.
Our Denali Upper West Rib Expedition is led by RMI's foremost guides and a small climber-to-guide ratio ensures that each climber has the highest level of support possible. Our guides bring years of climbing experience, not only on Denali, but mountains all over the world, from the Andes to the Antarctic to the Himalayas. With over 35 years of accumulated knowledge guiding Denali, our guides are second to none. The guides closely monitor climbers' performance and acclimatization throughout the team's ascent and will make day-to-day variations in order to better your chances of reaching the summit. As you reach higher elevations and test the limits of your experience, the value of an accomplished, highly trained RMI Guide held to our standards cannot be understated.
SAFETY
Safety has always been RMI's top priority and we strive to create the safest mountain experience possible. RMI's experienced team of guides focus on leading a fun and successful climb without compromising safety. We apply the same strict standards of safety we bring to the Antarctic and the Himalayas to our climbs of Denali's Upper West Rib. Careful planning, precise ascent profiles, flexibility in our itinerary, and diligent attention is taken as we venture to high altitudes. Additional resources are stationed at Base Camp and 14,000' Camp and comprehensive medical kits, rescue equipment, and radio and satellite communication equipment are carried with the team throughout the climb.
As you prepare for your upcoming adventure please feel free to contact our office and speak directly to one of our experienced guides regarding equipment, conditioning, the route, or any other questions you may have about our programs. We are available Monday thru Friday 8:30 a.m. to 4:00 p.m. at (888) 89-CLIMB or info@rmiguides.com.
Authorized Concessioner
RMI Expeditions is an authorized concessioner of Denali National Park and Preserve.
Day 1: TRAVEL • 348' | 106m
The team assembles at Anchorage International Airport (ANC). At 4:00 p.m., meet your guides and team at the baggage claim carousel. Our shuttle departs at 4:30 p.m. for Talkeetna, which takes approximately three hours. We stop briefly in Wasilla for a chance to buy groceries for our expedition. Overnight at the Talkeetna Motel.
Day 2: PRE-TRIP PREPARATION AND TRAINING • 348' | 106m
7:00 a.m.: Meet at the Talkeetna Roadhouse
Our main goal today is to get the team ready to fly onto the mountain. After our breakfast meeting, the team attends a National Park Service presentation on expedition climbing and special considerations about Denali National Park & Preserve. Next, we focus on equipment, including an extensive personal gear check and recommendations for what to bring onto the mountain and how to pack for the flight to Base Camp. Finally, we organize the group food and equipment, putting the final touches on our packing for the flight. We enjoy a final meal in town before our expedition begins. Overnight at the Talkeetna Motel.
Preparing in Talkeetna
Day 3: FLY TO KAHILTNA BASE CAMP • 7,300' | 2,225m
After breakfast we meet at K2 Aviation for the bush plane flight to Kahiltna Base Camp, weather permitting. The spectacular scenic flight takes approximately 45 minutes. Kahiltna Base Camp lies at 7,300' on the S.E. fork of the Kahiltna Glacier, approximately 20 miles distant and 13,000' below the South Peak of Denali, at 20,320'. At Base Camp we rig our sleds and review mountaineering skills needed for the climb ahead.
Flying to McKinley Base Camp
Days 4 - 19: THE EXPEDITION
There are many variables on a Denali expedition. While most expeditions average 18 days from Base Camp to Base Camp, we never place an ending date on our programs. We purposely build flexibility into our itinerary to take into account weather, route conditions, acclimatization, and the strength of the climbing team. This flexibility allows us to move higher when the weather permits and climbers are ready. Our experienced guides closely monitor climbers' performance and acclimatization throughout the team's ascent and may make day-to-day variations in order to better our chances of reaching the summit.
We pack each expedition with twenty-two man-days of food. In the event of bad weather, this amount can be stretched several additional days if necessary. Furthermore, there are emergency food rations at Kahiltna Base Camp, in case weather prevents the group from flying off.
The following itinerary is meant to highlight the camps, route details, and a day-to-day outline while on the mountain. It does not take into account any sort of delays.
Day 4: KAHILTNA BASE CAMP TO THE BASE OF SKI HILL • 7,800' | 2,377m
Leaving Kahiltna Base, we descend 400' down Heart Break Hill to the main Kahiltna glacier, where we turn towards McKinley, and travel 5.5 miles up the gently rising glacial rolls. Our camp sits at the base of Ski Hill at 7,800'.
Moving to the base of Ski Hill
Day 5: BASE OF SKI HILL CAMP TO 9,600' CAMP • 9,600' | 2,926m
Ski Hill is the first major elevation gain of the trip. The Kahiltna glacier rises from our camp at the base, towards Kahiltna Pass at 10,000', in a series of rolls. We leave camp, and climb up the glacier to our second camp at 9,600', just below Kahiltna Pass.
Moving to 9,600' Camp
Day 6: 9,600' CAMP TO 11K CAMP • 11,200' | 3,414m
At Kahiltna Pass, the Kahiltna glacier makes a prominent turn to the east, continuing up a glacial valley into our camp in a basin at the base of Motorcycle Hill.
Moving to 11K Camp
Day 7: ACCLIMATIZATION DAY AT 11K CAMP • 11,200' | 3,414m
We spend the day resting, reviewing crampon and self arrest techniques, and sorting loads in anticipation of our carry day.
Resting at 11K Camp
Day 8: 11K CAMP TO CACHE (13,500') • 11,200' | 3,414m
Leaving camp, we climb Motorcycle Hill to a bench with stunning views of the Father and Sons Wall, and the Peters Glacier below. The subsequent climb up Squirrel Hill leads us to the Polo Field, a wide glacial bench at the foot of the West Buttress. We traverse around Windy Corner at 13,300' to our cache site at 13,500'. After leaving our load of group food, fuel, and personal items, we descend back to our tents at 11K Camp.
Carrying gear to the Windy Corner Cache
Day 9: ACCLIMATIZATION DAY AT 11K CAMP • 11,200' | 3,414m
This is an important acclimatization day before our move to 14K camp. We spend the day resting, hydrating, eating, and organizing our loads for our move day.
Day 10: 11K CAMP TO 14K CAMP • 14,200' | 4,328m
After breaking camp we make our move to 14K camp. We once again climb around Windy Corner, and passing our cache site, continue to climb to 14,200' Genet Basin, our home for the next several days.
Moving to 14K Camp
Day 11: 14K CAMP TO CACHE (13,500') • 14,200' | 4,328m
We retrace our steps and descend to our cache site at 13,500'. After retrieving our gear, we return to 14K Camp to spend the afternoon improving our camp and relaxing.
Carrying loads back to 14K Camp
Day 12: ACCLIMATIZATION DAY AT 14K CAMP • 14,200' | 4,328m
The focus of the day is to rest, hydrate, and let our bodies start to adjust to this new altitude. We brush up on technical climbing skills and running belays, as well as sort another load of gear, all in preparation for our carry to the foot of the Upper West Rib.
Rest Day at 14K Camp
Day 13: 14K CAMP TO CACHE (16,300') • 14,200' | 4,328m
We ascend out of the West side of Genet Basin, climbing a series of glaciated rolls to the foot of the Upper West Rib and the Balcony Camp. We cache a load of food, fuel, and equipment at the Balcony Camp to prepare for our summit push. After leaving our loads, we return to 14K Camp for the evening.
Day 14: ACCLIMATIZATION DAY AT 14K CAMP • 14,200' | 4,328m
After a leisurely breakfast we make it our priority to hydrate and fuel throughout the day so that we're prepared for our move to High Camp and the summit push. Depending on weather, we may stretch our legs and take a short walk across Genet Basin to the Edge of the World. From here we can look down almost 7,000' to the N.E. Fork of the Kahiltna, see our first camp at the Base of Ski Hill, and look across the valley to stunning views of 17,402' Mt. Foraker.
Resting at 14K Camp
Day 15: 14K CAMP TO 16K CAMP • 16,300' | 4,968m
We ascend the West side of Genet Basin once again, making our way to the Balcony Camp, where we build camp and settle in for the night.
Day 16: SUMMIT DAY! 20,310' • 17,200' | 5,243m
We climb through snow bands and the granite rocks that form the ridge of the Upper West Rib, overlooking the impressive South Face of Denali. The steep technical climbing gains just less than 3,000', before gaining the Football Field at 19,200'. Six hundred vertical feet of climbing leads us to the top of Pig Hill and the summit ridge. We traverse the airy summit ridge to the top of the South Peak. After celebrating on the summit, we descend the West Buttress route back to 17K Camp. Summit day can be long; you should train for a 12 to 14 hour round trip.
The summit of Denali
Day 17: 17K CAMP TO 11K CAMP • 11,200' | 3,414m
After a well-deserved rest we pack camp and begin our descent back down the West Buttress. We stop briefly at 14K camp to retrieve any cached items before continuing our descent to 11K camp, where we stop for the night.
Descending from High Camp
Day 18: 11K CAMP TO KAHILTNA BASE CAMP • 7,300' | 2,225m
We re-rig our sleds, don our snowshoes, and begin our descent of the main Kahiltna Glacier back to the base of Heartbreak Hill. We then turn our sights back uphill to Kahiltna Base on the S.E. Fork of the Kahiltna.
Descending to the base of Ski Hill
Day 19: BASE CAMP (fly off) • 348' | 106m
We load up the planes and return to Talkeetna to enjoy a hot shower and celebratory team meal. Overnight at the Talkeetna Motel.
Returning to Base Camp
Day 20: TRAVEL
Transfer to Anchorage International Airport (ANC) for our outbound flights.
Denali Upper West Rib Equipment List
The following is a list of required equipment. We may encounter a variety of weather conditions throughout our climb, including rain, wind, snow, sleet and extreme heat. Skimping on equipment can jeopardize your safety and success, so we want you to think carefully about any changes or substitutions you are considering. If you have questions regarding the equipment needed for your upcoming climb, give us a call and speak directly to one of our experienced guides.
Most of the required equipment is available for rent or purchase from our affiliate Whittaker Mountaineering. RMI climbers receive a 10% discount on new clothing and equipment items ordered from Whittaker Mountaineering. This offer excludes sale items. For internet orders, please use the discount code RMI2015.
Pack & Bag
Guides' Pick
Technical Gear
Guides' Pick
Head
Guides' Pick
Hands
Upper Body
Lower Body
Feet
Guides' Pick
Miscellaneous Items
Guides' Pick
Toilet Articles
Personal First Aid Kit
Personal Medications
Utensils
Guides' Pick
Optional Items
Guides' Pick
Pre-Trip Checklist
Provided Equipment
On the expedition you will need lunch snacks for 22 days. Lunch items should weigh about 20 lbs. Breakfasts and dinners are provided by RMI while on the mountain.
Special Dietary Needs: Expedition food is packed well in advance. If you have any dietary restrictions, please let us know at the time of reservation.
Breakfasts and Dinners
Twenty-two man-days of food are carried on the mountain, which can be stretched in the event of bad weather. Additionally, a cache of emergency food is left at Kahiltna Base Camp.
The dinner menu is a combination of fresh food (vegetables, tortillas, cheese), retort entrees (fully cooked meals packaged in sealed containers and heated in hot water), freeze-dried (Mountain House or Richmoor Natural High), and packaged main-course items (Ramen, Lipton Rice or Noodles, Macaroni & Cheese). There is also cup-o-soup and various hot drinks (coffee, tea, cocoa, cider), and dessert. Every attempt is made to assure a variety and adequate quantity.
Breakfasts consist of fresh food (bagels, cream cheese), bacon and eggs, instant oatmeal, instant grits, cold cereal (granola), breakfast bars, and hot drinks (coffee, tea, cocoa, cider).
Properly taking care of oneself on the expedition begins with eating and drinking adequate amounts of food and water. Dehydration is always a concern; inadequate fluid intake can contribute to frostbite and other medical problems. It is recommended to drink 4-5 liters per day at altitude.
Finally, the question of vitamins always comes up. If vitamins are a part of your regular diet, then we recommend bringing those vitamins on the mountain. Otherwise, it is doubtful a person could seriously deplete vitamin stores in a 3-week period.
Lunch/Snacks
The importance of bringing lunch foods that you genuinely enjoy cannot be overstated. Good food is the key to maintaining health and happiness on long expeditions. It is necessary to have foods that stimulate the whole palate in order to combat loss of appetite at altitude. Cover the whole range of taste buds from sweet to sour to salty. Inevitably you will grow tired or even sick of certain types of foods. Thus, you need to have a wide variety of foods to have a larger "rotation" of food options.
In addition to supplying your body with nourishment, food is perhaps the best means for maintaining a positive mental attitude on long expeditions. The mental aspect of mountaineering is possibly the greatest challenge we face as climbers. Anybody can train physically, given enough time, but it is more difficult to prepare for the mental ordeal of waiting for the weather to clear. On poor weather days you will find that having an interesting variety of goodies in your food bag may be the difference between a mental annoyance and mental torture. Besides keeping yourself mentally healthy, a diverse food supply earns you fast friends as you barter with tent mates for savory snacks.
Take care while shopping for your lunch snacks. Don't wait for the last minute. Make a list in advance, and add to it as you generate and remember more ideas. Try to shop at stores that offer a large variety of gourmet and specialty foods, as well as your old, stand-by favorites. Keep in mind that, for the most part, Denali stays cold enough to preserve perishable food for weeks.
Personal lunch suggestions: bagels, tortillas, crackers (Wheat Thins, Triscuits), hummus, Pringles, corn nuts, smoked almonds, roasted cashews, GORP mix (peanuts, M&M's, sunflower seeds, raisins), smoked salmon, fresh veggies (carrots), salami, pepperoni, cheese (pepper jack, Swiss, cheddar), jerky, candy variety (sweet, sour), chocolate bars, hard candies, energy bars (Cliff, Luna), dried fruits (apricots, pineapple, pear), drink mix (Kool Aid, Crystal Light). Perishable food items may be purchased at a grocery store en-route to Talkeetna, but you should have the bulk of lunch items already purchased and packed.
Sample of a guide's personal lunch/supplement food from a 2008 Mt. McKinley Expedition:
* 25 bars: mix of Cliff, Luna, and others
* 2 lbs of almond, dried cranberries and chocolate chip mix
* 2 packages of bagels
* 2 packages of whole wheat tortillas
* 2 blocks of cheese - pepper jack & sharp cheddar
* 1 Hickory Farms summer sausage
* 1 pepperoni stick
* 1 package Little Smokies
* 2 packs of smoked salmon
* 1 pack of turkey jerky
* 2 cans each: clams, oysters
* 1 container of peanut butter & jelly mix
* 2 packages of crackers (Chicken in a Biscuit & Wheat Thins)
* 2 cans of potato chips (Pringles)
* 2 lbs + GORP mix
* 1 box of Ginger Snaps
* 1 box of graham crackers
* 1 container of hummus
* 1 bag of carrots
* 1 package of dried mangos
* 1 bag of chocolate covered espresso beans & dried blueberries
* 25 mixed candies (lifesavers, jolly ranchers, gummy worms, sweet tarts, toffee, mints)
* 1 small container of sweet mustard
* Gatorade mix & small travel size Crystal Light packets
Qualifications
Our Upper West Rib program is for climbers who are in excellent physical condition and have more extensive climbing experience.
This trip is open to individuals who possess:
Excellent physical fitness.
Formal mountaineering skills training through an RMI Expedition Skills Seminar on Mt. Rainier or in Alaska, Ecuador or Peru or on an equivalent multi-day mountaineering seminar.
Familiar, competent and proficient with the following skills:

Ice axe self and team arrest, with and without a backpack
Cramponing, including flat-footing and front-pointing
Team rope travel skills
Snow and ice anchors
Belaying
Crevasse rescue (from both the victim and rescuer perspectives, and considering heavy packs and sleds)
Fixed line travel with mechanical ascenders

Familiar with the skills needed in a cold mountain environment:

Personal care in cold conditions
Snow camp construction

Previous glacier travel experience.
A minimum of two snow/ice climbs of approximately 2,000 feet in length. These climbs must include pitches consistently between 35 - 50 degrees in angle.
Recommended climbing experiences prior to Denali's Upper West Rib include:
Previous experience at altitude (Elbrus, Peru, Ecuador, etc.). While not a substitute for the necessary skills, previous altitude is always a benefit.
Technical experience on shorter demanding climbs such as:
Mt. Rainier's Liberty Ridge or Kautz Routes (Washington).
Mt. Baker's North Ridge (Washington).
Mt. Adam's Adams Glacier (Washington).
Mt. Hood's Leuthold Couloir (Oregon).
Mt. Shasta's Casaval Ridge or Hotlum-Bolam Ridge (California).
Mt. Whitney's Mountaineer's Route (California).
Mt. Owen's Koven Couloir in the Tetons (Wyoming).
Mt. Colden's Trap Dike in the Adirondacks (New York).
Chapel Pond's Chapel Pond Slab or Chouinard Gulley in the Adirondacks (New York).
Gothic's North Face in the Adirondacks (New York).
Mt. Washington's Pinnacle Gully or Odell's Gully in the White Mountains (New Hampshire).
Mt. Willey's Slide in the White Mountains (New Hampshire).
Fitness for Mountaineering
Mountaineering requires a high degree of physical stamina and mental toughness. Even for the healthiest and fittest individuals, climbing mountains qualifies as an extremely challenging endeavor.
Start immediately. Start a rigorous fitness and training program now with the goal of arriving in top physical condition and confident in your skills.
Be intentional. Focus on gaining the necessary strength, stamina and skills to meet the physical and technical demands of the climb.
Be sport-specific. The best fitness and training program mimics the physical and technical demands of your climbing objective. The closer you get to your program date, the more your training should resemble the climbing.
For Denali, you are preparing for:
Steep climbing and glacier travel with a 50-65 lb load, including sled pulling
Strenuous physical activity for multiple hours a day for multiple consecutive days
A 12-14+ hour summit day
Mountaineering techniques which require core strength and flexibility
Nothing ensures a personally successful adventure like your level of fitness and training. Bottom line: Plan on being in the best shape of your life and ready for a very challenging adventure!
Please refer to our Resources for Mountaineering Fitness and Training for detailed fitness and training information.
Acclimatization
The key to climbing high is proper acclimatization. Our program follows a calculated ascent profile which allows time for your body to adjust to the altitude.
Excellent physical conditioning significantly increases your ability to acclimatize as you ascend. Climbers in excellent physical condition simply have more energy to commit to the acclimatization process throughout the days and nights of the ascent, allowing their bodies to adjust to the altitude more easily.
Finally, physical performance and acclimatization are also related to how well you have taken care of yourself throughout the hours, days and weeks prior to summit day. Arriving healthy and well-rested, maintaining proper hydration and caloric intake, and protecting against unnecessary heat loss (staying warm) are all key factors in an individual's success on an expedition such as this.
Travel Consultant
RMI has partnered with Erin Rountree to provide our clients with comprehensive travel support. As an independent agent of the Travel Society, she has booked countless miles for adventure travelers across the globe. We have been working with Erin for many years, and she is very knowledgeable about the travel needs of our programs. Please call (208) 788-2870 or email at etravel@cox.net.
Air Travel
Climbers need to arrive at Anchorage International Airport (ANC) by 3:30 pm on Day 1 of the program. The group will meet at 4:00 p.m., Alaska Airlines domestic baggage claim, carousel #1.
If your flight cannot arrive in Alaska before 3:30 p.m. it will be necessary to arrive a day earlier, and go to the airport to meet the team.
Airfare should be booked to depart Anchorage one month after your arrival date. When you return to Anchorage, you can reschedule your return flight at the ticket counter or over the phone. Depending on the airline, a change of date penalty is usually charged at this time. We have found scheduling a future date usually works better than an open-ended ticket or missing an early return date.
Travel Insurance
We strongly encourage everyone to purchase travel insurance which can cover trip cancellation, interruption, delay, baggage loss or delay, medical expenses, medical evacuation, and more. Travel insurance offers the best possible protection in the event of a sudden, unexpected illness or injury prior to or when traveling. Note that many of the insurance options can be purchased under one policy but some coverage may only be available if purchased within 14 days of making your trip deposit or if purchased as an upgrade to an existing policy rather than as a stand-alone option.
Cancellation Insurance: Cancellation insurance offers protection of deposit and registration funds should you need to cancel from a program. This might be due to an injury during training, a personal illness, or it might be due to extenuating circumstances, such as family emergencies. Policies are determined based upon your home state, check with the insurance providers listed below for specific coverage details and options, including adventure/sports coverage*.
*Adventure/Sports Coverage: Most standard policies do not cover climbing or mountaineering. You can purchase Adventure/Sports Coverage as an upgrade to a standard policy. Please be sure to check with your provider and their description of coverage to make sure the policy you are purchasing provides you with adequate protection.
For more information please visit one of the websites below, or contact your local travel agent.
Getting to Talkeetna
We will arrange a transfer from Anchorage to Talkeetna at 4:30 p.m. the day your program begins. Please arrive in Anchorage no later than 3:30 p.m. Talkeetna is a three-hour drive from Anchorage. If you are traveling to Talkeetna on your own, please let RMI know in advance that you will not require transportation.
Weather
Denali's weather forecast is updated through the National Weather Service
Tipping
Our guides work hard to ensure your well being and success on the mountain. If you have a positive experience, gratuities are an excellent way to show your appreciation. Amounts are at your discretion and should be based on your level of enjoyment. Tips for excellent service normally average 10 – 15% of the cost of the program.
Resources
Bass, D., Wells, F., Ridgeway, R. Seven Summits 1986
Beckey, Fred Mount McKinley: Icy Crown of North America 1993
Bezruhka, Stephen Altitude Illness - Prevention & Treatment 2001
Cole, Terence The Sourdough Expedition: Stories of the Pioneer Alaskans Who Climbed Mount McKinley in l910 1985
Davidson, Art Minus 148: The Winter Ascent of Mount McKinley 1986
Houston, Charles Going Higher: The Story of Man and Altitude 1987
Mason, Gene Minus Three 1970
Michener, James A. Alaska 1988
Moore, Terris Mount McKinley: The Pioneer Climbs 1981
Randall, Francis Denali Diary: Letters from McKinley 1987
Selters, Andy Glacier Travel & Crevasse Rescue 1990
Sherwonit, Bill To The Top of Denali 1990
Sherwonit, Bill Denali: The Complete Guide 2002
Snyder, Howard The Hall of the Mountain King 1973
Stuck, Hudson The Ascent of Denali 1914
Washburn, B., Roberts, D. Mount McKinley - The Conquest of Denali 1991
Waterman, Jon High Alaska 1989
Waterman, Jon Surviving Denali: Accidents 1910 - 1990
Payments
Deposit Payments: A deposit payment of $3,500 per person secures your reservation. Deposit payments may be made via MasterCard, Visa, e-check, check, or wire transfer.
Balance Payments: The balance payment is due 120 days prior to the start of your program, and we will send a payment reminder approximately three weeks before your payment is due. If your balance payment is not received within 120 days of the program, your reservation will be cancelled and all fees forfeited. Trips departing within 120 days from the reservation date must be paid in full at the time of reservation. Please note that balance payments may be made via check, e-check or wire transfer only.
Cancellation
Once we receive written notification that you are canceling an individual participant or your entire reservation the following fees will apply:
A fee of $2,500 per person will be charged for cancellations made more than 120 days before departure.
There will be no refunds for cancellations made less than 120 days before your program.
Unfortunately, due to the time-sensitive nature of our business, and the difficulty in re-booking a trip close to departure, we cannot make exceptions to this policy.
Cancellation Insurance: We strongly suggest that everyone purchase travel insurance. Please see our Travel Page for details.
Change of Date
Date changes are subject to availability and apply only to the current climbing season. Date changes may be requested at anytime up to 60 days prior to your departure date for a $250 fee per person. There are no date changes allowed less than 60 days before departure.
Land Cost
The current fee includes:
RMI Leadership
Ground transportation between Anchorage and Talkeetna
Hotel accommodations in Talkeetna for two nights at the start of the trip and one night at the end of the trip*
NPS Mountaineering Permit Fee
Denali National Park Entrance Fee
Breakfast and dinner while on the mountain
Group equipment (tents, ropes, stoves, fuel, sleds, etc.)
Bush pilot service between Talkeetna and Kahiltna Base Camp as stated in the itinerary
The fee does not include:
Airfare to Anchorage International Airport (ANC)
Hotel accommodations in Talkeetna not included above
Meals while not on the mountain
Lunch during the climb
Customary guide gratuities
Bush pilot fees if returning from the mountain early
* Accommodations are based on double occupancy.
Risk Management
Managing risk is RMI's number one priority. Our guides manage significant hazards inherent in mountaineering such as avalanches, ice fall, rock fall, inclement weather, and high winds, but they cannot eliminate them.
Please clearly understand that mountaineering is inherently a hazardous sport. You are choosing to engage in an activity in which participants have been injured and killed. While those accidents are indeed infrequent, they may occur at any time and be out of our control. We ask that participants acknowledge the risk and hazards of mountaineering, and make their own choices about whether or not to engage in this activity.
Climber Responsibilities
Mountaineering is both an individual challenge and a team endeavor. Some of the responsibility for the team is carried by the individual climbers. For this reason, we ask that each participant:
is physically and mentally fit, properly attired and equipped, and continues to self assess throughout the program to ensure as safe a climb as possible. If a climber's own physical fitness limits his or her ability to safely continue upward, that can have a negative impact on the summit experience or opportunity of other climb participants.
honestly and accurately describe themselves, in terms of fitness, health and skills, and their equipment to their guides, and that they adhere to the advice of their professional mountain guide.
Age-Appropriate Guidelines & Restrictions
In the interest of the safety and well-being of all participants, RMI adheres to the following age-appropriate guidelines and restrictions on all climbing programs, domestic and international.
Ages 15 & under: No participants age 15 & under
Ages 16 & 17: Accompanied by parent or legal guardian
Ages 18 & above: No restrictions
An individual's birthday must precede the departure date of the program. For example: a 15 year old who turns 16 on July 1 may participate on a program beginning July 2.
A minor climber must be accompanied by their parent/legal guardian throughout the entirety of the program. If either climber must descend at any time throughout the program, both climbers must descend together.
Under-aged participants on Private Climb or Group Climb programs are assessed on an individual basis.
Summit Attempt
RMI cannot guarantee that you will reach the summit. Weather, route conditions, your own abilities, or the abilities of other climbers may create circumstances that make an ascent unsafe, and you or your entire party may have to turn around without reaching the summit. Failure to reach the summit due to a person's own lack of fitness or to any of the events associated with mountaineering (such as weather, route, avalanche hazard, team dynamics, etc.), are not Rainier Mountaineering, Inc.'s responsibility and will not result in refund or reschedule.
General Policies
Any Participant under the age of 18 must be accompanied on the trip by a parent or legal guardian and both the Participant and parent or legal guardian must sign all forms.
RMI's program plans and itineraries are subject to change or adjustment based on a number of factors. These include, but are not limited to, route conditions, weather, terrain, and many other factors. RMI has complete discretion to change plans to accommodate any of these or other factors, including discretion to change program schedule or itinerary, and change guides or staff, as necessary for the proper and safe conduct of the program.
We reserve the right to cancel any program due to inadequate signups, weather or route conditions. In such a case, a full refund is given; however, RMI cannot be responsible for any additional expenses incurred in preparing for the program (i.e., airline tickets, equipment purchase or rental, hotel reservations).
If the Participant decides to leave a trip at any time after the start of the trip and prior to its conclusion, he or she will not be entitled to a refund.
RMI reserves the right to dismiss the Participant from a trip or to send the Participant to a lower altitude at any time if RMI determines, in its sole discretion, that the Participant is not physically, technically, or psychologically prepared for or capable of participating in the program.
The Participant understands and agrees that RMI assumes no responsibility or liability in connection with any travel and hospitality service provided to the Participant by others in connection with the trip, including but not limited to the services provided by airlines, hotels, and motor vehicle operators, and that RMI is not responsible for any act, error, omission, or any injury, loss, accident, delay, irregularity, or danger by a supplier of travel or hospitality services to the Participant in connection with the RMI program.
RMI recommends and strongly advises that the Participant have or purchase personal life, medical, accident, travel, baggage, trip cancellation, and other insurance that may pertain to participation in the program. The Participant understands that RMI provides no such insurance coverage in connection with the trip.