Jess Wedel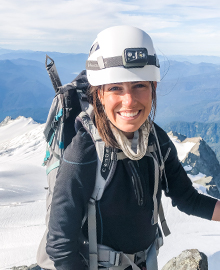 Jess grew up hiking, backpacking, and fishing in Oklahoma with adventurous parents who instilled in her a love for being outside. She didn't learn to truly love the high alpine until her late teens when she joined her mom on a trip to Mt. Baker. Since then, she's been actively trying to make up for lost time by traveling through the United States and around the world developing her rock and alpine skills.
Jess finds the most joy in human-powered exploration ranging from trail running to mountaineering to rock and ice climbing. With a background in social work, she enjoys sharing this experience with others especially knowing what the wild has done for her. It is her passion to be able to guide and work with people in the outdoors.
When she's not on the mountain, Jess loves reading, making art, and solo time on the trail.
Climbing Resumé
Multiple summits of Mount Rainier
Mt. Everest Expedition
Lobuche East, Nepal
Cotopaxi, Cayambe, Chimborazo, Ecuador
Pequeno Alpamayo, Pico Tarija, Cabeza de Condor, Huayna Potosi, Bolivia
Aconcagua, Argentina
Pico de Orizaba, Mexico
Mount Shuksan via Fisher Chimneys
Eldorado/Dorado Needle
Mount Baker
Mount Whitney
Mount Hood
Mount Adams
Many Colorado 14ers
12 Fastest Known Times on mountain routes across the US and internationally

Certifications
Wilderness First Responder
Leave No Trace Trainer